17:00 BST, 5th September 2020
Hampton Court Palace
Surrey, KT8 9AU United Kingdom
https://www.goodingco.com/category/featured/
Hubert Fabri is a wealthy scion of a Belgian family with a controlling stake in SOCFIN, a major producer of palm oil. Fabri began collecting cars back in the 1980s and ramped up his collecting through the 1990s with multiple Alfa Romeo, Aston Martin and Bugatti in his collection. Gooding made a large splash in early 2020 when they announced his collection would be sold although Covid19 saw the sale canceled. Now offered at the Royal concours in early September many of the cars should sell for record amounts.
On this last note Covid19 has had rather divergent effects on multiple area's, not least finance and investments. Firstly a global slowdown due to shipping issues, lockdowns and retailing havoc has seen overall GDP sink, the USA especially hit with a 32.9% drop in GDP. Unemployment and underemployment is also surging with the US seeing a rise from 4.4 to 14.7%, pre to post covid19. Most nation states have faired better than the USA but the cost of Covid19 to the worlds economies has and will be enough to cause carnage although the cost of this has yet to be felt.
This dichotomy is felt with the worlds stockmarkets hitting record levels rather than crashing. Housing has also continued to see increases in value post covid19 rather than the expected drops. Now much of this financial disconnect could be linked back to a separation between cause and effect with much of the worlds capital shrunk into a limited number of people. Those people are then looking for investments in a time when the worlds global bankers are promoting sub 1% or even negative interest OCRs and causing any excess liquidity to search for a home which is flooding those markets still showing well. But even if the disconnect continues the issues felt by general people will eventually cause havoc for most multi-nationals, be it banks with higher costs from foreclosures and falling deposits or productive companies with falling production and that will bite, at some future point.
All of this does effect the classic car market which was down pre covid19 although its difficult to know exactly how. Very few traditional auctions have actually been held since Covid19 with Bonhams doing a partial post lockdown Quail Lodge auction at a hotel in Beverly Hills. Bonhams were also the only auction over the virtual Monterey week to offer any pre 1990 collector car for more than two million USD. And they failed with just one of six million dollar full classics selling, a Porsche 718RSK, and limiting bidding although they also failed to secure commissions at reasonable estimates.
Elsewhere Gooding did well to sell a handful of million dollar cars but most of them were moderns, apart from a 275GTB/6c which sold well. RM also struggled to sell anything truly classic but the 550 GT1 sold very well at $4 million. Indeed every virtual auction has struggled to get consignments and then struggled for interest vis a vis a traditional in person auction. So its difficult to get a true handle on where the market is but it would seem that anything other than the grandest of pre war cars are struggling. This is a collection of grand pre war cars and so should struggle, especially in a post covid19 world.
That said the people who buy multi million dollar classic cars aren't being hurt by Covid19 as we have seen and with few options why not a car you always lusted after. Further we have seen many single vendor sales go ballistic and end with results that couldn't be repeated anywhere else. Perhaps the final word will be left to the British government who might decide to go into lockdown and either drive the sale online, and to likely doom, or into another deferment, or not. If it actually happens, this will be the most exciting sale held in years and the results will be iconic.
Lamborghini Miura SV Speciale #4878. Lamborghini was famously so outraged by Ferrari's after sales service he decided to build his own cars and the 350GT was born. Rather an elegant solution and offering 2+2 seating this car would prove successful enough although has zero reference to later models. Lamborghini's design team of Gian Paolo Dallara (of racecar fame), Paolo Stanzani and Kiwi Bob Wallace developed the second mid engined production car and with almost erotic coachwork by Marcello Gandini at Bertone it was the clear star of the 1966 Geneva Show. Launched in 1966 in P400 form this was in effect the first supercar and yet sales of the $20,000 Miura were strong with 275 examples built.
A new type P400S variant replaced the original with detail improvements everywhere including an extra 20BHP was available from 1968 and continued to sell well (over 100 p/a) in the halcyon days before the oil crisis. The last and final production Miura was launched in 1971, the P400SV which featured different cam timing and new 4×3 Webers, separate engine and gearbox, optional limited slip differential and minor detail improvements. Now offering 385bhp, just 150 examples would be built, the last 97 also having a split sump, the improvements helping drivability immeasurably.
Several limited run models were also built and present the absolute pinnacle of Miura-ness, the unique Jota was a one off model developed by Wallace to offer 400+bhp and appendix J racing mods to lighten it by 300kg. Used only for testing, the unique Jota was sold to an Italian who crashed her first time out and she burned to the ground so scratch arguably the greatest Miura ever. Six or seven Miura were later converted to SV/J spec with some of the Jota features although they were pure road cars so sans Jota, these are the pinnacle of Miura types. Another icon Miura is the unique Miura Spider built by Bertone for the 1968 Brussels Motor show. Finally it has to be noted that Miura, being the superstar car it was, were bought by many superstars, Rod Stewart, Miles Davis and Frank Sinatra, the celebrity cars having an icon status of their own.
Gooding are offering #4878 which was sold to French industrialist Jacques Dembiermont. An early SV was ordered and Dembiermont specified it with Jota mods, notably dry sump and ZF limited slip diff. Dembiermont retained the car for a decade before it passed through a number of owners across Europe and most recently into the Fabri collection. Fabri had #4878 restored in Italy to its perfectly original form and it remains among the greatest Lamborghini in existence. While SV/Js and the unique Spider would probably run $4 – 5 million, less prosaic Miura such as the P400 begin at roughly $1 while P400s are another $200 – 300k and SVs are up around $1.5 – 2.5 million.
Thanks to their habit for self immolation there are few original Miura left and regardless of the type they are valued on a par with the P400SV. Bizarrely the love of originality equates to a situation where restoring a Miura loses money rather than gains any profit. Goodings 1.6 – 2 million UKP (US$2.1 – 2.6 million) estimate either sits a little low or absolutely market correct depending on how you view #4878s specialness. It is a unique Miura in beautiful, original livery and I think brilliant value for someone that wants to buy and drive the best example of such a beast.
Aston Martin had been effectively born in 1914 but had already had four changes of ownership when the Ulster model was launched. Based on the Mark II chassis which was itself a heavily revised version of the Bertelli designed Mark I that had been raced successfully since 1928 the Ulster was originally built with drilled chassis for the 1934 Le Mans and Tourist Trophy races. After total failure at Le Mans three new chassis were laid down for the TT at Ulster where short wheelbase standard chassis were required but they were drilled for lightness. They were fitted with competition spec 1.5 litre inline 4 cylinder engines offering fully 85bhp and finished 1-2-3 in class thus launching the Ulster model.
Ten works Ulster would be made over three years and have success at Le Mans in 1935 but already a knock off production Ulster was available for public sale. These Ulster were barely altered production cars although the engine was built to the same spec as the works cars and the chassis was fitted with Harry Bertelli designed coachwork to either full race 2 seat form or semi race 2/4 seat form. Ultimately a very heavy but solid car, they were always better suited to long distance racing where they could be relied upon to finish vis a vis most of their 1.5 litre competition.
Prince Birabongse Bhanubandh of Siam (B. Bira) was a exotic prince from Siam who arrived in Europe cashed up to attend Cambridge. Bira soon joined cousin Prince Chula's racing team (White Mouse) and began to race in a Riley during 1935. Bira upgraded to a Ulster (#G5/588/U) in time for the 1935 Ulster TT where the engine blew early on and it was returned to Feltham in disgust. The car with a new, restamped engine was then sold to CH "Happy" Wood and he and W. Headlam drove it to a fine sixth at the 1936 Spa 24 Hours. Its unclear exactly what happened to this Ulster but in 1949 it was acquired by Stuart Sharpe who dismantled it for a restoration which never occurred and the car remained in this state until 1995 when it was sold by Christies to Hubert Fabri.
Ecurie Bertelli restored this car for Fabri and fitted it with a spare Mark II engine for racing (it retains the original) and partially new coachwork to its original 2 form. Twenty five years later this Ulster presents as nearly the ultimate Ulster although while the works team cars (LM11-23) are $4 – 8 million objects the customer spec cars have recently traded between $1 – 2.5 million. Even there the 2/4 seaters are $1-1.5 and 2 seaters $2ish million. This particular car has celebrity provenance thanks to Prince Bira and is in excellent, matching numbers condition.
While the Ulster is still roughly only half the car a Alfa Romeo 8C2300 might be in terms of power, speed and overall sex appeal it is much less than half the price and if one were your object of desire, why not. Gooding have given an estimate of 1.6 – 2.2 million UKP ($2.1 – 3 million) and certainly while the low estimate is perfectly reasonable, the high is probably a stretch.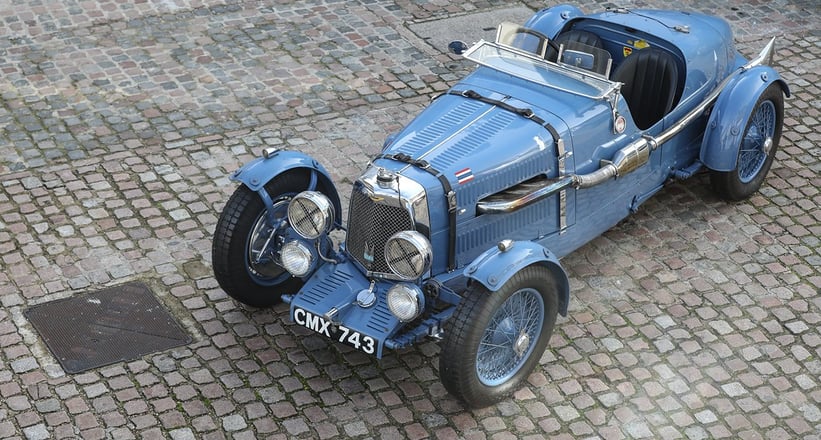 Bugatti were one of the top addresses in Europe for road and racing cars at the turn of the decade and be it the Type 51 Grand Prix car or the Type 49 and 55 road cars they were among the most artistic cars available anywhere. The depression finally hit France in 1932 and as road car production slowed to a crawl the company looked close to collapse although a order for Bugatti railcars by SNCF was its rescue. Ettore Bugatti moved to Paris leaving the inspired Jean to develop an all new pair of Bugatti in 1932/3, the Type 59 Grand Prix and Type 57 roadcar. The former was purpose built for the new 750kg grand prix formula in 1934 and merged the Type 54/55 heavy chassis with a Roots supercharged straight of between 2.8 and 3.3 litres.
The Type 57 was initially trialed with Dubonnet IFS in 1934 on a traditional Bugatti 3.3 metre chassis although Ettore soon put a stop to that. Indeed Ettore was annoyed that much of the Bugatti's special nature had been lost to make the Type 57 "relatively" cheap to produce that he deemed it the Buick Bugatti. Bugatti had pondered building a 4.9 Litre straight 8 Type 50S on a shorter and lighter chassis with Atlantic like coachwork in 1934 but soon canceled the project due to its cost in the middle of a depression. The Type 59 had already spawned a unique brace of 59/57 Sports, more on that later, and the Type 57 evolved into a sporting version, the 57T.T. or Grand Raid although changes were limited.
By 1936 a proper sporting version had been launched, the Type 57S with a radically revised 2.98 metre chassis that was underslung to provide a much lower and more stable car. An increased compression engine offering 180bhp and the new iconic curved grille topped off what was then the worlds fastest road car. The Type 57S was also available with the Type Cs supercharger for 200+bhp for the Type 57SC to create the ultimate 1930s car although the chassis price was double that of the standard Type 57. The Type 57 had numerous works designs available or could be purchased chassis only for commissions to ones favourite coachbuilder and the Type 57S followed this policy although just two Jean Bugatti designs existed, the Atalante and Atlantic Coupes.
While just four Atlantic were built, fully 17 Atalantes were built before production ended in late 1937, Bugatti choosing to concentrate on the Type 57C. Goodings example (#57-502) was built for Francis Curzon, the 5th Earl Howe, who was a iconic Bugattiste. Howe was 44 years old in 1928 when he first raced a Type 43 at the Brooklands 6 Hours, 150 miles and Ulster TT with enough success that he returned in 1929 for a full season and even joined the Bentley works team before buying a Alfa Romeo 6C1750GS. 1930 and 1931 saw drives in Malcolm Campbells Mercedes-Benz SSK, works Talbot and the two 1929 cars. Howe and Birkin paired to win the 1931 Le Mans cementing his reputation as a great racing driver and a Type 51 was acquired.
The Type 51 (#51-121) stood Howe well with a 4th at the 1932 Monaco GP among various excellent results and while he also owned a Type 54 (54-205) this was only raced once. The works raised some much needed capital and effectively closed their racing team by selling four Type 59s and Howe bought #59-123 in late 1934/ early 1935. A relatively full 1935 racing season saw some success before he launched his 1936 season although the Type 59 appears to have been replaced by a ERA (R8B). Howe had a career ending injury driving the ERA in the Campbell Trophy at Brooklands on May, 1937 but his new Bugatti Type 57S Atalante was finally delivered a month later.
Its well known Howe retained the Type 57S until 1946 and used it widely to attend race meetings while he was President of the BRDC. It would seem the only reason Howe sold 57-502 was due to a crash in 1945 and it was sold by the famous Continental Cars to John Tingay who installed a Marshall KR200 supercharger to create an effective 57SC. A few short term owners later a Dr. Harold Carr purchased the car in 1955 and used it little with various maladies seeing it eventually dismantled for a restoration that never happened. Fast forward to 2008 and the motoring world was wowed when Bonhams announced they had found the car and it would be offered for sale.
Into a world where highly original cars of this ilk were becoming unicorns and valued at par or even a premium this car didn't really kill it, the $4.4 million merely average for the type in early 2009. As recounted by Mick Walsh in 2016 it was decided that #57-502 was too tatty and non original to remain in its condition and required a restoration that Ivan Dutton handled. Everything was handled with a view to retaining originality while also offering functionality and thus subtle modifications were made to ensure it was a fully driver friendly car. Fabri has since used the car, adding 10,000 miles in just a couple of years, and remains in a condition perfect for either further use or concours success.

The standard Type 57 is a $500k – 2.5 million beast depending on coachwork but the Type 57 is another league altogether. Recent sales by Bonhams, Gooding and RM (x2) have pegged the type at between $5 and 50+ million. The bottom end of the spectrum is any car with less than honest history, perhaps the two cars that were rebodied in the 1950s-70s, which RMs failure to sell #57-512 at $6 million attests to. Standard Atalantes and the more prosaic Roadsters are around $7 – 10 million depending on history and quality, the bespoke cars from Corsica, Gangloff and others are above that, perhaps $12 – 20 million. Finally the unique Corsica Cabriolet built for Col. Giles and one of the two original existing Atlantics would run $35 to 60 million.   
While expensive these prices are less than half the equivalent Alfa 8C2900B and yet they have similar rarity and arguably the same levels of superlatives. That this Type 57SC has an extraordinary history with one of Britain's top amateur racers and is still extremely original only adds to its lustre. Duttons restoration also offers a level of usability that most Type 57s lack and as such it should be at the very top end of the value spectrum. As such Goodings estimate of 7 million+ UKP (US$9.2 million) makes perfect sense.
Bentley were rebuilding under Rolls-Royce' tutelage and decided that two decades after their last truly sporty R-Type Continental they should build another sporty Bentley. The Mark VI gave way to the R-Type in 1952 although little changed with the 4.5 litre engine carried over, the larger boot the only true novelty. Rolls-Royce engineers joined staff from HJ Mulliner and began a process of lightening and building an all new aluminium coachwork. The coachwork has something of the Cadillac 48 about it but is at once both curvaceous and graceful and light enough to be the fastest four seater production car at the time.
207 examples would be built through 1954 and 192 of them would have the iconic HJ Mulliner coachwork although the $18,000 cost was enough to limit sales somewhat. The first five Conti's were all built to order for Alfred Momo for Briggs Cunningham and other wealthy enthusiasts, the fifth of which was for Charles Moran and is here on offer at Goodings. Moran was a managing partner of Francis I. du Pont and was a wealthy motorist from the start, latterly the President of the SCCA. Later Conti's were built with the 4.9 litre engine and during Morans ownership this car was fitted with one of these larger 170bhp motors. After some years Moran sold the car and it passed through various hands to Charles Noble.
Later owners include Peter Fischer who had it restored and finally the Fabri collection who has had it maintained to perfect condition. The R-Type Conti was designed to be driven across continents at 100+mph and this example is still fit for purpose. That said recent sales have topped out about $1.5 million and while this is possibly one of the best examples the estimate of UKP 1.5 – 2 mil. (US$1.95 – 2.6 mil.) looks very expensive indeed.
Aston Martin launched their DB4GT in 1959 and for a brief moment in time it was the match for the Ferrari 250GT Tour de France although within a year it looked too heavy and ponderous against the Short Wheelbase but remained a superb roadcar. So they soon began to explore their options although they squandered much of their money and impetus when in a moment of hubris they decided to race in F1 with a heavy and underdone front engined 2.5 litre car, the last with Scarab to do so. Meanwhile Aston Martin realised the DB4GT was too heavy and David Brown met with Gianni Zagato at the Earls Court motor show in 1959 to discuss a special Zagato collaboration.
The first DB4GT chassis were shipped to Italy in 1960 where Zagato had designed very lightweight coachwork that dropped the weight by 50kg and the engine was tuned to offer another 15bhp. Ercole Spada was the young Zagato draftsman and his work combined the traditional Aston Martin grille with the usual Zagato free flowing lines to create one of the most iconic shapes ever seen. Four Zagato were prepared to lighter competition form for 1961 although they remained 25% heavier than the Ferrari 250 SWB and they had little success. Into 1962 and Ogier's Essex Racing Team had finally developed the Zagato into a reliable race car while Aston had developed a new DP212 GT race car and a advanced version of the Zagato, the DP209.
The three new DP209s weren't that much more successful than the originals thanks to Ferrari launching the new 250GTO and blitzing the series. Aston developed two new cars for 1963 and 64, two of the GT racer, DP214s and a single prototype DP215 and these while fast and full of potential, like many Aston Martins never fully developed before the racing team was closed down and David Brown himself later bowed out in 1972 with the oil crisis beginning to bite, Aston Martin lucky to survive through 14 ownership's and bankruptcies over its 107 year history. Whatever the firms travails, the DB4GT Zagato remains one of the most iconic designs ever seen and the 19 cars produced are icons.
Fabri's Zagato (#0176/R) was built for Brit Teddy Beck and was the only one finished in Peony, a dark red that suits the coachwork to a T. Beck kept the car until 1979 and drove some 15,000 in her while lightly personalising it. Between 1979 and 1985 the car passed through three collections including Victor Gauntletts and Paul Vesteys. Finally in 1985 it joined the Fabri collection and has remained there ever since. Having been used and properly maintained, Fabri has driven over 30,000 miles in it, this Zagato is one of very few original examples left and as such a bit of a unicorn.
Several Zagato sales back in the mid 2000s were followed by a decade long gap before RM offered a original road car and then Bonhams a DP209 road racer in the mid 2010s. The road car fetched $14.3 million while the DP209 just $13.3 million although the later had a infamous major crash in the 1990s which limited its lustre somewhat. #0176/R is a rare opportunity to acquire a Zagato and an even rarer original example at that, as such I think their UKP7 – 9 million (US$9.1 – 11 mil.) estimate seems low and I wouldn't be surprised to see it sell in the mid teens, perhaps even $15 million.
Bugatti had enormous success with their Type 51 Grand Prix which had the measure of the Alfa Romeo Tipo B and Monza and the Maserati 8C and 8CM when driven by Varzi while the Type 54 was also dominant on the faster circuits. Unfortunately road car production was unsuitable for the post depression France where even the cheapest models were selling in very small numbers. Bugatti were lucky that Ettore's Royale had spawned a railcar that the SCNF ordered in large numbers and this both kept the company afloat and let Jean Bugatti loose to revitalise both the road and racing cars.
Throughout 1933 they developed a lowered version of the Type 45/54/55 chassis into a 2.8 litre supercharged straight 8 racer for the 1934 750kg grand prix class and a new road car on a similar frame, the Type 57, as covered elsewhere. Announced at several races, the Type 59 wasn't to be seen in a race until the Spanish GP at the end of 1933 where it was way off the pace. Five or six Type 59s were built in 1934 but they were overshadowed by the Auto-Unions and Mercedes-Benz with their independent suspension and high power. Monaco saw a four car team including Nuvolari and without the Germans, Dreyfus finishing third and Nuvolari fifth.
Dreyfus finished sixth at Tripoli and the four cars entered for Avus were withdrawn for further development while at the French GP two new 3.3 litre Type 59s accompanied a 2.8 Litre example, Benoist the only finisher back in fourth, the two 3.3 litres proving unreliable. Bugatti resorted to French national events to try and restore some glory, the GP de Vichy seeing Dreyfus able to finish no higher than fourth. The Silver Arrows and Maserati's were withdrawn from the Belgian GP where Varzi and Chiron dominated in their Alfa Tipo Bs before car failure which saw the Bugatti's left as the only team in the race and Dreyfus won a championship GP in a Bugatti Type 59.
Regardless of the French media's adoration the Type 59 was still too heavy and under-powered although Brivio did manage to finish a fine third at the Coppa Acerbo, Dreyfus had a minor off at the GP de Nice, finished a respectable third at the Swiss GP and Wimille a dismal fifth at the GP du Comminges. Dreyfus realised the situation was pointless and took a sabbatical so only Brivio entered the Italian GP although he didn't race. The Spanish GP actually saw the Type 59 prove competitive with Nuvolari finishing third. The rest of the season proved no better and Bugatti sold four of the five completed cars to British amateurs in late 1934, early 1935. Jean began to work on two plans, firstly a new Type 59/50B Grand Prix car with the Type 54 engine fitted.
The second major development was when a race spec. Type 57G engine was built up and fitted to the Type 59 for sportscar racing with cycle wings added. One 1934 Type 59 (#5) was ready for conversion and it was renumbered #57-248 to suit the premise it was a Type 57. First time out was the BARC 500 at Brooklands in September 1935 where Earl Howe and Brian Lewis were down to drive. Howe and Lewis ran well to sit second before carburettor drama saw them drop back to third. A second car was then built up on chassis #8 and the two cars were raced at the Comminges GP in August 193 where despite Benoist retiring, Wimille took an easy win.
Both chassis were converted to Type 57S45 form for accepting the 4.7 litre T50B engine although #5 was never fitted with any such engine and remained a 3.3 litre. Wimille was entered in one of the 59/57s at Pau in February 1937 and won easily. A race at Montlhery on March 1936 saw #8 entered in supercharged form with the chance to win 400,000 francs and Wimille set a fast enough average speed that they took home the prize. Old #5 was then entered for the Tunis GP in May 1937 and Wimille was easily leading when he ran out of fuel. Next time out at Bone a week after the Tunis GP, Wimille took the win despite a minor misfire. The Marseille 6 Hours in June saw Wimille retire in #5 with engine failure when a bearing broke. Finally July's Marne GP saw #5 used by Wimille to take an easy win. Its unclear how or why King Leopold III of Belgium acquired the car but it was soon modified with a new scuttle, hiding its origins and it was painted black.
The car was stored in Brussels when Stéphane Falise discovered it in 1967 and it later passed to noted collector Robert M. Rubin in 1989. Rubin had the masters at Chris Leydon mechanically restore the barely used car although they kept the cosmetics totally original. More recently Anthony Wang purchased the car in the late 1990s and retained it in totally original condition before it passed to Hubert Fabri in 2008 and returned to Belgium. Fabri has again used it sparingly and retained its originality so its a unique thing indeed. The Type 59 may not have been a success but it is an iconic Grand Prix car, the final example built and raced by Bugatti.
Adding the King Leopold ownership, the originality, the 59/57G history and its rarity, it should fetch a huge price. No Type 59 has sold since 2005 when Bonhams sold a British Type 59 although it had killed two of its owners and the price teaches us little. More recently two iconic Grand Prix cars, the sole original Alfa Romeo 8C/35 and a unique Mercedes-Benz W196 have sold for $9.6 million and $28.6 million in the past decade and they bookmark where this car will sell. Gooding have given an estimate of UKP10 million+ (US$13 million+) but I would be surprised if this doesn't hit $15, possibly even $20 million and still it would be cheap at the amount.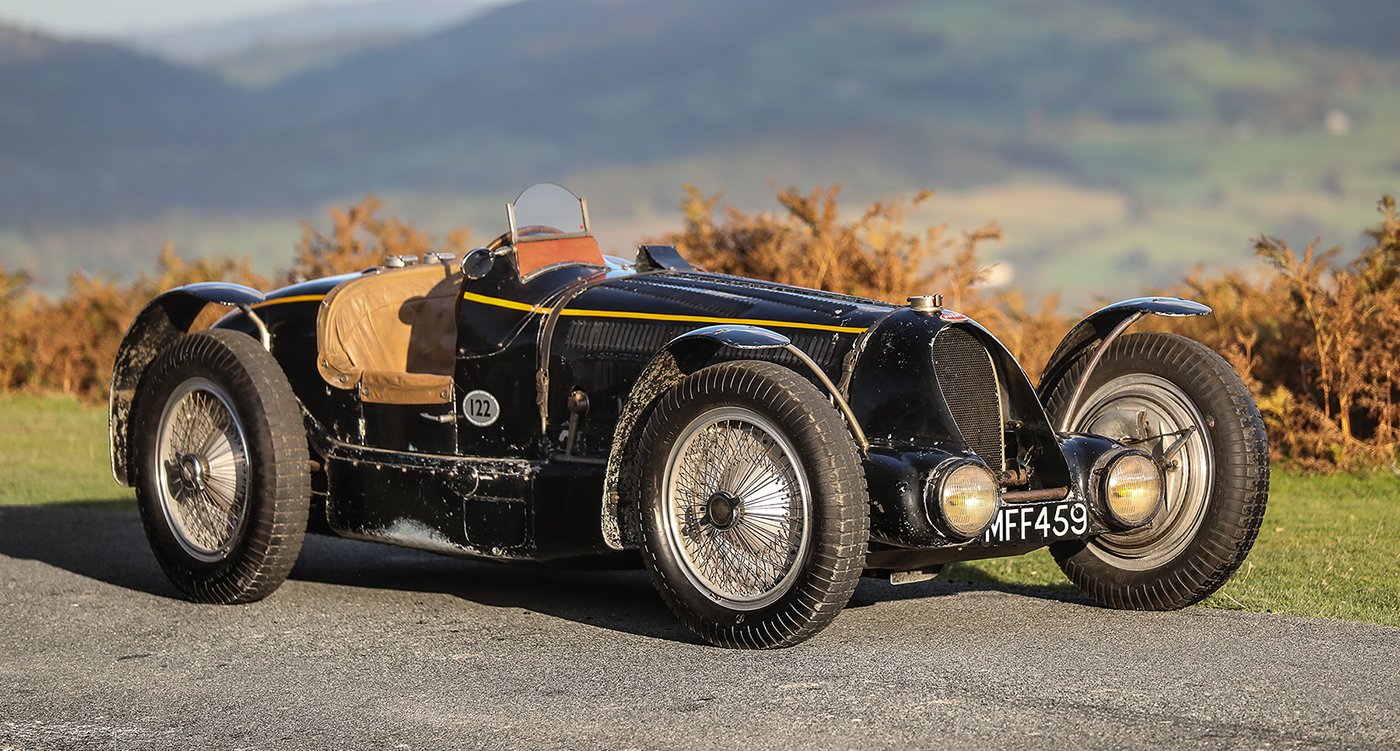 Aston Martin had plenty of success with their DB1 and DB2 saloon racers through 1952 including 3rd at the 1951 Le Mans and class winning performances at the 1951 and 1952 Mille Miglia. With the W.O. Bentley designed Lagonda inline 6 engine in 2.6 litre form the cars were heavy and a little underpowered at 105-138bhp and 1111kg but always dependable and had plenty of promise. David Brown was never one to let a good idea stop progress and wanted more so hired German engineer Prof. Robert Eberan-Eberhorst in late 1950 to develop a new sports racer. Eberan-Eberhorst was supposed to be a senior designer at Auto-Union but his actual role has been lost to history.
Either way his DB3 was a svelte racer but always hindered by the traditional problems of all Aston-Martins. The ladder type chassis and fittings were boring in the extreme and little of the Auto-Unions advanced design could be seen anywhere. Aston-Martin racing chief John Wyer noted in his book that the DB3 was developed at a glacial pace and that he had to ensure the first DB3 was built in late 1951, fully a year after work had started. When finally ready to race in early 1952 the DB3 was proven to be too heavy and underpowered against the Jaguar C-Type and Willie Watson built up new 2922cc engines offering 147bhp. With little overseas interest the Goodwood 9 Hours was a Aston-Martin vs Jaguar battle in late 1952 and the Collins/ Griffiths DB3 outlasted all others, literally, to take the DB3s only major win.
Returning to Willie Watson, he was a gifted engineer hired to develop the Lagonda V12 sports racer using WO Bentleys Lagonda V12 in a chassis that would emulate the DB3Ss. This car wouldn't be seen until 1954 and be the ultimate white elephant squandering Aston Martins limited finances and proving a complete and utter failure. However as a fresh hiree in early 1953 Watson pitched a new lighter, shorter and stiffer version of the DB3 and against Eberhorsts wishes both Wyer and Brown agreed. Watson chopped the DB3s wheelbase by 6 inches, reduced the track by 2 inches and upgraded both the engine to 182bhp (still a touch short of the C-Types) and had Frank Feeley design beautiful open topped coachwork for it.
1953 was the inaugural year for the FIAs World Sportscar championship although like all teams Aston Martin only entered the events that suited yet the DB3S was almost instantly successful taking wins at the 1953 Goodwood 9 Hours and the Tourist Trophy. Unfortunately for Aston-Martin just as they got the DB3S going well Jaguar launched the advanced D-Type and Ferrari the brutish but fast 375 Plus relegating the car to also ran. That said DB3S development didn't end until 1956 with a supercharged "240bhp" 2922cc Inline 6 launched in early 1954, a genuine uprated 210bhp engine in 1955 and the iconic Gothic arch bodywork in 1955. Despite the lack of comparative speed the old DB3S proved to be highly reliable and Collins/ Frere finished 2nd at Le Mans in 1955, a feat repeated by Moss/ Collins at the 1956 Le Mans and the Whiteheads in 1958.
Just as it seemed that Aston Martin would always be the bridesmaid at Le Mans they launched the iconic DBR1 in 1956 and after three years of steady and rather ponderous development they dominated the 1959 season. This relied on some help from the Ferrari 250TR59 which failed although as noted elsewhere they repeated their habit of squandering success by developing one of the final front engined F1 cars, blowing most of their capital. Returning to the DB3S, Aston Martin chose to develop and launch a series of production DB3S in 1954 which were offering 180bhp and cost the same as the 250bhp D-Type. Its little wonder that some 50 examples of the D-Type were sold versus just 20 of the DB3S. Works developments did filter down to the production DB3S with 210bhp engines available in late 1955 and some production cars even had Coupe coachwork but their successes remained limited and perhaps their forte was realised as roadcars.
DB3S/102 was the second production DB3S built and sold with DB3S/103 and DB3S/104 to the various members Kangaroo Stable racing team in 1955, in this case for team co-owner Tony Gaze. Raced often without success the only highlight was Gaze/ McKay finishing second at the amateur Hyeres 12 Hours. McKay took #102 back to Australia at the end of 1955 and blew the engine although a replacement upgraded 210bhp engine was shipped out and fitted in early 1956. The only other special early history was McKay using #102 to set a new Australian LSR of 143mph/ 230km/h in 1956 and continued to race until an ex works DB3S (#9) was acquired in late 1957. It is said to have been crashed badly at Bathurst in 1960 and the remains stored until the 1970s when it was restored to perfection.
DB3S prices are relatively easy to formulate with the Gothic Arch works cars leading the way at $7 – 10 million. The early works DB3S are $5 – 8 million while the private cars are around the $3 – 5 million mark, despite the latter's lack of success vis-a-vis the Jaguar C and D Types they are much rarer than either. Gooding' example is a matching numbers car with an interesting if relatively dull history and is stated to be in race ready condition so their UKP3 – 4 (US$3.9 – 5 million) estimate is probably a touch high but nothing dramatic.
Rolls-Royce were just three years old when they devised the first 40/50HP (40 RAC rated HP, 50 actual HP), rationalising three models into one and instantly found success. With that one car they went from being another European luxury car brand, competing with Minerva, Mercedes, Isotta-Fraschini, Hispano-Suiza and local brands such as Daimler and Napier to being known as THE luxury car brand. A single example, AX201, was built with aluminium paint and silver plated fittings thus coining the Silver Ghost moniker that all pre Phantom 40/50s now carry.
Despite being the first word in luxury motoring they created a short lived Short Chassis 40/50HP in 1907/8, then a brief run of modified cars on the London-Edinburgh chassis built to prove they could run between the two cities in top gear using less than 20mpg. Finally in 1913 built four Alpine Eagle Silver Ghosts for the Alpenhahrt (Alpine Rally) based on the London-Edinburgh chassis with further modifications. Held as a severe test of reliability and ability for a Touring car, over 1800 miles and 19 Alpine passes, Rolls-Royce did well but failed to win thanks to technicalities but the modifications fitted to the works cars could be ordered as the Alpine Eagle variant.
These modifications included a higher back axle ratio for relaxed cruising, 9 lead rear springs for comfort and a slightly raised compression ratio giving 75hp (15 more than production models). As it wasn't a model per se its unclear exactly how many cars were ordered to Alpine Eagle specification but thanks to the outbreak of WW1 Alpine Eagles were built through 1920 and remains one of the ultimate Silver Ghost variants. The example on offer at Gooding was a car ordered by a Uruguayan politician in Paris, Diego Pons, who commissioned Million-Guiet to fit beautiful Tourer coachwork.
Its unclear exactly where this Silver Ghost spent much of its life but its noted to have excellent provenance and has since been restored by Steve Penny and P&A Wood, two of the best in the business. Its noted that while the cars history is well documented and the coachwork is the same as the original, it isn't specifically the original which was lost although this isn't a major issue for Silver Ghosts. Indeed Silver Ghost values seem to run $300k to $2 million with the London-Edinburgh and Alpine Eagles leading the way at $750k – 2 million, especially those with sporty or interesting coachwork, as long as it is in the style of its original form. Gooding have estimate of UKP 1-1.4 million (US$1.3 – 1.7 million) and while the higher estimate is unlikely, the low seems okay for a beautiful example of the worlds best car.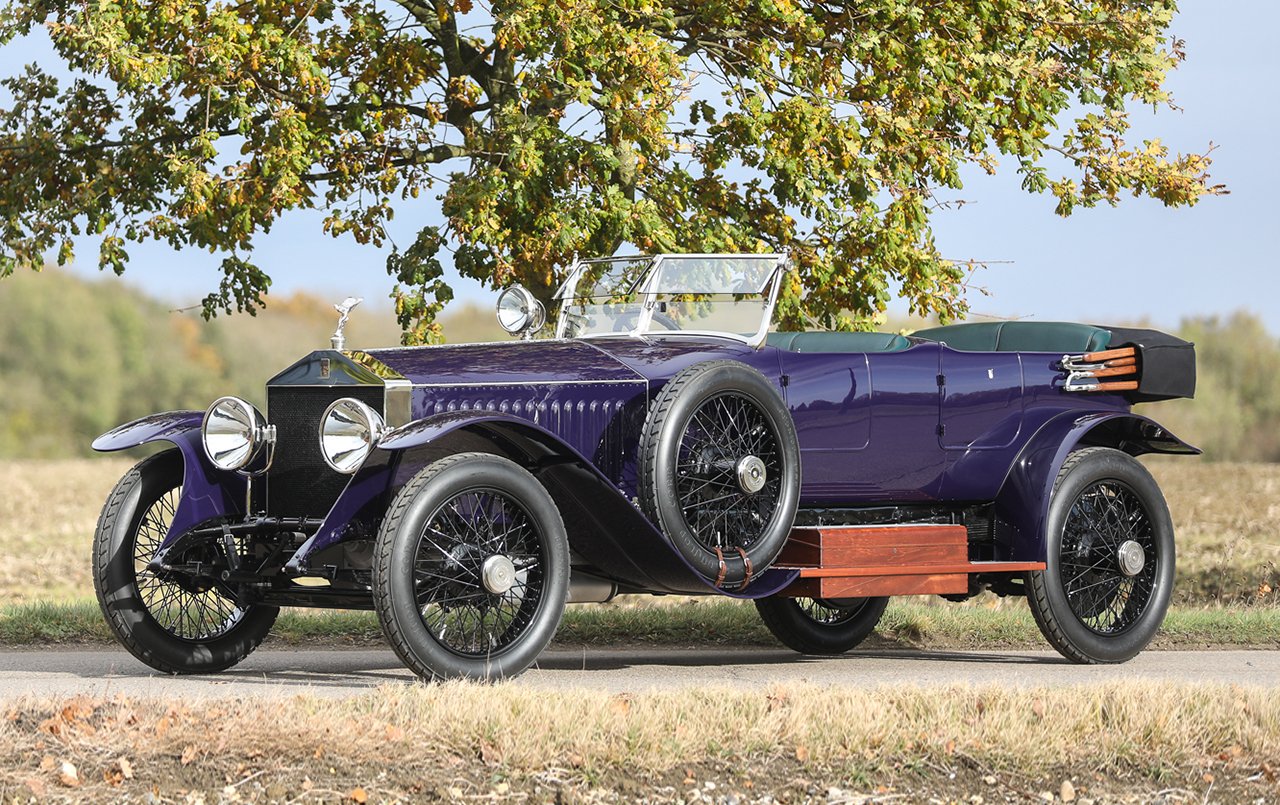 Bugatti had become one of the leading Grand Prix entrants through the teens and developed both the small and large 4 cylinder racing types 13 and 18 before WW1 stopped the party for some years. The Type 29/30 saw the debut of the classic straight 8 that would later power all future Bugatti and raced in front line Grand Prix in 1922 and 1923 with some success although the Fiats were still ahead as witnessed by their 2nd place finish in the 1922 French GP. Bugatti then turned to early aerodynamic theory for the 1923 Type 32 and created the first tank, essentially a wing in profile but the short wheelbase and poor aerodynamics made them treacherous and they only appeared once.
For the 1924 French GP Bugatti decided to fit the Type 13 (Brescia) type chassis with the Type 29/30 engine to create the ultimate racecar. The earlier cars C-Type chassis was fitted with refined, lightweight and streamline coachwork featuring the iconic horseshow grille. The chassis was fitted with live axles, friction shock dampers and quarter-elliptical leaf springs and aluminum spoke wheels with integral brake drums. Elsewhere a lightweight front axle that was hollow through much of its length but solid at each end saved weight and the car was indeed both light and powerful.
1925 saw another season of 2 litre racing and Bugatti see more success although they were well off the pace at the French GP and developed a new 1.5 litre GP car (Type 39) variant from the Type 35 for the Italian GP where the Alfa Romeo P2 dominated. The Type 39 dominated in 1926 as one of two major entries along with the Delage 15-S-8 and the Bugatti won three of the four major GP held in 1926. Fiat briefly returned for the Italian GP in 1927 although even they were uncompetitive against the Delage which was finally competitive while the new semi Formula Libre rules saw Bugatti and Maserati launch 2 litre versions of their 1926 cars.
Bugatti had already developed the 2.3 litre Type 35B for the non championship Targa Florio in 1926 and for 1927 added the Type 35C which featured the 2 litre engine with a Roots supercharger offering 130bhp (compared to 90HP for the standard Type 35). Elsewhere the Type 35A road car appeared in 1925 and then the Type 35B with a supercharged 2.3 Litre straight 8 and finally the 1.5 litre straight 8 in the Type 37 and 39, both supercharged and normally aspirated. Still the Type 35C and to a lesser extent the Type 35B were the class of 1928 when Delage withdrew from racing.
Type 35C #4871 was used by the Bugatti works team at the 1928 Targa Florio before it was supplied to French racer Jannine Jennky who raced it through 1929 with little success, highlights including the GP Bugatti and French GP. Jean de Maleplane purchased #4871 in 1930 and had a little success before Ricardo Bernasconi owned her from 1932 to 1958. A Cpt. J. Ooms took her to Belgium in 1958 before finally Patrice Libiez got it in 1979. Fabri purchased the car in 1990 and had it mechanically restored by Ivan Dutton while retaining its originality elsewhere.
Bugatti Type 35s run from $750k to $5 million depending on the type and condition. Easily the lowest value class is the many cars that were re-purposed in times past with parts from one and another fitted to a chassis from a third. These are great for racing but certainly lack collectible value, the next are the more prosaic Type 35As which are probably low million dollar range. Finally the Type 35B and 35C range towards the top of any price range with originality and race history making the difference, hence the lowest would be $2 million. A car with higher levels of originality and/or successful race history could add a million, so perhaps $4 – 5 million for a car with both.
#4871 has the originality box ticked but little successful race history, so Goodings UKP3 million+ (US$3.9 million+) estimate is high. But considering just a handful of the 340 Type 35s are original this is a ridiculously rare opportunity to acquire one and thus makes the money seem relatively reasonable indeed.
Key – Lot # – Year/Make/Model/Serial/VIN – Est. (UKP) – (US$)
1 1927 Bentley 3 Litre Vanden Plas Tourer BL1620 £350,000 £450,000 $469,000 $603,000
2 1971 Lamborghini Miura P400SV Speciale 4878 £1,600,000 £2,000,000 $2,144,000 $2,680,000
3 1935 Aston Martin Ulster G5/588/U £1,600,000 £2,200,000 $2,144,000 $2,948,000
4 1955 Lancia Aurelia B24S Spider America B24S 1178 £700,000 £900,000 $938,000 $1,206,000
5 1937 Bugatti Type 57S Atalante 57-502 £7,000,000 ? $9,380,000 ?
6 1924 Lancia Lambda 3rd Series Torpedo Tourer 11744 £320,000 £340,000 $428,800 $455,600
7 1952 Bentley R-Type Continental Fastback Saloon BC5A £1,500,000 £2,000,000 $2,010,000 $2,680,000
8 1961 Aston Martin DB4GT Zagato DB4GT/0176/R £7,000,000 £9,000,000 $9,380,000 $12,060,000
9 1965 Lamborghini 350GT 0226 £400,000 £550,000 $536,000 $737,000
10 1934 Bugatti Type 59 57-248 Not given Not given Not given Not given
11 1939 Bentley 4.25 Litre Van Vooren DHC B160MR £450,000 £600,000 $603,000 $804,000
12 1924 Vauxhall 30-98 OE Wensum Open Tourer OE183 £800,000 £1,200,000 $1,072,000 $1,608,000
13 1955 Aston Martin DB3S DB3S/102 £3,000,000 £4,000,000 $4,020,000 $5,360,000
14 1919 Rolls-Royce Silver Ghost Alpine Eagle Tourer 24LW £1,000,000 £1,400,000 $1,340,000 $1,876,000
15 1959 Lancia Flaminia 2500 Sport 824.00.1369 £400,000 £500,000 $536,000 $670,000
16 1928 Bugatti Type 35C GP 4871 £3,000,000 ? $4,020,000 ?
All information is copyright Auto Auctions Monthly except images which are copyright of Artcurial, Bonhams, Gooding & co., Mecum, RM/ Sothebys, Russo & Steele and Worldwide Auctioneers. All figures are US$ and gross unless specifically stated. All figures are accurate in the home currency for the sale, any figures in other currencies are calculated based on the exchange rate for the date of sale accessed from FxTop.com. Percentages as given are calculated as the % below low estimate or above estimate as noted. All information given for recreational use only and cannot be personally guaranteed for accuracy by the author.