https://rmsothebys.com/en/auctions/tg19
10am, September 28th, 2019
Taj Ma Garaj, 300 S Perry St, Dayton , OH, United States 45402
RM Sotheby's is honored to announce that it will present the renowned Taj Ma Garaj Collection, comprising the cars, automobilia, and collectibles of late well-known collector, Mr. John Dixon, entirely without reserve. The Collection, to be offered in a single-day sale on 28 September onsite in Dayton, Ohio, features more than 30 motor cars alongside more than 350 lots of memorabilia and collectibles.
The late John Dixon's love affair with Porsche began the day a 911 passed him while he was driving his muscle car on the freeway in high school, and the rest is history. John purchased his first Porsche the following year and began seriously building his collection in the 1990s. Now, the Taj Ma Garaj is an eclectic Porsche paradise, featuring over 30 various Porsche and Volkswagen motor cars, along with more than 350 lots of memorabilia including sought-after Porsche unobtainium, rare literature, collectibles, engines, and an assortment of arcade ephemera.
John opened the Taj Ma Garaj Collection to thousands of visitors over the years and was proud to share his passion with fellow enthusiasts, frequently hosting charity car shows as well as offering the collection site as an event facility. Known for his sense of humor, John lived by his own rules and was endlessly passionate not just about Porsche but in all aspects of his life; first and foremost, his family and friends, along with his business, and his philanthropic efforts to help those less fortunate, specifically patients of the local children's hospital.
The Taj Ma Garaj building is truly a Porsche enthusiast's heaven and RM Sotheby's is honored to present the Collection on behalf of John's beloved wife Vickie and the Dixon family. John Dixon was as knowledgeable about his cars as he was passionate, and what he has assembled represents sought-after high watermarks in Porsche production, alongside cars like a wrought-iron Beetle that are just plain fun. The Taj Ma Garaj Collection is sure to draw interest from fellow Porsche collectors far and wide this fall.
Porsche' 356 was their first production model and remained so from 1948 until 1965 when the 911 came on stream. In 1953 the nascent firm decided to build their first true racing car, the 550, and developed the four cam 547 engine which from 1955 became available in the 356 chassis as the Carrera GS/GT. Many of these Carrera GS/GTs were produced in tiny quantities including the Carrera GT Speedster of which just 12 were built and most were intended for racing, they remain the ultimate 356 variant with the Gmund Pre-A. RM are offering #83622 from the Taj collection which was delivered to Max Hoffman during 1957 in lightened form. Little is known of its early history but it is noted by both Heinrich/ Sprenger and Porsche themselves as a legit GT Speedster and it is noted to be numbers matching which is rare for four cam 356s. Restored over three years in the early 2000s and again more recently there is little to fault this fine 356. RM offer a $1.5 – 2 mil. estimate and while this might seem high, it is probably market correct for such a rare car.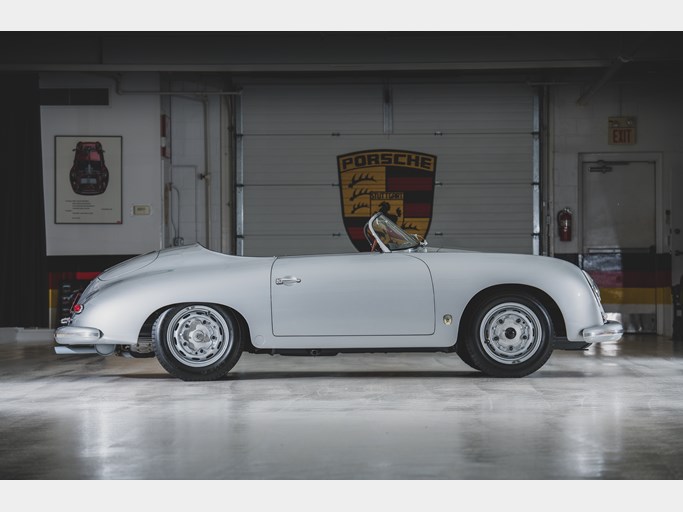 Porsche had dabbled with various GT racing 911s in the early 1970s and the S, R/T and R were all examples of 911s that pushed the GT rules and sometimes broke them. The Carrera 2.7 was the answer and with trick components including the 906 style racing six and lightweight bodywork Porsche needed to produce a homologation special to ensure the FIA allowed it to be entered so 500 Touring spec cars were offered and they were so popular that another 900 odd cars would be produced to meet demand. The Carrera 2.7 would dominate all road, race and even some rally events for the next couple of years and prove the launchpad for the next decade of fast 911s. The example on offer is a desirable early production car that was delivered to Germany and exported to the USA in 1986, it was stripped for restoration in 2000 which was never completed. Offered in partially assembled form, the car remains numbers matching except for a replacement transmission. Its hard to know how to view a car like this with such needs but RMs estimate of $400 – 450k does seem a touch high since proper driver Carrera 2.7RS sell for around this money. Perhaps a $350k bid would be a good idea?
Early 356s are a Porschephile dream although with little to appeal to non Porsche fans as they are closer to their Volkswagen roots than following Porsche. When it comes to the values, the earlier the example, the higher the value and the Pre-As with the five digit chassis numbers are second to only the incredibly rare Gmund cars. A 1952 Cabriolet is on offer and noted to be one of a handful in the USA and features the new for 1952 bent windscreen and Glaser coachwork, one of perhaps 80 thus completed. Another German delivered car that ended up in the USA, it was restored in 1976 although never completed before eventually passing to the current collection who sent it to GK Restorations and it was finally restored completed between 2007 and 2011. RM have offered a $375 – 425k estimate which seems actually rather cheap, especially compared to the early Coupes which have fetched nearly a million. Good buying.
Mid century highlights are:
1951 Porsche 356 Coupe – Est. $100 – 200k, very rare early Reutter bodied 356 in need of a full restoration, three different engines fitted. Very rare and valuable, worthy of a proper restoration but surely not worth more than the low estimate as it is.
1953 Porsche 356 Limousine – Est. $150 – 250k, a full custom build by "the Egyptian", crazy example with little genuine purpose but lots of fun, no doubt. Who knows what this is worth.
1967 Porsche 911S – Est. $350 – 450k, incredibly original and very well documented. Very low mileage. Still this is almost double what any other normal 911S has sold for. Best of luck with that.
1969 Porsche 912 – Est. $125 – 175k, gorgeous LWB 912, highly specced and original. Very low mileage. Market correct at the low estimate.
1970 Porsche 914-6 – Est. $100 – 120k, attractive, numbers matching and quite rare. Just 7,172 miles from new. Restored. Value at the low estimate.
Modern highlights include:
1997 Porsche 911/993 Turbo – Est. $225 – 275k, a very highly specced 993 Turbo, unique colour scheme. 2,569 miles from new. A little far from market correct, perhaps $50k too expensive.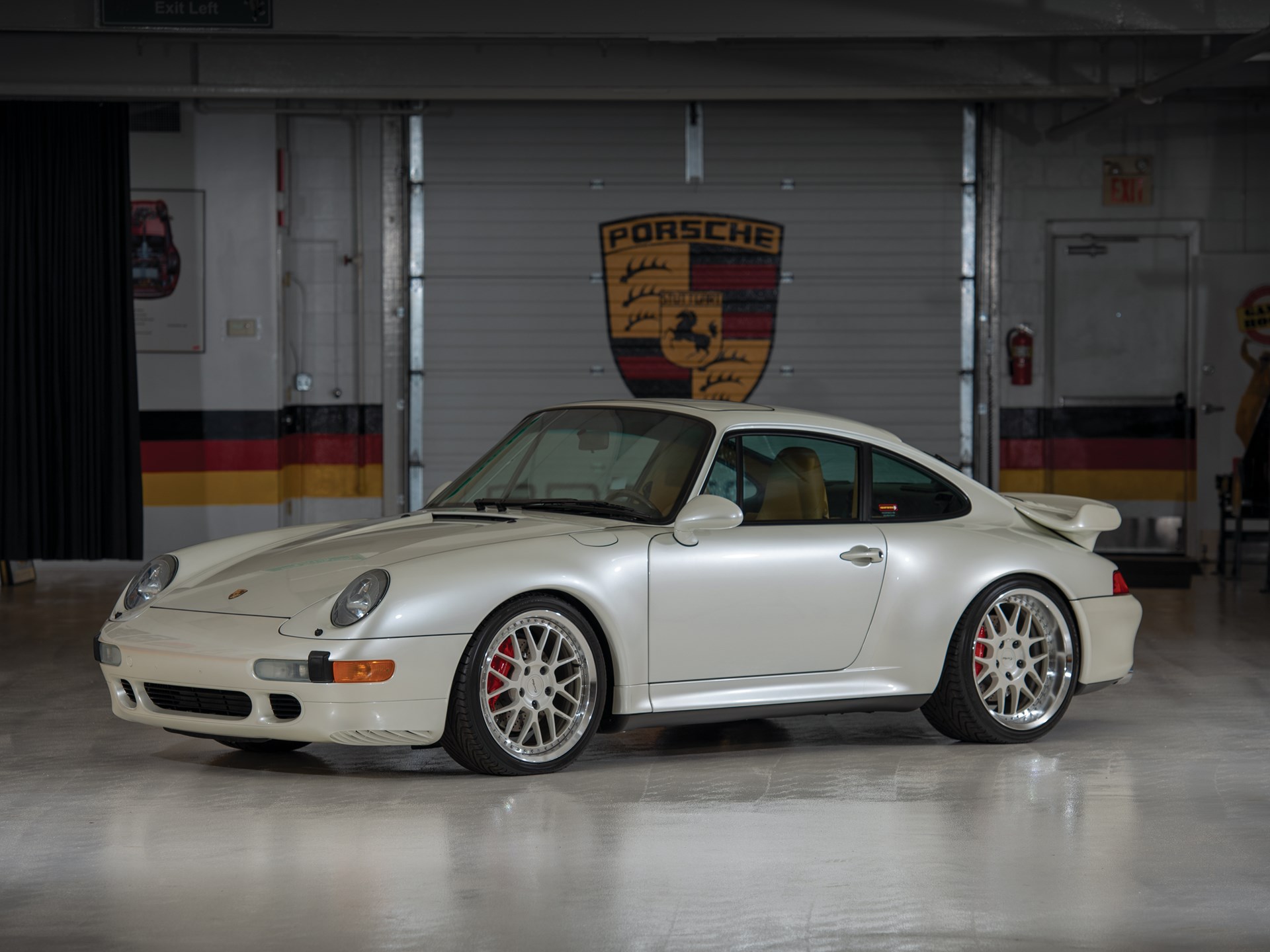 Affordable highlights are:
1967 Volkswagen Super Beetle – Est. $30 – 50k, very very original low mileage Beetle, just 6,135 miles from new. Expensive but try and find another in this condition.
1960 Porsche Diesel Junior 108K – Est. $5 – 10k, not rare nor particularly usable. That said a fun little garage toy, priced correctly.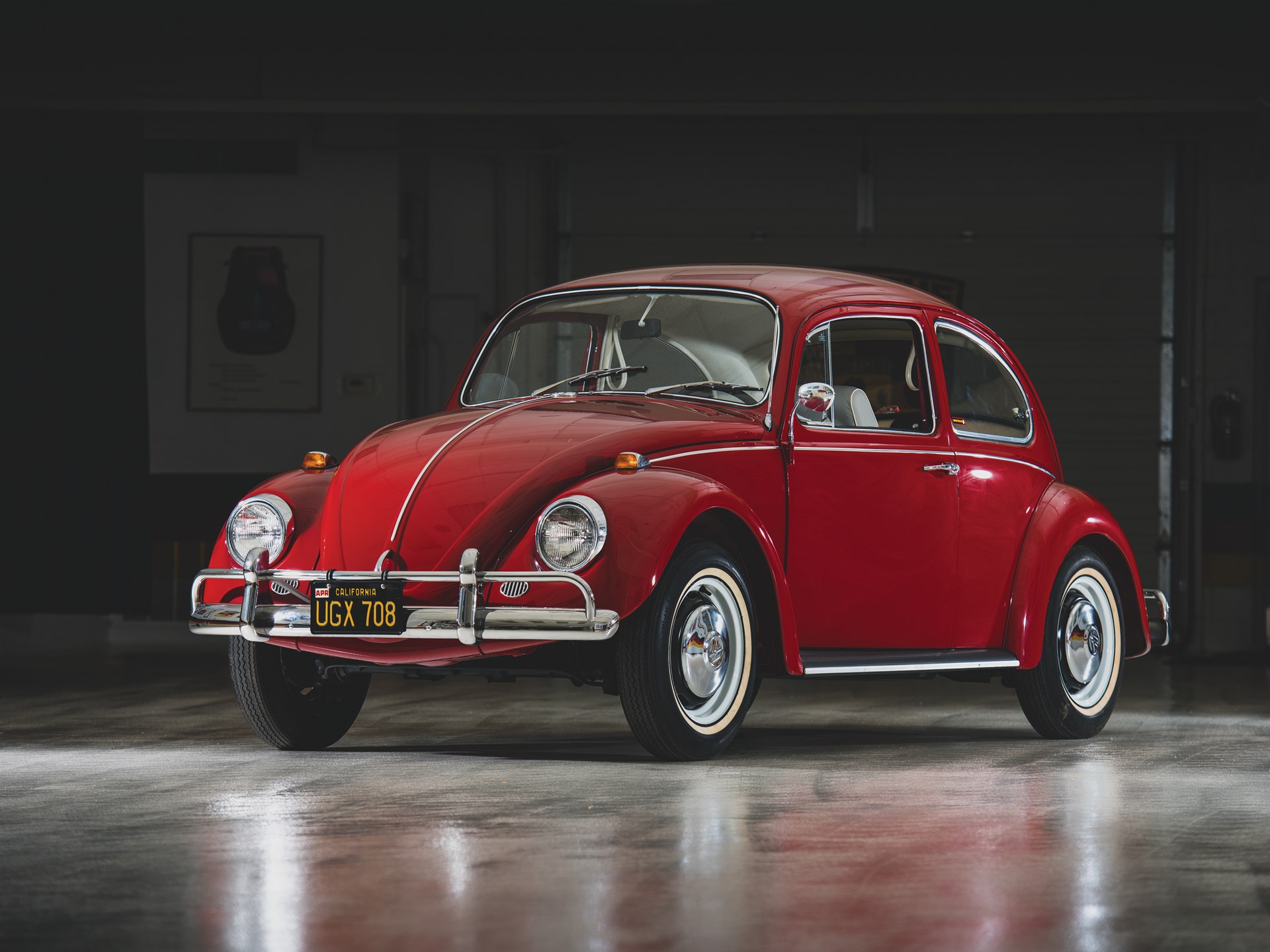 Results
RMs Taj Mahal sale offered just 32 cars, at no reserve, so the sale was predictably 100% and the gross total was $5.01 mil. Leading the way was the 1957 Porsche 356A Carrera GT Speedster which fetched $1.38 mil. although it was 8% below estimate. Other strong sellers were the 1971 Mangosta Sport Buggy at $106k (+42%), 1997 Porsche 911/993 Turbo at $368k (+34%), 1970 Volkswagen Beetle "Casa Linda Lace" at $78k (+31%), 1961 Volkswagen Type 2 Pickup at $19k (+27%) and 1981 Porsche 924 Carrera GTS Clubsport at $357k (+2%). Mid estimate sellers were the 1973 Porsche 911 Carrera 2.7 RS Touring at $412k, 1953 Porsche 356 Limousine at $207k and 1988 Porsche 911 Turbo Flachbau at $193k. Poor sellers were the 1972 Volkswagen Beetle at $1,120 (-44%), 1967 Porsche 911 Coupe at $109k (-27%), 1971 Volkswagen Beetle Jungle Bug at $19k (-24%), 1967 Volkswagen Super Beetle at $23k (-22%), 1952 Porsche 356 Cabriolet at $299k (-20%) and 1967 Porsche 911S at $335k (-4%). RM did very well with the Taj Mahal collection sale and realised some strong results throughout the collection and must be congratulated.
Key – Lot # – Year/ Make/ Model/ Chassis # – Low – High estimate (US$) – (EUR) – N/R = No reserve – Result (US$) – +/- % result versus estimate
358 1973 Volkswagen Type 181 Thing 1832346750 $25,000.00 $35,000.00 N/R $29,120 Mid This yellow example was built for the Mexican market and was sold through Albert Berry Motors in Houston to Texas oilman Frank W. Michaux. Though it's not clear how Michaux used the VW—perhaps on his ranch in Salado, north of Austin, or even as a commuter to his office at One Shell Plaza in downtown Houston—he was enthused with his purchase. In 1973 he wrote to Albert Berry and said he was "very impressed with it." The Safari is fitted with steel front bumpers with additional bars for added protection, and it rides on chrome wheels with dog-dish-style hubcaps. This delightful Safari shows little evidence of use and retains its wood "duckboards" that allow easy drainage in wet conditions. Just 4,556 miles are shown on its VDO odometer, and it is ready to be both preserved and enjoyed by its next owner. Few examples of the Type 181 survived after being used the way VW intended, which makes this exceptionally preserved example especially desirable.
359 1957 Porsche 208N Diesel Standard N/6893 $20,000.00 $30,000.00 N/R $17,920 -10% Offered here is a 1957 "Standard" two-cylinder model. Power is transmitted to the transmission via a "turbo-hydraulic coupling," which negates the need for manual shifting to each gear. There are power take-offs at the front, rear, and mid-ships for attachment to a wide range of available farm implements. A plaque on the side of the hood suggests this tractor was originally sold by Roman Schweiger, an old, family-owned farm-equipment dealer in Weilheim, Germany. While its early history is unknown, it was eventually imported to the United States and acquired by Helmut Reiss of Laguna Beach, California. At some point it was repainted in its correct red with Primrose wheels. Repair invoices supplied with this delightful tractor indicate that Mr. Reiss addressed a number of mechanical and electrical issues before offering it for sale. It joined the Taj Ma Garaj in March 2002. Still bearing its European license plates, it is equipped with lights, a horn, an upholstered passenger seat, and what appear to be fairly new tires. We can note that the most recent Porsche Club of America Rennsport Reunion at WeatherTech Raceway Laguna Seca in California welcomed over 15 Porsche tractors in a special class and invited them to race over an abbreviated course, many of them with professional race drivers aboard. The event delighted thousands of appreciative spectators. There will surely be similar opportunities in the future; this would be an inexpensive entry to the next one.
360 1983 Porsche 911SC Cabriolet WP0EA0916DS171442 $50,000.00 $75,000.00 N/R $52,640 Mid This example is one of 1,718 SC cabriolets produced for the U.S. market for 1983. It was shipped to Bob Hagestad Porsche-Audi in Denver, Colorado, and delivered to its first owner on 26 July 1983. For that model year, Porsche offered 15 standard paint colors, all but three of them metallics. This handsome cabriolet left the factory in Black, with a full-leather Champagne interior and fully padded black canvas folding top and top boot. The Certificate of Authenticity notes that this car was factory-equipped with U.S. equipment, a dual-scale (metric and imperial) speedometer, a Blaupunkt Monterey AM/FM/cassette stereo head with antenna and speakers, a heavy-duty 88 a/h battery, 40 percent limited-slip differential, 16-inch Fuchs forged light-alloy wheels with black spokes, cruise control, a rubber-edged rear deck spoiler and rubber front spoiler, a heatable, tinted windshield, fog lights, and an alarm system. There is also an air-conditioning system, electric windows, and electronically adjustable mirrors. By August 1984, this cabriolet had only been driven 2,064 miles, based on a Colorado disclosure form. While the name of the first owner is not recorded in the warranty book, accompanying paperwork suggests that it may have been a Bill Parker, who sold the car to Prestige Porsche-Audi of Lakewood, Colorado, at the end of 1987, with the odometer reading just 7,069 miles. The State of Alaska issued a new registration document to Mr. Jack Lee Gallagher of Fairbanks on 3 January 1988, and it appears that Mr. Gallagher retained the car until 30 December 1998, when it was acquired by John Dixon at the Taj Ma Garaj in Dayton, Ohio. The odometer then read just 8,935 miles. The State of Ohio issued an emissions inspection report dated 2 March 1999, in which this car received a passing grade. A few days later the car was delivered to Dressman, Inc. in Hamilton, Ohio, where it was stripped and repainted in its original color, using Glasurit paint and clearcoat. It was also treated with Waxoyl anti-rust protection. On 16 May 2000, the car was fully serviced with numerous detail items repaired or replaced, including a new warm-up regulator, window seals, and some trim pieces. Mr. Dixon displayed the car at the Boonshaft Museum of Discovery Concours d'Elegance. This very attractive low-mileage SC cabriolet is equipped with a padded removable rollbar, a set of correct manuals in a maroon vinyl slipcase, a car cover, wind deflector, spare wheel and tool kit, and a history file with extensive documentation. The Pirelli Cinturato P7 tires in 205/55-16 and 225/50-16 appear to be in good condition, and the canvas top is in fine shape with a clear and unblemished plastic backlight. This 911 SC is very appealing and offers an ideal Porsche to provide its next owner with many more miles of enjoyable and reliable open-air motoring.
361 1969 Porsche 912 129 020 475 * $125,000.00 $175,000.00 N/R $100,800 -19% This gorgeous long-wheelbase 912 was delivered new from Stuttgart to its first owner, Boris Georgeff of Portland, Oregon, on 7 October 1968. After writing to several German Porsche dealers for price quotes, Mr. Georgeff decided to buy the car through Porsche's Tourist Delivery program and placed an $800 deposit with Riviera Motors in Portland on 17 September. He signed the confirming paperwork and paid the balance due on 23 September. Georgeff specified the car be finished in Tangerine (6809) over Black leatherette upholstery. He also ordered the optional five-speed manual transmission; a tinted windshield, rear window, and side glass; a Blaupunkt "Hamburg" AM push-button radio with antenna and speaker; a pair of under-bumper fog lamps; bumpers with rubber inserts; a set of chromed steel wheels with Semperit 165/15 tires, and from the Porsche accessory catalogue, a Karo rain-gutter-mounted ski rack with leather straps along with a set of Sport Leidemann wood skis and poles. Georgeff arranged to have his new car shipped home from Bremen aboard the SS Norbrott, where it arrived 25 November. All told, the retail price was $4,979.07. Georgeff drove the car sparingly and around 1976 sent it to its second owner, Mr. Jon Harrison of Roseburg, Oregon. Again, the owner gave the car minimal use, finally parking it for about five years before it was acquired by the most recent owner, John Dixon of Dayton, Ohio, on 22 May 2003, where it joined his Taj Ma Garaj Collection. Under Dixon's care, this 912 has been lovingly preserved and maintained to an exceptional standard. A careful examination of this 912 coupe shows how meticulously it has been kept by its three owners over its half century of life. Indeed, testing with a paint meter shows the exterior finish to be clean and smooth, consistent with the factory's original application. Only one very small area of paint on the engine lid above the multi-ribbed aluminum grille was found to be slightly heavier than normal, but within an acceptable range. The floor pans with factory undercoating, undercarriage, and engine bay are in equally impressive and original condition. The interior shows just a slight amount of wear consistent with the car's age and limited mileage. The carpeted front trunk retains its original chrome wheel and spare tire, jack, and a pristine set of tools. Door and window seals, rubber trim, and badging are in excellent original condition. This 912 is in all respects an exceptionally original and unrestored example. One has only to hear the click when opening a door or the wonderful vault-like thud when the doors shut to illustrate the point. Showing just 12,899 miles at the time of cataloguing, this three-owner 912 wears its original-issue blue-and-yellow Oregon license plate and is supplied with an extensive file of documents containing Car Shipment Program paperwork, Mr. Georgeff's original Tourist Delivery catalogue and price list, order receipts and factory confirmation, original import and MSO forms, freight documentation, Bill of Lading—all items that are rarely preserved—insurance from new, a factory color chart, written correspondence between the factory and Mr. Georgeff, and an array of service and ownership documents through 1976. For the connoisseur of the 912 Porsche family, this gem presents an opportunity not to be missed. It would make a great addition to any collection of fine sports cars and would most certainly be a serious contender for preservation-class honors at Porsche club events.
362 1970 Porsche 914-6 914 043 0872 * $100,000.00 $120,000.00 N/R $134,400 12% This very attractive, numbers-matching example left the factory in March 1970 and was originally delivered to its first owner by Porsche-Audi Pacific in Culver City, California, and received its first service there at 420 miles. From all indications it spent its entire life in California, as confirmed by an extensive file of service receipts accompanying the car. Eventually passing hands at a Sotheby's sale in Beverly Hills, the 914-6 was purchased in 1995 by Mr. Robert Maguire of Los Angeles, with the odometer showing a mere 5,076 miles. The car was reportedly placed in storage for an extended period. A comprehensive file of documents supplied with this car suggests that it may have been briefly owned by Roadsport in Campbell, California, near San Jose, prior to its acquisition by John Dixon in July 1999. Dixon quickly obtained a Certificate of Authenticity, which revealed that original factory options included a Blaupunkt Frankfurt AM/FM/SW stereo radio, tinted glass, a leather-wrapped "Safety" steering wheel, a heavy-duty battery, Bilstein shock absorbers, ventilated disc brakes, and fog lamps. Dixon then commissioned a comprehensive cosmetic refurbishment, elevating the car to a very high standard in its original factory color of Light Ivory. Mr. Dixon had the original Black leatherette interior renewed and replaced nearly all the external trim pieces with OEM items. He then added a number of factory accessories that serve to enhance this very desirable Targa-roofed sports car. The most striking was a set of attractive Mahle "gas burner" light-alloy wheels to replace the original painted steel wheels, which were standard fitment. These were fitted with new Michelin 165 HR-15 XAS radial tires. Another delightful period accessory is the roof-mounted ski rack with a pair of dedicated Porsche-labeled "Mt. Everest Series" skis bearing German tri-color stripes and a 914-6 logo. The skis are mounted with Tyrolia 250 bindings. Close examination of this wonderful "Six" reveals the exterior, interior, front, and rear trunk spaces and engine bay are in as-new, immaculate condition. The odometer reads just 7,712 miles, which the included documentation confirms as the correct total. Along with the CoA and a copy of the factory Kardex, the car is supplied with an original passenger carpeted footrest (the passenger seat is non-adjustable), a pair of floor mats, footwell-mounted speakers, a car cover, an original jack that was properly restored, a spare Mahle wheel and tire, and tool kit. An instruction sheet for mounting the ski rack is included, along with an original owner's manual and warranty ID card in a maroon vinyl slipcase. Also included is a 1:43-scale model of the 914-6 in the identical color. Finding a great, low-mileage 914-6 in this condition is almost unheard of today, as so many "Sixes" have been converted to racing platforms. This museum-quality example would be a perfect candidate for Porsche club events and presents an opportunity not to be overlooked.
363 1951 Porsche 356 Coupe 10681 * $100,000.00 $200,000.00 N/R $98,000 -2% Chassis 10681 is a quite early Model 51 coupe, the 150th of just 749 built at Reutter's shop in Zuffenhausen, right next door to Porsche. Delivered on 26 June 1951 and sold new in Germany to Frankfurt Porsche dealer Walter Glöckler, this little Reutter-bodied split-windshield coupe is in need of a complete restoration—but its rarity makes that very worthwhile. According to its Kardex, it was painted Radium Green (R510), trimmed in Grey-green leatherette (325), and was fitted with engine number 20217. The gearbox number was not recorded. The Kardex notes extensive service entries listed up until 30 October 1952, with 40,000 km reported as per the factory records. It is thought, though not currently confirmed, that Glöckler may have retained the car and raced it throughout Europe. The car was eventually exported to Mexico, and over the years it was registered to a series of owners in the Mexico City area. There is no information as to the fate of the original motor, but an accompanying document dated 1966 shows an engine change from 30982 to number P3560163. The current uninstalled Volkswagen engine, number 1080150, doesn't appear in the registration paperwork until later in the '90s, showing that this car went through at least three powerplants, suggesting a hard life in addition to its battle-wounded body. A Spanish-language historical account accompanying the car suggests that engine number 30982 was associated with a Carrera Panamericana entry, but this claim has yet to be verified. There follows a period covering the 1970s during which ownership is unclear, but registrations pick up again in 1985 with Sr. Fermin Osnaya Rubio. The next owners were Willy and Karen Caso Priego Koenig of Cuauhtémoc, who bought the car in 1987. In late 1988 Mr. Koenig wrote to Porsche seeking details of the car's history. It appears that Sr. Koenig then prepared the car for racing, adopting some of the visual details of the Gmünd 356 SL racing coupe, including wheel spats, louvered rear quarter window covers, and a front air vent. Along the way, the car was offered for sale locally, with remarks suggesting that this car had a Carrera Panamericana history. It was in this form that in 2004 it was advertised for sale on the Samba website. The listing caught the eye of avid Porsche collector John Dixon, who purchased the car sight unseen. It arrived in what could charitably be described as "thrown-together" condition. Fascinated by the possibility that it might be a veteran of the Carrera Panamericana, Dixon sent the car to GK Restorations in Florida, where disassembly began. It was found to be in rough condition, with extensive structural corrosion. Several interior wood trim items bear the last two digits of the chassis number. This project is supplied with a Certificate of Authenticity, a copy of its Kardex, Mexican registrations, factory correspondence, historical references, and other documents and Bills of Sale covering the years 1960 through 2004. There are also nine boxes of parts taken from the car during disassembly. It should be emphasized that there is at present no documentation that this car ever ran in the Carrera Panamericana, although Mr. Koenig raced it in its modified form in the 1990s. However, its value is sustained by the fact that very few 1951 split-windshield coupes survive in any condition, and a patient restoration should appeal to the serious collector.
364 1973 Volkswagen Super Beetle 1332526053 $20,000.00 $30,000.00 N/R $21,280 Mid This Super Beetle was delivered to New Orleans in 1973, painted in a bright and highly unusual Texas Yellow, a two-year-only shade that was among the most vibrant of the two-dozen paint hues Beetle owners could pick from in the months leading up to the oil crisis. Most Beetles would go on to live hard lives as commuter cars, and few would survive inevitable customizing by subsequent owners. This Beetle, however, emerged unscathed, and its odometer has ticked a mere 16,400 times, a fraction covered by most other Beetles. Its condition is a testament to its exceptionally low mileage. The chrome bumpers shine brightly, and its paint appears to be largely original, with the exception of the passenger front fender, which had a higher paint-meter reading. The black vinyl upholstery shows no creasing. The factory Sapphire XVIII AM radio mounted to its wood-tone dashboard appears as though it has never been switched on. An unused spare wheel sits under its hood, a smaller panel for the 1973 model year, thanks to an enlarged curved windshield. A previous owner showed an appetite for enthusiasm. In place of the standard wheels with hubcaps is a set of painted EMPI GT wheels wrapped in XAS tires. Period lovebug rubber floor mats protect its carpeting and show the limited number of times they've been stepped on. Presented with a Volkswagen Museum certificate of authenticity, its original manuals, and its production card, this Texas Yellow Beetle offers a rare glimpse into an unrestored, near-factory-fresh icon of the 1970s.
365 1960 Porsche Diesel Junior 108K K10985G * $5,000.00 $10,000.00 N/R $7,840 Mid This 1960 Junior is fitted with its original single-cylinder air-cooled "Economy" engine, displacing just 822 cc and developing about 14 horsepower at 2,160 rpm. According to its original Kraftfahrzeugbrief, the German ownership registration, it was originally sold to a Josef Moser of Landwire, Germany, on 9 August 1960, with subsequent re-registrations noted in 1965, 1966, 1986, 1987, and finally in June 2004. It was subsequently exported to the United States, where it found its way to John Dixon at the Taj Ma Garaj in Dayton, Ohio. Ultimately, the tractor was placed on the corner of the roof of the building as a unique invitation to all those that visited the collection. This charming little tractor is offered in cosmetically weathered condition but presents great potential to enjoy a wonderful piece of Porsche history.
366 1953 Porsche 356 Limousine 50146 * $150,000.00 $250,000.00 N/R $207,200 Mid Thanks to the careful eye of Don Boeke, known as "the Egyptian" at his eponymous Dayton, Ohio, customizing shop, the highly bespoke 356 limousine came to be. The team Boeke helped to assemble found several stripped 356s that could come back to life as a new project. The front portion of the car is a relatively early 1953 "bent-window" 356 that was dispatched to the French market through local importer Sonauto in February 1953. These "bent-window" cars were the first to feature a single pane of windshield glass in place of two individual panels separated by a fine pillar, as Porsche had envisioned in post-war Germany when materials were hard to come by. This front end also predated the small horn vents below the headlights, which gives the car an especially clean look. The custom Porsche is finished in Grand Prix White, an appropriate hue for a limousine. The rear of the limousine was pieced together from the other cars. It was the limousine's signature length that proved the largest challenge, both from a structural perspective and to stay true to a design that looked as though it could have left Ferry Porsche's desk with a stamp of approval. The front doors to access the chauffeur's compartment are largely stock, while the rear doors were hinged at the back. Chrome trim surrounding the side windows as well as the presence of period semaphores attest to the fine level of detail. A tan fabric sunroof holds to modern limousine convention. To improve utility, a luggage rack has been mounted to the engine cover. Careful attention was paid to small items such as an authentic Sonauto-Paris badge on the engine cover and restored Reutter badges along the car's sides. Chrome "Limousine" badges adhere to Porsche's style and are mounted on the front fenders and the trunk lid, as well. The whitewall tires are mounted on chromed wheels with hubcaps that further emphasize the factory appearance. Inside, the car's front seats are upholstered with cloth center sections and leatherette bolsters, with the same pattern repeated on the door panels. Early 356 details remain throughout, albeit with tasteful modifications. The steering wheel and all switches, including those for an air suspension installed to handle the extra load of passengers, are finished in a mocha that harmonizes with the interior. A partition separates the front compartment from where the passengers sit. Befitting the 356's short stature, the rear seating area has room for just two occupants, though those ensconced back there will find themselves plenty comfortable. Rich wood trim holds a period Fahrenheit thermometer that displays both interior and exterior temperatures, a Veidel analog clock, and even a Blaupunkt radio blanking plate. The small ashtray with its intricate flower design looks as though it would have been installed by a contemporary outfitter in the early 1950s to cater to period needs. The creative power behind the collection scoured the Internet and snapped up every appropriate period accessory from the 1950s—and not the 1960s—that he could find for the project, and the extensive receipts show how many parts were acquired new from Porsche when they were still in stock. The car was originally conceived with a 356 flat-four, but its first outing proved that the considerable extra weight meant that more power would be needed. A flat-four from a 912 with upgraded pistons and cams was installed in its place by Yuri Rojas in Dayton, Ohio. While a 356 limousine was never a real model, recreating this one-of-a-kind masterpiece would take unimaginable effort today, especially considering the scarcity of project 356s and the astounding attention to detail found throughout. It may be the little stuff that ultimately sets this extended 356 apart.
367 1956 Volkswagen Beetle Outlaw 1382892 $40,000.00 $60,000.00 N/R $40,320 Mid Franz Muhr's interpretation of an Outlaw Beetle strays as far from Volkswagen's original mission as perhaps any custom Bug. This car stands just 36 inches tall, a mere three feet separating the highest point of its curved roof from the asphalt under the tires wrapped around its American Racing wheels. Even in the world of chopped and channeled lowriders, that's an impressively low roofline. Lower yet, it barely clears two inches above the ground. The custom Beetle is so impossibly low that the editors at Hot Rod called it "the most outrageous thing we saw the entire year" when they named it one of their top 10 customs in 2008. "Squat" is an understatement for the car put together by Muhr's Kustom Coach Werks in Grand Junction, Colorado. Muhr sourced a '56 Baja Bug project that had been abandoned long before and reimagined it as a VW-powered car that might come from a cartoonish interpretation of a wild Bonneville weekend. The roof was chopped a full eight inches at the B-pillars and an extra inch at the windshield and rear window, resulting in a four-inch windshield from which the driver peeks at the road ahead. The car gained its nickname, "Death," by virtue of its outward visibility through the gun-slit window openings. The car stays as planted to the road as it looks due to torsion bars nabbed from a pre-1963 Type 2 that are mounted without shock absorbers. Disc brakes provide stopping power. Because the body sits so low to the ground, the engine and transaxle were actually raised with custom mounts to avoid excessive negative camber. The car's builder relished in its propensity to bottom out, joking to Hot Rod that adding power helps extract it from perilous situations. The 1,914 cc flat-four features Mahle 94-millimeter flat-top forged pistons and runs at a 9:1 compression ratio. Given that the minimalist Beetle tips the scales at a mere 1,300 pounds, power is not an issue. "Death" is a raw machine, with the scars, wounds, and patina to prove this Beetle is a cheeky Bug no longer, even if a bright turquoise hue that once covered its body is visible when the doors are opened. Its interior features a right-hand-drive dashboard, seats with visible springs, and burlap-covered door panels and seat backs. Comfort hardly extends to its interior. For the unintimidated, "Death" awaits.
368 1973 Porsche 911 Carrera 2.7 RS Touring 911 360 0293 * $400,000.00 $450,000.00 N/R $412,000 Mid According to the Fahrzeugbrief, the German vehicle registration supplied with the car, 0293 was delivered "Unwaxed" (without Cosmoline on the underbody) to Nordheim in Dusseldorf, West Germany, in early January 1973. It was then sold to Franz Bisping of Münster, who held the car until 1976, when it was sold to Gianfranco Revertria, also of Münster. The third owner is listed as a Michael Starke, again of Münster, in 1979, after which it was brought to the United States through Portland, Oregon, by Kathryn Ekar of Olympia, Washington, in 1986. The following year, ownership changed to a Massachusetts enthusiast, Steven C. Shap, who sold it in turn to Lawrence D. Emig in 1990. The most recent owner, John Dixon of Taj Ma Garaj, acquired this RS on 14 May 1998, with recorded mileage at 108,798 kilometers. A mechanical inspection determined that the engine needed a rebuild, which was undertaken by Die Werkstatt in Dayton, Ohio, in 1999. In 2000 Dixon commissioned a cosmetic restoration by GK Restorations in Florida, which included the installation of lightweight door shells and a new front-latch support panel. A detailed repair invoice totaled $17,800 in parts and labor. Although the RS was partially reassembled, the car remains unfinished. The original Type 911/83 engine has been rebuilt but has not been installed. The original Type 915/08 transmission was replaced at some point with an un-numbered unit of the correct type, with casting number 915301102012. It was rebuilt by Stuttgart Automotive in Dayton. There are new Bilstein shocks and struts and a strut support bar in the front trunk. The interior has been restored with a new headliner and carpeting, but the sport seats, reupholstered in leather, have not yet been installed. A new wiring harness was supplied by YnZ. The Fuchs alloy wheels were re-anodized and painted by Ernie's Alloys in Miami. This unfinished project is supplied with nearly a dozen boxes of mechanical and trim parts, as well as the removed window glass, new rubber seals, hard and soft oil lines, correct new batteries, mirrors, badging and decals, and miscellaneous hardware. There is a comprehensive file of restoration photographs and other paperwork, including repair and restoration invoices, an inventory list of parts, a Porsche Certificate of Authenticity, import documents, and magazine articles. There is a correct 1973 911 driver's manual with RS supplement, maintenance booklet, and other items in a correct maroon vinyl slipcase. Please refer to an RM Sotheby's representative for a detailed list of included parts. Here is a perfect opportunity for a determined collector to complete the project as-is, or to start anew. An early-series RS 2.7 Touring would be the star of any collection; most of the pieces to this unfinished puzzle are at hand.
369 1970 Volkswagen Beetle "Casa Linda LAce" 1102312225 $40,000.00 $60,000.00 N/R $78,400 31% A few years later, artist and master blacksmith Rafael Esparza-Prieto was asked to celebrate the car's already monumental achievement by recreating the iconic Beetle body in wrought iron for automakers Aguascalientes' Mexico assembly plant. So thrilled with the project was Montecito, California, Mexican restaurant owner Jose Barajas that he commissioned his own wrought-iron Beetle in the early 1980s. The material had long been associated with Mexican design, particularly in the fences and gates that surrounded every level of abode. The design Esparza-Prieto created features 2,600 individual floral-inspired curlicue designs and was crafted using only a hammer and an anvil prior to being painted white. The fully functional lace-patterned Beetle was unveiled at Barajas' Casa Linda restaurant in Montecito in 1985 and long remained with the restaurant, serving as an occasional shuttle to transport restaurant-goers back to nearby Santa Barbara. The intricate car was as much a draw for some as the restaurant's legendary cuisine. Its wrought-iron body sits over a 1970 Beetle interior, chassis, and powertrain, which is stock down to the Blaupunkt AM radio and 90 mph speedometer. The car's exceptional craftsmanship and exacting silhouette maintain that iconic Beetle shape. This masterpiece is as much a piece of art as it is a car, a true "art car" that will be the center of attention in nearly any collection.
370 1952 Porsche 356 Cabriolet 12355 * $375,000.00 $425,000.00 N/R $299,250 -20% Offered here from the Taj Ma Garaj is chassis number 12355, a 1952 pre-A series II cabriolet with coachwork by Gläser. It is one of just a small handful to ever reach the United States. "Model Year 52" Porsches differed from their predecessors in having a single-piece "bent" windshield as opposed to a "split," two-piece windshield. What sparse data can be found indicates that Gläser produced a relatively small number of cabriolet bodies for the 356 chassis. In a letter to one of this car's later owners, dated 28 October 1969, Porsche itself placed the total at 80. The company declared that no further information was available on these cars, explaining that they had been built 17 years earlier and nobody at the time could have imagined that they would be of interest so many years later. A handwritten production ledger from Gläser dated 24 September 1952 lists this car as number 355 in its construction sequence. Ongoing research by subsequent owners indicates that 12355 may have been the fourth car produced of this small series. It was a late-production example with a fully synchronized gearbox, built just a few months before company owner Erich Heuer closed the business, unable to compete successfully with post-war mass-market competitors. Both the factory Kardex and Certificate of Authenticity confirm that this cabriolet was completed 25 October 1952. It was painted in unusual Strawberry Red (Reutter/Gläser 524), certainly an eye-catching color for that dour period. The upholstery material and color were not recorded, nor was the transmission case number, and no further options were noted. It was delivered to Porsche agency Schmidt & Koch in Bremen, which sold it to its first owner, a local lady named Maria Nübel. We don't know how long Frau Nübel retained the car, but eventually it would make its way to the United States. A detailed handwritten chronicle prepared by one owner in early 1986 lists the car's subsequent and lengthy provenance. It spent most of its American life between the early 1960s through to the early 1990s in Kansas and Oklahoma, with its several custodians making extensive efforts to learn more about this rare model. They corresponded with the factory; with Eric Heuer, whose company took over Gläser; with one another, and with other owners of early Porsches to learn how many of these cabriolets were constructed and how to unearth parts that were no longer available from the company. The first serious effort to restore 12355 appears to have begun around 1976 with Tulsa attorney and Porsche enthusiast Jack Winn, who, after buying the car through a print ad, took the car home. He noted that many components were missing, but the seller later delivered several boxes of parts to Winn's home. Winn took the car to Jerry Johnson's Body Shop in Tulsa, where metalwork and paint were completed. The engine was removed for a rebuild, but unfortunately the original magnesium case was damaged in a chemical bath and was replaced by a slightly later case whose halves are stamped 5/26/1955 and 5/28/1955. Mr. Winn spent the next decade searching for restoration parts, trim pieces, and factory data. Porsche expressed regret at not being able to help, but noted that the cabriolets built by Gläser were very similar to those from Reutter, although the convertible tops differed in some details. Winn queried another cabriolet owner about the shape and framing of the rear window. Then, in May 1986, Mr. Winn offered the Porsche for sale through the Tulsa Bargain Post: "1952 Porsche Cabriolet project car, completed bodywork, ready for paint. Over $2,500 in new parts and trim. $15,000–$25,000 value when completed. $8500." The car was sold the following day. By 1996, the Porsche had been sold to Mr. Ely Rocha in Tulsa, and in 2007 Rocha offered it in turn to long-time Porsche collector John Dixon at Taj Ma Garaj in Dayton, Ohio. Dixon bought the car and immediately sent it to Gary Kempton at GK Restorations in Tallahassee, Florida, with instructions to bring the car back to as-new specification. From 2007 to 2011, Kempton's shop carried out a meticulous, award-winning restoration. A careful inspection reveals that the engine case number has been re-stamped, and several body panels carry the number 55, four digits away from the chassis number; however, this may be due to Gläser using its own production number rather than Porsche's chassis number, as theorized with other examples. It is generally acknowledged that hand-built convertibles such as this often vary in detail, and as this example provided no clues as to its original configuration beyond its correct paint color, individual owners are thus free to accessorize their cars to their personal tastes. This car is amazingly well detailed, with chrome eyelash headlight covers, driver's-side rear-view mirror, European taillights, chrome cabriolet top bows, polished bumper guards, aluminum "hollow" hood handle, Turbo beauty rings with chrome center hubs and chrome knock-offs, wide whitewall tires, and correct Gläser coachbuilder tag. A pair of chromed Bosch electric horns have been fitted to the front bumper. Under the hood, the carburetors are topped by early Knecht air filters, and there are also correct braided wiring and windshield washers with glass jar. The lovely details extend to the interior with a period-correct early Telefunken radio, pull-out dash lamp, a dome light on the bottom of the cabriolet headliner, and a braided leather grab-handle on the passenger side. Mr. Dixon participated with this car in several concours tours and events, including display at both the Glenmoor Gathering and Ault Park Concours d'Elegance in Ohio. Supplied with an extensive folio of correspondence, restoration invoices, and other documents chronicling its long life, this wonderful pre-A Gläser cabriolet is a rare gem, believed to be one of perhaps just two or three surviving in the United States. For the serious Porsche collector seeking a car that almost nobody else will ever own, this is an opportunity not to be passed by.
371 2007 Porsche 911/997 GT3 RS WP0AC29997S792527 $225,000.00 $275,000.00 N/R $184,800 -18% This stunning, virtually new 911 GT3 RS was specially ordered by John Dixon, owner of the Taj Ma Garaj in Dayton, Ohio. Although John had no intention of racing, he and Eric McKenna from P3Autokrafte carefully went through the order forms to select or delete various equipment items in search of as light a car as possible. This car was delivered without a rollbar and standard seats in black leather with Alcantara inserts instead of racing buckets, an Alcantara-wrapped steering wheel and shift knob, and black headliner and visors; however, John deleted the weighty standard air-conditioning system. A few compromises for planned street use meant the retention of electric windows, cruise control, navigation system, a stereo radio with CD player, and embroidered floor mats. The car was completed on 20 February 2007 and delivered through White Allen Auto Group in Dayton, with a delivered price in excess of $126,000, as noted on the included factory window sticker. The car received its pre-delivery inspection on 16 March 2007 and was then handed over to its new owner. Mr. Dixon registered the car with the state of Ohio a few days later and renewed its registration annually. He used the car infrequently; total mileage at the time of cataloguing was a mere 1,130. The very collectible high-performance Porsche is supplied with all its original documentation, a variety of marketing materials, a special tool kit, spare keys, never-installed "RS" center caps for the wheels, and clean DME and CARFAX reports. It is as close to a new, just-off-the-assembly-line Porsche as one could imagine, unmolested and unmarked, ready to provide its next owner with both visual enjoyment and visceral excitement.
372 1997 Porsche 911/993 Turbo WP0AC2996VS375198 * $225,000.00 $275,000.00 N/R $368,000 34% When John Dixon learned that the air-cooled Type 993 Turbo would be the last of its line before the advent of water cooling, he knew he had to pull out his checkbook. The proprietor of the Taj Ma Garaj in Dayton, Ohio, decided that he wanted a new built-to-order Turbo coupe, so he visited Beechmont Motors in Cincinnati. There, in early June 1996, he sat down with a salesman, and together they discussed what Dixon had in mind. After studying the standard equipment and option lists from both Porsche and Porsche Exclusive and making a few deletions and additions, John signed a purchase order and left a $10,000 deposit. His new car would be delivered in a paint-to-sample color, or code 9999, which instantly added $2,623 to the tab—and that was just for the setup. The actual color specified, Pearl White Metallic, added an additional, staggering $10,951 to the tab. He also requested that the interior be trimmed in Cashmere supple leather with black trim, highlighted by elegant "dark root wood" trim on the dashboard and door panels. Leather in Cashmere or black would extend to the interior pillars and headliner, the carpet welting, the steering column, the a/c control panel, and various dashboard instruments and switches and their surrounding trim rings. The driver and front passenger seats would be 12-way electrically adjustable, with heating and additional lumbar support, and those seat controls would also be trimmed in matching leather. The Porsche crest would be embossed on both headrests. Mr. Dixon also ordered an on-board computer, Litronic headlights and integrated fog lamps, Porsche's Digital Sound Package with a CR 210 stereo radio and six-disc CD player with remote storage in the velour-upholstered front trunk, an open CD storage space installed on the console, stainless-steel "Turbo" doorsill plates, plus color-coordinated Turbo-embroidered floormats, leather-trimmed turn-signal and cruise-control arms, both sun visors, and a special package of console trim parts. In all, more than 30 separate items were provided by Porsche Exclusive, whose craftspeople specialize in creating incredibly detailed interiors. Originally equipped with a set of paint-to-sample "Turbo Twist" alloy wheels with tires that are supplied with the car, this car is currently fitted with a set of attractive three-piece modular light-alloy wheels sourced from Champion Motorsports in Florida. Beyond the wonderful cosmetics this Turbo brings to the table, it is also a mechanical delight. The steel monocoque chassis is supported by all-independent suspension, with control arms in front and a multi-link layout in the rear. The 3,600 cc air-cooled engine of the 993 is the last of its type, producing a solid 400 horsepower with twin turbochargers and a large intercooler mounted beneath its wide rear deck-lid spoiler. Power reaches the ground via a six-speed manual transaxle and all-wheel drive. Performance is solidly in supercar territory, with 0–60 sprints available in less than four seconds and a maximum speed approaching 190 mph. Braking is more than adequate, with "Big Red" multi-piston calipers clamping large cross-drilled and ventilated rotors. Mr. Dixon's new car was completed 25 September 1996, and he took delivery from Beechwood Motors on 12 November. The day before, he had ordered a new car cover, and a set of new custom-made sheepskin seat covers were already on the way. Dixon now had the Porsche Turbo of his dreams and originally registered the car to himself, but in 2001 he transferred the title to the Taj Ma Garaj. Today this wonderful custom-ordered twin-turbo 993 shows a mere 2,569 miles from new. This incredible, flawless 993 all-wheel-drive Turbo in a dazzling and unique color will find a loving new home. Any serious collector of fine Porsches will want to give this museum-quality automobile thoughtful consideration. It is accompanied by its original documentation, including the window sticker, Certificate of Authenticity, and maintenance invoices, as well as the original manuals and other factory equipment.
373 1971 Mangosta Sport Buggy 3245179 $50,000.00 $75,000.00 N/R $106,400 42% This example, which is believed to be the last such Sport Buggy built, was used by Mangosta for marketing and promotional purposes. However, after lackluster sales, the company closed up shop, and the buggy was stashed away in a warehouse, hardly driven and never registered. The Mangosta eventually ended up with the famous Movie World Cars of the Stars collection of Jim Brucker in Santa Paula, California. Sometime thereafter it was acquired by another prolific collector in Santa Barbara, under whose ownership it continued to sit and collect dust. It wasn't until 2003 when well-known enthusiast and Volkswagen expert Randy Carlson stumbled upon the car while responding to an ad for a VW Squareback. Randy was amazed to discover such an incredibly original and unmolested buggy, and an exceedingly rare one at that. He was equally impressed by the thrill and speed of the machine. So much so that, as a father, he decided it best belonged with a more careful owner, which he found in John Dixon and the Taj Ma Garaj. The metallic root-beer-brown gel coat drips with '70s charm, as it should, since it was the company's marketing showpiece. Orange, white, and green stripes run around the entire tube. Deep mud-plugging tires mounted on chrome Cragar wheels give it both purpose and elegance. Its interior is comparatively opulent, with quilted brown vinyl trim draped over every surface. Front-seat passengers are treated to deep racing-style seats, and an upholstered rear area is ready for a couple of friends or perhaps a cooler stocked with supplies. So quintessential is this Mangosta Sport Buggy that it even made an appearance in the Hollywood shock flick Revenge of the Cheerleaders, a movie that could only have been made in the '70s. If ever there was an automotive icon of an era, the Mangosta Sport Buggy may have been it.
374 1988 Porsche 911 Turbo Flachbau WP0JB0936JS050662 $175,000.00 $225,000.00 N/R $193,200 Mid Many of these rare and very desirable 930 S Turbos were snapped up by collectors and driven sparingly, if at all. First offered to U.S. customers in 1987, about 589 factory-built flat-nose Turbos were manufactured in 1988. This beautiful example was shipped from the factory to Charleston, South Carolina, and thence to Bill Jacobs Motorsports Inc. in Naperville, Illinois. It was sold to its first owners, Bill and Cheryl Sullivan of Naperville, on 20 July 1988 with 45 delivery miles on the odometer. It had been ordered with optional electrically adjustable Sport seats, velour carpeting in the front trunk compartment, and a stick of factory touch-up paint, which brought the sticker price to $99,785, plus vehicle prep and delivery charges. Over the next nine years, Mr. and Mrs. Sullivan maintained the car fastidiously, adding about 12,735 miles before it was offered for sale. The European Toy Store sold this 930 S to its second registered owner, M.O. Dixon (no relation) of Knoxville, on 15 July 1997. The odometer then read 12,780 miles. At some point the car was fitted with a set of 17-inch three-piece modular alloy wheels, but the original stock Fuchs with their centers painted to match the body color were saved and have since been re-installed. This 930 S joined the Taj Ma Garaj in 1998. This fine Guards Red Turbo appears to be in perfect cosmetic condition, with unmarked paint and wonderful Champagne leather upholstery. It was most recently serviced at P3Autokrafte in Dayton, Ohio. The CARFAX report shows that on 29 March 2019, several air-conditioning lines were replaced, the valves were adjusted, and a new battery and new hood support struts were installed. After recent inspection, the paint meter readings were found to be consistent throughout, and it is believed that the car retains its original paintwork throughout. Supplied with the Porsche Certificate of Authenticity, its correct, original space-saver spare tire and wheel, jack, and tools, as well as an original maroon slipcase with an owner's manual and other documents, this is one of the nicest factory-built flat-nose Turbos available, perfect for any Porsche collection.
375 1958 Porsche 356A Sedan Delivery 104507 $100,000.00 $150,000.00 N/R $86,800 -13% For John Dixon of the Taj Ma Garaj, what passed for utility in Zuffenhausen was only the starting point. Working with artist Byron Kauffman of Daytona Beach, Florida, Dixon sketched out a 911 with a sedan delivery body that would provide the rear-engined car with a relatively vertical, side-hinged cargo door and plenty of storage behind. After deciding that the low-slung 911 didn't lend itself to the concept as well as the 356, Dixon entrusted Bob Bennett of Bennett's Rod Shop west of Dayton, Ohio, with bringing his idea to life. The car would eventually become known as the "Kreuzer," a Germanized version of "cruiser." The early sketches show how remarkably Bennett's was able to stick to the original concept. They began with a Reutter-bodied 1958 U.S.-market 356 A that had left the factory finished in black over red leatherette upholstery and equipped with a sunroof. The base was originally a Texas car that had been damaged and taken out of service in rural Wisconsin, but the little car's sheet metal was solid enough that it could be reworked into a panel van. Bennett's kept the car stock from its B-pillar forward and extended its roofline to create a nearly vertical rear section. The stock rear fenders remained intact and are capped with standard Porsche taillights, a careful touch that makes the car look as though it could have left Germany with just those lines. The cargo door is hinged on the passenger's side and features a small rear window. A period "Please Pass" sign shows through the window just as it would on a delivery van, even though a little muscle under the hood would make this Porsche the one doing the passing. A 356 engine grille sits over functional louvers to keep a rear-mounted engine cool. The creation honors its base with its glossy black paint and shiny chrome Rudge wheels, with a fifth mounted under the front trunk, as well as attractive GT bumpers. Inside, its dashboard (with VDO gauges), door panels, and driver's seat are trimmed with red leatherette, just as the factory intended, while a folding cane jump seat for the front passenger is a nod to its commercial-van intentions, even if the only things the van delivers are laughs and smiles. Behind the front seats sits an unadorned storage area with leather straps designed to hold a suitcase. Rubber mats cover the car's floors. It is perhaps not the most utilitarian car ever created, as its sunroof and wood-rimmed Nardi steering wheel can attest. Incredible period details abound, including a fan with ivory-colored blades mounted to the headliner to keep the driver cool, rare analog clock within the rearview mirror, tinted driver's-side sun visor, and delightful cigarette dispenser, for those particularly stressful last-minute deliveries. The Kreuzer includes a period-correct 1600 Type 616/1 engine, though it is currently not installed. A 356 A transmission remains in the car, ready to be mated with the engine. So convincing was the Kreuzer that Excellence magazine chose to feature it as an April Fool's hoax in 2005. The magazine claimed that the car was the only remaining example of three originally built by the factory. Dixon got in on the joke with a humorous mock-up Porsche Certificate of Authenticity that lists features such as "zigaretten" and "passenger seat delete." A real Porsche CoA for the original donor car is otherwise included. The Kreuzer was shown at the 2015 Dayton Concours d'Elegance, where it earned an Award of Excellence, with plenty of room to spare for additional trophies.
376 1967 Porsche 911S 305860S * $350,000.00 $450,000.00 N/R $335,000 -4% Offered from the Taj Ma Garaj is an incredibly original 1967 911 S with a fascinating and exceedingly well-documented history that includes virtually every piece of paperwork associated with its purchase, delivery, and subsequent use. This magnificent example was ordered new from the factory by Mr. Robert Rice Graham, an automotive shop foreman employed by the Arabian-American Oil Company (ARAMCO), in Dharan, Saudi Arabia. Mr. Graham's interest in Porsche ownership dates to at least 1961, based on a typewritten letter sent to Klaus von Marnitz at Raffay & Cie. GmbH in Hamburg, Germany, the largest Porsche dealer in northern Germany, acknowledging receipt of sales literature for the new 1962 model 356. He enclosed a $500 deposit on a new U.S.-specification 356 B Super coupe, red with white leather, and listed specific options desired, which were many. He emphasized that the car had to be delivered to the U.S. by the first week of 1962. He later decided to pick the car up at the factory. In October 1963, Mr. Graham learned of the soon-to-be-introduced six-cylinder Type 901 and wrote to Porsche asking for detailed information on availability. H. C. Ernst replied on 7 November, informing Graham that production of the 901 would not begin until summer of 1964, with the first deliveries scheduled for the end of the year. Graham then asked if he could possibly order a car and pick it up at the factory when he was on vacation in the fall. Herr Ernst replied that because there was already a growing list of orders and the factory was only producing one or two cars per day, a fall delivery was not possible. He intimated that a car might be available at the end of the year. Apparently, that was agreeable to Mr. Graham, and on 19 January 1966, Graham wrote back asking to order a new car, mentioning his previous purchase and asking to have the car ready for factory delivery in October. Porsche then mailed to him a detailed price list of optional equipment and accessories that would be available. Porsche's sales office explained to Graham that the customary process was for a buyer to work through a franchised dealer, but in his case an exception would be made, and he could buy directly from the factory. Graham was sent an order form for Tourist Delivery, and a deposit was requested. Mr. Graham sat down with a sharpened pencil and again prepared a detailed list of specifications, many replicating the way his 356 B had been equipped. On 16 February he wrote back that he wanted a car in Silver Metallic, but asked for a factory color chart. The interior was to be full black leather, including headrests. He asked for full Catacolor tinted glass, a raised steering wheel hub (found to be unavailable), a rear window wiper, two outside mirrors, an outside thermometer, chrome hubcaps with crests, a driver's sun visor with mirror, seat belts, floor mats, a Becker "Mexico" AM/FM/SW radio with speakers and antenna, bumper guards with rubber cushions, Koni adjustable shocks, three black-and-red canvas suitcases, a similar canvas bag, an elastic luggage hold-down for the trunk, and finally, a roof-mounted luggage rack and leather straps. He also ordered a factory service manual and asked if such items as wire screen headlamp covers and a larger auxiliary oil cooler might be available to help deal with desert heat. On 1 March, a cursory note arrived from the factory asking if Graham had decided on a color. He cabled back that he still had not received a color chart. He soon received a letter with an attached paint sample explaining that Silbermetall (6206) was the only hue that met Graham's needs, that stone guards were not offered, and that the stock oil radiator would be adequate for Middle Eastern climes. Graham confirmed the order, telling Porsche that he planned to drive the car to Switzerland—for which he'd need a refundable Carnet (travel pass) from the German Automobile Club—then load it on a freighter at Genoa, and then to Beirut and on to Kuwait. On 22 July, Porsche informed Mr. Graham that he should choose either a standard 911 or the new 1967 911 S, which included as standard equipment many of the options he had picked. A week later, Graham replied that he'd take the 911 S, and submitted a new list of desired options, including a roof-top rack to accommodate skis, a travel kit, and a Becker "Grand Prix" radio. The total price with registration and export charge was $7,143, which included some $1,300 in optional equipment. He'd already sent a deposit, so he brought along a certified check for the balance due, $6,658. In September Graham ordered an air-conditioning unit from Delair at a cost of $375, to be shipped to Mr. Graham in Dharan. That unit was either never installed or subsequently removed from the car. Porsche cabled Graham to advise that the car would be ready for pickup on 18 October. The week before, Automotive News published a story about the exciting new 911 S; the clipping found its way into Graham's document file. Mr. Graham duly picked up his car in Stuttgart and also loaded up at the company gift shop, purchasing no fewer than 54 Porsche-related items ranging from books and models to whiskey glasses and desk pads. Departure from Genoa was booked for 5 November 1966 aboard the SS Esperia. En route to Italy, Mr. Graham discovered some electrical problems with his new 911 that required replacement of the wiring harness between the dashboard and fuse panel; new parts were dispatched to him from the factory, and repairs were made in Italy. In September 1969 Mr. Graham made arrangements to have his Porsche air-shipped to Frankfurt, transferred to Bremerhaven, Germany, and then transported by the SS Minden to Port Elizabeth, New Jersey, where it would be picked up by his wife, Sophia. The car arrived stateside and passed through U.S. Customs on 7 November. Mr. Graham added very few miles after bringing the car to his home in Escondido, California, maintaining it properly and dutifully keeping a log of his mileage and service until it was sold to Mr. Alfred Hu of Alhambra on 12 November 1998. Mr. Hu entrusted the care of the 911 S to marque experts at Andial, then located in Orange County. He carried out some minor service and refreshed some of the trim items prior to selling the car to John Dixon at Taj Ma Garaj, who spent more time addressing small details that make this such a fine example. Aside from the bumpers that are known to have been repainted, the rest of the car's exterior color appears consistent. Recently metered, it is believed that the Porsche is still wearing most if not all of its original factory paintwork. Now displaying a documented 28,980 miles, this may well be the best-documented and most original 1967 Porsche 911 S coupe extant. The amount of original paperwork is stunning: two boxes of records from the original owner, and three additional file folders preserving this car's life over the past 52 years. It is an extraordinary and historic time capsule that captures how Porsche's Tourist Delivery system operated throughout the 1960s. This exceptional 911 S presents an extraordinary opportunity for the true marque enthusiast.
377 1967 Volkswagen Type 2 Panel Van 217004334 $60,000.00 $80,000.00 N/R $50,400 -16% This Type 2 is among the last of the T1 vans built and is fitted with the unusual high-roof, or Hochdach, configuration that allowed for even more utility. Extra-tall side doors provide access to a cargo area so tall that many adults can stand upright once inside. The vans left Hannover with unadorned interiors painted an innocuous off-grey hue, and nearly all were outfitted with custom shelving and the like. Given the hard lives these vans lived—if not with their first owners, then in their second and third lives as utility trucks—few are known to have survived. This example was built for the German market in harmonious Dove Blue with a handful of options fitted, including bumper over-riders and lap belts. The van was restored between 2003 and 2004 by MetalKraft CoachWerkes in Cincinnati, Ohio, and has largely been displayed and not driven in the ensuing years. It presents in nearly new condition inside and out, and where it has been jovially personalized with Taj Ma Garaj vinyl graphics, it could be rechristened for a new purpose. A white-painted roof rack was custom-fabricated and features a matching stepladder that helps accentuate just how tall the high-roof version of the Type 2 really is. Inside, the van features grey upholstery in the original style, Wolfsburg lap belts, and a painted dashboard with a white grab handle. Ready for personalization or to be the star of any gathering of vintage VW busses, this high-roof T1 is certainly among the finest examples to be found.
378 1981 Porsche 924 Carrera GTS Clubsport WP0ZZZ93ZBS710038 * $250,000.00 $350,000.00 N/R $357,000 2% This example was completed on 11 February 1981 and then shipped to Bob Hagestad Porsche-Audi in Denver, Colorado, where it was sold to its first owner, Dr. William Jackson, an ophthalmologist from Pine Cliff, Colorado, on 23 July 1982. The retail price was $44,062. Soon after his purchase, Dr. Jackson entertained the possibility of driving his new car on the street, but a letter from Mr. John Hitt, Hagestad's sales manager, quickly disabused him of that idea. The letter stated that the car was sold on a Bill of Sale, without any MSO or title. "This car can only be used for the purposes of show, testing, experiment, competition, and repairs or alterations and will not be sold, licensed, or registered for use on public roads in the U.S." It also notes that many cars like this are bought for collectible purposes and will not meet EPA standards in the U.S. Only a handful would reach the United States. In April 1987, Dr. Jackson had Eurosport, Ltd. of Englewood, Colorado, service the car and install a set of racing slicks. He otherwise stored the car amongst his collection of rare and highly original Porsches. In August 2005, Dr. Jackson sold the Carrera GTS to John Dixon, only the second owner, at the Taj Ma Garaj in Dayton, Ohio. Most recently serviced in March 2019 by P3Autokräfte, this wonderful factory-built production race car presents in original and very good cosmetic condition, with only a few minor flaws. Notably, the engine and transmission numbers on the Porsche Certificate of Authenticity do not match those currently in the car. However, in speaking with the original owner, the car remains as he acquired it new in 1982 and has only been driven a handful of miles since he took delivery.It is supplied with a tool kit, spare wheel, jack, factory literature, dealer correspondence, and a file of service receipts. This rare and very desirable 924 Carrera GTS Clubsport would easily be returned to track-ready condition. Its next owner can be assured that it will be the only one in the neighborhood.
379 1957 Porsche 356A Carrera GT Speedster 83622 * $1,500,000.00 $2,000,000.00 N/R $1,380,000 -8% Offered here is a wonderfully restored example of a Carrera 1500 GT Speedster, believed to be one of only 12 to leave the factory in this configuration. Its factory Kardex contains very little in the way of detailed production information, other than to list its original chassis, engine, transmission, and the key and lock numbers. The Kardex reflects one service carried out on 25 October 1957 at Max Hoffman's dealership. The authoritative Heinrich/Sprenger volume on Carreras reveals that this Speedster was completed on 23 July 1957 and delivered to Max Hoffman in New York in "lightened" form. The Speedster was finished in Silver Metallic with a Black leatherette interior; the front floor was covered with black rubber mats, while the rear floor area was covered in "crushed black vinyl." The deep Speedster bucket seats with aluminum frames included Beige (Perle) corduroy inserts. The thin black canvas folding top with its bows was completely removable. A pair of matching side curtains and a tonneau cover would have been standard equipment. Interestingly, this car was fitted by its most recent owner with an extremely rare steel Speedster hardtop with a wraparound three-panel rear window. John Dixon claimed to an interviewer that perhaps no more than four or five of these hardtops are known to have been produced and sold. Although it is duly listed in the Heinrich/Sprenger tome, little is known of this car's early history prior to the early 1980s, when it was acquired by noted four-cam authority Weldon Scrogham, now living in Waynesboro, Virginia. According to a Bill of Sale dated 28 December 1981, Scrogham sold the car to import service shop owner Reid Vann in St. Louis, Missouri. At that time it was lacking its original engine, number 90858. The Bill of Sale included handwritten notes regarding the prior owners of the correct engine. Mr. Vann traced the correct engine to another individual in an attempt to reunite it with its original chassis, though he was unwilling to sell at the time. Vann then reached out to the late four-cam expert Al Cadrobbi in California, who supplied a series-correct and slightly later engine, number 90869. Vann also mentioned that he had new floors installed. On 8 January 1988, Vann sold the Speedster to James W. "Bill" Brown of Lincoln, Nebraska, who commissioned Joe Harris of Rockford, Illinois, to finish the metalwork and repaint the car. The interior restoration was sent for completion and the car offered for sale in 1995. The car was described as restored, but with engine number 90869. The sale included the original case (90858 GT), acquired from Dick Koenig of the Rocky Mountain 356 Club. Brown stated that the car had never been wrecked or damaged and had been driven an enjoyable 10,000 miles since Cadrobbi rebuilt the engine (90869). He also noted that the car had new floors, longitudinals, battery box, and rockers. However, the car did retain its original panels, doors, and decklid, and had its original GT interior, parts, and small bits, and was mechanically sorted. Long-time Ohio Valley PCA member and veteran 356 owner Dick Weiss inspected the Speedster on behalf of John Hanning of West Chester, Ohio. Brown listed the GT equipment fitted to the car, including the GT-specification engine, 60 mm ventilated front brakes, ventilated 4½×15-inch alloy/steel wheels, 80-liter GT gas tank, lightweight GT interior, GT bumper trim, no heater, rolled front and rear body edges, and no exterior Speedster trim. Although Weiss listed transmission number 23509 as being included, he noted that the original transmission, 15632, was rebuilt to original specification. The matching-numbers engine and gearbox were subsequently reunited and are in the car today. He also mentioned the standard equipment and that the odometer read 12,500 miles at the time. That apparently satisfied Mr. Hanning, who purchased the Speedster in 1995. The following year he commissioned extensive transaxle work for $2,450. In 1998, the car passed from Hanning to John Dixon at the Taj Ma Garaj in Dayton, Ohio. Dixon commissioned the marque specialists at Die Werkstatt in Dayton, Ohio, to carry out a full restoration that consumed three years, with the GT-specification engine enjoying the ministrations of the renowned Bill Doyle at Rennwagen in Jackson Hole, Wyoming. More recently, the car was given a fresh restoration by Gary Kempton at GK Restorations in Tallahassee, Florida. During his custodianship, Mr. Dixon acquired the steel hardtop and removable rollbar. This very desirable Carrera Speedster is presented today in overall excellent concours condition. A recent inspection shows consistent door and panel gaps, with superior fit and finish throughout. The doors and lids close nicely with that wonderful thud that one would expect from a concours-level Speedster. The hardtop fits snugly, and the soft top still looks new. Dunlop Racing tires in 500 L/15 size are fitted to correct "open" lightweight steel-and-alloy wheels date-coded "2-57." Included are a period-correct Blaupunkt jack and tool roll, plus a rare "Touring" kit containing cables, bulbs, fuses, and gaskets. Other rare items include the rollbar (uninstalled), "Atlantis" braided tow rope in its original blue vinyl storage bag, an original driver's manual with Carrera supplement, a factory Kardex, and Porsche Certificate of Authenticity, issued 25 June 1998. The serious Porsche collector seeking a perfect capstone to a stable of rare and exotic machinery could do no better than to give this Carrera GS/GT Speedster a new and appreciative home.
380 1974 Porsche 911 Carrera 911 440 0143 $175,000.00 $225,000.00 N/R $168,000 -4% Here is a beautifully maintained, very original, concours-winning U.S.-spec Carrera coupe with fewer than 17,000 original and documented miles from new. The 143rd in that scarce series of 528, it was delivered in October 1973. Its Porsche-issued Certificate of Authenticity notes that it was finished in Grand Prix White over a Black leatherette interior. Options noted Ornamental Painting – Black, which refers to the 911 decals on the hood, which were installed on nearly one in every four 911s that year. Furthermore, the car was equipped with a Blaupunkt Frankfurt stereo radio, tinted glass, a "ducktail" rear spoiler, and Pirelli tires. Fuchs six- and seven-inch-wide "windmill"-style spoked alloy wheels were standard equipment, as was black anodized window framing. An examination of the car's original owner's manual reveals that it was shipped to Perkins Porsche-Audi in Parsippany, New Jersey, and sold to its first owner, Carol Bickel of Madison, New Jersey, on 11 November 1973. It was later sold to longtime Porsche enthusiast Kenneth Barre, formerly of Rye, New York. Mr. Barre was an avid participant in Porsche Club of America's concours d'elegance competition and frequently entered the Carrera in Regional and Zone 1 events. His carefully prepared Carrera was awarded class honors in four consecutive events and was named the PCA Zone 1 Division winner for 1984. In November 1994 Barre sold the car, then having recorded 7,495 miles, to Mr. Hiro Wakabayashi of New York City. Mr. Wakabayashi owned the car through at least January 1997, confirmed by a state inspection sticker from that year indicating mileage of 9,783. During his custodianship, some minor cosmetic work was completed by the Paterek Brothers in New Jersey, including removal of the "911" safety striping on the hood. The fuel tank was replaced at 7,563 miles. The braking system was overhauled in 2003 at Holbert Motor Cars in Pennsylvania, with mileage recorded at 9,920. The car then passed through the hands of Porsche broker Richard Sloan in New Haven, Connecticut, who in turn sold the car to Gary Nunnelly of Los Angeles, California, in May 2005. Mr. Nunnelly soon afterward had the car serviced at Rusnak Porsche-Audi in Pasadena, with the mileage showing 10,088. The next listed owner, circa 2007, was long-time Porsche enthusiast Frank Enea of Monterey, California, who has owned and enjoyed numerous G-series 911s. A service invoice dated 19 April of that year shows the mileage at 12,982. Mr. Enea decided to return the car to its as-delivered appearance and had a new set of "911" hood decals installed. In 2008 the car was sold to its most recent owner, John Dixon at the Taj Ma Garaj in Dayton, Ohio. Today this outstanding and rare 1974 Carrera coupe is offered in spotless concours condition, accompanied by all its original factory equipment, manuals, and tools, along with a file of service records, registrations, Bills of Sale, and factory correspondence. Its paint, interior, underbody—still retaining some of the factory-applied Cosmoline—front trunk, and engine compartment are all spotless, ready to delight its next owner.
381 1988 Porsche 944 Rothmans WP0AA0958JN165069 $75,000.00 $100,000.00 N/R $98,000 Mid The Guards Red Turbo Cup offered from the Taj Ma Garaj might well be dubbed "the one that got away." An included letter from Randy Myagishima, former sales manager for Norden Autohaus, the Porsche-Audi dealer in Edmonton, Alberta, states that he had learned that importer Porsche-Volkswagen of Canada had a spare race car intended for use as a replacement in the Rothmans Cup series in the event that one of the race entrants needed a fresh car. This car had remained in Norden's shop, and Porsche AG wanted it back—but Myagishima had already committed to selling it to one of his customers. That customer, Dr. Curtis Smith, thus became the car's first registered owner in 1990, driving the car occasionally on the street. Service stamps in the warranty book show Smith bringing the car in for service at 12,780 km in 2000 and 14,536 km in 2002. Norden Autohaus installed a new Walker stainless-steel exhaust system for Dr. Smith, but the original system with its factory catalytic converter was retained and is included with the car. In 2002 Dr. Smith sold the car to John Dixon at the Taj Ma Garaj in Dayton, Ohio. Smith sent along a spare set of wheels and used tires, along with other small parts. In December 2002 Mr. Dixon commissioned a cosmetic freshening of the body, which included a full high-quality repaint in its original color, along with a clear-coat and retrimming in correct Rothmans livery. Mr. Dixon was invited to show his 944 Turbo Cup car at the 2015 Porsche Club of America Parade's Heritage display. In January of this year, the car received a new timing belt, battery, a new distributor, and an oil change with new filter. Currently displaying just 14,903 km, which is believed to be the original and correct total, this numbers-matching 944 Turbo Cup is supplied with a notebook of sales documents, export and shipping paperwork, factory publicity materials, and a clean CARFAX report. This exciting Turbo could be enjoyed at any PCA Club Race event or club-level concours, or take a starring role at one's next Cars and Coffee gathering.
382 1967 Porsche 911 Coupe 305324 $150,000.00 $200,000.00 N/R $109,200 -27% This lovely 1967 short-wheelbase coupe was completed 1 August 1966 and sold new to Mr. J.W. Clark, a resident of Mount Royal, a suburb of Montreal, Quebec, Canada. While it is unclear why Mr. Clark ordered a right-hand-drive Porsche, the included factory Kardex and Certificate of Authenticity show that he specified a broad range of comfort and convenience options, suggesting that he may have planned to use the car for touring, possibly in the UK. These included a special VDO speedometer that reads in miles and kilometers; headrests for both front seats; an outside thermometer; a pair of black leather suitcases that fit on the folded rear seats, and an "expander," an elastic cord net to hold luggage in place; a mirror with sunshade, and a hand-held spotlight. Mr. Clark requested that the car be equipped with Koni shock absorbers; a pair of "automatic" seat belts; a wood-rimmed steering wheel; a Blaupunkt "New York" radio, speaker, and antenna; and a set of chromed steel wheels with crested hubcaps that were fitted with Phoenix tires. The Light Ivory paint was complemented by a Black leatherette interior. The Kardex shows that the car was delivered and initially serviced in Germany, but reflects that the Porsche eventually crossed the Atlantic, where it was maintained by Porsche-VW of Canada in 1967 and 1968, when the odometer read a mere 2,113 miles. Its subsequent ownership history until the time it was purchased by Mr. John Dixon of the Taj Ma Garaj Collection in Ohio is unknown. At some point after its arrival in Canada, a factory-authorized Renair "Delanair" air-conditioning system was installed. While 1967 was the first year that air-conditioning became a factory option, these units were installed though the dealership. Today this wonderful early 911 displayed an amazingly low 3,937 miles at the time of cataloguing, and based on the service records that accompany the car, there is every reason to believe that that is the correct total from new. A close inspection indicates no obvious body repairs, but testing with a paint meter found the paint thickness slightly heavier than the factory standard, indicating that the car may have had some freshening in the past. That fact was confirmed with a review of repair and maintenance invoices provided. The interior, including the headliner, carpeting, dash pads, door cards, and seat covers, appear to be original and in excellent condition, and the exterior trim is pristine. It is supplied with a copy of the factory Kardex and Porsche-issued CoA, a set of owner's and air-conditioning operator's manuals, a warranty book, spare, jack, and a tool kit. This is quite likely the sole example of an early right-hand 911 with these factory options. With the rarely seen air-conditioning system and boasting such low mileage, it would surely warrant inclusion in any collection of high-performance European sports cars.
383 2004 Volkswagen Beetle Ultima Edition 3VWS1A1B04M904099 $20,000.00 $30,000.00 N/R Unknown N/A This 2004 Última Edición is finished in Harvest Moon Beige with a black interior. It rides whitewall tires mounted on body-colored wheels with Volkswagen hubcaps. The interior is equipped with an AM/FM radio with CD player, modern bucket seats, and Wolfsburg steering wheel. A full-size spare resides up front, and a fire extinguisher is mounted in the passenger footwell. This car was purchased new by Gabriel Larrea Soltero for $85,001 pesos in 2003. John Dixon purchased the car shortly thereafter in October 2003. The car is accompanied by purchase documents from the first owner, a laminated copy of the car's 2003 Mexico registration, and the owner's manuals in their respective pouch. The front bumper is likewise included but was removed at the time of catalogue photography. The final iteration of the original Beetle, the Última Edición has been a sought-after model among air-cooled collectors since its release. This example, having covered only 337 kilometers from new, remains in pristine condition throughout and is sure to impress as a nostalgic homage to the best-selling car in the world.
384 1971 Volkswagen Beetle Jungle Bug 0619337 $25,000.00 $35,000.00 N/R $19,040 -24% At its base is a standard 1971 Super Beetle with a sunroof. Exterior trim was shaved, and the trunk lid was smoothed out to give the "Jungle Bug" an even cleaner look. Yellow-tinted headlight lenses give the car an animalistic look, reinforced by its custom orange body with black stripes, painted by Carl's Auto FX in Dayton, Ohio. Modifications are extensive. The running boards were extended to flow with the tweaked fenders, and the bulky factory taillights were discarded in favor of a pair of strips built into the rear fenders. Purple-hued Colorado Custom Ft. Lupton wheels are wrapped in Kumho performance tires. The theme goes even further inside. A reworked dashboard based on the Beetle's design is painted light grey with dramatic orange pinstriping. Grey carpeting is matched with grey seat bolsters and orange vinyl center sections. Above the radio, eyes of a tiger appear to bust through the dashboard on a mural painted by Don Boeke, known locally as the proprietor of Egyptian Custom Body. White-faced VDO gauges rest in the dashboard in place of the original units. A Gene Berg shifter transfers power to a performance VW motor built by the Garaj in Kettering, Ohio, with a performance air cleaner and carburetor. To make an aural impact as big as the car's design, the Pioneer audio system features speakers in custom enclosures in the trunk area, six Planet Audio subwoofers where the rear seat would be located, and additional speakers housed in the door panels. Former Cincinnati Bengals kicker Shayne Graham signed the speaker housing built into the driver's door in 2006. This Bengal-themed custom Beetle makes a strong impression and would be the center of attention in any sports or car enthusiast's collection. Even if the Bengals don't win a Super Bowl, this tiger will always be the life of the party.
385 1967 Volkswagen Super Beetle 117022036 * $30,000.00 $50,000.00 N/R $23,520 -22% According to the Volkswagen Museum production certificate, this Beetle was built on 30 July 1966 and finished in Ruby Red with black leatherette upholstery, Lotus White wheel rims, and hinged side windows. On 11 August the car left the factory destined for the San Francisco, California, port of entry, where distributor Reynold C. Johnson Co. would handle its allocation. Upon arrival at the San Francisco port, the car was trucked to Spartan Volkswagen in San Jose, California. Following a pre-delivery inspection, the Beetle was sold to Lorin A. Wheeler of San Jose on 28 February 1967. The car returned to Spartan Volkswagen on 5 April 1967 with 292 miles on the odometer for its 300-miles engine and transmission oil change and free maintenance service. On 12 June 1974, the car returned to what had become Bob Himsl Volkswagen for its 3,000-miles service. Following a few services at Bob Himsl, Lorin began taking the car to Stevens Creek Volkswagen. Numerous invoices show the Beetle was lovingly looked after. Incredibly, Lorin Wheeler would own the Beetle his entire life, running the same California black plate UGX 708. In June 2003, John Dixon purchased the Beetle from Wheeler's estate, where it has resided in the Taj Ma Garaj ever since. Today the Beetle remains in largely original condition. A two-owner example, the odometer displays 6,135 miles, which is believed to be original. The car still wears a Ruby Red finish with evidence of some repainting over the years as needed. The interior also appears to be original, though the beige leatherette color differs from the VW Museum records. In addition to retaining its original engine, the car features numerous period accessories, including a Saphire V all-transistor radio with rear speaker, under-dash storage tray, driver headrest, and wind deflector. A wonderful example of the marque, this 1967 Vee-Dub stands out among the rest as a largely original, two-owner example with only 6,135 miles on the odometer. While Volkswagen produced a significant number of Beetles over the years, few have remained this original, and fewer yet have passed through only two owners.
386 1988 Porsche 911 Carrera Coupe WP0AB0914JS121758 $4,000.00 $8,000.00 N/R $5,600 Mid
387 1972 Volkswagen Beetle 1122497788 $2,000.00 $4,000.00 N/R $1,120 -44%
388 1956 Porsche 356 Speedster Dragster $5,000.00 $10,000.00 N/R $6,160 Mid
389 1961 Volkswagen Type 2 Pickup 682529 $10,000.00 $15,000.00 N/R $19,040 27%
All information is copyright Auto Auctions Monthly except images which are copyright of Artcurial, Bonhams, Gooding & co., Mecum, RM/ Sothebys, Russo & Steele and Worldwide Auctioneers. All figures are US$ and gross unless specifically stated. All figures are accurate in the home currency for the sale, any figures in other currencies are calculated based on the exchange rate for the date of sale accessed from FxTop.com. Percentages as given are calculated as the % below low estimate or above estimate as noted. All information given for recreational use only and cannot be personally guaranteed for accuracy by the author.