Goodwood Estate, Chichester, West Sussex, UK
11:00, September 14th, 2019
https://www.bonhams.com/auctions/25454/
The Goodwood Revival is the third annual event on the Sussex, UK based circuit and one of the two that use the short Goodwood circuit. A 2.367 mile/3.809 km circuit in Lord Marches backyard, the circuit was well known in British racing circles during the 1950s and 60s with the semi annual TT and various non championship Formula 1 and 2 meetings. After nearly 30 years out of use, the success of the Festival of Speed lead to the revival of the Revival in 1998 and both the meeting and the coinciding events have gone from success to success. Bonhams have hosted sales in conjunction with the Revival since the start and have had plenty of success although the successes have been patchy due to a frequent lack of impetus from the organisers. Highlights have been the 2012 – 2014 sales which all grossed over $20 million while cars such as the Mercedes-Benz S-Type (2012), Alfa Romeo 8C/35 (2013) and Porsche 550RS (2016) have all been true stars. I am uncertain whether this year has the right cars for success but neither do I see it being a poor year. 2015, 16 and 17 were all pretty average years for this sale but 2018 saw Bonhams back on top form. 2019 is shaping to be a good but not great year and after Monterey the Bonhams team will have their work cut out for them.
Year – sold/ offered (%) – Gross Total (US$) – High sale gross (US$
2007 38/53 (72%) $5,166,301 $603,428 1929 Isotta-Fraschini Tipo 8A
2008 46/69 (67%) $5,697,046 $877,884 1964 Porsche 904GTS
2009 53/66 (80%) $5,921,339 $523,487 1966 Aston Martin DBSC
2010 51/79 (65%) $5,694,977 $1,250,134 1953 Jaguar C-Type
2011 48/86 (56%) $7,393,504 $940,012 1971 Ferrari 365GTS/4
2012 65/86 (76%) $20,124,043 $4,543,394 1928 Mercedes-Benz S-Type
2013 63/75 (84%) $21,519,271 $9,398,884 1935 Alfa 8C/35
2014 77/105 (73%) $24,515,357 $2,547,729 1936 Lagonda LG45R
2015 54/83 (65%) $16,758,352 $1,677,862 1965 Aston Martin DB5
2016 59/85 (69%) $15,883,826 $6,118,542 1956 Porsche 550RS
2017 77/112 (69%) $13,907,676 $801,155 1973 Ferrari 365GTB/4 2018 75/115 (65%) $19,386,507 $1,768,108 1964 Shelby Cobra 289 FIA
2019 71/103 (69%) $11,119,169 $1,866,915 1935 Bugatti Type 57 Atalante
Bonhams are offering a fine 1961 Aston Martin DB4GT as their marquee lot at the 2019 Goodwood Revival sale. Aston Martin had developed the DB4 to replace the aging DB2/4 and its launch in 1958 bought a renaissance to the Newport Pagnell based firm with its Touring Superleggera coachwork perfectly encapsulating the Aston style. Aston realised that the DB4 could be a racing force if it could be improved and the car was fitted with an uprated 300bhp engine, lightweight alloy coachwork and the chassis was shortened behind the seats. The first example, DP199/1, was raced by Stirling Moss and others with little success but the car was at least competitive with the Ferrari 250GT Tour de France. 75 production DB4GTs would be made over the following four years although most would be in road GT spec., some even featuring a small pair of rear seats while 19 DB4GTs were fitted with Zagato coachwork, creating the ultimate Aston. Bonhams is offering #0161/R which was used as a works demonstrator before sale to Donald Campbell CBE.
Campbell owned the car for mere months being the first of ten owners before the current German owner purchased it in the 1990s. #0161/R was fitted with the engine from the famous Zagato 1VEV back in 1973 and restored by Roos Engineering between 1995 and 2001. Of the 94 cars that were completed easily the most expensive are the Zagato's which are worth $12 – 20 million while the unique Bertone Coupe is around the $10 million mark. The standard DB4GTs are worth around the $2.5 – 3.5 million mark and for their rarity are very common at auction, 2 – 3 offered every year, this car following the two offered at Monterey. Unfortunately while their value seems clearly demarcated it still doesn't explain the three no sales from the four most recently offered. #0161/R is a good example with a 20 year old restoration to perfection, minor celebrity ownership and a good but slightly dated colour scheme so represents as a totally average example, good and bad. As such its no surprise that Bonhams have given it a totally mid market estimate of £2.2 – 2.8 mil. ($2.7 – 3.4 mil.). Except I do have a major issue with the engine swap, even if it was for the race engine from #1VEV so perhaps value at the low estimate but no more than that.
The second marquee lot is the Banksy Turbo Zone Truck which truly crosses the boundary between art and automobile. As a vehicle its just an ancient Volvo lorry but as an artwork its a Banksy which makes it a prime investment. Anyone interested must take the time to thoroughly assess the provenance of the vehicle and ensure its both a legitimate artwork by Banksy AND that its not a fake. The former isn't that easy since no-one knows who Banksy is so it could be by a similar artist while the latter is perhaps irrelevant. If the vehicle checks out it could be worth millions in whatever currency and the potential for use and profit for the new owner will be immense. I note the much smaller "shredder" picture sold for $1.4 million so why not double or even triple that, whatever happens it will be auction as theatre.
Jean Bugatti was taking over his fathers firm when he decided to both rationalise the model range into one and develop the first Bugatti with Independent Front Suspension. Ettore vetoed the IFS idea but sanctioned the new model going into production as the depression hit hard and the first Type 57s began to hit the roads in 1934. The vast majority of Bugattis had been sold chassis only although a few were fitted with Bugatti's own designed coachwork, although some were still built by a Couturier to the factory design. Works coachwork available for the Type 57 included the Galibier Saloon, the Stelvio Cabriolet and the Atalante. Jean Bugattis Atalante coachwork had a fairly plain lower design mated to a rakish window and roof and completed it with a notchback tail. 34 Atalantes would be built on the Type 57 chassis with another 17 on the Type 57S and this makes them fairly rare among the 700 odd Type 57s. Bonhams are offering #57-252, one of the first three Atalantes, then simply known as the Faux Cabriolet.
Originally delivered to Lyon and eventually to famed car collector Michel Dovaz, this car would end up with Jean de Dobbeleer and end up in the USA. Later owners are a roll call of collecting royalty but do include reference to Raymond Jones who was well known for taking one car and creating two by selling one with the original chassis and another with all of the original parts. That said Bonhams note #57-252 was restored post 2008 and contains original chassis, engine and body, only the rear axle having been changed. The market for great pre war cars is not what it was just a year or two ago but the estimate of £1 – 1.5 mil. ($1.23 – 1.845 mil.) still seems very, very reasonable. Perhaps even a little light. A beautiful car worthy of the closest inspection.
Ford had surprisingly done the job by winning Le Mans four years running from 1966 and in doing so managed to launch a game changer, the GT40. Fast forward to the mid 2000s craze for retro cars and Ford built the GT with its supercharged 5.4 litre V8 and while it didn't have the same effect as the original it provided the marketing success Ford wanted. A decade later and Ford created the 600+BHP Turbo EcoBoost V6 powered GT and began producing 250 examples per year while a very successful racing campaign has seen much success. This example, like most, is offered as new with just 900 miles from new and with plenty of special options but essentially is offered into a market that is valuing them at around a million US$ but they were $450k new so I wouldn't be surprised to see values drop a little. Maybe $800 – 900k over the next year.
Pre war highlights include:
1923 Aston Martin 1.5 Litre 2 seater – Est. £100 – 140k ($123 – 172k), one of the very early Astons made by Bamford & Martin, the 16th car built. Recent work ensures the car is ready for any use. Not a quick car and relatively primitive, even for 1924, market correct.
1924 Bentley 3 Litre Damyon Tourer – Est. £180 – 240k ($221 – 295k), Australian Bentley with locally made coachwork, later collided with a tram in 1925, a very good looking car and market priced for what it is.
1924 Bugatti Type 23 Open Tourer – Est. £220 – 300k ($271 – 369k), another Australian car, from the same year as the Bentley, actually raced in Aus. Restored in the 1970s, offered in lovely condition. Likely market correct for the car.
1929 Bentley 4.5 Litre Harrison Tourer – Est. £480 – 600k ($590 – 738k), remarkably original example, totally original condition, more staid than sporty. Beautiful car still and always going to be worth more than any Le Mans Replica. Good buying for what it is.
1933 Talbot AV105 – Est. £400 – 600k ($492 – 738k), the Talbot AV105 was Georges Reuschs response to the many other fast road racing tourers at the time and would eventually grow from its original 1666cc form to 125bhp 2276cc form. Beautifully produced with Vanden Plas Tourer coachwork, this example was raced pre and post-war, the chassis is actually produced from two original cars with a new front chassis from another AV105. Restored from '99. Market correct for a car with a semi original chassis.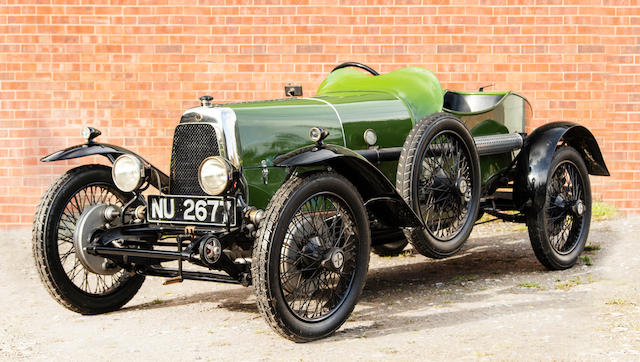 Mid century highlights include:
1947 Delahaye Type 135M Jean Antem DHC – Est. £220 – 280k ($271 – 344k), one of seven Antem bodied Delahayes and a glamorous if slightly ungainly example. Restored and ideal for any use. Market correct for a post war Delahaye.
1950 Healey Silverstone – Est. £140 – 180k ($172 – 221k), a good Silverstone with race history, later fitted with a Jaguar XK engine, updated and raced by the Griffiths – Woodley family thru '70s. Restored since and very, very quick. Perhaps a touch expensive but arguably the best example extant so fair.
1954 Jaguar XK120 – Est. £150 – 200k ($184 – 246k), 1 of only 194 right-hand drive XK120 fixed-head coupés, bought new by Jack Sears and raced by him in period, noted to be in excellent mechanical condition. Hugely event eligible so hard to compare to any other XK120. Market correct.
1956 Bentley S1 Continental 2 door Saloon – Est. £180 – 200k ($221 – 246k), rare RHD Conti Saloon, excellent condition and extremely classy. Seems a touch on the cheap side so good buying.
1959 Porsche 356B 1600 Cabriolet – Est. £120 – 140k ($148 – 172k), very early RHD 356B in Cabriolet form, restored to perfection 2014 – 18, market correct.
1961 Cooper T55 Climax – Est. £100 – 150k ($123 – 184k), 1 of 2 built, raced by Brabham himself, won first time out but otherwise unsuccessful, later to Australia and club raced for many years. Recently part restored, requires completion. The low estimate is ample considering the needs.
1961 Jaguar E-Type Semi Lightweight Coupe – Est. £600 – 750k, 1 of the very earliest E-Types, built for John Coombs as the teams spare car and raced by Albert Powell, later discovered and purchased in '02, restored to FIA compliant form with a partially new chassis. Fully compliant and eligible everywhere but still the amount of original metal must be a worry. Worthy of inspection and if sufficiently original, market correct, if not, too expensive.
1964 Bentley S3 Continental DHC – Est. £160 – 180k ($197 – 221k), beautiful example of these rare cars. Good condition. Market correct.
1969 Aston Martin DB6 Mark 2 Volante to Vantage – Est. £650 – 750k ($800 – 922k), 1 of 38 examples, 1 of 9 with the Vantage engine and ZF manual. Extensive restoration during 1998/1999, beautiful car. Market correct at the low estimate.
Modern highlights are:
1975 Ferrari 365GT/4 BB – Est. £220 – 280k ($271 – 344k), RHD car delivered to the UK, 1 of 58. Wonderful example. Very reasonably priced.
1976 Porsche 911 Rally Coupe – Est. £400 – 500k ($492 – 615k), a works rally car, ran in the London-Sydney Marathon in '77, later rallied in Australia. Restored since to FIA compliant form and well documented. This is a very special Porsche and attests to be original but that would need specific enquiry and it must be noted that there is no information as to what if anything was modified to make it a works rally car so it might just be another 1976 911. If the car checks out then the estimate is totally worthwhile.
1990 Spice SE90C – Est. £200 – 260k ($246 – 320k), late Spice C1 built for Euro Racing and ran Le Mans in '91, later raced in historic Group C. Eligible for Historic Le Mans and other events. Perhaps the cheapest way of going frontline racing although market correct.
Affordable classic highlights are:
1959 Austin Mini – Est. £25 – 35k ($31 – 43k), a very early Mini, a former restoration project recently done by Just Historic Cars. A touch expensive but will still make a great long term buy.
1956 Austin-Healey 100BN2 – Est. £55 – 65k ($68 – 80k), a lovely US spec 100BN2, converted to Le Mans spec at some point, all correct, excellent condition. Market correct.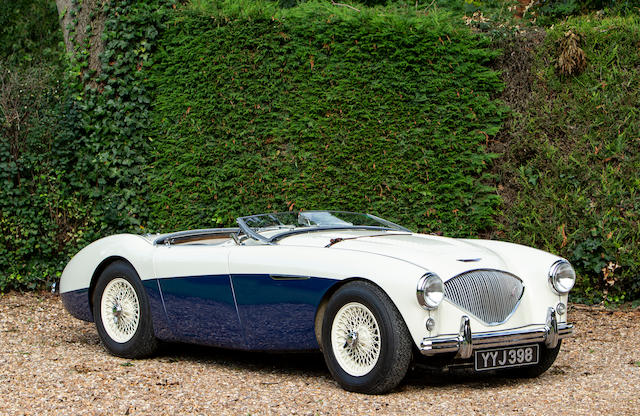 Results
Bonhams annual sale as part of the Goodwood Revival was a little interesting, a little unsuccessful and a little weird. No less than three cars were listed as sold including the top seller, the 1961 Aston Martin DB4GT which sold before the sale robbing it of much of its interest. Without the $2.5 – 3.5 million it would likely have added the sale totalled $11.119 mil. based on 71 of its 103 cars selling (69%) and the top selling lot was the 1935 Bugatti Type 57 Atalante at $1.867 mil. Other top sellers were the 1961 Cooper T55 Climax at £244,375 ($304,354) (63% over estimate), 1958 Austin A35 at £26,450 ($32,942) (+47%) and 1965 BMW 1800TI/SA Competition Sports Saloon at £58,650 ($73,045) (+47%). Mid estimate sellers included the 1969 Aston Martin DB6 Mark 2 Volante to Vantage at £743,000 ($925,362), 1939 Alfa Romeo 6C2300B Corto Touring Spider Replica at £408,250 ($508,451) and 1960 Aston Martin DB4 at £264,500 ($329,419). Poor sellers were the 1995 Range Rover CSK 3.9 Estate at £34,166 ($42,552) (-76%), 1976 Ford Escort RS2000 at £48,300 ($60,155) (-41%) and 1960 Jaguar XK150S 3.8 Coupe at £88,333 ($110,013) (-36%) while other cars sold cheaply included the 1924 Bugatti Type 23 Open Tourer at £207,000 ($257,806) (-6%) and 1970 Ferrari 365GTB/4 at £432,500 ($538,653) (-4%). Three cars including the 2018 Ford GT were withdrawn while no sales included the Banksy Turbo Zone Truck at £922,565 ($1.149 mil.), 1933 Talbot AV105 at £341,149 ($424,881), 1961 Jaguar E-Type Semi Lightweight Coupe at £381,300 ($474,866) and 1976 Porsche 911 Rally Coupe at £301,014 ($374,895). Not the worst sale by any means but very strange and rather dull without the marquee lots on offer.
Key -Lot# – Description – Chassis # – Low/ high estimate (UKP) – N/R = No reserve – Result (UKP) – (EUR) – (US$) – % above or below result versus estimate
200 1961 Cooper T55 Climax F1/10/61 Bonhams Goodwood 14/09/2019 £100,000 £150,000 N/R £244,375 €274,292 $304,354 63% Only two of these dedicated works team cars were built – chassis numbers 'F1/10/61' (offered here) and 'F1/11/61', campaigned by Sir Jack's celebrated team-mate, Bruce McLaren. The reduced power and torque of the new engine permitted Cooper's engineers to slim down the original gearwheels and so pack six where once lived five. It worked well, and this helped the driver's balance the relatively narrow torque band, particularly when the track was wet. Upon the new T55's debut at the Aintree '200' race, the team did their best to keep the six-speed 'box secret, and in heavy rain, recounts Bruce McLaren, it greatly contributed to the 1-2 result with Jack Brabham winning in the car we offer, with Bruce close behind. At Monaco, Jack Brabham drove this T55 'Slimline' in midfield before retiring with ignition trouble. For the Dutch Grand Prix, 'Black Jack' finished 6th and then 4th at Brands Hatch on 3rd June 1961. At the British Grand Prix in Aintree, Brabham finished 4th, again, in the wet… The next race was the German Grand Prix, for which a third T55-based chassis – the unique T58 – was readied, ending this particular T55's works career. In all, the T55 cars finished 13 times from 19 starts in the 1961 Formula 1 season, the highlight of which must be Jack Brabham's victory first time out at Aintree in the extraordinary car offered here. Sir Jack then took the car to New Zealand and Australia in early 1962, where it was campaigned in the Tasman Series, up-rated with 2.7 and 2.5-litre Climax FPF engines to suit. At Longford, Tasmania, Sir Jack finished 2nd in this car, narrowly beaten by John Surtees' similar 2.7-litre T53. Both were clocked at 171mph on the narrow public roads circuit! The T55 was then sold to Tasmanian John Youl and campaigned though 1964. Since then it has been preserved, passing to various private collections, including that of Hollywood movie director, David Cronenberg, who has raced it successfully in various historic events. As 'F1/10/61' was last raced in period in the Tasman Series, it has a 2.5-litre Coventry Climax engine fitted. The chassis was also updated with a higher rollover bar above the headrest, all clearly visible in the photographs taken prior to restoration, which was undertaken in 2014 by the well-known Swiss marque specialist Urban Fässler of Hinwil, now sadly deceased. As the vendors never intended to drive the Cooper, the restoration was undertaken to the highest standards but for static display only; indeed, the car has not been started or driven since acquisition. As presented, the chassis looks the same as when it was raced by Sir Jack Brabham in the 1961 Formula 1 season (with the low rollover bar). The rolling chassis has been totally restored, as have the interior and electrics. The engine and gearbox have only been cosmetically refreshed to match the rest of restoration, and it should be noted that the old (cosmetically refreshed) aluminium fuel tanks are still present. Should the next owner wish to drive the Cooper competitively, FIA-specification bladder/foam inner tanks will have to be installed while all safety devices (fire extinguishing, seatbelts, rollover bar, etc) will likewise need to be updated to FIA specification. In addition, the engine and gearbox will need to be checked and overhauled, the wheels crack-tested, the tyres replaced, and the suspension set up for track use.
201 1949 David Brown VAK1 Cropmaster P19717 £8,000 £10,000 N/R £6,325 €7,099 $7,877 -26% Definitely a cut above the average 'Fergie' and guaranteed to excite the more-knowledgeable enthusiasts at your local agricultural show, or even Aston Martin gatherings, this David Brown Cropmaster was restored by its previous owner in 2018. Described by the vendor as in generally very good condition, benefiting from a new clutch and tyres, the vehicle comes with its original chassis plate and a letter of authentication from the David Brown Tractor Club, and is expected to possess a V5C Registration Certificate by time of sale.
202 1958 Austin A35 1 £14,000 £18,000 N/R £26,450 €29,688 $32,942 47% The growing popularity of events such as the Goodwood Revival and Silverstone Classic meetings prompted the Historic Racing Drivers Club's Race Director Julius Thurgood to launch an affordable entry-level single-make race series for historic saloons: the Academy. The make and model chosen was the Austin A30/A35. A comprehensive set of Control Formula rules and regulations was drawn up to ensure that cars would be very closely matched, and the result has been some very exciting wheel-to-wheel racing. All Academy cars have to be road registered and MoT'd, and only one type of engine is permitted: a sealed unit built by Classic & Modern Engine Services of Bracknell. To convert cars to racing specification, the HRDC developed a kit of parts for the purpose; each marked with an HRDC reference number. The Dunlop R65 L-section tyre is the only type permitted. The Academy idea has been so successful that the entire grid for the St Mary's Trophy race at the 2016 Goodwood Revival was made up of these cars, with celebrity drivers including Jason Plato, Jean Alesi, David Coulthard, Rowan Atkinson, Chris Hoy, Darren Turner, and many others. Developed by ex-Formula 1 driver Rupert Keegan, the Austin A35 offered here is the prototype Academy car (chassis number '001') and was originally raced by Charles Setterington. This car was raced at the Goodwood Revival in 2015 by rock star Chris Rea and Octane magazine's then editor, David Lillywhite. Since then it has been raced again at the Goodwood Revival (in 2016, with Amanda Stretton) and also at the 2017 Silverstone Classic Celebrity event by the current owner, international best-selling crime novelist, Peter James. Described by Peter as in very good condition throughout, '001' represents a wonderful opportunity to acquire the very competitive car that kick-started this now immensely popular Historic racing formula.
203 1959 Fiat-Abarth 1100 Evocation 51865 £15,000 £20,000 £13,800 €15,489 $17,187 -9% Although the FIAT models modified by Abarth over the years were many and varied, the company never turned its attention to the 1100, hence this one being termed an 'Abarth Evocation'. This particular right-hand drive car was delivered new to Pretoria, South Africa and retains the supplying dealer Capital Motors' plaque. Previously owned by Guy Harman during 2013/2015, it was driven in the Goodwood Revival's St Mary's Trophy event in 2015 by Rob Gravett and Autosports Editor Ben Anderson, finishing 11th overall. International best-selling crime novelist, Peter James acquired the car soon after. In 2017 Peter raced again in the St Mary's Trophy with co-driver Amanda Stretton, and as the sole driver in the 2018 Sears Trophy.
204 1944 Ford Jeep 4×4 174394 £16,000 £24,000 £14,275 €16,023 $17,779 -12% This Ford Jeep's restoration was commenced in France in 1990 and has continued in the UK since 2012. Works carried out have included renewing the clutch, starter motor, carburettor, and battery. Bills and photographs relating to the restoration are on file. Forming part of a private collection of military vehicles and other classics, which is being reduced in size, the Jeep has seen only light use, covering a very limited mileage. Offered with a V5C document, dating certificate, and American Auto Club International military vehicle identification sheet, this restored Ford Jeep would be ideal period transport for next year's Goodwood meetings.
205 1995 Range Rover CSK 3.9 Estate 3GA464285 £60,000 £80,000 £34,166 €38,349 $42,552 -76% A few years before the new version's arrival it had been decided to build a limited edition of 200 two-door cars to celebrate 20 years of the Range Rover. Appropriately, this new model was designated 'CSK', these being the initials of the concept's originator: Charles Spencer King. All 200 were finished in black with silver coach-lines and had beige leather upholstery. But whereas many run-out limited editions feature merely cosmetic differences, the CSK's arrival marked a significant technological development for the Range Rover: the adoption of anti-roll bars front and rear. This rare and historic Range Rover variant benefits from an extensive 'body off' restoration undertaken by Mototechnique between 2012 and 2018, and is presented in generally excellent condition. The engine was serviced recently and is in good running order, while new Michelin tyres were fitted earlier this year. The car is offered with restoration invoices, current MoT, and a V5C Registration Certificate.
206 1964 Austin-Healey 3000 Mark III Roadster HBJ8L/25899 £35,000 £40,000 £35,650 €40,014 $44,400 Mid This left-hand drive MkIII 'Phase I' was imported from the USA in March 2015 and acquired from a German dealer by the present owner in November of that year. Related import documentation and a bill of sale are on file together with a State of California Certificate of Title issued in 1970. Following its importation the Healey was treated to a comprehensive 'body off' restoration, commencing in October 2016 and finishing in December 2017, and comes with numerous restoration photographs on a USB stick. Sold only because the current owner is thinning out his collection, this beautiful Big Healey is ready for the next fortunate owner to enjoy.
207 1966 Jaguar E-Type Series I 4.2 Coupe 1E33359 £80,000 £10,000 Not sold Not sold Not sold N/A This exceptionally original 4.2-litre Series 1 E-Type has had only two previous owners, the last of whom kept the car from 1971 to 2018 when it was imported into the UK having spent all of its life in California, USA. Continuously maintained but never restored, it is rust-free and retains most of its original paintwork and interior trim. The panel gaps are described as superb, and the car is said to drive really well. As original and sound an E-Type as you are ever likely to find, this wonderful example is offered with a V5C Registration Certificate and its original guarantee and service book.
208 1924 Bugatti Type 23 Open Tourer 2064 £220,000 £300,000 £207,000 €232,342 $257,806 -6% Arnold H Wootton was a prominent figure in the motor sports community in Australia's south eastern state of Victoria when he took delivery of this car, one of the first batch to come to Australia via Bugatti's London agent, Colonel W L Sorel, having been delivered from the factory on 5th May 1924. Shortly after its arrival the Bugatti took part in a hill climb at Malpas Hill, Mount Ridley on Saturday 4th October 1924. The Brescia was second fastest to Cooper's ex-Goux French Grand Prix Ballot 2LS in the owner/driver event and was just beaten by Whitehead's similar Brescia in the open event. In 1926, second owner Marjory Honeybone was given the car as an eighteenth birthday present by her husband, Ken. The Bugatti then had three further owners – John L Mundy, Keith R McConachy, and Henry B Thomas, in that order – before being taken to and registered in Victoria in 1943 by Bryan Butler. A prominent New South Wales Bugatti owner and partner in Nolan & Butler, motor trim suppliers with a branch in Melbourne, Bryan Butler used the car regularly in VSCC competition in New South Wales immediately after WW2 alongside '2566', the two cars being shared with his brother, John. '2064' was returned to Victoria in the early 1950s and next owned by Bon Batchelor followed by Graeme Steinfort. Complete but in poor condition, it was beautifully restored in Victoria in the 1970s by John Porter. Since 1985 the Bugatti has been owned and regularly used by the current owner, noted marque authority Peter McGann, author of Brescia Bugatti and co-author with Bob King of Bugattis in Australia and New Zealand 1920-2012. A much loved car equally at home on the highway or on its way to the local coffee shop, '2064' has benefited from considerable restoration works since its acquisition some 34 years ago. Not the least of these was the removal of the 'bridge' behind the front seats, which restricted legroom for both driver and passenger. This was done circa 2000 when further changes were made to the body frame to increase the internal width of the passenger compartment. At the same time new bucket seats were installed; the body re-skinned with fresh fabric; the interior re-trimmed; and the car re-sprayed. In 2015 the engine (number '481') was completely dismantled, with any worn or defective parts replaced prior to re-assembly. Prior to 2015 a new camshaft of slightly higher performance than standard had been fitted; the valve gear overhauled; new 'banana' tappets fitted; a new oil pump installed; and both magnetos rewound (original components with car). The running gear too has benefited from regular maintenance over the years. Components renewed include the crown wheel and pinion; rear brake back plates; wheel bearings; brake drums and linings; clutch plate set and thrust bearing; wheel bearings; and tyres (a fully detailed list of all works is available). Included with the car are two packages. One contains many of the original parts that have been replaced over the years, while the other contains the following books: a copy of the original chassis handbook as issued by the factory; a copy of the Brescia spare parts book; a copy of Brescia Bugatti, a copy of Bugattis in Australia and New Zealand 1920 to 2012; and a copy of Bugatti Passion (the history of the Bugatti Club in Australia).
209 1931 Rolls-Royce 20/25HP Barker/ James Young Shooting Brake GNS45 £30,000 £40,000 £34,500 €38,724 $42,968 Mid This unique Rolls-Royce started life as a Barker-bodied landaulet commissioned by the American banker, J Pierpoint Morgan II, who at the time of its delivery was serving as the United States' Ambassador to the Court of St James's. Like Morgan's Phantom tourer, also bodied by Barker, 'GNS45' featured the side-mounted spare wheels and scuttle-top sidelights typical of contemporary US-bodied Rolls-Royces. Registered in Hertfordshire, where Morgan owned Wall Hall, Aldenham, the 20/25 remained with its American owner up to 1942 when it was offered for sale by Rolls-Royce specialists Alpe & Saunders. Its second owner was another member of the merchant banking establishment: Herman Andreac, a partner in Kleinwort, Sons & Company, and it was he that commissioned the shooting brake conversion from coachbuilders James Young of Bromley. Barker's bonnet, front wings, scuttle panel and patented headlamp dipping mechanism were retained together with the walnut dashboard and original controls, while James Young's van-like timber-framed rear body was nothing if not supremely practical, being equipped with multiple hooks for hanging dead game. Herman Andreae owned Moundsmere Manor near Basingstoke, Hampshire where his newly converted Rolls-Royce was used as an estate hack for shooting parties, towing the horsebox, and general domestic duties, though always chauffeur driven. Classed as a dual-purpose vehicle, the shooting brake qualified for an extra fuel allowance, and important consideration in wartime. Andreae kept the Rolls-Royce until 1952 when it was sold through the Autowork dealership in Winchester. Many years later, in 1997, the Andreae family spotted 'GNS45' for sale at an auction; although unable to purchase the car at the sale, Herman's grandson Mark was able to buy it from the vendor, a collector of fairground memorabilia. Thus the Rolls-Royce returned to Moundsmere Manor where is remained for many years. Re-commissioned some time ago, it has seen little use over the course of the last 20 or so years, venturing out for the occasional family wedding and attending the Thorneycroft Classic Car Show in 2008. In 2015, 'GNS45' was checked over prior to featuring in an article written by Douglas Blain for The Automobile magazine (August 2015 edition, copy available). Clearly enjoying the experience, he wrote: 'As it happens, with a low-mileage car like this in unspoilt original condition, one's satisfaction comes from driving it unobtrusively, just as a chauffeur was trained by the works to do.' The Rolls-Royce was last used in 2016 and upon our recent inspection when, assisted by a battery booster and treated to fresh fuel, the engine burst into life on the first throw of the starter. In recent months new leather seat cushions to the front compartment of the car have been fitted. Nevertheless, a thorough check over is advised before returning this grand old lady to active use.
210 1972 Range Rover 4×4 Estate 35503632A £35,000 £45,000 Not sold Not sold Not sold N/A An excellent example of the increasingly collectible three-door model, this early Range Rover (the rare and much desired 'Suffix A' model) was delivered new on 22nd March 1972 with the registration number 'DNV 437K'. Sold by Moores of Brighton, the car was first owned by Alexander Contract Rentals of Northampton. In 2003, the Range Rover moved to the Netherlands and was supplied there via Jansen Range Rover Parts, a company still trading today. On 11th June 2004 the car was purchased by Mr J Bosman in the Netherlands, who owned it until October 2013. Peter Wiltshire of Derby purchased the Range Rover in 2013 and over the next year or so undertook significant refurbishment. Works carried out/parts fitted include the following: In 2016 the car was purchased by Mr A O'Neil of Somerset, who undertook further works to keep it in good order. The current vendor purchased the Range Rover in 2018, and since then the rear cross member has been replaced and electronic ignition fitted. Offered with sundry restoration bills and a V5C Registration Certificate, 'DNV 437K' also comes with its original owner's manual and service booklet, the latter stamped regularly up to October 1977.
211 1955 Jaguar XK140 SE Fixed Head Coupé S804459 £90,000 £120,000 Not sold Not sold Not sold N/A One of only 199 right-hand drive XK140 SE fixed-head coupés made, this pristine example has the 'C'-type cylinder head and was originally supplied to Fox's Glacier Mints Ltd of Leicester. The original buff logbook records the second owner as W H Peat of Leicester (1958) and lists two further owners: Ralph Hulett (1960) and Ronald Duffin of Leicester (1961 onwards). The XK has had only one owner since 1961 and is offered for sale only because of the death of the last recorded keeper. 'SJF 582' has been restored twice: the second 'last nut and bolt' restoration commenced around 1995 and took many years to complete, while the first restoration appears to have been carried out circa 1980. The rebuilds are documented in six albums of photographs. Finished in black with red leather interior, and equipped with chrome wire wheels, this beautiful car retains matching numbers and is presented in mint condition. Accompanying documentation consists of a JDHT Certificate; some old tax discs; a V5C Registration Certificate; current MoT; and an original Operating, Maintenance and Service handbook and oil chart. Coopercraft front disc brakes and a BroadSport header tank are believed the only deviations from factory specification.
212 N/A Banksy Turbo Zone Truck On request On request Not sold Not sold Not sold N/A Invited to southern Spain in 1999, Banksy was propositioned to paint the Volvo lorry in anticipation of a warehouse party that had been planned for the New Year and millennium celebrations in 2000. After spraying the initial layers of paint on stage and under spotlights during the party, Banksy completed the truck over the next two weeks, detailing and rendering the artwork in a prototypical, free-hand style. In the subsequent years, the truck toured Europe and South America with Turbozone Circus, a company known for their pyrotechnics. An artist known for his in-situ works, often highly political in nature, choosing as dangerous and fractious sites as Israel's West Bank and towns under siege in the northern Gaza Strip, the artwork – which is denominated as such under the conditions of it being in running order as a vehicle – is wholly unique in it's mobility and the amount of exposure it has seen since its fabrication after being driven in locations around the world. Many of the greatest artists of the last five decades have taken to vehicles as their canvas, including Keith Haring, Sterling Ruby, Alexander Calder, Richard Prince and Andy Warhol; perhaps most famously as part of the BMW Art Car series. Hugely rare and highly sought-after, such objects eclipse the studio practices of these artists, and often preempt new and momentous passages in the course of their work. Banksy's Turbo Zone Truck (Laugh Now But One Day We'll Be in Charge) stands as a foundational work of art by one of the 21st Centuries most acclaimed, prized artists and social commentators. Synthesizing street art and motoring, contemporary art and graffiti, an object of labour and the paint of an aesthete, this Banksy-painted Volvo FL6 is an extraordinary object that represents an opportunity to attain both a prodigious work of art and a noteworthy vehicle with an incredible story.
214 N/A Jaguar D-Type Replica £40,000 £70,000 £46,000 €51,631 $57,290 Mid Constructed to the highest standards, this re-creation of Jaguar's legendary Le Mans-winner is the work of Deetype Replicas Ltd of East Hanningfield, Essex. Unlike some D-Type replicas, this one is built to the same basic layout as the original, comprising an alloy monocoque centre section to which are attached tubular steel sub-frames supporting the engine and suspension. The bonnet and tail designs are the same as those of the 1956/57 'long nose' Le Mans D-Types. 'CJF 612B' is registered as a Jaguar E-Type of 1964 so has the 3.8-litre XK engine. Serviced for the sale by Edwards Motorsports (near Bristol), the car is offered with sundry bills, a Deetypes brochure, and a V5C Registration Certificate showing Barry Burnett as owner from 2005.
215 1936 Lagonda LG45 T8 Replica 12017 £120,000 £160,000 Sold Sold Sold N/A One of only 278 LG45s produced during 1936/37, chassis number '12017 was ordered by main dealers Kevill Davies & March in November 1935 and subsequently shipped, unregistered, to Burton & Tweedy, Lagonda's dealers in Glasgow. The car was purchased new by Mr Alexander Shanks of Falkland, Fife (bill of sale on file). In 1954, the Lagonda was traded in (for a Mark VII Jaguar) by Mr Harry Shanks, son of the original owner. In the early 1960s the original body was destroyed and the damaged car purchased later in the '60s from a garage in Glasgow. It would appear that no renovation was attempted, as when the car next changed hands again (in October 1986) its purchaser intended it only to serve as a source of spares for another car. Happily, that fate was avoided and '12017' was subsequently fully restored, all the mechanicals being rebuilt and a new tourer body manufactured to 1935 Lagonda T8 pattern in 1990/1993 (see restoration photographs on file). The rebuilt Lagonda was acquired by the late Barry Burnett in 2005 from a Mr Michael Hallowes of Gloucestershire, its owner since December 2002. The Lagonda has been serviced for the sale by Edwards Motorsports (near Bristol). Highlights of the extensive history file include original Lagonda maintenance invoices; Lagonda Club correspondence; VSCC eligibility document (2003); old/current V5C registration documents; and various old logbooks, expired MoT certificates, and maintenance invoices. A spare engine comes with the car.
216 1936 Talbot Lago T23 Le Mans Replica 93020 £100,000 £150,000 £103,500 €116,171 $128,903 Mid Right-hand drive, like all quality French sports cars of the pre-WW2 era, this 4.0-litre example was built by VSCC stalwart Peter Wigglesworth. In the early 2000s, Peter went to France with friend and collector John Guyatt, and met a respected figure within the Talbot Lago Owners Club who owned a Talbot Lago T23 long-wheelbase rolling chassis. The car consisted of the chassis, engine, gearbox, rear xxle, most of the instrumentation, and the original bulkhead which was stamped with correct Talbot Lago number stamping. Upon purchase, Peter commenced the restoration to T23 Le Mans specification and shortened the chassis appropriately. Mick Sharp of Weston Coachworks, Derby then re-bodied the car in the style of one of the Talbot Lago Le Mans tourers. The interior was re-upholstered by respected pre-war trimmer Ron 'Ozzy' Osborne, since retired. The engine was fully rebuilt and the gearbox overhauled by renowned specialist, Cecil Schumacher. Once completed, the rebuilt Talbot Lago was used enthusiastically by Peter, who recently told Bonhams: "we found that the car had very impressive performance and the handling was superb". Sold to Barry Burnett in the mid-2000s, '754 UXJ' has recently been re-commissioned by Edwards Motorsport ready for sale. It is offered with a V5 document but no other paperwork. Talbot Lago ranks alongside Bugatti, Delage, Delahaye, and Hispano Suiza in the pantheon of great French marques, and this example represents an exciting opportunity to own a fine replica of one of its most highly prized models at a fraction of the cost of an original.
217 1938 Lagonda V12 Le Mans 19221 £200,000 £300,000 £207,000 €232,342 $257,806 Mid In a letter on file, Lagonda Club Honorary Registrar Arnold Davey states that the car offered here, originally registered on 16th November 1937 as 'FPK 550', may have been the prototype displayed at the 1936 Motor Show and is definitely the press car that appeared in all the early road tests. Superseded by a true production car, it was retained by the factory and used in modified form for Earl Howe's aforementioned '100-miles-in-the-hour' national record of 1938. Davey: "The Lagonda factory kept 'FPK 550' throughout the war as a hack and afterwards it was rebuilt (but not altered) and re-registered as 'NPJ 680', presumably to take advantage of the post-war flat rate tax. It was also given the one-off chassis number of '19221', which is totally unique in Lagonda numbers." An old-style continuation logbook on file takes up the story in 1949 when the Lagonda was registered to Guildford-based Jaguar dealer and motor racing team owner John Coombs, who was followed by one George Wilkins (1950), Patrick Kelly (1951), and lastly Arthur Guy Warne (1952). In 1980 the Lagonda was acquired by Stanley Mann and it was photographed to appear in 'Lagonda: An Illustrated History, 1900-50' by Geoffrey Seaton (page 249). Davey: "It was then just as it was in 1949 and the mods done for the 1938 record run were quite evident… We found all the EX part numbers stamped on every bit and there were all manner of parts made from fabrications that on production cars are forgings. All in all, it obviously was 'FPK 550'." Eventually, Stanley Mann split the chassis and body and recreated '19221' as the Team Car Replica it is today. The body went onto an LG6 in Denmark. The ex-Earl Howe Lagonda was acquired by the late Barry Burnett in 1989, and since Barry's death in 2007 has belonged to his daughter. The car has been serviced for the sale by Edwards Motorsports (near Bristol). Contained within a substantial history file, accompanying documentation includes the aforementioned registration records and Lagonda Club correspondence; various other registration and MoT certificates; DVLA correspondence; SORN paperwork; current V5C; and various instruction manuals. W O Bentley's Lagonda V12 is one of the most sophisticated, attractive, and exclusive cars of the pre-war era and this example, with its tremendous and well-chronicled provenance, is an opportunity not to be missed.
218 1935 Bugatti Type 57 Atalante 57-252 £1,000,000 £1,500,000 £1,499,000 €1,682,512 $1,866,915 Mid This car carries the earliest chassis number of the three Atalante versions made; the fate of the other two cars is not known. It should be noted that the name 'Atalante' was not recorded in the sales register until later on; early examples, including the three mentioned above, were classified simply as 'faux cabriolet' (i.e. fixed-head coupé). Factory records list the coachwork as 'Usine Fx cabriolet'. '57252' left the factory on 18th May 1935 and went to the agent Monestier in Lyon, France for their client named Perrot. The next owner's name was Docime. Sold subsequently by Paris-based motor trader, Ben Saschoua, the Bugatti passed into the ownership of Michel Dovaz, whose fabulous collection is the subject of the book 'Fate of the Sleeping Beauties'. This car is featured in the book. In 1956 the Bugatti was purchased from Dovaz by Jean De Dobbeleer, who sold it on in 1957 to a collector named Greenlee in the USA. Greenlee was followed by John North (1979), then Messrs Dixon, Jones, Guido Artom (Italy, 1988), Peter Rae (in the UK) and the late Barry Burnett (from 2008). Barry acquired the Type 57 from Peter Rae as a straight swap for a unique Delage. Unusually, 57252′ retains its original chassis, engine (number '195'), gearbox, and body, etc, all numbered and matching. The only component that has been changed is the rear axle/differential; indeed, the failure of the original differential in the 1950s and the Bugatti's resulting immobility is what preserved it in such remarkably complete and original condition. Apart from some private correspondence on file, '57252' has evidently been relatively unknown for the last 50 years, even to the extent that it has been referred to as 'whereabouts unknown' in the last two authoritative works on the Type 57s and Grand Raid cars by Pierre Yves Laugier and by Simon/Kruta. '57252' was completely restored during Peter Rae's ownership, there being numerous related invoices on file. Dating from 2005 to 2008, they were issued by various recognised specialists including SCA Classic Restoration, Mitchell Motors, KA Developments, Coachbuilt Horsepower Ltd, Ian Skinner Coachbuilding, Crosthwaite & Gardiner Ltd, Ivan Dutton, and Tula Engineering, the latter being responsible for the engine rebuild. Over £100,000 was spent on the engine alone! The car was restored with extremely close attention paid to conservation and originality; everything possible has been conserved and every single component refurbished to th very highest possible standard. Sadly, the wings had endured a hard life and were deemed unusable, so new examples were faithfully fabricated to the original pattern. The complete rear axle was replaced using what is believed to be the last 'new old stock' example available, and the Bugatti also benefits from an overdrive conversion and fluid-filled damper by Ivan Dutton. This car now carries the registration 'DYF 4', which once graced the Type 57S belonging to Sir Malcolm Campbell. Following a period in storage, the Bugatti has recently been serviced and brought to running condition by Edwards Motorsport. Offered with a comprehensive history file, this exceptional Type 57 Atalante would be an ideal candidate for touring, rallies, leisure driving and any of the world's most prestigious concours events: Pebble Beach, Villa d'Este, Amelia Island, etc.
219 1963 Facel Vega Facel II HK2AB104 £200,000 £300,000 £184,000 €206,526 $229,161 -9% This rare right-hand drive Facel II was first registered on 26th April 1963 to Sir Arthur Frederick Wheeler, Bart. The car retains its original registration mark, '705 CUT', and comes with its original buff logbook listing two further owners after Sir Arthur Wheeler, the last of whom acquired the Facel in 1966. '705 CUT ' was acquired by the late Barry Burnett in March 2003 and will have been serviced for the sale by Edwards Motorsports (near Bristol). In addition to the aforementioned logbook, the car comes with a V5C Registration certificate, sundry bills, some Facel Club newsletters, and various operating instructions. An exciting combination of elegant European style and American V8 power, this beautiful Facel II is a worthy successor to the legendary French Grandes Routières of pre-war days.
220 1949 Chrysler New Yorker Town & Country Convertible 74105581 £90,000 £120,000 £92,000 €103,263 $114,580 Mid This final-year Town & Country Convertible was purchased new by one James Miller of Greensboro, North Carolina, though its subsequent history in unknown. In 1994, while still complete, original, and in good shape, the car was treated to a complete body-off restoration at a total cost of $120,470 (see receipts and photographic record on file). Following its completion, the T&C was shown just once: at the Forest Grove Concours where it was received a 'Best in Class' award. Always treated as a prized show car, this Chrysler had covered only a few hundred miles post restoration when it was purchased by the Key Collection at a US auction in 2010. One of the most glamorous and iconic of post-war American automobiles, this beautiful Town & Country Convertible is the perfect companion with which to enjoy the forthcoming summer. Should the vehicle remain in the UK, local import taxes of 5% will be added to the hammer price.
221 1990 Spice SE90C £200,000 £260,000 Not sold Not sold Not sold N/A This is one of the last C1 cars built by Spice Engineering at Silverstone. Owned by Tsunemasu Aoshima, the car was entered by Euro Racing for Le Mans in 1991 when, painted bright pink, it attracted a storm of publicity on account of its all-women driver line up. The team consisted of Lyn St James, Cathy Muller, and Desiré Wilson, the latter one of the tiny handful of women ever to have competed in Formula 1. There is a related chapter with photographs in Desiré Wilson's biography (pp120-127). During qualifying Lyn St James hit the safety barrier, severely damaging the car, which was hastily rebuilt around a chassis bought from GP Motorsport, who were selling a Spice in the paddock. With limited track time, only Wilson managed a lap fast enough to qualify; nevertheless the team was allowed to start, albeit from the back of the grid. Sadly there would be no fairytale ending for the team, the Spice being forced to retire after 47 laps following an accident. In 2001 the Spice was purchased by David Mercer, who drove it in Group C Club races between 2002 and 2010. An experienced endurance racing driver, he won races outright at Magny Cours (2002), Donington Park (2003/2004), Brands Hatch GP (2005/2007/2010), Nürburgring (2006/2007) and Silverstone (2006). In his hands the Spice also had numerous other podium finishes (published results on file) and recorded fastest laps at Donington (2005), Brands Hatch (2006) and Silverstone (2006). The current vendor then bought the car and had it fully restored in 2011. A less experienced sports car driver than Mercer, he nevertheless achieved a 3rd place overall finish at Imola in 2012. As well as a number of European Group C circuit races, the Spice was entered into the Le Mans 24-Hour support race in 2012 and was then invited to the 2012 Goodwood Festival of Speed where it was reunited with Desiré Wilson, who had driven the car at Le Mans in 1991. It was placed P24 in the shootout (results on file) and was invited back to the 73rd Goodwood Members' Meeting in 2015. The car's most recent outing was at the Le Mans Classic in 2018. This car is fully race ready with a current FIA HTP and certificated crack testing. Offered with four spare wheels with slicks on, four spare wheels with wets on, a spare nose cone, a new spare crown wheel and pinion, numerous dog rings and gears, and a car cover, 'the Pink Spice' is highly competitive and eligible for the 2020 Le Mans Classic.
222 1923 Aston Martin 1.5 Litre 2 seater 1932 £100,000 £140,000 £154,100 €172,965 $191,922 10% Bamford & Martin's chassis numbering for production cars began at '1916', making the sidevalve-engined chassis number '1932', that offered here, one the oldest surviving production Aston-Martin and one of a handful of early Aston-Martins in roadworthy condition. This car was first registered as 'NU 2677'; was reregistered in 1937 as 'GPA 227'; and reverted to its original registration in 1994. '1932' was originally fitted with a two-seater body by W W Hall of Redditch in 1924 (a photograph of this body is featured on page 46 of the 1976 book Aston Martin 1914-1940 by Inman Hunter, a copy of which is included in the history pack). In 1931 the Aston was purchased as a 21st birthday present and in early 1934 suffered an accident, having been driven into an obelisk. It was then purchased by William Lambert of the Hampstead Cylinder Reboring Co of Finchley Road. Lambert was a devotee of the sidevalve cars and also owned 'A3′, which is now in the Aston Martin Heritage Museum. The car was repaired and rebuilt by Lambert as detailed in Brooklands Books' Aston Martin Gold Portfolio (page 131), a copy of which is in the history file. At this time it was registered 'GPA 227'. The Aston also featured in The Motor magazine in 1938 (see copy of article in the history file along with photographs of the car at this time). In 1944 the car was owned by F O Anthony Phelps and was the subject of an article in The Autocar magazine at the time (see history file for a copy). It then passed through the hands of David Elkan and David Francombe before being purchased by Fred E Ellis in 1956. Ellis was a very knowledgeable sidevalve Aston enthusiast who wrote on the subject. Ellis sold the car to Dudley Coram in 1959. Coram wrote the fine marque history Aston Martin – The Story of a Sports Car in 1957 with the help of Ellis and Inman Hunter, a copy of which is in the history pack. Coram and Mrs Judith Hogg competed with the car in the 1961 BDC Firle Hill Climb (Coram, 2nd); the 1964 VSCC Silverstone High Speed Trial (Mrs Hogg, qualified); and the JDC/BDC Silverstone meeting (Mrs Hogg, 3rd). By 1966 the car was owned by Derrick Edwards (one of the cofounders of Ecurie Bertelli) together with Mrs Judith Hogg, who qualified it in the VSCC's High Speed Trial in '66. Sold to Bernard Kramer in 1967, it continued to be driven in competitions by both Kramer and Mrs Hogg. The AMOC Register records various results for the duo between 1967 and 1970. In 1978 '1932' was owned by Nick Jarvis Snr, who re-bodied the car with a superb GP body. The Aston has remained in the family to date, and in 1994 was reunited with its original registration, 'NU 2677'. Since 2013, significant work has been carried out on the car including a full engine rebuild in 2015 by Keith Taylor of RK Taylor Engineering. The engine now incorporates the best of modern technology in the form of a Baynton Jones camshaft, Arias pistons, and an Arrow crankshaft and con-rods. The original crankshaft, camshaft, and con-rods are available if required. The car also has a new fuel tank and water pump by Nick Jarvis Jnr; a new radiator by the Vintage Car Radiator Company; and a refurbished dynamo and cut-out. We are advised by the vendor that the Aston now drives very well. Dazzling details abound in this unique car, conveying the essentially hand-built nature of these earliest Aston-Martins. Extremely rare and magnificently presented, it represents the dawn of one of Britain's greatest sporting marques and would surely take pride of place in any collection of fine Aston Martin motor cars.
223 1979 Aston Martin V8 Volante V8/COR/15088 £90,000 £120,000 £88,333 €99,147 $110,013 -2% This Aston Martin V8 Volante was originally supplied by Marshall (Cambridge) Ltd on 13th August 1979 to YB Computer Services Ltd, Sheffield. Originally registered as 'BCE 808V', the car subsequently carried two personal plates – '2 STV' and 'RCN 10' – and is now registered as 'OAH 474V'. In 1985 the Volante was purchased from Bramley Garage, Surrey in the name of Broughton Locksmiths by Brett Broughton, CEO of the company, and when he retired in 1989 ownership was transferred to him. The Aston then spent most of its life in France where Mr Broughton had retired to, and was sparingly used. The car was owned by him until December 2018. 'OAH 474V' comes with a good folder of history dating back to 1979, including the original service booklet (stamped up to 1989), original instruction book, and copies of the guarantee form and Car Record Card. The folder also contains invoices relating to an unleaded cylinder head convention by Oselli and to the fitting of new sills and lower wings by marque specialists Panelrama in 2000. The Aston has recently undergone extensive re-commissioning to include: Finished in its original colour scheme of Tourmaline Blue with Magnolia leather interior, this beautiful V8 Volante is offered with a BMIHT Certificate, sundry bills, current MoT, a V5C document, and two sets of keys.
224 1956 Bentley S1 Continental 2 door Saloon BC67AF £180,000 £200,000 Not sold Not sold Not sold N/A Right-hand drive chassis number 'BC67AF' was delivered new in the UK to one B McGowan and first registered as 'HGS 918'. This remarkable car has spent most of its life, just over 50 years, in the ownership of just three individuals on both sides of the Atlantic. In 1967, the eminent Rolls-Royce historian, John Webb de Campi, author of Rolls-Royce in America, who at that time was living in London, acquired the Bentley and had it shipped to his home in Pennsylvania. The Continental remained in his ownership until 1980 when it was acquired by a Dr Peter Walling of Dallas, Texas. The Bentley returned to the UK in late 1988 and was acquired by the current owner in 1989. The current owner, since 1989, has looked after the car with the utmost care. Its use has been regular, albeit limited to outings such as visits to race circuits, including almost every Goodwood Revival Meeting since 1998, and longer excursions to the South of France, Scotland, and the Lake District. Finished in Regal Red with beige leather interior, this sublime Bentley Continental is described by the vendor as in excellent condition throughout, having led a cosseted life both at home and in the USA. The service history file is equally impressive, stretching back well over 50 years (perusal recommended).
225 1992 Porsche 911/964 Carrera RS WPOZZZ96ZNS491848 £150,000 £180,000 £138,000 €154,894 $171,871 -9% Built as a standard 3.6-litre Carrera 2 RS, this left-hand drive example has been uprated to look like a 3.8-litre by world class Porsche specialists Ninemeister of Warrington, Cheshire. Carried out towards the end of 2011 for the previous registered keeper, who had acquired the car in October 2004, the work cost over £32,000 (bills and photographs on file). Other noteworthy features include a body kit (using metal panels), '3.8' boot spoiler and original Speedline alloy wheels. An accompanying dynamometer printout shows that the 3.6 litre engine produces 325bhp. Finished in Amethyst, 'J99 RSL' has covered only 93,761 kilometres (approximately 58,200 miles) from new and is described as in generally excellent condition. The car comes complete with owner's handbooks, Porsche Certificate of Authenticity, German registration papers, UK type approval certificate, sundry bills, a quantity of expired MoT certificates and old tax discs, and V5C document listing only one previous keeper since the vehicle was first registered in the UK in 2001. Truly awesome, this beautiful Carrera RS represents a wonderful opportunity to acquire a most desirable Type 964 variant, upgraded to the ultimate and exclusive 3.8-litre specification.
226 1933 Talbot AV105 AV35302 £400,000 £600,000 Not sold Not sold Not sold N/A AGY 874′ has a most distinguished and remarkable history. It was delivered new in June 1933 to London dealers, Warwick Wright Ltd, at that time fitted with a Vanden Plas body (number '3004'). It was a sports-tourer to standard Talbot AV105 specification, powered by a 3.0-litre six-cylinder engine driving via a pre-selector gearbox and mounted in the short (9′ 6″) chassis. By 1938 the car had been acquired by motor sports enthusiast, Bryan Burton, who lived off Baker Street in London. Burton was a competitive driver who had his sights firmly set on racing his Talbot at Brooklands, and who designed a lightweight two-seater body to replace the more formal Vanden Plas coachwork so that his Brooklands ambitions could be fulfilled. Burton campaigned the car actively in motor sports throughout 1938 and 1939, fielding it at Donington at a Cambridge University AC meeting to good effect, and in 1939 won his class at the VSCC Lewes Sprint driving this car. The faithful Talbot was campaigned actively at Brooklands in 1939 and perhaps its most famous race was the nail-biting Third August Outer-Circuit Handicap race held on 7th August that year. In that 12th race on the card, 'AGY 874' left the start on a 42-second handicap in company with Smith's Frazer-Nash and Baker's Graham Paige. Remarkably, the 3.0-litre Talbot proved a match for the 5.4-litre eight-cylinder Graham Paige, the duo completing the race in a photo finish with the Talbot just one-fifth of a second behind, lapping at one stage at 104.19mph. Minds were elsewhere that day, as this was to be the last race ever held at Brooklands prior to the outbreak of World War 2. In September 1950, Burton's old car was bought by Dan Margulies for just £265 and its second period of international racing commenced, Margulies actively campaigning the Talbot through to the end of 1952 at such venues as Goodwood, Dundrod, Silverstone, Prescott, and Thruxton. The old warrior continued its successful ways and in 1951 achieved no fewer than three 1st, two 2nd, and four 3rd places. During 1951 Margulies frequently battled with Mike Hawthorn's Riley TT Sprite and came 2nd to Hawthorn in the first post-war Motor Sport Brooklands Trophy, the winning of which propelled Hawthorn into Grand Prix Racing for the 1952 season. Margulies finished 2nd in the Goodwood Championship in 1952 and later that same year part-exchanged the Talbot with Rob Walker for his competition Delahaye. Race reports of this period are forever remarking on the surprising speed of what was then considered an obsolete old car. 'AGY 874', nicknamed 'The Invincible Lady', has always been a fast car. Autosport's report on the SUNBAC meeting held at Silverstone is September 1952 commented on "the astonishing combination of Margulies and his ever-willing Talbot 105, which he drove with tremendous élan". Pitted against Terence Moore's HWM-Jaguar, the elderly Talbot acquitted itself well. Reporting on the Dundrod meeting in 1952, Autosport declared: "Spectators were impressed by the train-like performance of Margulies' Talbot 105, which ran steadily through the handicap race without missing a beat". That day the Talbot had been timed at 101mph. This was also the last contemporary international race appearance for a Roesch Talbot. 'AGY 874' was then owned briefly by J Sowerbutts, who exchanged the car in 1953 with the next owner for a 3-Litre Bentley, the new custodian recognising the significantly more sporting capabilities of the Talbot. Following a major engine blow-up in 1953 at Silverstone, the engine was rebuilt using a replacement crankshaft obtained from Talbot specialist, John Bland. Following that rebuild the car covered approximately 10,000 road miles prior to changing hands again in 1955. 'AGY 874' was accident damaged in 1956 and subsequently laid up until 1971 when it was acquired for the second time by the aforementioned (1953-onwards) owner in whose hands it remained until 2004. Recognising its important place in motor sport history, the Talbot was treated to a major restoration, commencing in 1999. The chassis was fully stripped and overhauled, both axles were rebuilt and the gearbox entrusted to Arthur Archer. The front part of the previously accident damaged chassis was replaced with the front part of an identical rear-damaged chassis, this work being meticulously carried out and the chassis plated inside. The lightweight coachwork was repaired where necessary. Next owner, Gideon Hudson, purchased the Talbot in December 2004 and then spent a lot of money on the car with specialists Pace Products, having it rebuilt and race prepared. The car was then raced successfully by him and Josh Sadler at venues such as Le Mans Classic, Spa, Silverstone Classic, and Donington Park. Race results are on file for the period 2005 and 2009 together with numerous invoices for work done, including a gearbox rebuild by renowned specialist, Cecil Schumacher. The car then passed briefly to Adrian Van Der Kroft and then to Michael Mullman in Germany. It has been owned by the current vendor since 2014. Whilst with the current owner a great deal of work has been carried out, addressing both mechanical and cosmetic issues including re-painting, rewiring, a top-end engine rebuild, and a front axle rebuild, as evidenced by invoices on file from Historic Competition Services. The current owner has successfully completed the 2015 Mille Miglia Storica driving the Talbot and in 2019, finishing 112th overall and 2nd place of all Belgian teams. He advises us 'The Invincible Lady' performed very well on both occasions leaving a lot of competitors behind in the Italian mountains. In 2018 'AGY 874' finished 2nd in the pre-war regularity class during the Zoute Grand Prix. This historic sports-racing car is offered with FIVA papers, an old-style buff logbook, and a V5C registration document. It also comes with a most outstanding and carefully researched file of history, which includes correspondence from Dan Margulies and Bill Boddy confirming its distinguished record. Rarely do sports cars with both successful pre-war Brooklands and post-war Goodwood racing history come to the market, making this wonderful old and fast Talbot an exciting opportunity for the discerning collector.
227 2004 Ferrari 575M 138466 £90,000 £120,000 £74,166 €83,246 $92,369 -21% Finished in the classic combination of Rosso Corsa with black leather interior, this 575M – unlike the majority of Maranellos – has the Handling GTC Package for greatly enhanced on-the-road performance, an option that added considerably to the purchase price. This original right-hand drive car was supplied new on 1st September 2004 and comes with a certificate from the Maranello Concessionaires Archive confirming that it is one of only six delivered to the UK factory-fitted with the desirable Handling GTC Package, out of an estimated 90 such cars sold worldwide. Transforming the car, the HGTC Package included stiffer suspension, Brembo carbon-ceramic brakes, a sports exhaust system, 19″ wheels, and a revised ECU enabling faster gear changes. A new battery was fitted in 2017. There is a NavTrak installed, which will need re-activating for the new owner. Accompanying documentation consists of a service book, sundry invoices, a V5C Registration Certificate, current MoT, and HR Owen's bill for the car's most recent service, which included a change of cam belts and was carried out in December 2018. Owned by the vendor since 2017 and having covered some circa 24000 miles from new, this beautiful car represents a very rare opportunity to acquire a superb, low mileage example of one of Ferrari's best ever V12 Grand Tourers, equipped with rare and desirable Handling GTC Package. It is surely one of the best examples of its type currently available. A worthy modern-day successor to the Ferrari 'Daytona'.
228 1966 Alfa Romeo Giulia GTC Cabriolet AR760028 £60,000 £70,000 Not sold Not sold Not sold N/A This rare Giulia GTC is the 28th of 99 right-hand drive models made; the whereabouts of only some 12 others are known. The vendor advises us that this car is one of only 37 right-hand drive GTCs delivered new to the UK. Chassis number '760028' was first registered on 11th May 1966 and remained within the first owner's family, passing from husband to wife, until 2016. Purchased in 2016 by the current vendor and subsequently restored during 2016 and 2017, the car benefits from a rebuilt engine and overhauled front suspension. Described by the vendor as in good condition, with excellent interior, and a must for any Alfa collector, this stylish convertible comes with sundry restoration invoices and a V5C Registration Certificate.
229 1924 Bentley 3 Litre Damyon Tourer 365 £180,000 £240,000 £195,500 €219,434 $243,484 Mid Chassis number '365' was dispatched from Bentley Motors in rolling chassis form, fitted with engine '372', and sent Melbourne, Australia. It had been ordered by dealer A B Howlett together with two other chassis, numbers '289' and '383'. According to a fascinating article (on file) written by a previous owner, Russel l Tapp, the Bentley's first owner was, reputedly, a Mr O J Syme, who commissioned Damyon Brothers of St Kilda to construct the four-seat tourer coachwork that the car carries today. According to Bentley The Vintage Years by Dr Clare Hay (Third Edition) the coachwork is thought to have had an aluminium bonnet "finished bright and then tooled to a uniform finish before application of a varnish tinted green, upholstery to match". By 1925, '365' was owned by a Mr Arthur Lyttle, printer to the Government of Victoria, and at this time was fitted with rear wheel brakes only, the standard arrangement. Russell Tapp: "Mr Lyttle, drove 365, at the time equipped only with rear wheel brakes, into a 27 ton Melbourne tram. The tram driver apparently 'froze' with fright while the tram continued around a corner under full power before becoming completely derailed and bolting up the front stairs of the Town Hall as the passengers clung on like grim death. The tram was a complete wreck. Contemporary newspaper articles recounted, that, after apologising nicely and seeing nobody was seriously hurt, Mr Lyttle proceeded to drive quietly home in his Bentley. Subsequently half of Melbourne's roads were torn up so that the radii of all its tramways could be increased as a result of this incident. The public good humouredly thenceforth referred to '365' as 'HMS Hood', after what was then the largest battleship in the world, and the car was promptly fitted with 4 wheel brakes by the factory." The article goes on to tell as much of the ownership history of '365' as is known, but it is fails to top the story of Lyttle's calamity. Various well known figures of the Australian Vintage motoring community owned the Bentley at various times including Alan Glenn (who also owned a supercharged 4½-Litre); Neville Webb, who had all sorts of interesting machinery over the years; and Ross Barwick, the son of Attorney General Sir Garfield Barwick. In March 1999, Russell Tapp purchased '365' and registered the car in Queensland. In 2000, he had the engine overhauled, and a description of the works carried out is his aforementioned article. In 2004, '365' was brought to Europe for the Bentley Drivers' Club tour of France and then was used by Russell and Jennie Tapp on a trip to Scotland to see relatives. At this time the car was sold, remained in the UK and was registered for the road here. The current owner, who has a collection of significant Bentleys, has used '365' for touring in Scotland and has kept the car on his estate there. With a fascinating and rather amusing early history, this fine and original Vintage-era Bentley will surely give the fortunate next owner one of the best stories to tell at any evening function.
230 2018 Ford GT 2FAGP9CW3JH100062 On request On request Withdrawn Withdrawn Withdrawn N/A The immaculate Ford GT we offer was ordered new by Alan Mann Racing Ltd and is the second of these fabulous cars to be delivered out of the first batch of 24 destined for the UK. First registered in March 2018, it has covered a mere 900 or so miles since it left the factory and is presented in effectively brand new condition. The car was ordered with following extra-cost options: The cost of the aforementioned 'extras' is a little shy of £54,000, or roughly the price of a new Mercedes-Benz GLE SUV. Offered with a V5C Registration Certificate, the car we offer represents a not-to-be-missed opportunity to join the select band of Ford GT owners.
231 1947 Delahaye Type 135M Jean Antem DHC 800939 £220,000 £280,000 Not sold Not sold Not sold N/A Antem bodied some six dropheads and one roadster in similar style on the Delahaye 135 M/MS chassis, and '800939' was one of two such cars displayed on Antem's stand at the 1948 Paris Motor Show. This show car is readily recognisable by its Applex steering wheel and Plexiglas dashboard buttons, clearly visible in photographs taken at the show. It is understood that '800939' is the only car to have these features from new. After the '48 Paris Motor Show, '800939' was sold to Monaco early in 1949 and registered as 'MC 2817' (owner unknown). On 25th September 1953, the Delahaye was sold to Natale Franchini of Cap-d'Ail on the French Riviera, receiving the French license plate '395 BR 06' (Alpes-Maritimes). There is then a gap in the car's history until it resurfaces many years later in the Deutsch Danischer Freizeitpark Oldtimer Museum in Germany. Photographed in front of the museum, and still with the French license plate '395 BR 06', it featured on one of the museum's postcards. The Key Collection purchased '800939' in August 2012 when a selection of cars from the Danish Aalholm Automobile Museum was offered for sale at auction. Since then it has been restored by the Key Collection and is presented in magnificent cosmetic condition. Regular contenders at the most prestigious Concours d'Élégance events, these Antem-bodied Delahayes are very rare and highly sought-after. Bonhams would like to thank Delahaye authority Jean-Paul Tissot for his assistance in preparing this description. Should the vehicle remain in the UK, local import taxes of 5% will be added to the hammer price.
232 1938 AC 16/80 Competition Sports L635 £250,000 £300,000 Not sold Not sold Not sold N/A Chassis number 'L635′ was completed on 28th March 1938. Powered by AC's John Weller-designed 2.0-litre overhead-camshaft six equipped with triple SU carburettors, it is one of only 15 16/80 models built with the sloping tail body. The body's beautiful flowing lines are the work of Freddie March, Duke of Richmond and Gordon, who later founded the Goodwood motor racing circuit. Famous buyers of this handsome AC sports model included movie star Errol Flynn and American architect Frank Lloyd Wright. This particular car was the works' demonstrator and as such was finished in Snow Shadow Jewelescence on all bodywork, chassis, and running gear. In 1938, 'GPF 957' was entered in the RAC Rally by JG Pige-Leschallas and co-driver Edgar Kehoe, both well known and respected rally drivers of the day (photographs on file). That same year the car was road tested by Autocar magazine, featuring in their July edition. 'GPF 957' was to feature in Autocar again (in August 1940) as part of their 'Talking Sports Cars' series. Continuation logbooks list owners from the 1950s and 1960s. The previous owner purchased 'GPF 957' on the 22nd February 1997 in poor condition and restored the car over the next nine years, the engine, gearbox, and rear axle being fully rebuilt by AC expert Brian Taylor, and the body restored by David Moroney. A large restoration file is available on request, including a photographic record of the mechanical rebuild. The car's post-restoration achievements include: In 2008, 'GPF 957' was featured in the Vintage Sports Car Club's Bulletin No 259 in a seven-page article on its history and restoration. More recently, 'GPF 957' has featured in The Automobile (June 2016 edition, copy available) and it also features in the latest Georgano Encyclopedia of Cars and the recently published AC in Detail by Rinsey Mills.
233 1967 Austin Mini Cooper S 1005467 £30,000 £40,000 N/R £40,250 €45,178 $50,129 1% The car offered here is a genuine Austin Mini Cooper Mark I built in 1967 and sold new to the Danish importer, DFA Denmark. In the 1990s a former owner transformed the car into a racer and it has been developed over more than 20 years. Motor Racing Legends, the organisers of the increasingly popular Historic Touring Car Challenge for Group 5 cars up to 1969, Group 2 cars up to 1981 and Group A cars post '81, have confirmed its eligibility. This Austin Mini Cooper has been built to the ultimate Special Tuning Group 2 'Cooper S' works specification and is race ready. The engine and gearbox was completely rebuilt after its 1st place finish in the 2015 Copenhagen Grand Prix pre-1971 under 1300cc race. The new engine incorporates a new forged competition crankshaft; Swiftune flywheel; reworked Arden eight-port cylinder head; and Lucas fuel injection with bespoke slide-type throttle. The transmission consists of a brand new 'dog box' with Swiftune drop gears, while other noteworthy features include aluminium doors, bonnet and boot lid, and aluminium rear brake drums. We are advised that the drive train alone is worth £20,000. The accompanying spares package includes the following: new brake parts, etc; bespoke chassis stands; bespoke set up stands; bonnet/hood stands; set up tools, etc, all boxed in alloy transport cases. The car also comes with six very rare 12″x7″ magnesium Minilite wheels. Accompanying documentation consists of a Heritage Certificate, Danish registration papers, dynamometer printout (145bhp), and a full FIA HTP with all parts documented.
234 1969 Alfa Romeo 1750 Spider Veloce ARO1676055348 £27,000 £35,000 £27,025 €30,333 $33,658 Mid A rare right-hand drive model being supplied as a late 1750 engine car, highly desirable over the 1300 and 1600cc cars. This sought after 1750 Spider Veloce was sold new in April 1969 finished in white and has been painstakingly restored in its original livery, the work being carried out during 2017/2018. It addition to the cosmetic refurbishment, the car was also overhauled mechanically, including an engine rebuild. A most attractive and coveted post-war Alfa Romeo, this beautiful 1750 Spider Veloce is offered with sundry restoration invoices and a V5C Registration Certificate.
235 1961 Jaguar XK150S 3.8 DHC T827647DN £150,000 £170,000 £161,000 €180,710 $200,516 Mid Representing the XK150 in its ultimate configuration, with the 3.8-litre 'S'-specification engine and overdrive gearbox, this car was manufactured on 1st September 1960 and supplied to Henlys in London. It is one of only 69 right-hand drive 3.8-litre 'S' drophead coupés made. The car was originally finished in cream with black interior and matching hood, the same colour combination it has today, and left the factory equipped with chrome wheels, as today. Its first owner was D R Collins Ltd and the original registration was 'LW 50′ (later '78 PP'). In 1964 the XK changed hands for the first time, passing to Mr Walter Goddard of Surrey, who was followed by Mr Michael Edward Malone in 1977. From July 1983 the Jaguar was owned by Mr Peter Brown (still registered '78 PP') until it moved to DK Engineering. The current (Dutch) owner purchased the car from DK Engineering in October 1995 (invoice on file). The present owner then commissioned a bare metal re-spray, which was undertaken by M-B Vardy Services in Hampshire between 1996 and 1997. The car then moved with the current owner to Holland where marque specialists Zwakman carried out all the mechanical work required. Zwakman's detailed invoice is on file and the car also comes with its original logbook; JDHT Certificate confirming matching numbers; DK Engineering sales invoice; current Dutch registration papers; and its Operating, Maintenance and Service handbook with Jaguar pouch in very good condition. Presented in lovely condition, showing few signs of age following its restoration while possessing a lovely patina, this XK150 'S' 3.8 has been meticulously maintained by its current owner and is only sold because he is reducing his collection. The car is on the button and ready to use.
236 1960 Aston Martin DB4 DB4/264/R £240,000 £280,000 £264,500 €296,881 $329,419 Mid This car's accompanying copy guarantee form indicates that it is the 14th of 350 'Series II' DB4s made. '264/R' was sold new via Aston Martin's Scottish agent Callanders Garages to first owner John F Dunn of Glasgow. The accompanying copy guarantee form shows that the car was originally finished in Sea Green with red Connolly hide interior, and records that in May 1962 it was fitted with a reconditioned engine ('370/415') by the factory. According to James Taylor's book, Factory Original Aston Martin DB4/5/6, '264/R' was one of the last to be fitted with the original 'small sump' engine. The latter could suffer from overheated bearings, which is almost certainly what led to the original engine's demise. Apart from the information on the guarantee form, little is known of the car's history for its first ten years. In 1970 the Aston was repainted blue while belonging to the third owner, a Mr Bonny (see period photographs on file). Other owners have included Mrs J A Grant of Carlisle and Dr Patrick Reid of Twyford, who owned the vehicle in the late 1970s/early 1980s and sold it to Swiss-domiciled S J C Klossowski de Rola in June 1982. In 2004 the Aston was repainted in Silver Birch by Oakfields before export to Holland (photographs available). The current (Swedish) owner purchased the car in August 2007. Since then the engine has been rebuilt, its reinstallation being completed in September 2016, and in 2018 the owner drove DB4 from his home in Sweden to Goodwood. The car is offered with sundry restoration invoices, Swedish registration papers and Swedish 'MoT'. A new oil cooler, steel wings, an oil filter conversion, and a new starter motor are the only notified deviations from factory specification.
237 1939 Alfa Romeo 6C2300B Corto Touring Spider Replica 813219 £400,000 £450,000 £408,250 €458,229 $508,451 Mid Chassis number '813219' is an exceptionally good-looking re-body with coachwork in the style of Carrozzeria Touring of Milan. The 6C 2300B chassis is renowned for its nimble and precise handling, and is even more responsive in short-wheelbase form, as seen here. Its fully independent suspension is compliant and comfortable, while this engine's 110 horsepower, coupled with the long-stroke six's smoothness and torque, make this car the ideal companion for tours and rallies. Surviving records indicate that this short-wheelbase car was delivered new as a saloon. It was re-bodied in the 1980s with its present coachwork and painted blue. It is understood that its European owner campaigned the car extensively, participating in prestigious events such as the Mille Miglia Storica. The Alfa was then auctioned in Europe. Subsequently, renowned enthusiast and collector Mr Bill Jacobs imported the Alfa into the USA and commenced its restoration, refinishing the body in the period-correct dark red livery it still wears today, and adding chromed spears to the rear wings and spats. The beautiful tan leather interior is pristine, complementing the exterior colour perfectly. Originally fitted with a single carburettor, the engine has been upgraded with twin carburettors as used on the 6C 2300B MM, further enhancing the Alfa's already excellent touring qualities. Cosmetically, the car is superb; there is little wear evident and it appears clean and well detailed throughout. Clearly, previous owner Gene Ponder spared no expense in its upkeep and the results speak for themselves. The next owner was similarly fastidious, instructing his mechanics to undertake a thorough inspection and ensure that the car was maintained in running and driving condition. Although any Alfa Romeo of this period is a pleasure to own and drive, this 6C 2300B ranks among the finest and most exquisite of contemporary classics. A guaranteed head-turner at any show, race meeting or tour, this classic Alfa Romeo will surely give its proud next owner immense satisfaction. Offered with Republic of Ireland Registration papers and therefore in free circulation within the EU.
238 2008 Rolls-Royce Phantom DHC UHO7077 £125,000 £155,000 £132,265 €148,457 $164,728 Mid Finished in the most attractive black diamond metallic and silver with cream hide leather interior, this beautiful example has had two previous keepers and comes with Rolls-Royce London service history, there being five stamps in the service booklet, the most recent dated 2018 at 19,995 miles. The current odometer reading is 20,800 miles and the car also comes with a V5C Registration Certificate and MoT to June 2020.
239 1936 SS1 FHC £80,000 £100,000 Not sold Not sold Not sold N/A Believed to be a 2.1-litre model, the SS1 fixed-head coupé offered here was purchased from the sale of the Danish Aalholm Automobile Museum Collection in 2012, since when it has been cosmetically restored by the Key Museum. Early SS cars are rare and highly desirable and this example, with its fresh two-tone paintwork, is undeniably handsome.
241 1961 Aston Martin DB4GT DB4GT/0161/R £2,200,000 £2,800,000 Sold Sold Sold N/A First registered '44 MY' and originally finished in Dubonnet with black Connolly hide trim, DB4GT chassis number '0161/R' was retained by the factory as its official demonstrator before being sold in June 1961 to its first private owner, Donald Campbell CBE. The famous speed record specialist who set eight absolute world speed records on land and on water in the 1950s and 1960s, Campbell remains the only person to have set both land and water world speed records in the same year (1964). He died during a water speed record attempt at Coniston Water in the Lake District in January 1967. Campbell owned '161/R' only briefly, and in November 1961 the Aston passed into the ownership of one John Somers. Accompanying documentation lists a further 10 owners including the present (German) custodian, who purchased the car in 1991. Sixth owner Tim Frost acquired '161/R' in 1973, by which time it had been fitted with engine number '370/0182/GT', which is also stamped 'RAC' indicating that it was built for racing by the works. '370/0182/GT' had started life in the famous DB4GT Zagato, '1 VEV', campaigned by John Ogier's Essex Racing Stable. '1 VEV' formed part of the Essex Racing Stable for only some two years, the highlight of its time with team being an entry in the 1961 Le Mans 24 Hours Race for Jack Fairman and Bernard Consten. The car retired after 2½ hours with a blown cylinder head gasket. In 1974 '161/R' was entered in the AMOC's Wiscombe hill climb, taking a 2nd place finish. Mr Frost advised the AMOC that the car had been fitted with a taller final drive ratio of 2.89:1 (3.54:1 standard) and when sold, the Aston reverted to its original registration number having carried 'TF 12' for a while. During the period 1985-1987, the DB4GT was owned by Tim Holloway, who regularly entered it in both sprints and concours events. These included the 1984 West Wycombe concours (1st) and Silverstone St John Horsfall concours (5th); 1986 Wiscombe Park hill climb (4th), Curborough sprint (6th), and BSCC Goodwood sprint (4th); and 1987 Wiscombe Park hill climb (2nd), Curborough sprint (7th), Silverstone concours (3rd), Goodwood sprint (5th) and AC OC Goodwood sprint (5th). Following its acquisition by the current vendor in 1991, the Aston was treated to a bare metal restoration by Max Wetzel in Maur, Switzerland. This restoration took from 1995 to 2001 to complete, and there are invoices for circa CHF 70,000 on file together with some 350 photographs. At around the same time the mechanicals were overhauled by Roos Engineering in Switzerland at a cost of circa CHF 290,000 (invoices available). Also on file are several magazine articles about the Aston, including one in Motor Klassik (July 2004 edition) where it featured on the front cover for a comparison piece pitting it against a Ferrari 250 GT SWB. The files also contains copies of invoices from RS Williams addressed to previous owner Nicholas Springer of Gstaad, Switzerland; and original Aston Martin DB4GT sales brochure; and several German TüV certificates, the latest dating from May 2019. Aston Martin built a mere 75 DB4GTs plus further 19 Zagato-bodied variants, one Bertone-bodied special, and five 'Team' or 'Development Project' GTs. Of these 75 examples, 45 were supplied in right-hand drive form and 30 were left-hand drive. Amongst the most beloved of all Astons, the DB4GT remains unmatched for its unique combination of performance and roadability. Despite its tremendous rarity and value, the DB4GT remains a popular entrant at major historic racing events such as the Goodwood Revival and the numerous (and highly competitive) Aston Martin Owners' Club Championship race meetings in the UK. The DB4GT was designed for competition and '0161/R' offers a rare opportunity to acquire an original right-hand drive example capable of competing with distinction in a variety of historic motoring events.
242 1965 BMW 1800TI/SA Competition Sports Saloon 986060 £30,000 £40,000 £58,650 €65,830 $73,045 47% An 1800 TI upgraded to TI/SA specification, the car offered here was restored in 1987 and has raced in FIA events since 1992. It has competed in various championships, winning the European Championship in 1992 and finishing 5th overall in 2003. The current owner, since February 2013, international best-selling crime novelist, Peter James, has raced the car to numerous top-three class finishes in the U2TC and Masters series. The car has also competed successfully in the Goodwood Revival's St Mary's Trophy. In 2013, co-driven by the owner and also by Touring Car legend Steve Soper who finished 5th, they came 10th place overall. Other drivers include media/TV presenter Amanda Stretton, multi championship-winner Paul Taft, and U2TC and Masters regular Alan Letts. Throughout the current ownership the car has been maintained with no expense spared by classic BMW specialists Laranca Engineering. Only one race has been completed (at the 2018 Silverstone Classic) since the engine was rebuilt in June of that year, and only two races since the transmission was overhauled. Offered with FIA HTP valid until 2028, this car represents a wonderful opportunity to acquire a TI/SA-specification BMW competition saloon of proven competitiveness and an entry into renowned series' such as the HSCC Historic Touring Car Championship & Motor Racing Legends U2TC.
243 1957 Rochdale GT Coupe C947951 £30,000 £40,000 £25,300 €28,397 $31,510 -19% Immaculately restored, this Rochdale is eligible for Goodwood and other prestigious historic meetings, and in 2013 raced at the Goodwood Revival. Competing in the Fordwater Trophy – its first race – the Rochdale qualified at 79.27mph and started from 19th in a field of 29. Within eight laps it had moved up to 12th place, only to be sidelined by a puncture. Today, this is one of the prettiest cars participating in classic road rallying across Europe, often beating faster and more exotic rivals. Ready for classic circuit racing, this supremely versatile car could just as easily be adapted for rallying or fast-road use, and would be equally perfect for a Sunday drive in the countryside. Fully serviced, MoT'd and cleaned, it comes complete with a comprehensive photographic restoration record and is presented in immaculate condition.
244 1960 Chevrolet Corvette Convertible 00867S108052 £80,000 £100,000 £74,166 €83,246 $92,369 -8% This Corvette comes from the State of Texas and has never been the subject of a 'frame off' restoration: firstly because the dry, warm climate has kept it rust-free and secondly because its long-term former owner maintained the car regardless of expense. The car had its first repaint (only the outside skin) because of fading, while a complete mechanical overhaul, attention to brightwork, etc was carried out some 10,000 miles ago. The Roman Red paint is still of show quality; indeed, this Corvette is said to have won many concours awards (see stickers on windscreen). We are advised that the engine starts readily and displays good oil pressure. All the lights work, as do the windscreen wipers, horn, etc. A new battery has been fitted and the oil changed recently ready for sale. The body appears in excellent condition with clean, smooth lines, and consistent gaps all around. The interior looks like new: the seats, carpets and door panels all being in excellent condition. All the gauges illuminate and even the courtesy light works when you open the door. The original Wonderbar Radio has been restored and modified to receive digital stations, although externally it remains totally original. The single speaker in the dashboard is amplified and impressively loud; indeed, we are advised that you can have the top down at 70mph and hear it perfectly. The engine compartment is beautifully detailed, with the factory shielding still on the engine, as are the correct valve covers and air cleaner. The boot compartment looks impressive, with correct board mat, spare wheel, jack and brace. The white convertible soft-top is new and in excellent condition, and the car rolls on wide whitewall radial tyres that improve the handling and ride. The car is offered with a 1958-1960 Corvette Judging Manual; a 1960 Corvette operation manual; a 1960 Chevrolet Corvette C1 Brochure; title document; and NOVA letter. This dazzling, head-turning Corvette wants only for a new custodian that will treasure it as much as its late owner did.
245 2003 Ferrari F360 Spider 132519 £60,000 £90,000 £62,100 €69,702 $77,342 Mid This beautiful 360 Spider has the manual transmission and is finished in red with black leather upholstery. The Ferrari was sold new in the UK by Maranello Concessionaires Ltd on 24th April 2003 and first owned by a Mr David Williams of London. The vendor purchased the car from Graypaul in circa 2014. Presented in excellent condition, the car comes a V5C document, current MoT, sundry bills, and its service booklet showing full Ferrari service history, the most recent service being carried out by HR Owen on 8th July 2019 at 32,412 miles.
246 1959 Austin Mini A2S7/3608 £25,000 £35,000 £28,750 €32,270 $35,806 Mid One of the first Minis completed, 'WRY 220' was delivered to dealers Lathams Limited of Leicester on 1st October 1959, a mere two months after this revolutionary new design had been launched. 'WRY 220′ comes with its original old-style buff logbook showing that it was first owned by one Francis Kelly of Leicester, followed in 1961 by Ernest Ryan (also of Leicester) who used the car before laying it up for 10 years; it was acquired by the immediately preceding (third) owner in 1974. The owner undertook to replace the rear sub-frame, and the Mini was put into his garage and the sub-frame removed. The car remained like that for the next 43 years before being sold as a basically sound and complete restoration project at Bonhams' Beaulieu Sale in September 2017 (Lot 502) showing a believed-genuine 57,111 miles on the odometer. Purchased there by the current (fourth) owner, the Mini was entrusted to Melvin Floyd of Just Historic Cars for restoration. Great care was taken during the restoration to ensure that original parts were reused wherever possible; this even extended to reusing the original 1959-dated clutch plate, which was little worn. Interviewed by MiniWorld magazine for an article on 'WRY 220' (September 2019 edition, copy available) Melvin revealed that even details such as a dealer water-slide transfer on the dash rail and service stickers at 40,000 miles had been preserved. Surprisingly, no major panels needed replacing, only relatively minor repairs being required, while the paint colour was matched to concealed areas of the original Tartan Red paintwork. As the rear sub-frame was absent, a newer one was sourced and modified to 1959 specification. The engine and transmission were overhauled, though the former did not need a re-bore, only re-ringing. Following the rebuild both the engine and transmission were drained of fluids as the vendor had no intention of driving the restored car. The interior was in a good state of preservation although the carpets and headlining had to be renewed. The original seats only needed a clean, but the original trim panels were past saving and were replaced. Painstakingly restored with commendable attention to detail, this collectible early Mini is offered with an old-style logbook, BMIHT Certificate, V5C registration document, and bills relating to its restoration.
247 1954 Jaguar XK120 S669125 £150,000 £200,000 Sold Sold Sold N/A One of only 194 right-hand drive XK120 fixed-head coupés built, this example was bought new by famous racing driver the late Jack Sears, who would go on to win the inaugural British Saloon Car Championship in 1958 and regain the title in 1963, in addition to drives for the BMC Works, Tommy Sopwith's Equipe Endeavour, Willment and Maranello Concessionaires teams, the latter who he drove for at Le Mans. Driven by him in the RAC Rally and at Goodwood, Snetterton, and various hill climb venues, the XK comes with a detailed list of Jack's results for 1954. 'DVV 200′ is mentioned and pictured in Sears' biography, Gentleman Jack, and has appeared in numerous other publications devoted to the marque, including The Jaguar XKs by Paul Skilleter and Original Jaguar XK by Philip Porter. In the 1970s, 'DVV 200' was bought another notable racing driver and Le Mans competitor, by Peter Sargent and his brother Michael. Michael Sargent did not race the XK but owned it for some 20-plus years. Subsequently 'DVV 200' had one owner – Brian Perring, who acquired the car in 2000 – before passing to the current vendor in 2003, so has been sold only twice in the last 40-plus years. While in the vendor's care, the XK has benefited from over £30,000 spent on the mechanical recommissioning engine over the last 12 months with renowned marque specialists CKL Developments Ltd. Noteworthy features include 2″ sand-cast SU carburettors, D-Type cams, and 9.1 compression ratio a high-torque starter motor. The original Moss gearbox and drum brakes are retained, as is the original 'sprint' rear axle (a standard (rebuilt) rear axle is also included in the sale). Accompanying documentation includes an old-style logbook, sundry invoices dating back to the 1970's, a Heritage Certificate, MoT history, a V5C Registration Certificate, current FIA papers, and numerous period photographs, some signed by Jack Sears. 'DVV 200' Raced in the Fordwater Trophy event at the Goodwood Revival in 2018 and is surely going to be a welcome invitee in the future.
248 1929 Bentley 4.5 Litre Harrison Tourer NX3468 £480,000 £600,000 Not sold Not sold Not sold N/A A remarkably original example, chassis number 'NX3468' retains its original two-seat tourer coachwork by R Harrison & Son of Stanhope Street, London together with its original registration mark, 'GU 9000′. All the numbers have been checked and everything matches: chassis, engine, SU carburettors, front axle, steering box, C-Type gearbox – even the sump number is in the correct sequence. (The car is expected to possess a Hay Report by time of sale.) The Bentley's first owner was Mrs Eileen Mary Marshall of Buckingham Gate, London SW1, daughter of Albert Jacob, a director of the eponymous Liverpool-based biscuit manufacturer and MP for East Toxteth. He died in February 1929, two months before the Bentley's delivery to his daughter. Bentley Motors' service records show that Mrs Marshall drove the '4½' extensively during the ten years she owned it, and the sight of a woman at the wheel such an imposing motor car must have caused quite a stir in 1930s London. Between 1929 and 1938, 'GU 9000' was maintained by Bentley Motors, and in 1939 the car was sold to Mr E Bird in Kent. Various logbooks trace the owners during the post-war period, showing the Bentley spent time in Upper Richmond and Queens Club Gardens. It later moved to Oxford and then, in 1947, to West Bromwich, remaining with that owner until 1959 when it bought by the immediately preceding owner. When acquired by the latter in 1959, the Bentley was finished in cream over black; this was not to the new owner's taste so the car was repainted in its present blue over black livery. The rear dickey seat had already been modified (it is believed in the 1950s) and turned into a more conventional boot, opening from the rear, while 18″ wheels were fitted in the 1960s. During the next 34 years, the Bentley provided its owner with virtually trouble free motoring, and in the late 1960s Hoffman & Mountford carried out a major overhaul of the engine. Around 1983, the Bentley and its owner moved to Guernsey where 'GU 9000' was used regularly. No major restoration was required and so the car acquired a fine patina of age, the original brown leather interior being particularly delightful. A new tonneau was made in the early 1990s, while other noteworthy features include an overdrive; Lucas headlights and sidelights; additional (later) spotlights; twin running board-mounted spare wheels; and a Raydoyt searchlight. Acquired by the late owner in 1993, 'GU 9000' remains extremely unspoilt and original. It is a jewel of a car, worthy of inclusion as the centrepiece of any significant private collection.
249 1960 Jaguar XK150S 3.8 Coupe T825242DN £120,000 £150,000 £88,333 €99,147 $110,013 -36% The car we offer is one of only 115 right-hand drive 3.8-litre 'S' coupés made and thus is one of the rarest of all XK150 variants. In his book 'Jaguar XK140/150 In Detail', former Jaguar Daimler Heritage Trust archivist, Anders Ditlev Clausager lists all the XK150 3.8-litre 'S' chassis, this example being the 79th RHD FHC made. We are advised by the vendor that the car is totally correct, finished in its original colour scheme of Sherwood Green with Biscuit interior, and retains its original engine (number 'VAS1191-9'). Chassis number 'T825242DN' was first registered 5552 PX in May 1960 through the dealership Fields Engineering in Crawley, Sussex to a Mr Oxley. The car remained in the UK for most of its early years, carrying two further private registrations, but for the last two decades or so has resided in Austria. While there it formed part of a private collection and spent most of its life in a small museum. The mileage indicated is some 51,000, and while this figure correct cannot be verified it is believed to be correct. We are advised that no changes or modifications have been undertaken to the car apart from discreetly placed tow hooks front and rear; a very well engineered anti-bump arrangement to the rear suspension; seat belt fittings; and a 'Halda' type cable drive mechanism fed to the cockpit. The car is described as in excellent condition, with flat side panels and quite remarkable door shuts, often a feature that disappoints with so many XK 150s. The boot area is in mint condition, the engine bay presents very well, the interior is very smart and the underside is fully Waxoyled. The car has been fitted with a new set of 72-spoke chrome wire wheels shod with new Blockley radial tyres. This is a car ready to be used immediately, and with race preparation would not disappoint as a rally, track day, or race-car. Very rare in right-hand drive form, this unmolested, full matching numbers XK150 3.8-litre 'S' is worthy of the closest inspection.
250 1964 Bentley S3 Continental DHC BC130XC £160,000 £180,000 Not sold Not sold Not sold N/A This beautiful S3 Continental is presented in generally very good condition having been carefully looked after by the same owner for the last 31 years. Dating back to the car's acquisition in July 1988, its history file is extensive, containing the BDC's book and first-owner documents from the R-REC. There are also numerous receipts on file for servicing and repairs together with MoT certificates covering several years. These include a bill from 2007 for reconditioned gearbox and another bill for a complete new hood and headlining fitted in 2008 by Robert Smith of R&R Quality Car Trim, one of the best hood trimmers in the country. The lovely Astral Blue paintwork and brightwork is in good condition, as is the grey interior and off-white hood. There is also a 2017 bill from Frank Dale & Stepsons for repainting of the sides, body polish, and engine detailing. All in all this is a very tidy car in excellent running order, which the vendor describes as sound throughout. Offered with a V5C Registration Certificate and the aforementioned extensive history file. A rare, boxed continental touring kit of spares for this model is available by separate negotiation.
251 1972 Lotus Elan Sprint DHC 7109210 484G £28,000 £34,000 Not sold Not sold Not sold N/A The present owner of this car previously owned an Elan S4 and testifies that the Dell'Orto carburettors, fitted to this example, are better at remaining in tune. Produced in limited numbers, the Sprint is now one of the most sought-after Elan types. This right-hand drive car is the desirable drophead coupé model, finished in its original Lotus Yellow-on-white livery. There have been only three owners, all of them resident in southern England. In 2004 the present owner bought the car from the second, and he has always garaged it in Kent. At time of writing the odometer reading was 63,780 miles. In common with many Elans, this one was built from a kit by its first owner in order to avoid Purchase Tax. In 1984, at an odometer reading of 51,975 miles, a new chassis was fitted by Christopher Neil Sport Cars. At 58,515 miles, the cylinder head was stripped and the valves re-sealed. Items renewed subsequently have included the dynamo, water pump, tyres (2016), master cylinder, brake pads, Rotaflex couplings, Spax dampers, timing chain and cover, while the radiator and brake servo have been overhauled. The car is supplied with a tonneau cover commissioned by the present owner. The vendor advises us that the car is in good mechanical condition, with a current MoT, while the overall condition, including the folding fabric top, is said to be good considering it has never, to the present owner's knowledge, been re-sprayed. There is comprehensive service history. Adequately powerful, light in weight, and endowed with exceptional roadholding and handling, the Elan could out-perform any of its contemporaries on all but the longest and straightest of roads. It is also surprisingly practical, being able to accommodate, in this case, the 6′ 3″ owner while affording a decent amount of luggage space in the boot and behind the passenger seat, allowing for long weekend travel.
252 1956 Austin-Healey 100BN2 BN2L/230924 £55,000 £65,000 £63,250 €70,993 $78,774 Mid A BN2 model, chassis number '230924' comes with a BMIHT certificate confirming that it was built in left-hand drive configuration and exported new to the USA. A laminated windscreen and a heater are listed under details of factory equipment, while the original colour scheme was Ivory White with black interior and matching hood. '230924' is on the American 100 M Le Mans Register as a later-converted car (rather than a factory-built 100 M). In 1992 the Healey returned to the UK and has had four owners in this country, including the current vendor. All four are listed in the accompanying FIVA ID Card, which also states that this car raced at the Santa Barbara Road Races in 1959 and 1960, and at the Pamona Road Races in March 1960. It is probable that the car was converted from left- to right-hand drive shortly after its return to this country. Boasting an all-aluminium body, '230924' has all the correct 100 M parts. These include the louvred bonnet, cold air box, and an anti-roll bar, the latter being a thicker-than-standard Denis Welch component. Rebuilt to full 100 M specification by Denis Welch Motorsport some 8,000 miles ago, the engine features a Denis Welch aluminium cylinder head and a spin-on oil filter conversion. The gearbox was rebuilt at the same time. The current vendor has known and looked after this car for the last 20 years, and has been its owner since 2013. The front cross-member has been replaced and in 2008 the car was repainted to a very high standard, the finish still looking good today. Ziebart rust protection is visible in the engine bay and on structural parts. Believed re-trimmed in the 1990s, the interior is now nicely patinated. Accompanying documentation includes sundry bills, a V5C Registration Certificate, MoT to August 2020, and the aforementioned FIVA card and BMIHT certificate. In 2016 this car came 2nd in the Austin-Healey Club National Concours, only losing out to the Earls Court Motor Show car. Classic & Sports Car featured the Healey in its August 2018 edition and were suitably impressed: "It starts instantly with no mechanical clatter and drives really well, the steering fluid and with no 'stiction'. Overdrive clicks in and out smartly, and the brakes are firm and straight. Oil pressure is 50psi when running and 40psi at tickover, with temperature at 160°F."
253 1961 Jaguar E-Type Semi Lightweight Coupe 850007 £600,000 £750,000 Not sold Not sold Not sold N/A Right from the moment deliveries commenced in 1961, the E-Type began to find its way on to the world's racetracks. In the Grand Touring class for production sports cars the E-Type proved competitive right from the start, Graham Hill celebrating the model's racing debut by winning at Oulton Park on 3rd April 1961. Entered by Jaguar dealer John Coombs, Hill's car was one of seven special competition E-Types, the very first of their kind built by the factory. Jaguar's designer, Claude Bailey, had initiated 'Project Specification ZP 537/24', the title of which was 'Variations Required To Build 7 Competition E-Type Cars'. The suggested modifications were in fact relatively mild, including an increased compression ratio; polished con-rods; gas-flowed cylinder head and inlet manifold; lightened flywheel; and the provision of a close-ratio gearbox. The fortunate few earmarked for this inaugural septet of racing E-Types were those who had already successfully waved the Jaguar flag on track: John Coombs, Tommy Sopwith, Écurie Écosse, Peter Berry, and Sir Gawaine Baillie. Ultimately, Coombs, Sopwith and Berry were granted two each and Baillie one. Coombs' first competition E-Type, chassis '850006', carried the company's well known registration 'BUY 1' in its first year but by the following season its identity had been changed to '4 WPD'. It was this car that went on to become the prototype Lightweight E-Type and arguably the most important competition example of the model. Coombs' second car – chassis '850007', the seventh right-hand drive roadster built – was completed on 29th March 1961 and despatched to Henlys of London on 20th July of that year. From there the E-Type was transferred four months later to Coombs of Guildford with the registration '9 VPD'. It effectively served as a spare for the team and, other than reputedly being entrusted to Graham Hill during testing at Goodwood, was not called into action until the Scott-Brown Memorial Trophy meeting at Snetterton on 23rd July 1961. Albert Powell had been due to pilot one of Peter Berry's competition E-Types (chassis '850010', registration '3 BXV') before the car suffered a broken wishbone in practice, whereupon Coombs kindly loaned him '9 VPD'. According to Autosport, Powell ran as high as 4th before dropping back, eventually retiring when a broken fan belt led to overheating. No fewer than five of the seven 'ZP 537/24' cars were in action that day, including chassis '850005' ('ECD 400') and '850006' ('BUY 1') although that car did not carry registration plates at that meeting for some reason. The pair finished in 1st and 2nd places respectively. As far as its in-period competition history is concerned, little more is known of '850007' other than it definitely led a much quieter life than '4 WPD'. Sold off into private hands, '9 VPD' was purchased by the preceding owner in July 2002 in an extremely dilapidated but original state, having been left in the open in Scotland for some 15 years. Jaguar Driver magazine reported that the E-Type had been off the road since 1973. Apparently, it was while north of the border that the E-Type was repainted red and acquired the Scottish registration '532 FS'. Acutely conscious of the Jaguar's historical significance, the owner entrusted it to marque specialists Beacon Hill Garage of Hindhead, Surrey with instructions to restore it as an FIA-compliant racer while preserving as many of the original components as possible. Major parts of the original tub (body number 'R1017'), including the front and rear bulkheads and spine, were employed in its reconstruction in steel, while the outer body panels were replaced with 'Lightweight' specification aluminium equivalents. All parts deemed surplus to the restoration have been preserved for posterity, including the original cylinder head, crankshaft, con rods, close-ratio gearbox, 'outside lock' bonnet, boot lid, doors, seats, hardtop, and hood frame. The vendor even managed to recover the original registration, which had found its way onto a Range Rover in Scotland. Repainted in its original livery of Opalescent Dark Blue, the reborn '9 VPD' returned to the track in time for the July 2005 Silverstone Classic Festival, and later that year finished 4th overall in the Gentleman Drivers' two-hour race at Spa in the hands of Steve Markey and Austin Kinsella. It was 4th in the 2006 Le Mans Classic (behind two Ford GT40s and an AC Cobra) and 3rd overall and 1st-in¬-class in the Spa 6 Hours that same year, with former Le Mans winner Richard Attwood joining Steve Markey and Radical ace Austin Kinsella behind the wheel. It was the first Jaguar home and 3rd-in-class in the 2007 Le Mans Legends race, the year in which '9 VPD' also made its Goodwood Revival debut, with rally legend Rauno Aaltonen co-driving alongside Steve Markey. Now a regular contender in the Goodwood Revival, Le Mans Classic, and Spa meetings, '850007' boasts a list of helmsmen that also includes Emanuele Pirro, Marc Gené, and Tony Jardine. In 2011 renowned marque specialists Rob Beere Racing supplied a new 3.8-litre engine and carried out further works on the cylinder block and heads in 2015. This car's fascinating history is outlined in a detailed illustrated report, compiled by Gaëtan Van der Kindere and Stéphane Meeremans of British & Sportscars, which prospective purchasers are urged to read. This report illustrates the car's BMIHT Certificate; an old-style continuation logbook (issued 1969); in-period press cuttings; MSA Historic Technical Passport; old/current V5C Registration Certificates; and numerous photographs of the E-Type 'as found' and undergoing restoration. It also contains photographs and a detailed list of the vast quantity of original parts included in the sale, while the original documentation is contained within various box files and folders. Beautifully presented and 'on the button', this highly significant and beautifully restored racing E-Type is ready for the fortunate next owner to enjoy.
254 1990 Ferrari Testarossa 87522 £85,000 £95,000 £101,200 €113,589 $126,039 Mid This exceptional left-hand drive Testarossa was first registered in Italy on 7th December 1990 and spent the next 25 years in its home country. Personally selected from the best Italy had to offer, it was purchased from Autoluce in Modena in 2015 and since then has had only one owner in the UK. Prior to delivery to the UK, the Testarossa was treated to an extensive pre-sale overhaul by renowned Ferrari Specialists, Autofficia Bonin Carlo Srl of Regio Emilia. This included the obligatory replacement of cam belts, etc and is supported by detailed invoices. During its UK ownership the car has been maintained regardless of cost by Ferrari specialists Barkaways (bills available). Further enhancements include a set of four new tyres and new UK-specification headlights (originals with car). Finished in the classic combination of Rosso Corsa with Crema hide interior, the latter featuring excellent tan carpets and a brown leather dashboard and centre console, this extremely well cared-for Testarossa has covered only 16,500 miles from new. A 'Series 2' model to standard specification, the car boasts twin mirrors and immaculate five-bolt wheels, and retains its factory-original exhaust system. The car comes with a full set of owner's manuals, stamped service book, leather wallet, two keys, jack, tool kit (unused), spare wheel, bulb holder set, and a rarely seen pair of glass-etching cards. Substantiating this Testarossa's history and provenance, the necessary invoices and paperwork are present and the car also come with a V5C Registration Certificate and MoT to 28th June 2020. The cherished registration 'ENZ 210' is included in the sale.
255 1952 Bentley Mark VI Sports B239NY £40,000 £50,000 £52,900 €59,376 $65,884 6% In the absence of anything remotely resembling its Vintage-era touring models from the post-war Bentley range, enthusiasts with a yen for stripped-down, wind-in-the-hair excitement had little choice but to opt for a conversion. A number of specialist coachbuilders offered variations on the theme, and this particular Mark VI has an open two-seater lightweight body, with twin aero screens, in the style of a Brooklands racer. The body was built by Charles Palmer (Classic Restorations of Alyth) in 2010, while the original walnut dashboard and instruments have been retained. In addition to fabricating the new coachwork, which incorporates a Harry Rose tub, the team at Classic Restorations removed the cruciform bracing and 12″ from the mid chassis. They also lowered the suspension by 1½", fitted modern shock absorbers at the rear, and added an overdrive for more relaxed 'long legged' cruising in top gear. The paintwork is flawless deep blue complemented by black fenders, black leather seats, and Wilton carpets. A full (split) tonneau cover provides protection for the cockpit when the occupants are away from the car, while allowing the passenger side to remain covered when driving solo. A useful luggage box sits in front of the fuel tank. We are advised by the vendor that 'LTD 230' is a joy to drive, with feather-light steering, huge torque, and remarkable acceleration. Offered with history file, restoration bills, and a V5C.
256 1950 Healey Silverstone D48 £140,000 £180,000 Not sold Not sold Not sold N/A This well-known Silverstone started life as a standard Riley-engined D-Type originally registered to Harry Mark Walker of Leicester on 17th April 1950. The car was raced extensively in this form in the early 1950s by owners D S Boston and W E J Allen, competing at venues such as Goodwood, Silverstone and Snetterton (see photograph and results file). In September 1959 it was bought by Alan J Hancock, a director of the then well-known classic car dealers Simmons of Mayfair, who set about trying to unleash the chassis' inherent potential and installed a six-cylinder Jaguar XK engine, Moss four-speed gearbox and De Dion-type rear axle in the two years that he owned the car. Its next owner, Martin Bothwick Ashby of Alford, Surrey, sold the Healey to motor racing photographer Guy Griffiths in September 1964, and a process of refinement began in an effort to make this interesting hybrid truly competitive for sprint and hill climb events. Thanks to his friendship with Jaguar's Lofty England, Guy Griffiths was able to buy used and thus surplus-to-requirements components from works Jaguar engines, and the power of the three-carburettor 3.8-litre unit was thus considerably increased. This exposed inherent weaknesses in the De Dion rear end, which proved unable to cope with the additional power. A second-hand disc-braked Jaguar Mk2 rear axle assembly was bought from A B Price Ltd, enabling the car to go faster and stop quicker at the same time. Guy and his daughter Penny Griffiths (Woodley) raced, sprinted and hill-climbed the Silverstone through the 1960s (see photo and results file). The car's last recorded competition was in 1970, after which it retired to the Griffiths-Woodley Collection, remained there until it was sold at Brooks' auction in the National History Museum in December 1995 (Lot 764). In February 1997 Mike Hawley bought the car (from Jeremy Wade) and embarked on a programme of continuous and sympathetic restoration and race preparation (see invoice files). The Healey is once again a seriously fast and competitive sports-racer, prepared by McClurg Motorsport and registered with the VSCC, with which Mike competed regularly every year from 1997 onwards (see photograph and results file). It is a particular favourite at the famous Shelsley Walsh hill climb (best time 37.2 seconds), where it performed many times during its early competition career, some 50 years ago. Other noteworthy 'bests' include the Prescott long course at 54.28 seconds, Curborough at 39.18 and the Brighton Speed Trials at 14.96. The present owner purchased the Silverstone at Bonhams' Goodwood Revival sale in September 2012 (Lot 116). In its current specification the 3.8-litre Jaguar engine produces approximately 275bhp (see test sheet), which is transmitted via a five-speed gearbox to a limited-slip differential with racing half-shafts. The 16″ wheels are shod with Blockley tyres: 6.00 front and 6.50 rear. Weight is 995kg (2,189lb). Works undertaken have included fitting a new radiator and oil cooler (1998) and a new exhaust system (1999); a full engine rebuild (2000); replacing the hoses, pipes and wheel bearings (2001); fitting new Jaguar wheels and overhauling the brakes (2002; a major winter overhaul (2003); installing Weber carburettors and manifold (2006); fitting five Lister Jaguar wheels and Blockley tyres (2008); a full engine rebuild, fitting a five-speed gearbox, new clutch and a full re-wire (2009); and rebuilding the rear axle, differential, drive shafts and rear suspension (2010). In 2011 both rear wings were rebuilt and refurbished; an in-car fire extinguishing system installed; a new brake master cylinder and two racing drive-shafts fitted; and the differential checked. Accompanying documentation, of which there is a most substantial quantity, is contained within three files of photographs, race programmes and results sheets, and two files of invoices dating back to 1997. In addition, 'GAY 473' comes with an old-style logbook, UK V5C registration document, and VSCC certificate for invited 1950s sports-racing cars. Spare parts offered with car include a four-speed Moss gearbox, inlet manifold complete with three SU carburettors, two front suspension units, new front road wheels and tyres, and one old original road wheel (to fit in boot recess if required). The car has been used regularly by the vendor and appears to be running well in all departments. The owner describes the car as 'good' in all respects, with well-patinated bodywork and no known accidents. Invoices totalling €13,703.00 are available for the following maintenance and repairs carried out since 2012: In their 1950s heyday, the Healey Silverstones were track rivals of the XK Jaguars; by combining the outstanding merits of the two marques – Jaguar power and Healey roadholding – this well-sorted historic racer affords the prospect of exciting competition for the fortunate new owner.
257 1965 Wolverine LD65 LD65-01 £80,000 £90,000 £80,500 €90,355 $100,258 Mid For most of the nascent CanAm sports-racers, Chevrolet's excellent small-block V8 was the power unit of choice, and thus it was for the Wolverine, in which the engine was mated to a four-speed (no reverse) McKee transaxle. Stylist George Anderson was responsible the new sports racer's barchetta body, which was fabricated in aluminium sheet using a wooden buck (the rear end is now made of glassfibre). Anderson's design featured relatively long, pointed front wings – said by some to resemble the claws of a Wolverine and earning the car its name. The completed car tipped the scales at around 750kg (1,650lb). Built by Dykstra and Anderson during evenings and weekends, the Wolverine LD65 was entered by Hansen in the very first Can-Am race, held at the St Jovite circuit at Mont Tremblant, Canada on 11th September 1966. Faced with strong opposition from the latest Lolas and McLarens, Hansen qualified 25th and eventually finished in 20th place. Prior to that, Hansen had entered the Wolverine in two events in June '66 but the car did not actually make its competition debut until 3rd July when Hansen drove it to a debut win at the SCCA's Greenwood meeting. The car's next outing was at Mid Ohio on 28th August 1966, resulting in a DNF. Disappointed with the St Jovite result, Hansen did not race the Wolverine again after that. Having acquired a McLaren for 1967, Hansen set the Wolverine aside. In 1968, the car was acquired by Frank Opalka and on 28th July of that year was raced by him at the Road America 500 Miles (DNF). The following year, the Wolverine passed to James Place. Records show that Place entered the car in three events in 1969/1970, though it failed to start in any of them. For 1971 Place acquired a Lola T160. The current vendor acquired the Wolverine, completely dismantled and contained in 20 boxes and bundles of parts, circa 2010. He then had it shipped to his home in Denmark where a very thorrow assembly and preparation for racing, with the main emphases on originality, took place. Eventually the Wolverine was got running again and the vendor has competed ewith it twice at the Goodwood Revival Meeting. More recently, in 2016, the car was shipped back to the USA where it was displayed at the Rolex Monterey Motorsports Reunion at Laguna Seca. Only three races have been competed since the engine was rebuilt by Ted Wenz (Savannah Race Engineering) and the transmission overhauled by McKee. Offered with current FIA HTP, 'LD65-01' represents a wonderful opportunity to acquire a unique CanAm sports-racer with in-period competition history. The original drawings signed by George Andersen supplied with the car.
258 1974 Jensen Interceptor Series III Coupe 9710 £20,000 £30,000 £34,500 €38,724 $42,968 15% Peter Phillips bought this Series III Interceptor from Stratton Motor Company in January 2014 and over the next couple of years spent around £20,000 on general servicing and extensive refurbishment (bills on file). Although not used for the last 18 months, the Jensen has nevertheless been started regularly and been stored in a modern purpose-built car storage barn commissioned by Peter Phillips. This exciting Anglo-America Gran Turismo is offered with an instruction book, a V5C Registration Certificate (in the previous keeper's name) and the aforementioned bills.
259 2015 Range Rover SDV8 Autobiography 4×4 Estate SALGA2JE0FA211972 £30,000 £50,000 £41,400 €46,468 $51,561 Mid Offered here is a pristine example of the current fourth generation, introduced in 2012. A top-of-the-range Autobiography model, it is powered by the 4.4-litre V8 diesel engine production 339PS (334bhp). Noteworthy features include 21″ alloy wheels, LED headlights, automatic four-zone climate control, perforated semi-aniline heated/cooled seats, Meridian surround sound system, and four separate cameras delivering 360-degree vision. Peter Phillips (its second owner) purchased the car from Guy Salmon Land Rover in March 2016 for £84,271 (purchase invoice on file). The accompanying service history printout lists five services, the most recent dated 20th February 2019 at 44,651 miles. The related bill is on file and the car also comes with a current V5C Registration Certificate and MoT to 12th March 2020.
260 1968 Aston Martin DBS Vantage DBS/5148/R £90,000 £130,000 £135,700 €152,313 $169,006 4% Finished in the same colour scheme as the Lazenby DBS – Olive with black leather interior – this example benefits from a most extensive (though not 'body off') restoration completed by Works Service in December 2008 at a cost of £190,400 (see detailed invoice on file). Works carried out include rebuilding the engine to 'unleaded' compatibility; fitting new Weber carburettors; replacing the automatic transmission with a five-speed manual gearbox to original specification; stripping bare, repairing and repainting the body; and re-trimming the interior. 'OEL 565G' remained in storage at Works Service following completion. When offered for sale at Bonhams' auction of Aston Martin motor cars at Works Service in May 2011, the DBS (Lot 317) was presented in the kind of condition one would expect following such a thorough rebuild by the best-qualified technicians in the field. Purchased there by Stratton Motor Company on Peter Phillips' behalf, the Aston has been serviced regularly by Stratton's since acquisition; not used for the last 18 months, it has nevertheless been started regularly and stored in a modern purpose built car storage barn commissioned by Peter Phillips. Accompanying documentation consists of sundry service invoices, a V5C Registration Certificate, and the aforementioned restoration records.
261 2010 Bentley Brooklands Coupe SCBCC42M5ACH00552 £90,000 £130,000 £124,200 €139,405 $154,684 Mid Finished in Peacock blue with Imperial Blue-piped Cotswold leather interior, this lovely Centenary-model Brooklands was ordered from Bentley Cardiff by Peter Phillips to his personal specification. Noteworthy options include the following: The Brooklands was maintained initially by Bentley Cardiff and more recently has been looked after by Bentley Bristol. Fully serviced, the car has covered only 7,311 miles from new and is presented in excellent condition. Accompanying documentation consists of sundry bills, a V5C Registration Certificate, and MoT to 24th October 2019. Although not used for the last 18 or so months, the car has been started regularly and been stored in a modern purpose-built car storage barn commissioned by Peter Phillips. A wonderful opportunity to own one of these ultimate Bentleys at a fraction of its cost new.
262 1915 Rolls-Royce Silver Ghost Alpine Eagle Tourer 6AD £300,000 £500,000 £264,500 €296,881 $329,419 -13% According to John Fasal's authoritative work, The Edwardian Rolls-Royce, chassis number '6AD' was delivered new as a rolling chassis to H J Mulliner for bodying as a tourer. Like many motor cars undergoing construction at that time, it was commandeered for military purposes, serving – it is believed – as a Royal Navy ambulance before being re-bodied as a saloon circa 1919. In 1924 the Ghost was returned to the works for updating, which included fitting a braked front axle and a new gearbox offering servo assistance for the brakes. A complete new rear axle was fitted, while the engine manifolding and the magneto and dynamo in tandem also date from this time, as do certain aspects of the dumb irons. This car is also fitted with a self-starter, a feature not available until 1921. Fasal lists various owners, and notes that when one F W Peck acquired the car in 1958 it was fitted with body number '3' (the saloon). Next custodian Arthur Griffin is listed as owner from 1972. At around this time the Ghost was totally restored, receiving a new replica London-Edinburgh tourer body in the process. Auctioned in 1987, the car passed to its next private owner – one S B Larkin of Buckinghamshire – that same year and was acquired by Peter Phillips a year or two later. During the 1990s the Rolls-Royce was at Harley Engineering in Stratford-upon-Avon where Jonathan Harley constructed the magnificent Alpine Eagle replica body that it carries today. This body is similar in style to that of Radley's car mentioned above. Since then the Ghost has been maintained by Priory Vintage Car Company of Britwell Salome, Oxfordshire (bills on file). Last MoT'd to April 2012, the car will require sympathetic re-commissioning following its years in storage.
263 1991 Aston Martin Lagonda Series 4 Saloon SCFDL01S1LTR13640 £60,000 £80,000 £74,750 €83,901 $93,097 Mid According to Aston Martin Lagonda Limited, 106 Lagonda Series 4 models were built, the right/left-hand drive split being 34/72. Chassis number '13640' is the sixth from last car produced. Peter Phillips bought 'B91 AML' from Stratton Motor Company in February 2014, not long after it had been treated to a full bare-metal repaint in its original Rolls-Royce Royal Blue livery by Aston Martin Works. Today this magnificent motor car is presented in excellent condition, with all electrics working, the latter a great rarity! One of the finest examples Bonhams has seen, 'B91 AML' is offered with sundry bills, MoT to 1st October 2019, and a V5C Registration Certificate in the previous keeper's name. Although not used for the last 18 months, the Lagonda has nevertheless been started regularly and been stored in a modern purpose-built car storage barn commissioned by Peter Phillips.
264 1969 Aston Martin DB6 Mark 2 Volante to Vantage MB6Mk2VC/3754/R £650,000 £750,000 £743,000 €833,960 $925,362 Mid One of 38 DB6 Mk2 Volantes made, this beautiful right-hand drive example is one of only nine fitted with the optional Vantage engine and ZF five-speed manual gearbox, and thus represents the model in its ultimate and most desirable form. Chassis number '3754' was delivered new via HR Owen Ltd finished in Silver Birch with black interior and matching hood. It is believed that the first owner was one Julian Sacker. The conversion to Vantage specification was carried out by Works Service within the first few years. In 1974 the car, which had been refinished in Imperial Purple with cream trim, was sold to geologist Alan Archer via RS Williams for £4,500. An AMOC member since 1953, Alan Archer was on the committee and looked after the register for many years. He was chairman in the late 1980s/early 1990s and latterly the archivist. During Alan Archer's ownership, RS Williams looked after the DB6, which was a regular AMOC concours entrant, winning the Fort Belvedere Concours' Portman Trophy in 1975 and the Knebworth Concours a couple of years later (see badges on glove box). The car was driven every summer to Geneva, Switzerland to attend the United Nations' 'The Law of the Sea Conference' where Mr Archer was a delegate. It has appeared in a TV film (title unknown) starring Alec McCowen and been featured twice in Thoroughbred & Classic Cars: November 1976 (cover) and May 1984 editions. 'BMU 947H' was purchased by the immediately preceding owner in the early 1980s and subsequently was cared for by Works Service. The colour was changed from Tourmaline Blue to the present Rolls-Royce Midnight Blue. During the 1990s, the car was serviced by Post Vintage Engineers Ltd of Pool in Wharfedale, who carried out an extensive restoration during 1998/1999, including a repaint (see bills on file). Post Vintage fitted the modern CD changer in the boot and its concealed head unit in the cockpit. Subsequently, Ian Mason and Aston Service London looked after the DB6, which at one time was part of the then owner's substantial private collection. Little used during that time, it nevertheless was very well cared for with regular servicing (major every three years), yearly oil changes, and being run to temperature for circa 200 miles annually. Peter Phillips purchased the Volante from the preceding owner in 2013 and immediately despatched the car to Stratton Motor Company for a thorough check over and rectification of any faults (see bills on file totalling almost £12,000). Not used for the last 18 months, it has nevertheless been started regularly and stored in a modern purpose-built car storage barn commissioned by Peter Phillips. Offered with the aforementioned documentation, assorted expired MoTs, sundry service invoices and a V5C Registration Certificate, this beautiful DB6 Vantage Volante represents a rare opportunity to acquire one of the most exclusive and highly sought after of post-war Aston Martins. via Bonhams Aston '09 Not sold £420k.
265 1956 Jaguar XK140 DHC 807358 £90,000 £130,000 £124,200 €139,405 $154,684 Mid One of only 479 right-hand drive XK140 drophead coupés made, this example was built in January 1956 and despatched to Geneva, Switzerland the following month. The accompanying JDHT Certificate shows that '807358' was originally finished in maroon with red trim and sand soft-top. Peter Phillips purchased the XK from Mr & Mrs G Whitehouse of Worcestershire in February 2011, at which time it had covered only 17,000 miles since being restored in 2001 by marque specialists Twyford Moors Classic Cars. Extensively upgraded, the car incorporates the following modifications/additions: Since its acquisition by Peter Phillips, the XK has been maintained by independent Jaguar specialists Thomas Barclay Ltd, as evidenced by numerous bills on file. A fast road/touring car capable of embarrassing many a more modern conveyance, 'WSJ 522' also comes with a V5C Registration Certificate and its service history for the period 2001 to 2011. Although not used for the last 18 months, it has nevertheless been started regularly and stored in a modern purpose-built car storage barn commissioned by Peter Phillips.
266 2005 Aston Martin Vanquish S SCFAC14356B501986 £60,000 £80,000 £101,200 €113,589 $126,039 26% The car offered here is an example of the revamped Vanquish S that superseded the original version following its debut at the Paris Auto Show in 2004. Chief upgrade concerned the engine, which now produced 514bhp, an output good enough to make the Vanquish S a 200mph car. The previously optional Sports Dynamic Pack of enhanced steering, suspension and brakes came as standard with the Vanquish S. Finished in Nero Daytona Ferrari with matching Obsidian Black interior, this Vanquish S was purchased by Peter Phillips in October 2010 from Stratton Motor Company, who have serviced the Aston since its acquisition. Stratton's bills are on file, and this stunning car also comes with a recently expired MoT (July 2019) and a V5C Registration Certificate. Although not used for the last 18 or so months, the car has been started regularly and been stored in a modern purpose-built car storage barn commissioned by Peter Phillips.
267 1990 Aston Martin V8 Volante Cabriolet 15837 £100,000 £150,000 £143,750 €161,348 $179,032 Mid Chassis number '15837' comes with copies of original factory paperwork showing that it was ordered via HWM by their customer, name of Reedman. The Aston was ordered in Rolls-Royce Balmoral Green with dark green-piped Magnolia interior, and registered as 'G303 DPK'. The Volante seems to have been supplied to the customer's personal order, as the AML Parts & Service Chassis Update sheet records the following extras/comments: Peter Phillips purchased the Volante from Stratton Motor Company in 2010, since when the car has been maintained by Stratton's. 'G303 DPK' has covered only some 27,000 miles from new and is presented in generally good condition, its engine running beautifully. Although not used for the last 18 or so months, the car has been started regularly and been stored in a modern purpose-built car storage barn commissioned by Peter Phillips. Accompanying documentation consists of sundry service bills, an expired MoT (2017), a V5C Registration Certificate, and the aforementioned copy factory paperwork.
268 1998 Aston Martin Vantage SCFDAM253WBR70199 £110,000 £150,000 £138,000 €154,894 $171,871 Mid Sold new by Grange Brentwood Ltd, this particular Vantage appears to have had – effectively – only three owners from new. The car was ordered with a host of desirable enhancements, which accounts for the invoice total of £205,649 after a new vehicle sales discount of £9,497. There are numerous bills on file issued by Aston Martin, Stratton Motor Company, and other independent specialist showing that all owners have adopted a no-expense-spared approach to the Vantage's upkeep. The previous owner purchased the Aston from Stratton Motor Company, who sold it to Peter Phillips in 2011. Although not used for the last 18 months, the car has nevertheless been started regularly and been stored in a modern purpose-built car storage barn commissioned by Peter Phillips. Offered with a V5C document and history file.
269 2017 Ferrari California Convertible 227728 Withdrawn Withdrawn Withdrawn Withdrawn Withdrawn N/A Owned by Peter Phillips since 2018, this immaculate, low-milege California T is finished in Tour de France Blue with Crema/Nero leather interior. Noteworthy features include front and rear parking cameras, diamond-cut alloy wheels, full carbon-fibre interior zone, steering wheel with LED rpm readout, and Scuderia Ferrari shields.
270 2016 Jaguar F-Type Project 7 Roadster SAJAC7047GMK27584 £110,000 £130,000 Not sold Not sold Not sold N/A First registered in 2016, this ultimate Jaguar has covered only circa 7,000 miles under one owner, Jaguar retailer Sturgess of Leicester, and comes complete with a full service history and all books, tools, etc. Finished in British racing green with black quilted leather interior, this ultra-rare car is presented in effectively as new condition. One of the first Project 7s to be offered at auction in the UK, 'FX16 HRD' presents an opportunity not to be missed.
271 1976 Ford Escort RS2000 GCATSL86849 £68,000 £75,000 £48,300 €54,213 $60,155 -41% This beautiful Ford Escort RS2000 Mk2 has played a prominent role in Ford's impressive rallying history. It has been a purpose-built rally car for its entire life, mainly contesting major rallies in Finland. This impressive history has been fully documented since 1977, including all rally results and who drove the car. The latter includes true masters of the sport such as Timo Makinen, Antero Laine, Lasse Lampi, and Kyosti Hamalainen, who drove this Escort to podium finishes on numerous occasions as a privateer on behalf of Ford Finland (results list on file). The Escort was completely rebuilt in 2010 in accordance with the Group 1 regulations. A valid Historical Technical Passport is present and all special parts are homologated. The result of this painstaking preparation is reflected in its winning the Finnish Historic Rally Championship in 2011 and 2012. Equipped with Weber 44IDF carburettors, a big-bore exhaust manifold, Group 1 camshaft, and larger valves, the engine produces 152bhp engine. The gearbox is a four-speed Rocket unit, while the Atlas rear axle is equipped with a ZF limited-slip differential and a 4.63:1 crown wheel/pinion. The special suspension features Bilstein 300/70 struts. The Ford Escort is the perfect rally car because it is well balanced and therefore easy to drift. This car is potentially competitive in all types of rallies, whether they be held on snow and ice, tarmac, or the desert sands.
272 1959 Porsche 356B 1600 Cabriolet 152555 £120,000 £140,000 £124,200 €139,405 $154,684 Mid Completed on 9th September 1959 and thus one of the first 356Bs off the Stuttgart production line, right-hand drive chassis number '152555' was delivered to the UK importer AFN Limited. Its first owner was Michael Gotta, famous for taking on the London Black Cabs with his fleet of 200 Renault Dauphine 'Minicabs', a move that led to a taxi 'war' in London. The Porsche was first registered on a personal plate, 'WM 1' and later 'YXR 2'. It was subsequently shipped to Australia and last known to be in use there in 1984. In 2014, the then owner sold the Porsche as a 'barn find' to the current vendors. The car then underwent a documented, four-year, no-expense-spared restoration, and since its completion in 2018 has covered only 480 miles. Accompanying documentation includes restoration invoice, a dating certificate, and a V5C Registration Certificate. It should be noted that the engine currently installed is not this car's original unit, although the latter is included in the sale.
273 1970 Intermeccanica Italia Convertible IM59254314 £100,000 £150,000 Not sold Not sold Not sold N/A This Italia convertible comes with a letter of authenticity from Intermeccanica International Inc confirming its delivery new to a Mr M Bende of New Jersey, USA. The car's early history is unknown until 1999 when it was registered in Sweden to Mr Peter Christopherson. At that time the car had been restored, there being anecdotal evidence that a bare metal re-spray and mechanical refurbishment had been carried out. Imported by the vendor from Sweden in 2011 (he drove the car back to the UK without fault) the Italia has since formed part of his impressive private collection of Italian motor cars. During his enthusiastic ownership, the Intermeccanica has seen little use, save for high days and holidays. New rear suspension arms were fitted in 2012. Kept in his dehumidified cruck barn, the car was not used for some years until the braking system was refurbished at Calderwell Engineering in 2017, while a major service and re-commissioning was undertaken by GT Engineering in 2018. The car now presents well and is a delightful and well-maintained example of this rare and interesting Grande Routière, offering Ferrari style and performance for a fraction of the price.
274 1976 Porsche 911 Rally Coupe 911 760 0881 £400,000 £500,000 Not sold Not sold Not sold N/A The 911 rally car offered here is unique among historic Porsches in so far as it has covered more competitive kilometres – equivalent to circumnavigating the world three times! – than any other product from the celebrated Stuttgart factory. It was built specifically for the 1977 London Sydney Marathon and crewed in that event by Polish rally ace Sobislav Zasada and co-driver Wojciecj Schramm. Since then it has competed in numerous other long-distance rallies including the Repco Reliability Trial around Australia (1979), Australian Safari Rally (1985 and 1988), Targa Tasmania (1996), London Sydney Marathon (2004), and the East African Classic Safari Rally (2005), as well as appearing at many of the most prestigious historic motor sports events. The car comes with a detailed 100-page illustrated history, written from the perspective of former Porsche factory driver and Le Mans winner, Jürgen Barth, who prepared and supported the car in period, which is essential reading for prospective purchasers. Chassis number '9117600881' was manufactured early in 1976 and retained by the factory until March 1977 when it was supplied directly to Sobislav Zasada in order for him to compete in the London Sydney Marathon. Copies of Zasada's supporting correspondence and Porsche factory paperwork are on file (originals are in the Porsche Factory Archive). At 30,000 kilometres, the 1977 London Sydney is the longest rally of all time and one of the toughest ever. Zasada and Schramm faced strong competition from a six-car Mercedes team with a substantial budget. Nevertheless, by Germany they were in the lead, and the Porsche would lead as far as Singapore, swapping places with the leading Mercedes more than once, eventually finishing this gruelling event in 13th place overall and 10th in class having lost over three hours stuck in deep sand on one of the closing stages in Australia. Victory went to the Mercedes-Benz 280 SE of Cowan/Malkin/Broad. At the rally's end, Porsche Australia purchased the car from Zasada for Dean Rainsford to drive in the Australian Rally Championship. Dean's Carrera 2.7 featured in the Weetabix Rally Car series of collectors' cards, which helped inspire present owner David Cavanagh's interest in rallying as a young boy. During 1978 the Carrera was converted to right-hand drive configuration by Porsche Australia's chief engineer, Enzo Belluzo, as confirmed by Porsche factory correspondence on file. The Porsche finished top-six in most rounds, setting a number of records, and won the Western Australia round. Its next big event was the Repco Reliability Trial in August 1979, an 18,616-kilometre marathon around Australia. The Carrera was entered by Porsche for Rainsford and Edgar Herrmann, twice winner of the East African Safari Rally, and eventually finished 7th overall, the leading two-man team home. After the Repco rally, the car was sold to Michael Stilwell. By this time it had clocked up 57,450 competitive kilometres. In 1985 the Carrera was owned briefly by noted Victorian Porsche racer and collector Peter Lovett, before being purchased by Peter Glover, who rebuilt the car, prior to entering it into the inaugural Wynn's Safari Rally. The engine was rebuilt by Porsche Australia in M|elbourne, who provided technical support. Unfortunately, on Day 5 the Porsche was forced to retire while leading, sidelined by a broken rear trailing arm. In 1988 the car was again rebuilt by Porsche Australia for a second attempt at the Australian Safari, this time fitted with works 953 Paris Dakar running gear, only to be forced out by a broke front suspension ball joint while in a strong position. In 1994 the Carrera was purchased by Keith McIlroy for historic rallying and rebuilt during 1995/1996. McIlroy entered the Porsche in the Targa Tasmania and was comfortably leading his class until an ignition coil earth lead failed, costing him time. Between 1996 and 2000 the car was kept on display in the Sydney Motor Museum. In 2000 the Carrera was shipped to the UK and brought up to FIA specification by renowned marque specialist, Francis Tuthill. In his Porsche Competition Customer Liaison role, Jürgen Barth inspected the car and confirmed that it was the original Zasada London Sydney entry. At around this time the original engine was removed and set aside for future restoration, and a replacement period-correct unit fitted in its place (see work schedule on file). In 2002, Keith McIlroy entered the Porsche in the historic Circuit of Ireland Rally, finishing 4th in class. Subsequently the car was stored at Francis Tuthill's, where David Cavanagh first saw it in late 2002. David purchased the car in February 2004 in time for that year's London Sydney Marathon, which necessitated the fitting of an FIA fuel cell and other upgrades. Despite their relative lack of experience, David and co-driver Cath Woodman finished the event, winning their class and beating teams with 'more experience, more skill, and more thorough preparation'. David's recollections of this wonderful adventure are on file. After the event, the car was shipped to Perth, Western Australia and rebuilt by Porsche specialists K-Tec. Back in the UK, the Carrera was demonstrated by Messrs Cavanagh and Barth at the 2005 Stoneleigh International Historic Motor Festival, and plans formulated to run in the East African Classic Safari Rally. The toughest and most competitive historic rally in the world, the 2005 Safari was run over a distance of 4,000 kilometres (2,000 competitive) across Kenya and Tanzania, commencing on 1st December. For this event the Carrera was crewed by David and four-time Safari winner Björn Waldegaard, the latter returning to Africa after 13 years away. Mechanically rebuilt yet again and fitted with new FIA-specification seats, the Martini-liveried Carrera eventually finished 7th overall, less than a minute from 5th place. Unlike many of the other Porsches, the Carrera retained in-period suspension and engine technology, yet was the fastest Porsche on many stages. Björn and David received the Henry Liddon Memorial Trophy for the team best demonstrating the spirit of the event. The Waldegaard Martini Porsche became the hero car for the Safari, and was used to promote subsequent runnings of the event (see 2007 advertisement on file). Since then the Carrera has been demonstrated at the Goodwood Festival of Speed on many occasions, and at the Eiffel Rally Party in Germany, and in 2015 was driven to Poland to meet its original co-driver, Wojciecj Schramm. That same year the car featured extensively in the Goodwood Festival of Speed preview video, and was a special guest at the Rally Legends Austria. The Carrera was subsequently invited to the Porsche Museum in Gmünd, meeting Mr Ernst Piech (grandson of Ferdinand Porsche), and the owner had the privilege of a drive with him around Lake Matsee. Other highlights included special guest invitations to the finishing dinner for the Ennstal Classic Rally and the Eiffel Rally Germany, where the Porsche featured as one of the Parade and Display cars, alongside those from the Porsche Museum. In the words of the Museum's Director, this is one of the best-documented period works rally Porsches (the list of references takes up more than an A4 page) and thus represents an unrepeatable opportunity of the discerning collector, and rally competitor.
275 1952 Jaguar XK120 Coupe S680335 £70,000 £110,000 £97,750 €109,717 $121,742 Mid Having seen Nigel Dawes' extensively updated XK120 on a rally to Denmark in the late 1990s, Trojan Limited's boss, Peter Agg, felt his company could improve on Dawes' effort. A left-hand drive ex-California car was chosen as most of Agg's rallying was in Europe and the USA, shipped to the UK and registered as 'VSL 411′. Dawes' XK120 had been prepared by John May of XK Developments in Tewkesbury, so Agg's XK120 was taken there to be stripped down to the bare chassis and rebuilt to an agreed specification: Trojan would prepare the engine and gearbox while alterations to the body, chassis, and suspension would be entrusted to John May. It was agreed to keep the car as close to original specification as possible, so the engine was kept at 3.4 litres capacity but fitted with sporting cams, twin 2″ SU H8 carburettors, and steel valves and valve seats for unleaded fuel. A maximum output of 220bhp was the aim. XK Developments seam-welded and rust-treated the chassis, which was rebuilt with upgraded suspension, adjustable shock absorbers, four-wheel disc brakes, four-pot brake callipers, offset rack-and-pinion steering (XK140), a five-speed gearbox, high-ratio rear axle, and D-Type wheels. The cooling system too has been up-rated with a slope radiator and top tank, and an electric fan to prevent overheating in hot climates. Externally the car has a louvred bonnet, Monza-type fuel filler cap, and a lightweight bumper fitted with indicator lights. Inside there is an altered pedal box, while the racing-type bucket seats are set back, both of these modifications making for much improved ergonomics. 'VSL 411' has competed in many rallies: Le Mans, Écurie Écosse, Tour de France, Tuscany, and Southern Italy, as well as events in Northern Europe, encountering no problems with maintained high-speed cruising at 90-100mph (circa 3,000-3,500rpm). Accompanying documentation includes a Jaguar Heritage Certificate, V5C Registration Certificate, FIA Historic Vehicle Identity Form, and Peter Agg's account of the car's history. Finished in Francorchamps Yellow with black trim, 'VSL 411' remains in excellent condition having been very well maintained. A striking and usable car put together by one of the best in the business, this extensively improved XK120 is ready to go touring with its fortunate next owner.
276 1970 Ferrari 365GTB/4 13435 £450,000 £550,000 £432,500 €485,448 $538,653 -4% One of only 158 Daytonas manufactured in right-hand drive configuration, chassis number '13435' was delivered new to Colonel Ronnie Hoare's Maranello Concessionaires, the official UK Ferrari importer, and first registered in August 1970. Somewhat surprisingly, its first owner was the British School of Motoring, which had chosen the Daytona for use on its High Performance Course. The Ferrari was registered to a Miss Denise McCann at the BSM's Sydney Street address. Interviewed for an article in Octane magazine, HPC instructor John Lyon described the Daytona as 'the daddy of the cars on the HPC… with its high polar movement and excellent traction it was the perfect road-vehicle… I often achieved its maximum speed of 174mph on the motorways of Holland and Germany'. In December 1972, Maranello Concessionaires sold the Ferrari to Mr John Lloyd of Hyde Park Gate, London SW7. Mr Lloyd's ownership generated a considerable amount of invoices and correspondence between him and Maranello Concessionaires. He clearly found the experience a bit of a trial, but by the time '13435' was sold the next owner in 1974, it was said to be performing 'extremely well'. Its purchaser was Mr William M French of New South Wales, Australia, who would keep the Ferrari as part of his private collection for the next 39 years. Repatriated to the UK in 2013, the Daytona was sold to marque specialist, Joe Macari, who serviced the car and obtained Ferrari Classiche certification for it in 2013, confirming that '13435' retains its original engine and gearbox. The history file contains paperwork detailing the original order; specification and build details; purchase invoices; and records of service work carried out during BSM's ownership. MoT'd and offered with a V5C registration document, '13435' represents a wonderful opportunity to own a rare original right-hand drive example of the defining sports car of its generation.
277 1975 Ferrari 365GT/4 BB 18153 £220,000 £280,000 £247,250 €277,519 $307,935 Mid This rare right-hand drive example of the rarest and fastest Boxer was supplied new in the UK via Maranello Concessionaires and is one of only 58 cars delivered to this country. '18153' has benefited from one of the most extensive yet sympathetic restorations imaginable, carried out by leading Ferrari specialists with no limitations placed on cost. It is surely one of the finest Boxers currently on sale anywhere in the world. Finished in Rosso Chiaro with Nero leather interior, the latter original and well preserved, this wonderful 365 GT4 BB has covered only 43,570 miles from new. It comes complete with two sets of keys, all original handbooks and wallet, original cased tool kit, and a very extensive file of service invoices and receipts. Plus, of course, the all-important Ferrari Classiche certification. The Ferrari 365 GT4 BB is the original, lightest and rarest of all Boxer models, instantly recognisable by its triple rear lights and 'peashooter' exhaust pipes. Most valuable and sought-after member of the entire Boxer family, the 365 GT4 BB is one the last truly hand-built Ferraris and is gaining in popularity with enthusiasts and collectors alike. A wonderful opportunity to acquire a fine example of a legendary Ferrari that is much rarer, more collectable and faster than the 365 GTB/4 Daytona.
278 1988 Porsche 911 Turbo WP0ZZZ93ZJS000542 £70,000 £90,000 N/R £57,500 €64,539 $71,613 -22% This Porsche 911 Turbo is offered fresh from extensive restoration (completed in 2019) and comes with a photographic record of the process. Works undertaken include a full 'glass out' re-spray by Bodyworks of Manchester; full engine service; brake overhaul; and suspension bushes overhaul. The car also benefits from a new factory full exhaust system; refurbished original Fuchs alloy wheels; and new Pirelli tyres. In addition, all rubber seals, bumper protectors, front valance, rear 'Porsche' reflector, side sill mouldings, etc have been renewed. Over £25,000 has been spent and all bills are available. 'F536 LTU' has covered 89,000 documented miles from new and is described by the vendor as 'absolutely rust free'. It comes with full service history (every single bill/receipt); current MoT certificate; its original owner's manual and stamped service book; and its original spare wheel. Finished in flawless Venetian Blue metallic with complimentary Metropole dark blue leather interior and matching carpets, this beautiful Porsche 911 Turbo stands out among the white/black cars on the market and is presented in beautiful order throughout – a subtle combination for the discerning buyer.
279 1965 MG MGB Sebring Replica GHN3/55354 £15,000 £20,000 £21,850 €24,525 $27,213 9% It is understood that chassis number '55354' was exported to Japan where it was modified for racing in accordance with SCCJ regulations. It is reported that the MG competed in sports car races in Japan in the early 1990s before being placed in storage, remaining out of use for the next 20 years. The car was then discovered by a previous owner, who set about transforming it into a 'BMO' tribute. It is understood that the work was carried out in the USA, but specific details of individual components' origins and specifications are not available. The car was purchased by the current vendor at Bonhams' Goodwood Revival Sale in September 2017 (Lot 246) having been offered for re-commissioning. Since purchase the vendor has continued to upgrade the MG with an engine built to 'fast road' specification by marque specialists MG Motorsport. In addition, a roll cage and new fuel tank have been installed and the front suspension rebuilt, all to FIA specification. The wiring has been redone and we are advised by the private vendor that there remains little more to do to complete the rebuild. Potentially a lot of fun for next year's racing season, the car comes with sundry bills , a photograph album , early paperwork and a V5C document.
280 1965 BMW 1800TI/SA Competition Sports Saloon £60,000 £70,000 Not sold Not sold Not sold N/A This immaculate BMW 1800TI racer was built to a high specification by Laranca Engineering for Martin Hines under his personal supervision, and has since been upgraded for the current owners by BMW race specialists, Retro Engineering. With new HTP papers (valid until 2028), this is a race-ready and competitive BMW 1800TI with distinctive blue livery and less than two hours on the engine (rebuilt in 2019) and five hours on the gearbox. A regular entrant in the St Mary's Trophy at the Goodwood Revival and Members' Meeting, this car is eligible for the best high-profile events in Masters Pre-'66 Touring Cars, U2TC, HSCC, HSDC, CSCC, and other race series. It achieved U2TC Class podiums at the 2017 Silverstone Classic and 2017 Spa 6-Hour meeting, and is a potential winner in the right hands. The car is offered for sale only because of a change in the owners' racing plans. A quantity of spare parts, including an engine, is available by separate negotiation.
281 2009 KTM X-Bow VBKABRAA590000332 £40,000 £45,000 Not sold Not sold Not sold N/A Originally registered 'KX09 PVJ', this KTM X-Bow was displayed at the 2009 Motor Expo show at London's ExCel centre. It was the press car and featured in Evo magazine and Top Gear (TV and magazine). This particular car incorporates a bespoke Stage 2 power upgrade to 280bhp while other noteworthy features include adjustable brake bias; engine frame with carbon air box; lowered engine and gearbox; and a mounting kit and brackets for air jacks. 'X70 KTM' comes with comprehensive service history with Backdraft Motorsport and official KTM dealer Hangar 111. Currently displaying a total of some 14,000 miles on the odometer and presented in excellent condition throughout, this most exciting 'pocket rocket' is offered with sundry bills, MoT to 2020, and an outdoor car cover.
282 1960 Bentley S2 Continental Coupe BC49AR £180,000 £220,000 Not sold Not sold Not sold N/A Representing the pinnacle of bespoke taste in its day, 'BC49AR' was supplied new in 1960 to Mr Morton of The Anchor Glass Co Ltd, Brent Cross (now site of the eponymous Shopping Centre) and in 1963 passed to its second owner, Mr G R Bates of Warwickshire. He had the car maintained by Rolls-Royce Ltd, and in 1968 it was prepared for his move to the Channel Islands where he obviously intended to stay for some time. While 'BC49AR' was being prepared at H J Mulliner/Rolls-Royce's facility in London, he requested that they update his car to S3 specification to include the quad headlamps and different front wings. By this time the S3 was no longer available, hence Mr Bates' decision to have his S2 updated. St Helier Garages looked after Mr Bates' updated S2 throughout his time in Jersey over the next 40 years, by which time the mileage total had risen to only some 70,000. Brought back to London after Mr Bates' ownership, the Continental was reregistered and treated to a top-end overhaul of the engine. Since then the Bentley has belonged to only its third owner – living in Belgravia where he keeps half-a-dozen Bentleys and Rolls-Royces dating from the 1950s and 1960s, all of which are cared for on his behalf by Graeme Hunt Ltd. With only three owners from new and relatively few miles covered over the course of its 59 years, this wonderful S2 Continental remains in outstandingly original condition and is worthy of the closest inspection.
283 1951 Jaguar C-Type Replica £190,000 £220,000 Not sold Not sold Not sold N/A This particular example was hand-built some years ago to exacting standards using the original Jaguar Browns Lane chassis blueprints as supplied by the then Managing Director of Jaguar Cars, Browns Lane. Having also acquired the blueprints from the previous owner of the car, the vendor informs us that the chassis, engine, gearbox, and differential are all correct. Testifying to the accuracy of the build, this C-Type comes with a full FIA HTP that runs until 2025, making it eligible to participate in just about any historic race meeting or other event. The current father and son owners have raced the C-Type for the last three seasons across Europe, competing at the world's best race circuits, including Silverstone, Donington Park, Brands Hatch, Thruxton, Spa, Le Mans, and Portimao. They have competed in three seasons of the Motor Racing Legends RAC Woodcote Trophy, and in 2017 'PPW 67' won the Class Championship, notching up numerous wins and podium finishes. This C-Type has also competed in three Jaguar Challenge races at Le Mans. The car has never been damaged and has a delightful patina resulting from its successful racing career. It has just been fitted with a completely rebuilt MSA-sealed Peter Landa Sigma 3.4-litre race engine, only being driven for 30 minutes on public roads since, plus a rebuilt Moss gearbox, rebuilt differential, and new brakes and tyres, making it completely race-ready for any competition. 'PPW 67' is also fitted with the correct sand-cast twin SU carburettors and has a full set of correct aluminium-alloy wheels shod with fresh tyres. The car is offered with a current MoT, and is sold complete with the cherished registration number 'PPW 67'. Also included in the sale are two re-trimmed correct brown leather driver's and passenger's seats; four spare wheels shod with new correct tyres; detachable roll bar; some new brake shoes; and some other parts. This is a proven very quick and competitive C-Type that is easily capable of winning again in the right hands.
284 1970 Aston Martin DBS Vantage DBS/5685/R £120,000 £150,000 Not sold Not sold Not sold N/A It is believed that this DBS Vantage was owned from new by a Mr Dixon until circa 1998 when it was acquired by a member of the Forbes family. (There is a six-month period in 1973 when it appears to be registered in another name but it reverts to Mr Dixon.) The present owner purchased the Aston at a UK auction in 2004, since when it has been meticulously maintained regardless of cost by Trinity Engineering with all bills (totalling £150,000) on file, including those relating to its restoration in 2017 at a cost of £102,000. This fine, manual example of a fast appreciating Aston Martin is offered with an old-style logbook, current MoT, a V5C Registration Certificate, and the aforementioned Trinity Engineering bills.
285 1988 Lamborghini Countach 5000QV ZA9CA05A8JLA12269 £200,000 £220,000 £207,000 €232,342 $257,806 Mid Completed in Lamborghini's Sant'Agata Bolognese workshop in October of 1987, this 1988 model year Countach 5000 Quattrovalvole finished in Bianco Polo Park and despatched to the USA. The Countach was driven sparingly by its first owner, an Illinois resident. By 1995, this rare Italian supercar had covered just over 8,000 kilometres when it was sold to a collector who kept it maintained and stored in a climate and humidity controlled museum for 15 years. In January 2016, the Lamborghini was offered for sale at Bonhams' auction at Scottsdale, Arizona (Lot 66) and subsequently was imported into the UK. The car had covered 34,301 kilometres when it left the USA. The new owner then spent some £28,000 on refurbishment, the latter undertaken by Autofficina of Epsom, Surrey (bills on file). These works included a bare metal re-spray in original Bianco Polo Park. Additional works included refurbishing the 'telephone-dial' alloy wheels, re-Connollising the original black leather interior, and a complete check over and full service with all faults rectified. Thanks to careful maintenance over the last 30 years, this Quattrovalvole remains in excellent condition, All gauges and interior features, including the air-conditioning, are in fine working order. Offered with its original tool kit, jack, and unused space-saver spare wheel, this Countach 5000 Quattrovalvole is a guaranteed head-turner and performs as well as it looks. Accompanying documentation consists of a V5C Registration Certificate, magazine article, auction paperwork, MoT to August 2010, and the aforementioned bills.
286 1961 Alfa Romeo Giulietta Sprint Speciale AR101.20*00415 £75,000 £85,000 Not sold Not sold Not sold N/A Representing a wonderful opportunity to own one of these rare and highly desirable Alfa Romeos, this Giulietta Sprint Speciale was imported into the UK in 2013 and comes with all MoTs and service/maintenance history accumulated since then. Finished in Rosso with contrasting grey interior (some of which still retains the original plastic covering), the Giulietta is offered with Italian paperwork, an Alfa Romeo UK letter of authenticity, FIVA identity card, V5C Registration Certificate, and (although no longer necessary) a fresh MoT. A head-turner wherever it goes, this stunning Giulietta Sprint Speciale is a 'must have' for connoisseurs of automobile design.
287 1924 Amilcar CGS Type S Voiturette 261 £55,000 £75,000 £71,300 €80,029 $88,800 Mid This Amilcar CGS is believed to have been resident in France for much of its life before it was acquired by the previous owner in 2012 and treated to a complete 'ground upwards' restoration in Switzerland. A complete photographic record of the restoration comes with the car, including 'before' and 'after' images. In 2017, the Amilcar was brought to the UK where it was thoroughly checked and new cycle wings professionally fitted. The vendor estimates that some £20,000 has been spent on the car since its arrival in the UK, including fitting a new battery, servicing, oil changes, a new canvas tonneau, a three Marchal headlamp system, and upgraded wiring. There are bills on file for two engine rebuilds, the most recent in 2016. Finished in Bugatti blue with leather interior, this Amilcar retains its original steel boat tail and woodwork; it also has its original axle and the differential's internals have been significantly updated to improve driveability. All instruments work, including the rare Nuvax fuel gauge. We are advised by the private vendor that the car is a delight to drive, and that it brakes well for one of its age. The last owner campaigned the Amilcar on winter and summer rallies and at Montléry. Offered with a V5C Registration Certificate, French registration papers, and a large file of bills and other documents, this beautiful Amilcar CGS represents a rare opportunity to acquire one the great French lightweight sports cars of the Vintage era.
288 1950 Jaguar XK120 Coupe S680236 £60,000 £80,000 £60,950 €68,412 $75,910 Mid Formerly in long-term ownership in the USA, this XK120 fixed-head coupé was imported from Wisconsin in 2018. Recent works have included fitting a new floor and sills, a repaint, and fitting a new battery and tyres. Described by the vendor as running well, the car is expected to possess a V5C Registration Certificate by time of sale.
289 1961 Morris FF-K140 Coach 5K/1774/A 149674 £65,000 £75,000 £57,500 €64,539 $71,613 -13% With the first batch having proven successful, a further order was placed with Marshall Motor Bodies of Cambridge. This second group of vehicles was constructed on the longer FF-K140 chassis. Designed by Pinin Farina and built by Marshall's with all-aluminium coachwork, they were equipped to a very high specification. A handful of these MTUs served quite different and considerably more glamorous purposes, being assigned to the BMC Competitions Department and the firm's Special Tuning operation. The left-hand drive vehicle offered here belongs to this second group and was first registered as 'BMC 27' (it is believed). This vehicle was used in the UK initially and subsequently on the Continent. When the company decided that these mobile classrooms were too expensive to run, they were returned to the UK and used for other purposes or sold off. This example is one of two sent to Canada in the early 1970s, being registered in Ontario in May 1973. In correspondence on file, one of the vehicle's Canadian owners – Mr Wendell Haines – recalls that after some two years of use the MTUs were left at the Dofasco Steel Company's plant in Hamilton, Ontario, remaining there for some seven years before being sold off to two of the firm's employees. This example was sold to a Mr Edward Fall and converted into a motor home by its new owner. It was painted white at this time, suggesting that it was in Unipart livery when sold off, and was given the Canadian registration 'VNY011' (certificate on file). When Mr Haines acquired the vehicle it came with its original UK numberplates, but the Canadian licensing authorities would not allow them to be reinstated. After some 16 years of ownership, Mr and Mrs Haines sold the MTU to a Mr W A Guest, who immediately offered it for sale. The vehicle soon found a UK buyer, Mr Mark Nolan, and was shipped from Newark, New Jersey to the UK (see correspondence on file). Mr Nolan carried out various works over the next few years, including having he vehicle re-sprayed red with a white roof. Partially restored, the MTU was then offered for sale at auction in January 2005 when it was purchased by the immediately preceding owners. The current vendor bought the vehicle from the 2005 purchasers towards the end of 2015. So far it has not been possible to retrieve the registration 'BMC 27', the main problem being the non-existence of the Middlesex licensing records, long since destroyed. Since acquisition the MTU has been treated to a thorough professional restoration by various specialists. Traces of the original dark blue paintwork were discovered during the rebuild, but it was decided to complete the restoration by finishing the vehicle in Special Tuning livery to resemble '146 PFC', the original Special Tuning support vehicle. Basil Wales, Special Tuning's original manager, has given the livery his approval. This MTU is registered with the DVLA as a motor home, and has been equipped accordingly, boasting running water, a kitchenette unit (hob and sink), fridge, and a 'rock 'n roll' double bed complete with safety belts. There is comfortable accommodation for four. The vehicle also has an opening rear door, a full-width ramp, and an electric winch, and can easily accommodate a sizeable competition car. Described by the private vendor as in generally very good condition, ex-works BMC MTU is offered with a comprehensive history folder and a V5C document. MoT and tax exempt, it will be driven to the sale. A transporter is the ultimate paddock accessory and this one is eminently suited to the role of Goodwood support vehicle. The vendor will be present at the sale and is willing to answer any questions from prospective purchasers.
290 2010 Rolls-Royce Phantom Coupe SCA3C68059UX29149 £150,000 £180,000 £146,625 €164,575 $182,613 -2% The Phantom Coupe was first registered to Rolls-Royce Motor Company here in the UK, although records show servicing being carried out in Germany and Monaco during use for publicity purposes. Thereafter, this beautiful left-hand drive example has had only one private owner (the current vendor) who purchased the car in 2012. This Phantom Coupé is finished in the most attractive Sable Pearl Metallic with Parchment hide upholstery and Burgundy accents but, of course, the 'Starlight' headlining is the interior's most stunning feature. The inventory of special features is too long to list here, but a few worthy of note are the brushed aluminium windscreen surround, bonnet and grille surround, the 21″ star wheels, and the exposed exhaust pipes. The car comes complete with its original book pack, including the stamped service booklet recording servicing carried out by Rolls-Royce. Presented in the best possible order, this much loved Phantom Coupe is offered from a private collection of Rolls-Royces and Bentleys from all periods. Making way for the new line of Rolls-Royces, the Phantom Coupe ceased production in 2017 and has become increasingly collectible since, with this example being one of very few currently available for purchase worldwide.
291 1962 Jaguar E-Type Lightweight Replica 878364 £220,000 £280,000 Not sold Not sold Not sold N/A The fabulous E-Type competition car offered here was constructed using an RS Panels aluminium-alloy body patterned on that of the works' experimental one-off low-drag coupé. Shelved by the factory, that car was bought in 1963 by long-time Jaguar exponent Dick Protheroe, and for a while carried his famous registration, 'CUT 7'. The enthusiast vendor advises us that this car has a coefficient of drag 11% lower than the normal E-Type Lightweight. Wind tunnel developed, it has proven to be the most reliable and most successful E-Type in many Jaguar events. This car boasts a recently installed brand new Sigma race engine, which is fitted with a Crosthwaite & Gardiner wide-angle cylinder head (see bills totalling circa £45,000 on file). A many-time participant in the Le Mans Classic, Le Mans Legend, and Spa 6-Hours endurance races, this E-Type is FIA compliant, fully race prepared and ready to race, having been fully restored to 'as new' condition. A rare opportunity.
293 1969 Dennis Fire Engine 1.1204/231 £35,000 £40,000 Not sold Not sold Not sold N/A Since 2017, the Goodwood Road Racing Club has had the pleasure of having this Dennis D-Type Fire Engine at Goodwood to assist in providing a backdrop and promotional space to promote the Goodwood Road Racing Club Fellowship. The Dennis has been housed at Goodwood for the 2019 season and in exchange the GRRC has provided the owner with access to Goodwood's headline events. The Dennis transporter has become the flagship for the Fellowship at its headline events at Goodwood, and always draws a crowd as it often carries a competition car on the back, which really attracts attention. Chassis number '1.1204/231' was ordered late in 1969 and delivered to New South Wales (NSW) Fire Brigade in the early 1970s. It is one of 75 Dennis D Water Tenders supplied to NWS Fire Brigades, and served the Sydney suburb of Busby from November 1971 and later the rural townships of Warialda and Inverell before being decommissioned and sold off in 1999. Its original Australian registration was 'FBY-446'. The vehicle was later purchased by classic car aficionado Norm Bolito, who had 'Dennis the Menace' converted into his team's new race car transporter to take the team's Chrysler competition vehicles to motor sports events across Australia. Noteworthy features include Bostrom air-ride seats, fold-out stainless steel workbench, gas barbecue, and a 12-volt fridge/freezer. In 2003, the Dennis was returned to the UK by its current owner to transport his ex-Mike Hawthorn works 1955 Jaguar D-type. This was quite fitting as this Dennis 'D' is powered by a 1964 4.2-litre Jaguar XK engine, and 1958 Formula 1 World Champion Hawthorn worked at Dennis Bros for a while. The Goodwood Road Racing Club has thoroughly enjoyed working with the owner and is truly grateful that it has had access to the Dennis for the last few years. The GRRRC would love the opportunity to continue this relationship with the vehicle's new owner. The
294 1972 Jaguar E-Type Series III Roadster 1S1200 £70,000 £80,000 Not sold Not sold Not sold N/A An original right-hand drive model equipped with the desirable manual transmission, this E-Type V12 roadster was delivered new in the UK in February 1972 to a Mrs Hewitt and comes with its original stamped service booklet, confirming the delivery date new from Henleys and early service history. We are advised that the car has benefited from ongoing refurbishment, some £34,000 having been spent with Southern Classics, and that it comes with an extensive history file containing bills, MoTs, tax discs, and instruction manuals. Noteworthy features include headrests, wire wheels, and a four-branch stainless steel exhaust. The car is offered with a V5C Registration Certificate and MoT to August 2020.
295 1959 Austin-Healey Sebring Sprite AN5/26435 £18,000 £22,000 Not sold Not sold Not sold N/A This charming classic rally car has been loved, developed and campaigned by its current owner for 27 years, amassing an impressive competition record. It has competed in approximately 20 major rallies including the Monte Carlo Historique (twice), Classic Marathon (twice), The Rally of the Tests (twice), and Liège-Rome-Liège, securing various class wins and even a concours trophy. This working competition car has all the right bits and comes with an extensive history file. Specification highlights include the following:Available only because owner is a little less 'spritely' than he was, the car comes with an owner's handbook, BMIHT Certificate, FIA/MSA Historic Vehicle Identity Form, MSA Historic Technical Passport, FIA/MSA Historic Regularity Rally Car Pass, RAC/MSA homologation papers, Shorrock supercharger fitting instructions, and an engine build sheet.
296 1963 Chevrolet Corvette Sting Ray 327/350 Convertible 30867S113501 £55,000 £65,000 £55,200 €61,958 $68,748 Mid The present owner purchased this manual transmission Sting Ray convertible in October 2018 from a friend who had imported it from California, USA. UK registered, the car is described by him as immaculate throughout, having been kept garaged since its arrival in this country. Strikingly finished in yellow with contrasting black interior, this landmark American sports car is offered with a V5C Registration Certificate.
297 1973 Jensen Interceptor Series III Coupe 1368065 £45,000 £55,000 Not sold Not sold Not sold N/A First registered to a member of the Jensen Owners' Club, this Interceptor III comes with a huge history file containing expired MoTs and bills for repairs and servicing dating back to the 1970s together with an original Interceptor III handbook. We are advised by the private vendor that research suggests this early J-Series Interceptor III may have been retained by the factory for publicity purposes. The Jensen was restored in 2018 and upgraded with following: Spax adjustable shock absorbers, Interceptor II coil springs, stainless steel performance exhaust system, and an up-rated Holley carburettor. Described by the vendor as in generally very good condition, with an overhauled chassis, superb paintwork, and a lovely original interior, this exciting Anglo-America Gran Turismo is offered with restoration invoices, a V5C Registration certificate, and the aforementioned history file.
298 1959 Jaguar Mark I 3.4 Litre Saloon S990633DN £40,000 £50,000 £46,000 €51,631 $57,290 Mid The car offered here is a truly stunning and very rare Jaguar Mk1 built in 1996 by leading Jaguar motor sport specialist Guy Broad as a tribute to the late Mike Hawthorn, whose own much-modified Mk1 was destroyed in that fatal accident on the Guildford bypass. Hawthorn's car was registered 'VDU 881' so this one with its '882 VDU' registration seems particularly appropriate. It is based on a sound body, beautifully finished in correct British Racing Green, and incorporates up-rated mechanical components to replicate the Hawthorn car. Twin 2″ SU HD8 carburettors are matched to gas-flowed inlet manifolds, while the engine itself features D-Type camshafts and a ported and flowed cylinder head. Exhaust gases are carried away via a Broadsport six-branch extractor manifold. Power assisted rack-and-pinion steering affords improved controllability, aided by Koni dampers, Poly bushes all round and Vredestein Sprint Classic tyres, while four wheel disc brakes ensure that the car stops as well as it handles. The Hawthorn theme is finished off with a period badge bar, Lucas fog and spot lamps, period map light and period seatbelts, and correct tools. Hawthorn's Tourist Trophy Garage badge is a particularly nice touch. '882 VDU' has been the subject of articles in many Jaguar magazines, copies of which are in the history file together with original sales brochures, and the car also comes with a current MoT certificate and V5C registration document. Since the current vendor bought the car in 2015, it has been used sparingly and has benefitted from cylinder head and brake overhaul. Able to hold its own in modern traffic and said to be a pleasure to drive, this up-rated Mk1 affords the prospect of comfortable travel 'four-up' in some style. It is perfect for attending events such as the Goodwood Revival, Festival of Speed, etc.
299 2016 Land Rover Defender 90 SALLDWNP7GA487032 £45,000 £48,000 £51,750 €58,085 $64,452 Mid Over the years there have been countless Special Editions, one of the last being the 90 Heritage Hardtop, of which only 400 were produced. The Heritage Hardtop had been introduced to celebrate almost 68 years of production and the ending of Defender manufacture in January 2016. The Heritage boasted many special features including Grasmere Green paintwork – used for the original, or so the story goes, because there were abundant supplies of this military-specification paint available. The Heritage also featured a black square on the wing with 'HUE 166' picked out in white lettering, referencing the registration of the first pre-production Land Rover. Other special features included the classic 'lightning bolt' Land Rover badge, the Heritage-style front grille, mud flaps, colour-matched wheels, and a white roof. Of the two versions produced – Station Wagon and Hardtop – the latter, as seen here, is the rarer. One of the very last Defenders off the production line, this collectible 90 Heritage Hardtop has covered fewer than 30 miles in total and is presented in effectively 'as new' condition. Door hinge bolts changed to stainless steel and the provision of seat covers are the only notified deviations from factory specification. Offered with a V5C Registration Certificate, 'LH16 HUE' represents a wonderful opportunity to own a pristine example of the model that brought the curtain down on 68 years of Defender production.
300 1966 Ford F-350 Transporter F35BR833073 £25,000 £30,000 £37,375 €41,951 $46,548 25% This vehicle was built in 2012 by Derek Drinkwater as an homage to the Hot Wheels transporter. We are advised that it sleeps two; has cooking facilities and running water; and will carry any car and tow any trailer with a car onboard. The vehicle can be driven on a car licence and is road tax and MoT exempt. It specification includes a 5.8-litre fuel-injected V8 engine; four-speed automatic/overdrive transmission; power disc brakes; and load-compensating adjustable air suspension at the rear. Offered with a V5C Registration Certificate.
301 1968 Alfa Romeo GT 1300 Junior AR1291049 £15,000 £20,000 N/R £25,300 €28,397 $31,510 26% This rare right-hand drive GT 1300 Junior was imported into Germany from South Africa in 2006 and purchased by the current vendor in 2011. Since then the Alfa has benefited from mechanical refurbishment that has included fitting a new exhaust system, shock absorbers, wheels, alternator, all hoses, etc, and is described as in good overall condition. The car is offered with German registration papers and TüV.
302 1960 Lamborghini DL20 Tractor DL20A3496A £18,000 £22,000 £23,575 €26,461 $29,361 7% The beautiful DL20 offered here has benefited from a full 'last nut and bolt' restoration to concours standard by Italian specialists Ermes & Nicola Formillan, the most respected restorers of Lamborghini Trattori whose efforts have graced Lamborghini show stands the world over. Currently unregistered and sold with a NOVA declaration, this superb tractor would make a distinctive and welcome addition to any significant collection of classic agricultural machinery, or a unique addition to any Lamborghini collection. It has the potential to draw crowds, especially when exhibited alongside the most beautiful supercars sharing the marque's famous 'Raging Bull' emblem, such as the legendary Miura and Countach.
303 1944 Willys Jeep 4×4 Utility MB320184 £22,000 £28,000 £25,300 €28,397 $31,510 Mid This excellent, museum quality example was fully restored in Italy, where it may well have seen service during WW2, before being placed in dry storage for many years, seeing only occasional use. Offered with a V5C document, this restored Willys Jeep would be ideal period transport for next year's Goodwood meetings and other prestigious motoring events, particularly those devoted to military vehicles.
304 1976 Land Rover Series III 109″ Tow Truck 26600183C £15,000 £25,000 Not sold Not sold Not sold N/A We are advised that 'JTR 506P' benefits from ongoing restoration, including restoring and powder-coating the chassis which is described as in 'as new' condition. The bodywork likewise has been restored to as new condition and repainted, while the interior has three new seats. The engine has been reconditioned and is in running order and the transmission rebuilt. As to be expected with any car in the final stages of a long-term restoration project, 'JTR 506P' still has some minor outstanding cosmetic and electrical components to be completed by the buyer, but is generally in very good condition. The only modifications from factory specification listed are a galvanised roof, framed bonnet, and doors, and a rare Salisbury front axle. Also fitted with a vehicle towing crane, 'JTR 506P' is offered with a V5C Registration Certificate and would make for an ideal support/ pit vehicle for historic race meetings such as here at Goodwood.
305 1959 Morris Minor Deluxe M/A2S4L/4864 £12,000 £18,000 N/R £18,400 €20,653 $22,916 2% Manufactured in October 1959, this very early Morris Mini Minor was exported new to Sweden but soon returned to the UK. Purchased by the immediately preceding owner's grandmother in June 1960, it passed in September 1998 to her father, Don Reid, who worked at BMC's Cowley plant for 31 years. The car retains its original engine and has always been well maintained, though it saw relatively little use as the years progressed. '444 LJO' was displayed at the Gaydon Mini Festival in 2009 and took part in that year's Mini 50th anniversary celebrations (certificate on file). In December 2014, the car was offered for sale at Bonhams' Oxford auction (Lot 367) where it was purchased by the current vendor. At that time it was described to have been "Repainted in its original Clipper Blue" and "in generally very good condition mechanically, with good chassis, body, paintwork and original blue/cream vinyl interior". Refurbishment carried out since then has been done with the aim of preserving as much originality as possible; only parts beyond repair were replaced, which included both wings and the front panel. The front and rear side panels, door sills, and spare wheel compartment were repaired, and all aged rubber parts replaced. The entire body was then primed and repainted in the original colour. Other parts replaced include the fuel pump and rear shock absorbers, while the dynamo was repaired. The upholstery is original and has been re-sown where necessary. It is believed the carpets were replaced by the previous owners. We are advised that the engine has not required any attention other than an oil change. According to the vendor, this is probably the quietest Mini he has driven: "At idle you have to pay attention to know that the engine is on. It pulls well and can keep up easily with modern traffic. Gears and clutch both work very well. Brakes have not needed any attention as they work very efficiently and pull up straight". This delightful Mk1 Mini is offered with a BMIHT Certificate, sundry invoices, a V5 registration document, and a copy of Classics magazine (December 1999 edition) featuring it on the front cover and in an article.
306 1962 Bentley S2 Flying Spur BC82CZ £80,000 £120,000 £80,500 €90,355 $100,258 Mid One of the last of its type built by H J Mulliner, this Bentley S2 Continental Flying Spur comes with extensive historical documentation dating back to 1976. There is no record of any major restoration work but annual servicing has been impeccable. Apparently resident in the UK all its life, the Bentley was acquired by the vendor circa 2011 having previously belonged to the Rt Hon Michael W L Morris (Lord Naseby) from 1994 and Mr Peter King before him. There are invoices on file dating from the 1980s and 1990s for general servicing and maintenance issued by P&A Wood and Haines & Haines, and others for the period 2004-2008 from JK Engineering for an engine rebuild, full service, stainless steel exhaust system, seals, brakes overhaul, wiring, spark plugs, etc. Alan Carrington appears to have been entrusted with the Bentley's upkeep in more recent years, there being bills on file for the period 2010-2011 totalling £14,000 for works and parts including re-trimming the boot in red St James Wilton Carpet; full new headlining in beige West of England cloth; fitting classic seatbelts with chrome buckles; refurbishing the interior woodwork; re-spray in dark blue; detailing the engine bay; and a new steering ram kit. A modern ignition system, electric windows, and the aforementioned seatbelts are the only notified deviations from factory specification. The history file contains the aforementioned bills; copies of the original specification and delivery paperwork; assorted DoT correspondence; old/current V5C Registration Certificates; a Bentley Continental S2 booklet (hardback); a parts list; and a substantial quantity of expired MoTs and tax disks. A wonderful opportunity to own a fastidiously maintained and exceptionally well documented example of this rare and sought-after Bentley.
307 1958 Chevrolet Corvette Roadster J58S107319 £65,000 £85,000 Not sold Not sold Not sold N/A Like most American cars, the Corvette was available with a host of optional extras, with the result that seldom are two exactly alike. It is obvious that the first owner of this outstanding example was keen to extract increased performance from his Corvette, ordering it with the optional 283ci (4,639cc) V8 engine. This car was purchased from the USA by the current vendor in November 2015 and imported in December of that year (sales invoice and import documentation on file). The previous owner, a Mr Ross, had owned the Corvette since 1981. Treated to a comprehensive 'body off' restoration undertaken between 2018 and 2019, the car is presented in beautiful condition and comes complete with a soft-top and hardtop (see restoration photographs on accompanying USB stick). Sold only because the current owner is thinning out his collection, this beautiful Corvette is ready for the next fortunate owner to enjoy.
308 1959 Messerschmitt TG500 Tiger 20655 £120,000 £160,000 Withdrawn Withdrawn Withdrawn N/A This example of one of the rarest and most desirable of Kabinenroller variants was purchased in 2005 in distressed condition and semi-restored, albeit poorly. The owner then embarked on a long-term restoration, commencing by stripping the vehicle completely and restored the engine and gearbox, renewing all the bearings and bushes. He also replaced the piston rings and all gaskets using original materials. Electronic ignition was fitted in place of the original contact breakers (included in the sale). All aluminium parts were restored to 'as new' condition and the bodywork stripped back to bare metal, with any rust removed. The body was then treated and re-sprayed professionally. After assembly, all the aluminium trim items, beading, and rubbers were replaced with original new parts, while new sliding windows were made using the original knobs. All the indicator light lenses and stop lamp lenses were replaced with new, and all chromed parts re-plated. New handmade rear view mirrors were fitted and all fasteners replaced with stainless steel, where available, or electro-plated anew. The engine's supporting sub-frame was stripped back to bare metal, with all rust removed, and then powder coated, as were the wheel rims. All suspension bushes were replaced, new engine mountings installed, and all the wheel bearings renewed. New brake shoes were fitted on all four wheels and new brake cylinder rubbers installed throughout, including the master cylinder. Matching the originals, new copper and rubber brake hoses were installed and all control cables renewed. The wheel nuts were electro plated, and replacement hubcaps installed. Original-size Michelin tyres were fitted together with new inner tubes and then balanced. The interior has been professionally re-trimmed, including new carpeting, and a new leather hood made to the original pattern. Restoration bills are available. Completed in 2019 and road tested to make sure it is in full working order, the vehicle is described by the private vendor as 99% original and as close to new condition as is possible to achieve. An exciting opportunity to acquire a fully restored example of this ultra-rare high-performance Kabinenroller. Low rate import duty of 5% will be added to the hammer price if the car will remain in the EU.
All information is copyright Auto Auctions Monthly except images which are copyright of Artcurial, Bonhams, Gooding & co., Mecum, RM/ Sothebys, Russo & Steele and Worldwide Auctioneers. All figures are US$ and gross unless specifically stated. All figures are accurate in the home currency for the sale, any figures in other currencies are calculated based on the exchange rate for the date of sale accessed from FxTop.com. Percentages as given are calculated as the % below low estimate or above estimate as noted. All information given for recreational use only and cannot be personally guaranteed for accuracy by the author.