https://www.bonhams.com/auctions/25453/?department=MOT-CAR#/!
11:00AM, July 5th, 2019
Goodwood House, Chichester, Sussex, United Kingdom
The Goodwood Festival of Speed celebrates the British motoring industry and has grown to become the effective British motor show with most new cars making their British debut at the event, it is indeed so successful it is one of the largest events in the UK, of any kind. Bonhams have held a sale in conjunction with the F.O.S from the beginning and with Quail Lodge it represents the pinnacle of their motoring dept. sales calendar. As with the rest of Bonhams, the occasional indifference from Bonhams have been seen in the results with some very subpar sales but the 2012 offering of cars from the George Daniels and John O'Quinn collections saw $34.5 million in sales, while 2013s offering of the only Mercedes W196 in private hands saw results jump to $54 million. Despite the Ferrari 375 Plus and Aston Ulster selling well it has been all downhill since with Bonhams struggling to get quality consignments although 2018 saw them offer a unique Aston DB4GT Zagato, Alfa Romeo Tipo B GP car and unique BMW 507 to push the gross to $41 million and it would seem 2019 will repeat the success.
Year/Offered/sold/(%) – Gross (US$) – High sale (US$)
2007 65/90 (72%) $11,960,782 $2,814,811 1932 Alfa Romeo 8C2300 Zagato Spider
2008 61/98 (62%) $11,786,831 $4,362,228 1955 Jaguar D-Type
2009 39/64 (61%) $3,607,025 $758,327 1922 Sunbeam GP
2010 70/88 (80%) $5,273,536 $838,611 1965 Aston Martin DB5
2011 83/93 (89%) $11,302,272 $970,936 1954 Aston Martin DB2/4 Bertone
2012 67/84 (80%) $34,595,926 $7,342,867 1912 Rolls-Royce Silver Ghost
2013 54/ 63 (86%) $53,908,342 $29,612,691 1954 Mercedes-Benz W196
2014 60/89 (67%) $38,920,119 $18,315,845 1954 Ferrari 375 Plus
2015 73/87 (84%) $27,742,974 $4,581,922 1935 Aston Martin Ulster
2016 68/88 (77%) $12,184,088 $930,503 1949 Aston Martin DB
2017 57/86 (66%) $14,114,004 $1,193,852 1957 Porsche 356A Carrera Speedster
2018 52/80 (65%) $41,198,774 $13,264,955 1961 Aston Martin DB4GT Zagato
Among the marquee lots there are two that truly star, the 1934 Alfa Romeo 8c2300 and the 1992 Williams FW14B which is helpfully offered simply Estimate on request although was listed as #1 in the by value sort. Likely spurred by Senna's last Monaco winning McLaren which starred at Bonhams Monaco 2019 this particular Williams is a car actually driven by Nigel Mansell on the way to taking out the 1992 World Drivers Championship. Williams had first tasted World Championship success back in 1980 with the true Ocker Alan Jones and repeated their success with Keke Rosberg in 1982 in what can be termed the TAG era. While that era saw the Piquet/ Ecclestone/ Murray Brabhams dominant, taking the 1981 and 1983 championship it was the Malborough McLarens that would begin to dominate from 1984 with Gordon Murray and Ron Dennis running the best drivers, Senna and Prost to take six of the next seven world drivers championships.
The only break in the McLaren domination was when Piquets Williams Honda took the 1987 World Drivers championship while McLaren were considering switching from Porsche to Honda power. Adrian Newey arrived at Williams in 1991 while Nigel Mansell was about to retire from Formula 1 and the new era encouraged Mansell to cancel his plans and switch from Ferrari to Williams. The FW14 was launched in early 1991 and featured a suite of electronic driver aids never before seen in F1 and proved quick from the get go with only reliability and Senna's quality driving stopping Mansell from taking the championship. Having had a years head start, Williams were ready to dominate in 1992 and they did so, Mansell starting from pole and winning the first five races of the season in the car on offer, Red #5. While Mansells driving style suited the cars need for a driver to pitch it in and let the electronics sort the rest, Patrese who took over the car for the rest of the season never quite came to grips with it, all the same this is a bonafide, modern championship winning Grand Prix car.
When valuing any object its always possible to both value it compared to other similar objects and generally possible to recreate that value by calculating market values for the various intrinsic values that make up its overall value such as brand, model, constituent parts etc. The closest comparison to this Williams is the McLaren that Senna used to win the 1993 Monaco GP and as such I believe that cars $5 million sale encouraged this offer and must provide a ballpark figure. That said, the Rothmans Williams livery is not as iconic as the Marlboro McLaren, JPS Lotus or any red Ferrari while Nigel Mansell may be a British hero but he is no Senna and finally, Williams is an important name in Formula but isn't McLaren or Ferrari or Mercedes-Benz. Recreating a value leaves me stuck at around the $3 – 4 million mark although only an auction will accurately assess an exacting value with the potential for a much higher bid ever present.
A 1934 Alfa Romeo 8C2300 Lungo Tourer is the second of the two absolute highlights and offered at £4 – 5 mil. ($5 – 6.3 mil.). Fiat dominated Italian motor sport prior to 1924 but it was the Fiat trained engineer Vittorio Janos switch to Alfa Romeo that saw Fiat stop motor racing altogether and Alfa Romeo begin a 7 year long ascent to become one of the dominant forces in motorsport. Jano worked on the Merosi designed P1 Grand Prix car and the vintage RL series road and racing car while developing the all new post vintage P2 Grand Prix car and the 6C series that would go on to take many wins in races such as the Mille Miglia and Targa Florio. A quest for international glory saw the 6C1750SS augmented by two extra cylinders and a mildly revised platform to create the 8C2300 in 1931 and one of the first cars produced won Le Mans in 1931. The svelte and fast supercharged road racer would eventually be available in three main forms, the short wheelbase Monza, the mid wheelbase Corto racing Tourer and the long wheelbase Lungo for Le Mans and luxury GT and would most often be offered chassis only for coachbuilders such as Touring and Zagato to clothe to the buyers specifications. As if there wasn't enough glory for the 8c series, this was the key racecar for the Scuderia Ferrari and the car that proved Enzo was a force to be reckoned with.
While most 8C Alfa's have been well researched by Simon Moore and his books are works of art, the early history of this particular example, #2311222, has eluded even him. What is known is that it was supposedly sold to its first owner in 1935, a full year after it was produced and fitted with unknown cabriolet coachwork before quickly passing through several hands incl. well known racer Felice Bonetto and ended up in Belgium during WW2, where it somehow was rebodied or extensively modified. Post WW2 it ended up in the USA like most expensive European cars and finally ended up in Switzerland where it was fitted with replica Touring coachwork that was extended to fit the long wheelbase. Spare Touring Le Mans coachwork that had been made by Rod Jolley for #2311203 became available and the owner chose to buy and fit it during extensive renovations in the early 2000s. Most recently this delightful 8c has remained with the vendor and been very well maintained by Neil Twyman and remains an impeccable runner. Most 8C2300s are offered in original guise with at least reproduction coachwork to return it to "as delivered" form, if not in totally original form although Bonhams offered a similar car at this sale in 2013. Value wise, it is arguable that the lack of originality diminishes its appeal and in reality this example will not be invited to many international concours any time soon although its change of appearance doesn't diminish its ability to be used on the worlds greatest driving events. Recent private sales have pegged 8C2300 values at $10 – 25 million and even allowing for this cars lack of racing successes, lack of bespoke coachwork and even if some of the prices bandied about have been inflated, the estimate on request is ballpark, especially at the low estimate and as with any 8c, it will provide no end of joy to the buyer.
While the Alfa Romeo 8C might be lacking in absolute originality, the third marquee lot is a real case of a Jeffersons axe and yet is even more complicated than that. The car in question is a 1928 Bentley 4.5 Litre #ST3001, the Jackson Special that is again offered with estimate on request. Bentley had made the 3 litre since its birth and after offering the 6.5 litre to those that wanted a luxurious Bentley that was suited to the larger saloons then in vogue, decided to replace the 3 litre with a 4.5 litre engine that was based on the 6.5 litre straight six with two less cylinders. ST3001 was the first example produced and prepared for the works team and made its debut at Le Mans in 1927 where it went out with the rest of the Bentley team in a single collision. The following year Barnato/ Rubin used this car to win Le Mans outright despite a broken chassis, their lead so great they could conserve the car and it was soon rebuilt on a new chassis before being rebuilt on a new heavy grade chassis for 1929. Dunfee/ Kidston finished second at Le Mans in 1929 before ST3001 (now known as Old Mother Gun) was sold to British aristocracy who wanted a racing car and Bentley boy Dunfee ran it in the Brooklands 500 miles and it was also raced the 1929 Tourist Trophy.
Richard Marker decided he wanted a race car and became its second owner, campaigning it widely before fitting the coachwork from a 3 litre and wrecking the engine which was replaced by a 6.5 litre from LB2338. By 1936 Marker had gotten the Brooklands bug and got RR Jackson to rebuild the car on an all new chassis with new single seat coachwork as the Jackson Special and while not the fastest Brooklands runner it was certainly successful with 130mph possible. Rather well kept by Bentley standards, the Jackson special was owned from '65 til the late 80s by one owner who began to restore it with Speed Six axles before it was sold to Bentley expert Stanley Mann in the '80s. Mann finished the restoration in 1990 with new coachwork and has since used it for setting land speed records and events worldwide. The majority of Bentleys, like Bugatti, have had changes over the years with replacement coachwork on the Vanden Plas Le Mans style common while engines, axles and even chassis changed to keep them going. While this is fair in certain circumstances, when taken to the extreme one is left questioning what constitutes an item and when does it cease to be that item.
In the case of #ST3001, it lived as both the Old Mother Gun or the Jackson special and while it is relatively famous as the latter, it is tenuous indeed to refer to any single part of the car as it sits as being present that June day in 1928 when it won Le Mans. The three changes of chassis, two engine changes, two coachwork changes and new axles aside, it really asks the same questions as Jeffersons axe or the ship of Theseus paradox of what constitutes the identity of an item. Several decades ago this actual question was answered by the British courts when they heard expert evidence that British classic car experts considered three of the five key components must be present to make that item original or even accurate, the five components being the chassis, engine, front and rear axles and bodywork. The British courts ruled instead that an item can have continuous history and even if every part is replaced it doesn't stop it having claim to be the original item. In that situation the Bentley Old Number 1 was ruled to be the winner of the 1929 and 30 Le Mans races and the contract to sell it went through. Obviously this leaves the perspective of what the Jackson special is in the hands of the bidders, it is a very cool and irreplaceable Brooklands racer as it sits and its heritage includes winning the 1928 Le Mans classic (although some parts of #ST3001 are actually in a car in Japan that claims to be made from what was discarded when the Jackson special was created in the 1930s). As such I struggle to see more than $3 – 4 million for this cool car.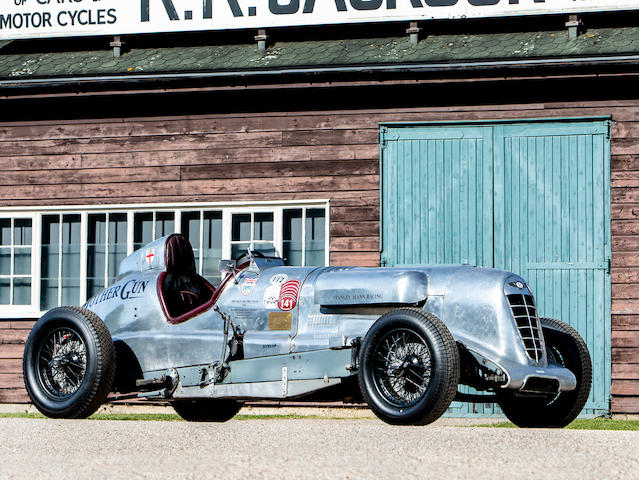 McLaren was founded by Kiwi Bruce McLaren in the 1960s and dominated Can Am during his life and after his untimely death dominated F1. During the Ron Dennis/ Gordon Murray era it was agreed that Murray could beging to develop arguably the greatest modern car ever made, the McLaren F1 road car which despite its low production was the fastest roadgoing automobile for 15 years. Into the 2000s McLaren and Mercedes-Benz combined to produce the SLR which eventually morphed into a multitude of specials before McLaren decided to begin proper road car production in an all new plant. The MP4 12C was the road car offered from 2011 and as a beginners effort, must have shocked the supercar establishment, although the use of the UKs cottage industries and motorsports parts makers must have eased things somewhat. Rumours of a hypercar were present from the start with Porsches 918 spurring McLaren and Ferrari to produce a hybrid hypercar and the McLaren featured essentially the same platform as the 12C with a 3.8 litre twin turbo V8 and a 180bhp electric motor for a whopping 903bhp. The car on offer is a 2013 McLaren P1 XP Prototype at £1.3 – 1.5 mil ($1.6 – 1.9 mil.), one of 14 produced and much fewer still in existence, this is a fantastic car that is noted to be road registered. Offering near unique spec, a fascinating heritage and offered in near new condition, if one were considering a P1, this would be one to seek out, especially at the estimate which is barely more than most standard P1s have sold for.
Famed Ford exec. Lee Iacocca looked to add another brand to the American conglomerate and with Ferrari looking to sell up his roadcar production segment and concentrate on racing in F1 and at Le Mans, a deal to merge was considered at executive level. Enzo's sudden saw Ford executives decide to instead beat Ferrari at their own game and fund both the Cosworth F1 programme and funding a Le Mans programme with the GT40. After three years in the wilderness, Ford finally reached success with the Shelby developed GT40 Mark II while the Mark I was a success in the new Group 4 sportscar category and sold relatively well. Fast forward forty years and pukka GT40s were multi million dollar exotics which was incidentally promoting the production of replica's and creating all manners of complexity. A Kiwi collector searched the world for genuine GT40 parts and eventually owned the bodywork from #1001 which were built up over a decade with the end result a car that is by percentage more original than most despite being a replica. Indeed unlike most replica's this one is sold with invites to the worlds best events and unlike a genuine car can be raced hard without concern for damage to an irreplaceable object. Ultimately though, this is still not a genuine GT40 and the £850k – 1.25 mil. ($1.1 – 1.6 mil.) estimate seems strong indeed, arguably $300k more than market correct.
As already mentioned the Bentley 6.5 Litre was a whole new work for the Cricklewood firm and offered a model for those wanting a commodious automobile. 242 6.5 Litres were built on the Long Wheelbase (12′ 6″) chassis with for formal coachwork to be fitted. In this case it was the Gurney Nutting Saloon which were then common like all Saloons and grand Tourers but are now rare as the proverbial hens teeth with most chopped to form Le Mans replicas with just six closed 6.5s still existing. Originally sold to the Bird custard family, this car passed through a limited number of owners including one who saved the car and now offers it 53 years later. While its admittedly a bit staid, it is beautiful and a concours worthy car that will be welcome at any Bentley Drivers club event anywhere and presented in totally original condition is good buying at a reasonable £800k – 1.2 mil. ($1 – 1.5 mil.) estimate.
Carl Benz' Blitzen was the ultimate pre-war big banger and while the car was not the most successful racecar, it was certainly effective at wowing the crowds and its 21.5 litre engine excited everyone who came near it. The Blitzen did prove the concept of taking a fairly basic vintage chassis and fitting the biggest engine possible which came to the fore post WW1 when Brooklands specials were in demand and war surplus engines were cheap as chips. Perhaps the most famous was the Chitty-Chitty-Bang-Bang of Count Zborowski that merged vintage Mercedes chassis with various powerful engines including a Zeppelin dirigible engine. This era lasted but two years before the Brooklands organisers banned these new supercars with many under construction which were allowed to gather dust. The Metallurgique-Maybach was built for Ernest Eldridge with a Maybach aeroplane engine although it is believed to have been unused when discovered by its very long term owner in 1950. After a refurbishment this car has offered rather startling performance for half a century and the oldest Maybach Zeppelin engine under the bonnet, this is an unrepeatable opportunity to buy an authentic aero engined special. Bonhams have provided a £800k – 1 mil. ($1 – 1.3 mil.) estimate which is eminently reasonable and with nothing to compare it too actually seems pretty cheap.
US auto importer Edwin Hoffman was so impressed by the Carrera Panamericana winning W194 that he convinced Mercedes-Benz to create a production car out of it which was launched at the New York Auto Show in 1954. After 1200 Gullwings were built sales were tailing off and with demand for a Roadster, Mercedes-Benz decided to begin production with the US market firmly in mind. Bonhams are offering a 1958 Roadster at a £800k – 1 mil. ($1 – 1.3 mil.) estimate, a car that was delivered to France and later to Germany where it was restored many years ago although it is claimed to be in excellent condition. 300SL Roadsters are either the disc brake/ alloy block cars and valued at around $1.4 – 1.8 mil or not in which case its more like $800k – 1.3 mil. with only freshly restored cars topping the million mark. This car is not freshly restored and I struggle to see it being worth more than say $850 – 950k.
1928 Bentley 4.5 Litre Vanden Plas Tourer – Est. £600 – 800k ($750k – 1 mil.), this chassis was delivered with Harrison Flexible saloon coachwork before a small accident saw it rebuilt with the chassis that had formed the basis of ST3001/ Old Mother Gun for the six months after Le Mans 1928. By 1933 the car was owned by H M Bentley & Partners and they had it rebodied with Vanden Plas sports four-seater Tourer coachwork from 'XT3633'. Multiple owners kept the car safe from a Le Mans rebuild and it was restored twice without losing much of its originality and it remains very good mechanically. While the link to ST3001 is tenuous at best it is a very good example of the 4.5 litre in iconic form at a very sensible estimate.
Pre war highlights include:
1921 Rolls-Royce Silver Ghost London – Edinburgh Tourer – Est. £250 – 300k ($310 – 380k), a standard Silver Ghost chassis delivered to the USA where it was later converted to a Pick up before it was finally rescued and restored by restored by Jonathon Harley who fitted the replica London to Edinburgh coachwork. While genuine London-Edinburgh Silver Ghosts are well over $1 million, replica's are somewhere below that and a post WW1 replica below that yet again. This car actually sold at the Goodwood Members meeting for $351k in early 2019 but I would consider it value at the low estimate.
1933 Aston Martin Mark II Tourer – Est. £130 -190k ($160-240k), not particularly powerful nor the most sporting Aston, this is a good, attractive, highly usable pre war Aston at a great price. Very good buying.
1933 MG J4 Midget – Est. £180 – 240k ($230-300k), The Baby K3 and one of just 9 made for racing, raced at the EifelRennen where it won its class and at the RAC Tourist Trophy where it lead before a disastrous pitstop and ended up second, before a fine run at the Masaryk Grand Prix where it sat second but Hamilton ended up blinded and rolled the car. Rebuilt around a replacement chassis by various racers through '52 incl. David Piper and Denis Poore. Very rare opportunity to buy a proper racing MG that would be welcome at any event. Market correct.
1934 MG NE Magnette NA0522 – Est. £160 – 240k ($200-300k), the RAC banned the use of supercharging for '34 and MG built an all new team of unsupercharged NEs with fully 74bhp from just 1200cc. Indeed Charlie Dodson used this car to win the 1934 RAC Tourist Trophy from a quality field. Soon rebodied as a PA along with two other cars to form the Three Musketeers team, this car ran in rallies, another RAC Tourist Trophy and raced through the 1950s. Comparable to the finest racing cars of the era but at a much lower price level, this NE seems like a very good buy.
1936 Squire 1.5 Litre Ranalah Tourer – Est. £650 – 750k ($810-940k), Squires were the state of the art in the 1930s and with a 1500cc engine putting out 110bhp weren't too slow. While some Squires are beautiful in the extreme, this Long Wheelbase Ranalah Tourer is rather challenging looks wise and after failing to sell at Gooding Scottsdale '17 against a $1.5 million estimate this is all the money.
1939 Lea Francis 12.9 Super Sports Corsica Roadster – Est. £90 – 140k ($110 – 180k), 1 of 3 fitted with Corsica coachwork. Freshly restored and quite beautiful, this would be a very cost effective method of concours entry.
Mid century highlights include:
1954 Bentley R-Type Continental Fastback Saloon – Est. £500-700k ($630-880k), no-one would accuse the Continental of being elegant but it is a super stylish grand tourer and a highwater mark for the firm. RHD, auto spec is probably the least popular but this is a very well cared for, original example that would be ideal for further fast road use on the Continent, as such the estimate is both market correct and great buying.
1955 Aston Martin DB2/4 Mark I Coupe – Est. £110 – 140k ($140-180k), a lovely early DB2/4 in good original condition, would be expensive to restore but as is, market correct.
1956 Cooper T39 Bobtail – Est. £110 – 140k ($140 – 180k), the T39 Bobtail was one of Coopers first mid engined cars and highly effective in clubby racing. This example was sold to Mackay in Australia and he raced it widely, fortunately it survived the rudimentary repairs that many Australasian cars suffered and was restored. Recently refreshed and granted a fresh HMSA, this Cooper is ready to go and run in historic racing and is market correct.
1960 Cooper Monaco Climax Type 57 – Est. £300 – 350k ($380 – 440k), Jack Brabham took the first of his two World Drivers Championships with Cooper in 1959 and it proved the pace of the mid engined concept. The Monaco was essentially a Grand Prix chassis with outriggers to hold full width bodywork and proved the same concept in sportscars. Run by Ecurie Ecosse at various British events in 1960 and as far afield as the USA where it was always very successful through 1964. After remaining in the Ecurie Ecosse collection, the Cooper was sold to the USA where it was restored before joining Dick Skipworths collection of Ecurie Ecosse race cars. Market correct.
1962 Aston Martin DB4 Series IV Vantage – Est. £400 – 500k ($500-630k), a very nice Vantage spec DB4, so rare, beautiful and a great GT. Engine rebuilt to 4.2 litre spec and fitted with a Tremec 5 speed. Market correct.
1964 Austin-Healey 3000 Mark III BJ8 Rally car – Est. £200 – 250k ($250 – 310k), the Austin-Healey 3000 was another of the great BMC rally cars and this particular car was prepared by the works team and used by the great Rauno Aaltonen to win the Spa-Sofia-Liege rally in '64. Restored and offered in fabulous condition, this should be considered market correct if not a little cheap.
1968 Lola T70 Mark III Coupe – Est. £350 – 450k ($440 – 560k), one of the ultimate late 1960s race cars. Non original but correct coupe and spider bodywork, fresh 500bhp V8 engine but does does have its original chassis and is very well prepared and on the button. A touch above market but maybe okay at or below the low estimate.
Modern highlights include:
1995 Lancia Delta HF Integrale Evoluzione II – Est. £75- 100k ($94 – 130k), one of the ultimate road cars, the Delta Integrale is sure footed, fast and exotic. Now collectible, this example is a very rare Dealers Collection Ltd. edition. Market correct.
1999 Ferrari 550 Maranello – Est. £70 – 100k ($88 – 130k), a rare Right hand drive 550 with a decent history and just 26,000 miles in nice colours. Both market correct and great buying.
Affordable classic highlights are:
1957 Mercedes-Benz 220S Ponton Cabriolet – Est. £55 – 75k ($62-84k), 1 of just 20 RHD 220S Cabriolets. Recently restored to beautiful condition and an excellent example. Market correct.
1954 Swallow Doretti Sports – Est. £40 – 50k ($50 – 63k), a nice little Doretti with lovely coachwork, kind of like a Ferrari Vignale Barchetta, TR2 powerplant has been worked hard to offer a bit of grunt, restored condition, market correct and good buying for the fun factor.
1985 Audi Quattro – Est. £17 – 22k ($21-28k), like the later Lancia Delta, the Audi Quattro was a revelation with power, handling and style aplenty although its hard to find a pure example. This car is very pure and concours wins attest to that. An excellent future collectible and good buying.
1950 Bristol 401 Coupe – Est. £40 – 60k ($50-75k), a stunning example of these high quality, expensive to build luxury tourers. Largely original, well maintained quality. Market correct.
Bonhams Goodwood FOS is one of the top 10 auctions held each year and this years sale deserves to be incredibly successful. There are interesting, expensive and affordable cars galore and everyone can be encouraged to participate either online or in the room.
Lot # – Year – Make – Model – Chassis #/VIN – Est. £ – € – $ – N/R = No reserve
302 1985 Chrysler Le Baron Town & Country Station Wagon 1C3BC59E7FF190899 £15,000 £20,000 N/R €17,000 €22,000 $19,000 $25,000 This Chrysler LeBaron 'woody' station wagon is ranked among the ten most important cars owned by Frank Sinatra alongside his Lamborghini Miura, Lincoln Continental, and Dual Ghia. Indeed, Sinatra had a lifelong affection for Chrysler cars and reputedly got his first break in the music industry not because of his voice but because his potential band-mates were impressed by the fact that he owned a Chrysler! One of his favourites, this Town & Country station wagon was used by Frank Sinatra and his family accountant, Nathan 'Sonny' Golden, for the first six years of its life, and Frank got a real kick out of cruising around with his friends Sammy Davis Jnr and Dean Martin in such an unassuming car. This car is rumoured to be the last vehicle Sinatra owned, and it offers a fascinating insight into the costs of fame; Frank reportedly spent the last ten years of his life being driven around Palm Springs in this undistinguished and unashamedly domestic Town & Country station wagon in order to avoid recognition. The smallest Chrysler ever at the time of its introduction in mid-1977, the Le Baron was intended to rival Cadillac's Seville and the Lincoln Versailles, as well as imported European makes such as Mercedes-Benz. This example is powered by Chrysler Corporation's 2.2-litre overhead-camshaft four-cylinder engine, which in turbocharged form (as seen here) produced a maximum of 146bhp at 5,200rpm. As one would expect of a car ordered by an 'A-List' celebrity, this particular LeBaron is very well specified, boasting automatic transmission, air conditioning, two-tone leather interior trim, power assisted steering, cruise control, stainless steel roof rack, heavily tinted privacy glass, and electric operation of the windows, mirrors, and seat. Accompanying paperwork includes copies of the US Certificate of Title with Sinatra's signature, also stating his name together with 'c/o Nathan Golden' (family accountant) with the address of 70855 Sinatra Drive, Rancho Mirage, CA 92270. Also on file are warranty documents in Sinatra's name and previous UK MoT certificates, the most recent of which expired in May 2018.
303 1913 Hupmobile 32HP Tourer 35943 £15,000 £20,000 €17,000 €22,000 $19,000 $25,000 This Hupmobile Model 32 tourer was used locally in Yorkshire by its immediately preceding owner, who sympathetically installed a modern ignition coil and modern replica Daytona carburettor in pursuit of easier starting and improved performance. The car is finished in green with black wings and black leathercloth interior, and is equipped with acetylene main lamps and paraffin sidelights. 'Scuderia Bonhams' acquired the Hupmobile in 2009, since when it has been enthusiastically campaigned by Motor Car Department staffers, it has benefited from extensive no expense-spared restoration and preparation with top vintage engineers – expenditure to date totals in excess of £50,000 (bills on file)! Offered with a V5C Registration Certificate, this powerful 32hp car represents an attractive proposition for Veteran Car Club touring events.
304 1994 Bentley Brooklands Saloon SCBZE02C1RCH55062 £15,000 £18,000 N/R €17,000 €20,000 $19,000 $23,000 Finished in Sherwood Green with Spruce Green-piped beige leather interior, this lovely Bentley Brooklands was supplied new and serviced by marque specialists P&A Wood, from whom it was purchased by the current owner in November 2014 (sales invoice on file). Stored in a newly constructed dehumidified museum, it has not been used on the road since acquisition and is presented in excellent condition throughout having covered only some 48,000 miles from new. Freshly MoT'd, this increasingly collectible modern Bentley is offered with a V5C Registration Certificate, two expired MoTs, and numerous servicing and maintenance invoices issued by P&A Wood.
305 2011 Bentley Mulsanne SCBBA63Y8BC015683 £50,000 £80,000 €56,000 €89,000 $63,000 $100,000 Finished in brown metallic with cream leather interior, this magnificent Bentley Mulsanne has been owned from new by the current vendor and comes with full Bentley main dealer service history. The car has covered only 29,729 miles from new (less than 4,000 miles annually) and as one would expect of such a pampered example is presented in excellent condition throughout.
306 1998 Ferrari 550 Maranello 111707 £50,000 £60,000 €56,000 €67,000 $56,000 $67,000 This particular 550 Maranello was delivered new to France via Ferrari concessionaire Charles Pozzi, and first owned by a Mr Christian Snider of Paris. The original colour scheme recorded on the warranty card was Giallo Modena (yellow) with a black leather interior. Imported into the UK in 2002, the car benefits from a scheduled service carried out in February 2018 when the cam belts and clutch were changed. We believe that the odometer was changed upon the car's importation into the UK (now showing some 20,800 miles). Accompanying service invoices suggest the car's mileage prior to its UK registration was in excess of 63,000 kilometres (approximately 39,000 miles), which would make the car's total mileage circa 60,000 miles. It is unknown when the car's colour was changed from Giallo Modena to the arguably much more attractive titanium grey metallic. Regarded my many as one of the last true classic Ferraris, this 550 Maranello is offered with all books and tools, a history file of receipts, and UK V5C registration document.
307 1957 Mercedes-Benz 220S Ponton Cabriolet 180.030N.75.09774 £55,000 £75,000 €62,000 €84,000 $62,000 $84,000 One of only 20 right-hand-drive cars produced, this Mercedes-Benz 220 S Cabriolet was delivered new to actress Maureen Ward, Countess of Dudley and latterly Viscountess Ednam, in September 1957 and there are two further entries in the old style logbook up to 1976. The car was gifted to the current vendor in the mid-80s as a dismantled restoration project after the firm restoring the car ceased to exist and the then owner struggled to find a willing party to take it back to its former glory. The vehicle sat in the current vendor's company storage facility for some time before consigning it to Cardrew Bodyworks of Redruth, Cornwall, in the early 90s who had agreed to tackle what by that time was a mammoth task. The vehicle was completely stripped down, the engine and all mechanical components checked, and then anything that required refurbishment was rebuilt. This process took some time as some of the missing parts proved difficult to locate. The list of parts refurbished or replaced is too long to itemise, but additional items fitted recently include electronic ignition, new HT leads, and a new fuel pump, while the carburettors have been stripped and rebuilt. The interior was re-trimmed to a high standard by Derek Smith Coachtrimming of Redruth, Cornwall and the final paintwork completed in 2014, since when the car has been dry stored and driven sparsely. Mercedes-Benz motor cars of this era were beautifully built and of legendary quality, and this example has benefited from extensive restoration. Believed to be matching numbers and still retaining its original Blaupunkt radio, examples like this are increasingly hard to find and make for stylish, reliable open-topped entries for tours and rallies. Accompanying documentation consists of sundry restoration bills, restoration photos, an old-style logbook, current MoT, and a V5C Registration Certificate.
308 1974 Citroen DS23 Pallas 01-FE-3884 £25,000 £35,000 N/R €28,000 €39,000 $28,000 $39,000 The current vendor purchased the Citroën in September 2011 since when it has not been used. The car is operational, including replacing the battery, but may well require further re-commissioning following its lengthy period in dry storage. Handsomely finished in black with matching leather interior, this beautiful example of one of the 20th Century's most enduring automotive style icons is offered with a V5 registration document. via Bonhams Beaulieu sold $31k.
309 1963 Austin Mini Cooper S C-A2S7/384499 £40,000 £60,000 €45,000 €67,000 $45,000 $67,000 The Austin Mini Cooper S offered here left the factory on 6 September 1963 and was UK registered in Birmingham. The car is stated to have had the body restored and engine rebuilt by a previous owner between 1984 and 1990, and then, moving to a new owner, the restoration was extended to create a replica of a Monte Carlo Rally Mini Cooper S, reputedly incorporating rally equipment from Rauno Aaltonen's Cooper S (277 EBL) which took part in the 1964 Rally and was subsequently written-off by Pauline Mayman. In 1996 the car was sold to the founder and long-term president of the German Mini Cooper classic club where it received a FIVA Identity Certificate recording the modifications made to 1964 Monte Carlo Rally specification including sporting seats, sump-guard, double fuel tanks, spare wheel holders, competition exhaust and roof-mounted spotlight and a number of details such as the original Heuer Monte Carlo stop watches. Between 2013 and 2018 the car was displayed in a private collection in Sweden and is now described as being in excellent condition mechanically and structurally, paintwork is said to be good and showing a nice patina with an excellent interior. A comprehensive history file including FIVA and BMIHT certificates, photographs from the restoration (and a number of participated events) and an old UK V5C accompanies the car.
310 1930 Ford Model A Station Wagon 2679223 £20,000 £25,000 €22,000 €28,000 $22,000 $28,000 While the majority of station wagons are known to have been designed, constructed and supplied directly by Murray to Ford, a few buyers or agencies chose their own coachbuilder. One company that was well known for constructing high quality Woodies on Packard and other top marques was the Hercules Body Company of Evansville, Indiana. The Model A we offer here is badged as bodied by Hercules and, as such, is extremely rare – only a comparative handful of Model As carried their coachwork. This immaculate Station Wagon comes to market having received considerable work and expense of restoration. Mechanically, the car was entrusted to noted Model A specialist Ladd Eaton of Melvin Village, New Hampshire and found to need relatively little work, mainly the fettling of its brakes, carburettor, and electrical system. Sensibly, the cosmetics were entrusted to a noted restorer of wooden boats, Charles Gath, who carefully disassembled and refinished all the wooden body panels and trim elements. Using Epifanes spar varnish, these cars' original finish, the warm, original honeyed glow of the wood has been reinstated. The current vendor purchased the Woodie at Bonhams' Amelia Island Sale in March 2015 (Lot 113) and brought it to the UK. He sent it straight to Belcher Engineering, the UK's top Model A Ford specialists, who were given a free-hand and did everything required to ensure that the car runs well. Since then it has only been used for short trips around the owner's farm, and is only offered for sale due to a lack of space. A wonderful opportunity to own a rare, distinctive and immensely practical vehicle that is sure to provide great fun for all of the family this summer and into the shooting season to come.
311 1974 BMW 3.0 Csi 4350169 £70,000 £90,000 €78,000 €100,000 $78,000 $100,000 Supplied new to South Africa, this rare right-hand drive 3.0 CSi has had only three private owners from new, the last of whom enjoyed it for many years. The car had seen little recent use when it was purchased directly from the aforementioned owner by the current vendor. Imported into the UK in March 2016, it was in a sorry state on arrival and has since been totally restored with no expense spared. The vendor's team works on all types of high-end classics, and this BMW was stripped back to a bare shell, with all parts either cleaned or replaced before reattachment. Repainted red at some time, it has been returned to its original Taiga Green colour following a rebuild of the body, and looks stunning. All of the chromework has been refurbished, and all door seals and window seals replaced, while the headlights and indicator lenses are brand new. Beautifully presented, the interior has been re-trimmed in factory-correct black leather and the headlining and carpets renewed. The matching engine has been fully rebuilt, with every component refurbished or replaced, resulting in a clean and bright engine bay. This car also benefits from a (rare) five-speed gearbox that has just been fully rebuilt by a BMW specialist, resulting in a tight and positive shift. All suspension components have been renewed – shock absorbers, ball joints, rubber bushes, etc – and there are new brake callipers, discs, and pads all round. Shod with new tyres, the factory-correct BBS 14″ wheels have been refurbished and are like new. Indeed, this car is as clean underneath as it is on top. There some 100 pages of photographs and invoices in the accompanying 2″-thick file documenting this epic 'last nut and bolt' rebuild, which cost in excess of £50,000. Its resurrection completed, this CSi is lovely in every respect and a credit to the restoration team. Noteworthy features include the City Pack, electric windows, power assisted steering, and a (factory) electric sunroof. Freshly MoT'd and said to drive very well, this stunning looking car represents a wonderful opportunity to own what must be one of the best of its kind currently available.
312 1934 MG NE Magnette NA0522 £160,000 £240,000 €180,000 €270,000 $200,000 $300,000 It was against this state of MG's productive art that the Royal Automobile Club as organisers of the annual Tourist Trophy race tried to halt the great event's slide towards "…becoming an unrestricted Grand Prix". They declared 'full touring trim' to be the order of the day. Competing cars had to carry hoods, lamps and mudguards. The RAC officials insisted that entries should be more closely representative of the standard output of British factories. However, when in April 1934 the RAC announced a TT ban on supercharged engines, uproar ensued. In an era when supercharged cars had not been handicapped severely – competition between large-engined cars and small in the TT being evened-out by a handicap system – not to run supercharged was "considered a little odd…". Cecil Kimber of MG – with two supercharged TT wins, did not approve, but since the RAC were immoveable, he had no choice but to bite-the-bullet and build a team of unblown cars, for this the biggest race on the calendar. Kimber's new works team of Type NE Magnettes – including '0522' offered here – featured single-overhead camshaft 1,271cc 6-cylinder engines, breathing through twin SU carburettors. With triple valve springs, high-crown pistons and a comperession ratio as high as 9.8:1 they delivered a claimed 74bhp at 6,500rpm. Six MGs competed, entrusted to drivers Bill Everitt, Captain George Eyston, Wal Handley, Charlie Dodson (in '0522'), Norman Black and A.P. 'Ginger' Hamilton. They formed Class F, and their ascribed race handicap was 1 lap, 9 minutes 26 seconds. From the race start on the Ards circuit, based just outside the Ulster town of Dundonald – first heading west to Newtownards, then south to Comber and back through Ballystockart – Everitt's MG led initially from its sister MG Magnettes and the pursuing Aston Martins, Frazer-Nashes, Singers and a pair of Rileys. Little C.J.P. 'Charlie' Dodson then rocketed '0522' into the lead, despite the team having intended Wal Handley to be pacemaker. One report read: "For the MG mechanics it was a day to remember. At a quarter to one, Everitt found a wheel collapsing under him and some hasty research revealed that standard wheels had mistakenly been substituted for racing on the front of all the team, a fact which demanded rapid action. The form was for Dodson to come in first for a rear wheel change (a change of all four was unrehearsed), but as he had a minute and a half lead over Eyston, the latter was signalled in – to his displeasure. Then, as work began, and the situation was being explained to Eyston, in came Handley with a faulty gearbox. Eyston lost three minutes – and little Charlie broke the lap record." Amongst the big-engined cars, the Hon. Brian Lewis and Eddie Hall were rumbling to the fore, Hall pushing his special Bentley into a minute's lead, the advantage then see-sawing between the two as pit stops began. By 3pm Hall was leading at 78.62mph, with Dodson's MG 1min 21secs behind on handicap, and Lewis third, 2mins 51secs in arears. At 3.30pm Hall brought in his Bentley in to the pits, Lewis's Lagonda swept by to take the lead. For three laps they then fought a wheel-to-wheel battle. But into the final hour Dodson was re-established in the lead in '0522'. But his advantage was only half a lap when Lewis thundered past the pits pointing at his front tyres. As the Lagonda slowed, Hall speeded up "…and did the fastest lap of the race at 10mins 6secs. He had Charlie Dodson almost in his sights now, and would certainly catch him if it did not rain. "But it did rain. A massive black cloud blew up from the west and a real Irish thunderstorm broke loose. Hall dropped 25secs a lap – but continued to gain on the Magnette. "One lap to go, and the MG led by 42 secs. 'I kept watching the mirror, looking for the Bentley', said Charlie Dodson. 'Every time I cleared a bend I expected to see Hall coming up behind, but he didn't show up along the straight out of Newtownards'. The gap was 35secs then, 31secs at Moate, 26secs at Ballystockart, 22secs at Dundonald. 'Once I was round the (Dundonald) hairpin I looked again, but still didn't see him. And I knew then that I'd win…'" And Charlie Dodson in this MG Magnette did just that, giving the marque its second successive victory, by 17 seconds from the Hall Bentley. "And nobody any longer mourned the demise of the supercharger, least of all the Ulster crowd". Dodson's victorious time overall in '0522' was 6hrs 13mins 24secs, an average of 74.65mph – and the win earned £500 – the equivalent today of £35,000. After its return to the factory, three of the NEs had been adapted to carry light-alloy PA bodies. Re-tuned 6-cylinder engines were also installed, and chassis serials 'NA 0517', '0519' and '0522' became deployed as the Three Musketeers team cars contesting the major trials and rally events through that spring and summer. And it was this car '0522' again by now known as 'Aramis' which won that year's Welsh Rally, and led The Musketeers to the Team Prize there. However, by September 1935, all three of these MG NEs had been returned to TT form and were sold to the MG-specialist Evans family to contest the great Ards race again in 1935. However, the RAC handicappers were by that time wise to the cars' startling performance potential, and in effect handicapped them out of contention. At Ards the previous year's race winner could only carry its talented driver Kenneth Evans home 13th overall and 9th in class. The Evans family's South London-based Bellevue Garage concern then offered the cars for sale, and '0522' was bought by Ian Connell and Peter Monkhouse of Monaco Motors. Starting with a class win for Connell in the 1936 Inter-Varsity Trial, they subsequently campaigned it in numerous such events to mid-1938. It is also believed that the car was entered for the 1936 Le Mans 24-hour race, which never took place due to a general strike. Through the war years it passed through four more owners' hands, and the last of them – in 1948 – was Tom Dargue – who fitted a new slab-tank body. The car later passed to P.B. Merritt and leading lady driver Betty Haig who campaigned it successfully 1951-54 at venues such as Goodwood. A brief period with J.N. Tolitt followed before it was sold to Pat Green in mid-1956. In 1958, having been raced several times the car's hard-pressed crankshaft broke. After Pat Green's death, his widow retained '0522' until 1993 when she sold it to his nephew, well known competition MG collector Peter Green. Mr Green then restored this most important MG to its Three Musketeer 'Aramis' configuration using the PA body commissioned by his uncle in the 1980s but never actually fitted. At this point the cars original cylinder block numbered '764' was removed to preserve it and is offered with the car today. 'NA 0522' then continued to be used and raced extensively in the hands of the owner's daughter and son-in-law. In 2008 it was sold to Hans Telmert's private collection in Sweden before passing subsequently to the current Scandinavian owner. Of all the outstanding competition cars built by MG during the inter War period the NE Magnette is widely acknowledged as the best handling and most driveable of the breed. Today this outstanding, 85-years young, RAC TT-winning MG Magnette is accompanied by a considerable documentation file, recording its proud history. Such treasures from such prominent British motor sporting marques rarely appear for sale by public auction. One decisive bid will be all it takes to emulate '0522' in its heyday…by beating all opposition. Please note if this car is to be UK road registered the original number 'JB 4750' will need to be re-applied for.
314 1933 Aston Martin Mark II Tourer L3/315/L £130,000 £190,000 €150,000 €210,000 $160,000 $240,000 This 2nd Series Le Mans was delivered new on 18th December 1933 to its first owner, a Mr G Ogilvy of Somerset. The accompanying copy record card shows that 'J3/315/L' was built as a 'Long Le Mans' with 'Standard Engine' and that the original colour scheme was green with black upholstery. The last servicing entry is dated 19th July 1956. There is a list on file naming six further owners, the last of whom, Mr B L Etchell of Cheshire, acquired the Aston in 1966 and is the last recorded on the accompanying old-style logbook. It would appear that the car next changed hands in January 1995, passing via dealer Dan Margulies to the late owner (see purchase invoice and correspondence on file). The AMOC Register lists six concours entries for 'J3/315/L' while owned by Mr Etchell, the last being the Northern Classic Car Show of 1982 when the Aston was judged 'Best Pre-war Car'. Nobody knows more about pre-war Aston Martins than Ecurie Bertelli so they were the natural choice to carry out the extensive programme of refurbishment that the owner had in mind. Commencing in October 1997, these works consisted in the main of an overhaul of the front axle assembly and a complete engine rebuild, as evidenced by Ecurie Bertelli's detailed invoices on file totalling almost £29,000. The engine rebuild included fitting a new Le Mans cylinder head, new crankshaft with steel con-rods and shell bearings, high-compression pistons, lightened flywheel, new oil pumps, a modern oil filter, and a Kenlowe electric cooling fan, and opening out the inlet manifold to accept 1¼" carburettors. The engine was run on the test-bed prior to being reinstalled. Its refurbishment completed in 1999, the Aston remains in generally very good running condition, and should require only minimal re-commissioning before returning to the road. Not fitted presently, a hood, hood frame, and side screens are included in the sale. Offered with the aforementioned documentation and a V5C Registration Certificate, this delightful Aston Martin is an ideal means of participation in the Le Mans Classic and other prestigious historic events.
315 2013 McLaren P1 XP Prototype SBM12ABB3BW990006 £1,300,000 £1,500,000 €1,500,000 €1,700,000 $1,600,000 $1,900,000 BMW and Mercedes-Benz respectively had supplied engines for the F1 and SLR, but for the 12C, McLaren decided to develop its own. The rights to an Indy Car V8 racing engine were acquired from Tom Walkinshaw Racing, and with assistance of Ricardo this was transformed into a 3.8-litre twin-turbocharged unit suitable for a road car. Manufactured by Ricardo at its Shoreham-by-Sea factory, it was a modified and strengthened development of this M838T engine that was used for the P1, delivering its maximum power output of 727bhp and 531lb/ft of torque via a seven-speed dual-clutch automatic gearbox. Add to that the 176bhp and 192lb/ft of the in-house-developed electric motor, and the P1 had no less than 903bhp and a whopping 723lb/ft of torque at its disposal. 'Maintaining good driveability, given this level of specific output (and this engine… is remarkably docile), is one of McLaren's greatest achievements with this car,' declared Autocar. A high-density lithium-ion battery pack powered the electric motor, which could be left to deploy automatically or selected by the driver, who thus had the options of using the petrol engine on its own, the electric motor on its own, or the two in combination. The battery could be charged by the engine or from the mains, with full charge achieved in two hours. As one would expect from a manufacturer that has been a mainstay of Formula 1 for the last 50 years, McLaren endowed the P1 with a number of competition-derived high technologies in the form of IPAS (Instant Power Assist System), DRS (Drag Reduction System), and KERS (Kinetic Energy Recovery System). Tested by Autocar, the P1 accelerated to 60mph in 2.8 seconds on its way to a top speed (electronically limited) of 217mph (350km/h), with the standing mile dismissed in 18.2 seconds. Power reached the ground via bespoke Pirelli P-Zero Corsa tyres, while the carbon-ceramic brakes were claimed to stop the P1 from 186mph (300km/h) in an eyeball-popping 6.6 seconds. And if you wanted anything quicker, only the Bugatti Veyron Super Sport (30 cars built) could deliver. McLaren unveiled the production version of the P1 at the 2013 Geneva Motor Show, announcing that only 375 of these exclusive hypercars would be built. By the end of the year, the entire production run had sold out. The UK base price was £866,000, though as most customers chose to enhance their car's specification courtesy of McLaren Special Operations' extensive options catalogue, few would have been delivered for less than the equivalent of £1 million. This McLaren P1's most recent V5C Registration Certificate records that it was declared new at first registration on 1st June 2013 and previously registered to 'McLaren Automotive Ltd David Ross Newall', McLaren Technology Centre, Chertsey Road, Woking. According to the V5C, the immediately preceding registered keeper was a London based collector, who acquired the car on 7th August 2015. Built into the weave of the carbon-fibre chassis tub is a 'McLaren P1' identity plaque stamped 'XP05', while a McLaren Automotive manufacturing details plate has been affixed to the interior. Both the three-quarter rear flanks have 'XP05 Experimental Prototype' script. One of 14 experimental prototype P1s and one of few such prototypes that were not crash-tested, 'XP05' was used only to test the gearbox and Bosch fuel injection. McLaren also employed this example as their GTR Show Car at the New York Motor Show and Geneva Salon before returning it to P1 specification. Having been fully refurbished by McLaren Technology Centre, if not fully rebuilt as a production model prior to its first sale, 'XP05' appears still to be in 'as new' condition both inside and out having covered only some 339 miles from new. The bodywork in McLaren Orange with black highlighting is unmarked, while the inside surfaces of the scissors doors are scuff-free and the carbon black interior is pristine. The present registered keeper, a UK-based collector, purchased the car from Derbyshire-based supercar dealer Tom Hartley Jnr on 5th December 2017 and subsequently displayed it at Rétromobile, Paris in February 2018. With its international motor show history and key role in the development of McLaren's iconic hypercar, this stunning P1 XP is a 'must have' for the serious collector.
316 1950 Bristol 401 Coupe 401/274 £40,000 £60,000 €45,000 €67,000 $50,000 $75,000 Its stunning black coachwork gives this classic Bristol motor car remarkable presence, while the interior is upholstered in contrasting maroon-piped magnolia leather with light red carpets, which combine to give the cabin a warm and comfortable feel. An early model identified as such by its square-edged bottom sill, ivory-coloured instruments, and indicator switch on the top of the steering column, the car shows little sign of wear or age and presents very well. Mechanically, this 401 has been very well kept with regular maintenance and repairs carried out to ensure that it remains in good order. This car is largely original, with the only modifications being the worthwhile additions of a brake servo and an overdrive unit, both sympathetically installed. The car comes with a history file containing invoices and bills for works carried out dating back to 2008/2009, while there is other documentation dating back to 1972. Recent work includes a complete overhaul of the braking system in November 2017 by Spencer Lane-Jones Ltd.
317 1954 Swallow Doretti Sports 1138 £40,000 £50,000 €45,000 €56,000 $50,000 $63,000 First registered on 2nd September 1954 in Surrey, this Swallow Doretti has continuous history from then until the 1970s, during which time it resided in England, Scotland, and the Channel Islands. The buff continuation logbook covering the period 1964 to 1971 is on file. 'VPF 228' appears to have been put into storage for at least 20 years before its bodywork received some restorative attention in the 2000s. The current owner, a former Standard-Triumph employee and retired engineer, acquired the car in 2016 with the intention of finishing the restoration. The bodywork, trim, upholstery, and major mechanical items were all refurbished with the aim of creating a good useable car. It was found that the original TR2 engine had been replaced with that from a TR4A, which while functioning was not correct. After much searching, a correct TR2 crankcase, cylinder head, and crankshaft were obtained and all necessary machining carried out to create an 'as new' engine. At the same time the opportunity was taken to include a number of performance-enhancing upgrades; namely 86mm pistons/liners (for a capacity of 2,138cc); a 'fast road' camshaft; hardened valve seats; and a very rare 'Le Mans' inlet manifold enabling SU 1¾" H6 carburettors to be fitted to the 'low port' cylinder head. The transmission, including the desirable Laycock overdrive, has likewise undergone a complete overhaul. Ancillaries replaced include the fuel pump, hydraulic master cylinder, and high-torque starter motor, while the petrol tank has been removed, cleaned, and repainted. A partial rewire was completed and an efficient indicator and sidelight arrangement incorporated. The wire wheels have been re-spoked, with those at the rear rebuilt to achieve an increase in track width while maintaining a correct appearance. A new bespoke hood has been made, and the car comes complete with side screens and a tonneau cover. Interior trim is to a good standard, the seats have been replaced with items the vendor believes to be from a Ferrari 250 which are both elegant and comfortable. Initial running has been completed and the first service carried out, with the cylinder head re-torqued and oils changed. Offered with sundry bills, a V5C Registration Certificate, and the aforementioned logbook, this rare and collectible British sports car is ready to enjoy.
318 1948 Delahaye 135M Pennock Cabriolet 800843 £240,000 £280,000 €270,000 €310,000 $300,000 $350,000 Following WW2, the concours-winning firm of Pennock, located in The Hague, Holland acquired several chassis from Delahaye, on one of which they created the outstanding – and very rare – three-position drophead coupé offered here. Right-hand drive like most quality French cars of the period, this matching-numbers Delahaye 135M benefits from a body-off, 'last nut and bolt' restoration undertaken by its owner some 13 years ago, at which time everything that could possibly be done was done. The Delahaye then formed part of the owner's private collection for 10 years before returning to the UK in 2017. A full re-commissioning and a major service was then undertaken, including fitting new tyres all round, and the car is now ready for stylish touring in the grand manner. A rare and collectible example, being a three-position drophead coupé rather than the more common cabriolet, '800843' is finished in deep maroon and Burgundy with fine silver coachlining, biscuit leather interior, matching mohair hood and contrasting maroon carpets. With its pontoon-style front wings, 3½-litre engine and four-speed gearbox, this is a stunning, rakish, sporty and drivable car capable of comfortably keeping up with modern-day traffic. On our recent visit to inspect the Delahaye it ran and drove beautifully, this magnificent French thoroughbred is offered with a V5C Registration Certificate.
319 1957 AC Aceca AE511 £80,000 £110,000 €89,000 €120,000 $100,000 $140,000 One of 151 built with the 2.0-litre AC engine, this particular Aceca has belonged to the same family since 1978 and the same owner (the lady vendor's late father) since 1990. A recognised marque specialist, its late owner was President of the Aceca Club and thus well known in Aceca circles, being responsible for organising the remanufacture of many unobtainable spare parts. He is also famous as owner of the 1928 Bentley 4½-Litre that was brought to the attention of The Medcalf Collection a few years ago, having been dismantled some 50 years previously and stored throughout his house and garden in pieces! Its late owner carried out all of the Aceca's maintenance and servicing himself (hence there are no accompanying bills) and the vendor advises us that it has benefited from extensive cosmetic refurbishment in recent times, the body having been repainted in the 2000s and the interior re-trimmed around 2014. Rare, desirable, and offering exceptional value for money, this beautiful Aceca Coupé is offered with a V5C Registration Certificate.
320 1998 Jaguar XJ220 SAJJEAEX7AX220697 £350,000 £450,000 €390,000 €500,000 $440,000 $560,000 The XJ220 offered here was delivered by Jaguar Sport on 8th November 1993 to Peter Vardy at Reg Vardy PLC, Sunderland. Finished in Spa Silver with Smoke Grey leather interior, the car was first registered (as 'R1 PSB') on 7th May 1998 and received its first service at Jaguar's Brown's Lane works on 19th May 1999. It was subsequently reregistered as 'PH 790' and is now 'R241 GCL'. The current owner bought the XJ220 via Oakfields in June 2009 (at 5,100 miles), since when it has attended the XJ220 21st Anniversary celebrations at Bloxham in May 2012 and the XJ 50th Anniversary event at JLR Classic Works in September 2018. The XJ220's most memorable trip was to Germany where its legs were nicely stretched… Numbered '266' on the sill plate, the car comes with full service history from Jaguar Brown's Lane and Don Law Racing, the associated bills totalling in excess of £43,000. The last 'engine out' service, which included changing belts and fuel lines and a major braking system overhaul, was carried out by Don Law Racing only 882 miles ago, while new Bridgestone tyres were fitted only 250 miles ago. In addition to the aforementioned service history, the car comes with its original book pack, air jack (rubber bag), wheel socket, current MoT, V5C document, and all expired MoTs from 2009 onwards. A wonderful opportunity to acquire a low-mileage example of this rare and iconic Jaguar supercar, maintained with no expense spared and fully documented.
321 1963 Porsche 356C 215153 £80,000 £120,000 €89,000 €130,000 $100,000 $150,000 Originally built for the Italian market, this Porsche 356C coupé was purchased by the current vendor a few years ago from German former racing and test driver Willi Kauhsen, in whose workshop it had been totally restored to near concours standard in 2015. This most extensive overhaul included the engine, gearbox, and front and rear axles, while the engine was also enlarged to 1,980cc and tuned, producing a maximum of 100kW (137bhp). The associated dynamometer printout is on file and the car also comes with a Porsche dating letter. At the same time the interior was re-trimmed and equipped for rallying, boasting grey leather sports seats, racing seatbelts, roll bar, trip master, two stopwatches, MotoLita wood-rim steering wheel, etc. Presented, the vendor states, in superb overall condition and this 356C comes from an important German collection of mainly Porsche cars and has rarely been used by the enthusiast owner, who has only driven it occasionally on German 07 red (Historic) numberplates.
322 1964 Gordon-Keeble Coupe 21 £70,000 £90,000 €78,000 €100,000 $88,000 $110,000 This manual transmission example has belonged to the current vendor for the last seven years, having been with its previous owner since 1979. It history prior to that date is not known. We are advised by the vendor that the car was restored in the late 1970s and that it has required no significant work since then other than the exterior colour being changed. Recent maintenance has included refurbishing the differential and shock absorbers, these works being carried out by Nical Engineering in Beaulieu, while the interior was professionally re-trimmed four years ago. All bills dating back to 1979 are available. Finished in grey with White Linen leather interior, 'DBH 160B' represents a rare opportunity to own one of these sought-after British GT cars.
323 1934 Alfa Romeo 8C2300 Lungo Tourer 2311222 £4,000,000 £5,000,000 €4,500,000 €5,600,000 $5,000,000 $6,300,000 1 of 188 8C2300s. Gianfranco Peduzzi '35 (1), Cabriolet coachwork fitted, Oreste Peverelli (2), Renaldo Cravedi (3), Corrado Legame (4), Felice Bonetto (5), exported to Belgium circa '41, rebodied or modified, unknown, Daniel Bockstael, Jim MacAllister, NY, USA '68 via Stan Nowack, unknown, via Massimo Colombo to Joost Wilbolz, Switzerland '78, replica Toureing Spider coachwork fitted, Al Guggisberg '89, Heinrich Kampfer, via OTG and Nick Harley to Italo Perottori, Italy, Peter Agg, UK '97, John Ridings Lee, TX, USA '01, Rod Jolley built Touring Le Mans coachwork ex. #2311203 fitted by Bob Smith Coachworks, UK vendor '07. Classic Performance Engineering then carried out various works during 2008 prior to the car being shipped to South Africa for a rally later that year. The Alfa was photographed for Classic Car Africa magazine and appeared in their issue of February/March 2009. Substantial work, as detailed in the history file, was then carried out back in the UK by Neil Twyman, including relocating the accelerator pedal to the right of the brake, and fitting a 'dog' gearbox supplied by Jim Stokes. The car then went to the USA in 2010 to participate in Tom Price's 8C Alfa tour, in which it ran perfectly throughout. '2311222' was raced at Donington Park on 30th April 2011 and then returned to Neil Twyman for further work. In late 2011/early 2012 a complete 'last nut and bolt' engine rebuild was completed by Neil Twyman with a new crankshaft, bearings, supercharger drive gears, and other parts supplied by Jim Stokes Workshops Ltd at a total cost of around £60,000. The engine was enlarged to 2.6 litres at the same time. An email printout on file confirms the (dynamometer measured) maximum power output of 143bhp at 8-9psi boost pressure, and states that the dynamometer operator, an engineer with considerable experience of testing 8C Alfa engines, reckoned this was one of the best that he had encountered. All the related invoices are on file. Thereafter, the car has only been used for road events and has run without problems, covering only a minimal mileage as evidenced by the MoT certificates on file. The Alfa has recently had its annual oil change and is 'on the button', ready for the fortunate next owner to enjoy. Bonhams would like to thank Simon Moore, author of The Legendary 2.3: Alfa Romeo 8C2300 for his assistance with the preparation of this description.
324 1966 Porsche 911 Coupe 303828 £135,000 £175,000 €150,000 €200,000 $170,000 $220,000 The car offered here occupies a fascinating place in 911 history. The chassis number of 303828 indicates a February 1966 build date but intriguingly the car was not delivered to UK dealers AFN until December 1966 by which time it appears it had been rebranded to Deluxe specification. Finally road registered on 16 January 1967 there is the possibility that it was the first Deluxe 911 into the UK and used by AFN as a press car although it has not been possible to verify this. The car benefits from a painstaking restoration which was completed by Heritage Motorwerks in 2015, with great attention being paid to ensuring correct detailing such as the dashboard with its distinctive wooden insert and seats of the correct age. Under the bonnet the correct air cleaner and wiring harness were sourced, and the Weber carburettors set up correctly. One departure from original specification has been the ride height which was lowered to give the car a more sporting stance, and finally the car was refinished in its attractive Aga Blue paintwork and black interior. Recently £6,000 of work was carried out by marque specialists Tuthill Porsche getting the car into its current very presentable state. It is now described as being in good condition overall, with the engine tuned and running well. The history and restoration of 303828 were comprehensively detailed in Classic Porsche magazine for May 2015, and restoration bills and a UK V5C accompany the car.
325 2006 Land Rover Renovatio 4×4 SALLDVB576A726124 £50,000 £70,000 N/R €56,000 €78,000 $63,000 $88,000 "Rebuilding utilitarian vehicles to luxury standards has provided specialist coachbuilders with a lucrative source of trade since the days of the Austin Seven, Harold Radford's reworked Minis – so popular with show business celebrities – being a case in point from the modern era. Here we see this idea applied to the Land Rover Defender by independent marque specialists Mastora Limited of Alnwick, Northumberland, a family-run business with an enviable track record of classic car restoration stretching back to 1976. The base vehicle is a Defender 90 TD5 dating from 2006, the last year of the Solihull-built Defender-specific TD5 engine, making it highly desirable. Fully restored and rebuilt to the company's extensively upgraded 'Renovatio' specification with no expense spared, it incorporates a new GKN galvanised and powder-coated chassis, and a new genuine Land Rover bulkhead. Drive train and suspension components likewise have been powder-coated and the Landy repainted in stunning Madagascar Orange metallic, which is also applied to the dashboard centre panel. Re-upholstered in Hi-Line Nappa leather with contrasting stitching, the ultra-luxurious six-seater interior boasts a MoMo steering wheel; air conditioning with additional side de-misters; heated front seats; LED lighting; Alcantara headlining and visors; a Alpine single DIN head unit and subwoofer; and bespoke Wilton carpeting throughout. Turning to the mechanicals, the engine incorporates an AMC up-rated cylinder head; variable-geometry turbocharger; 'Renovatio' inter-cooler; and a remapped ECU, while the exhaust system in stainless steel. The upgraded 'Renovatio' suspension features anti-roll bars; 1″" lower springs; and gas dampers, while other improvements to the running gear include EBC slotted disc brakes front and rear; a 1.2:1 ratio transfer box; and 'Renovatio' Sawtooth 18″" alloy wheels shod with BF Goodrich all-terrain tyres. Other specification highlights include the following: Heated front and rear screensElectric front windowsRemote alarm and central lockingCrystal Hawkeye LED headlightsStainless steel exterior fittings
Bumper-mounted daytime running LEDsLED side, stop, and tail lightsPanoramic privacy side and rear windowsTubular rear step and towing bracket7-pin electrics towing package. Completed in 2018, this unique ultimate-specification Defender has covered fewer than 100 miles since the rebuild and is presented in truly immaculate condition, worthy of the closest inspection. A photographic record of the build process is on file and the vehicle also comes with related bills, current MoT, and a V5C document."
326 1995 Lancia Delta HF Integrale Evoluzione II ZLA831AB000586115 £75,000 £100,000 €84,000 €110,000 $94,000 $130,000 Lancia also offered a host of limited-edition variants, which culminated in one of the rarest and most collectible: the famous 'Dealer's Collection'. As its name suggests, the latter was available only to Lancia dealers; based on the Evo 2, it was painted in a unique colour – Pearl Red – and came with light tan leather Recaro sports seats, an aluminium instrument panel, push-button starting, and black carpets. Only 180 were made, and today this swan-song model is highly sought after by collectors. Number '78' of the 180 built, this pristine example has had only four owners from new and has belonged to the current vendor since 1999. This beautifully preserved car remains highly original and has been regularly maintained, with an excellent history of servicing since 2010 entrusted to marque specialists Auto Integrale of Beenham, Reading. Presented in generally excellent condition with circa 47,500 miles on the clock (odometer in kilometres), 'N907 BMO' comes with current MoT, a V5C document and a file of receipts, expired MoTs, etc. A wonderful opportunity to acquire one of the rarest and most desirable sporting road cars of its era, possessing a competition pedigree second to none.
327 2005 McLaren Mercedes SLR WDD1993761M000210 £150,000 £180,000 €170,000 €200,000 $190,000 $230,000 This particular example is finished in stunning Crystal Laurite Silver with a Silver Arrow 300 SL red leather interior featuring carbon fibre seat backrests. The options on this SLR include a BOSE sound system, multifunction steering wheel, and Turbine alloy wheels. Originally supplied by SLR Centre in Brooklands, Surrey, who have maintained it from new, this pristine car has covered only some 31,000 miles and is presented in commensurately excellent condition. Accompanying documentation consists of sundry bills, current MoT, and a V5C document.
328 1964 Austin-Healey 3000 Mark III BJ8 Rally car HBJ8L/27537 £200,000 £250,000 €220,000 €280,000 $250,000 $310,000 Red and white over black. 150bhp 2912cc I6. 4 speed manual. RHD. Works rally team car 'BMO 93B' '64 results: Spa-Sofia-Liège #3 Aaltonen/ Ambrose 1st, RAC Rally #11 Morley/ Morley 21st. Pauline Mayman '64 (1), John Gott (2), Modsports racer mods. Arthur Carter c1975 (3), restored to original spec. Peter Livanos, Switzerland c2010 (4). JME Restoration. FIVA card and tech passport. via RM Paris '17 Not sold 340k EURO+
329 1972 BMW 3.0 CSL 2285119 £90,000 £100,000 €100,000 €110,000 $1,100 $1,300 First registered to Lord Astor, this exceptional CSL was the subject of a major restoration in the late 1990s. Genuine parts were used wherever possible, including numerous body panels, and the restoration was completed by a bare-metal re-spray to an exemplary standard. In 2009, the car was fully under-sealed by marque specialists Munich Legends, who also carried out a comprehensive mechanical overhaul and added a five-speed close-ratio 'dogleg' gearbox and air conditioning. Factory fitted equipment includes the following: Alpina alloy wheels; limited-slip differential; heated rear window; BMW Bavaria radio; alloy bonnet, boot lid, doors; Scheel sports seats; chrome door mirrors; stainless steel arch extensions; electric windows; rear fog light, Fjord Blue metallic paintwork, Black interior. 'CAK 445L' is described by the vendor as in generally very good condition and is said to drive beautifully. Accompanying documentation consists of a current MoT certificate, V5C document, and the aforementioned restoration photographs. Right hand drive cars are now very rare indeed – said to be around 100 of the 500 produced left remaining, with the vendor stating that this is one of the very best. With only 1,039 CSLs produced between 1972 and 1975 compared to over 19,000 standard CS/CSi models, these 'specials' will always be relatively rare and today this ultimate BMW coupé is highly sought after.
330 1955 Aston Martin DB2/4 Mark I Coupe LML/886 £110,000 £140,000 €120,000 €160,000 $140,000 $180,000 This well preserved DB2/4 was built for the British market and still retains the 'XFC 555' registration present when delivered to Mr M.M. Johnson on the 2nd May 1955 by E. H. Organ & Sons of Oxford. Mr Alan Archer, father of the well-known Aston Martin historian Stephen Archer, owned the car from 1964 to 1970 before being sold to an enthusiast in the US where it remained for 34 years. Returning to Europe in 2004 when purchased by a Mr. Koks of the Netherlands, the car then attracted a further two European keepers, namely Dutch collector Mr. De Jong and a well-known Belgian Aston Martin collector, the late Philippe Blesin. The current vendor, another long-term Aston Martin enthusiast, acquired the car in June 2018 at which point it was repatriated. This DB2/4's condition and originality is a testament to each of its owners over the last 64 years. The view from the cockpit is complimented by a row of AMOC Concours plaques which grace the dash and original Boyriven wool headlining; many of which were awarded to Mr Archer. 'LML/886' was invited to participate in the "Preservation at its Best" class at the 2018 Salon Privé Concours d'Elegance held at Blenheim Palace, also completing the 140-mile Salon Privé Tour. The untouched red leather has a rich patination that could only be achieved through the passage of time and the dash and roof lining both benefit from the same original charm. 'LML/886' also benefits from a 2008 repaint, maintaining its original colour Moonbeam Grey which was patinated so as to be more in keeping with the rest of the car. The history file includes a letter from Aston Martin Heritage Trust verifying the car's provenance. Importantly, it retains an original driver's handbook and all of the original and correct tools are still situated between the front seats. The car also retains its original 'Kismet' air pump and 'Lake & Elliot' factory jack as well as the Mk II jack installed as an upgrade by the factory in 1955. The vendor informs us that the car is a delight to drive, with the W.O. Bentley straight six still pulling well and offering a relaxed 65mph cruise. Said to be in good to excellent condition all round, this DB2/4 is largely untouched save for the paintwork and the renewed carpets. Continuously used and loved throughout its life by owners who clearly placed a significant emphasis on preservation, LML/886 presents a rare opportunity to acquire such a highly original example.
331 1966 Ford GT40 "1042" £850,000 £1,250,000 €950,000 €1,400,000 $1,100,000 $1,600,000 "Non original GT40 built 2007-2017 using some old chassis parts, others recreated by Classic Car developments of NZ, original bodywork from 1001 used at Le Mans in '66. During the course of this car's ten-year reconstruction, only period-correct original or new-old-stock (NOS) parts were fitted, most of which came with their own provenance, resulting in this GT40 exuding the charm and grace that only authentic original-spec cars possess. Indeed, apart from most of the monocoque, there are very few reproduction parts on the car. The short 289 GT40/HiPo engine (C5601/AE) was supplied by Mathwall Engineering and is an original GT40 unit. It has been refreshed and is to full 'historic' specification as raced in period. The gearbox is a ZF Type-0 (serial number '215') and is documented as having been used at Le Mans. It is a period-correct GT40 box and has been rebuilt by Paul Fleming, as is the rest of the transmission including the NOS Metalastic Rotoflex couplings and drive train. The clutch is an original Borg & Beck twin-plate competition unit, while the braking system incorporates original Girling BR and CR callipers, date coded 1964 and 1966 respectively, gripping pre-1966 specification solid discs. The correct quick-change disc pad retainers are present and the pads are old Ferodo ones. The suspension uprights are period magnesium units and the rest of the suspension is period-correct original, using 600lb and 550lb race springs. Everything on 'P/1042' is either original, NOS, or period-correct, right down to the nylon racing hammocks and steering wheel, which were removed from mid-1960s Le Mans GT40s. Even the Smiths/GT40 bespoke instruments are period-correct items, restored by GT40 specialists. The four-point harnesses are original Irvin GQ type and have the correct identification stickers still in place after over 50 years! Certified Premier bag tanks are fitted, and as this is a 'crossover car' (Le Mans rules for the 1966 race) it has only one fuel filler cap with a pipe running under the seats to transfer fuel from one side to the other. The car is registered for road and race use and comes with a UK V5C Registration
Certificate; current historic-category MoT certificate; FIA/MSA Historic Technical Passport (valid until 31.12.2028); and RAC homologation papers. Hence this GT40 is eligible for all period-appropriate historic races throughout the world and has been invited to numerous prestigious motor sports events, including the Concours d'Élégance at the Le Mans Classic. In support of this car's provenance, there is a large suitcase full of period memorabilia associated with it, including over 100 photographs, race programmes, old motoring magazines, driver's autographs, and photographs depicting the bodywork used in period, on the road, and during restoration. There is also a photographic record illustrating the enormous effort put into this GT40's reconstruction. Lately, the car has been acknowledged by historic motor sport specialists as being one of the most 'original-spec' and 'authentic' GT40s around, because it has been reconstructed entirely to 1966 Ford Advanced Vehicles (FAV) specification. A full list of all major parts and their provenance used in the car's reconstruction is available for inspection (recommended). During 2017-2019, the car was developed by Simon Hadfield Motorsport and Wren Classics, both of which are renowned historic racing engineers. It has appeared at the 2018 Silverstone Media Day and the Chateau Impney Hill Climb, together with circuit testing at the Castle Combe Autumn Classic."
332 1928 Bentley 4.5 Litre Vanden Plas Tourer MF3157 £600,000 £800,000 €670,000 €890,000 $750,000 $1,000,000 The accompanying illustrated report, compiled by leading marque authority, Dr Clare Hay and incorporating copies of factory records, reveals that 'MF3157′ was completed on the 10' 10″ 'Standard Long' chassis with the light crankshaft engine and 3.53:1 ratio rear axle. Unusually, the engine has the same number: 'MF3157' and is correct as recorded by the factory records. Numbered '7055', the original 'D' type close-ratio gearbox, as fitted to the works team cars, is retained, as are the original front and rear axles, both stamped 'MF3157'. Service Records show that this 4½-Litre was completed with a 'British Flexible' all-weather saloon body by R Harrison & Son of London NW1. This fabric-covered body was similar in principle to the Weymann, and Harrison set up a subsidiary company, British Flexible Coachworks Ltd, to produce its patented design. The car was retailed via Gaffikin Wilkinson & Co Ltd, one of London's larger Bentley agents, and first owned by Captain John Arthur Jeffrey of Largo House, Fife, Scotland. It was registered as 'YX 7850', a London mark. Service Records show that minor works were carried out in September and November 1928, and then in February 1929 the car is recorded as receiving a new chassis frame following an accident. Dr Hay: 'In the case of MF3157 the replacement chassis frame is of interest, because on inspection the dumbirons are bolted and split-pinned rather than riveted, and the pattern of bolting and pinning is Racing Shop.' In fact, the replacement chassis used by Bentley Motors is that made by the competition department and first fitted to the famous Works Team Car 'Old Mother Gun' – 'ST3001', the first production 4½-Litre – following the 1928 Le Mans race, which it had won (the original frame had cracked during the race). This chassis formed part of 'Old Mother Gun' for approximately six months, during which period it did not participate in a major race. Nevertheless, it is a matter of unique historical interest that the chassis frame in 'MF3157' is out of 'Old Mother Gun' (see Lot 358). In 1933, 'MF3157' passed through the hands of H M Bentley & Partners, the company run by W O's brother, Horace, and was re-bodied for them using the Vanden Plas sports four-seater body taken from 'XT3633'. H M Bentley then sold the car to its next owner, one Walter Hugh Brown of St Mildred's, Guildford, Surrey, the change of ownership being recorded as 16th June 1933. Only some four months later the Bentley changed hands again, passing to one Trevor Richard Lloyd of Frensham, Surrey on 29th October 1933. Trevor Lloyd covered some 80,000 miles during his ownership, including a tour of Europe with his fiancée. In a letter dated 7th November 1977 to Mr G L Joberns (see below) he confirms that the Lucas P80 headlights were fitted by him circa 1935, replacing the original units. An employee of coachbuilder E D Abbott, Trevor Lloyd kept 'MF3157' until 1938 before selling it to an Army officer stationed on Guernsey. It is thought that the Bentley spent the war years off the road on the island. Issued in 1946, an old-style continuation logbook on file lists Fairman & Sons of Horley as owner at that time, followed by E Cowen (from May 1952) and then D J Kinney, a farmer with substantial land holdings in Hampshire (from April 1965). At that time painted black, the Bentley was used regularly on fine days by Mr Kinney, during whose ownership the car was maintained by Hoffman & Burton of Henley. G L Joberns was the next owner (from September 1972). Over the course of the next four years Mr Joberns carried out a body-off, 'last nut and bolt' restoration, and in 1978 won the 4½-Litre Class at the BDC's Kensington Gardens concours. Mr Joberns was an active BDC member and went on to win several other concours awards. His photographic record of the restoration comes with the car. In 1997 the Bentley was sold to the Staystrip Group Limited, and in the year of purchase underwent a second body-off restoration, in this case by the Healey Motor Company, who blast-cleaned the chassis and re-covered the fabric bodywork. Following a minor accident, further substantial refurbishment of the chassis and body was undertaken by P&A Wood in 2001. In December 2005, the Bentley was purchased by the current vendor from P&A Wood, joining his private collection of pre- and post-war classic cars. Used occasionally and never raced or rallied, it has been kept professionally garaged and maintained over the course of the last 14 years by Blackmore Engineering, William Medcalf, and Jim Stokes Workshop. Accompanying documentation includes the following: four original buff logbooks dated 1928, 1935, 1946, 1956; correspondence from previous owners; current V5C Registration Certificate; old tax discs ; old MoT certificates; P&A Wood bills 2001 after accident (£40,000); CKL Developments bills 2006/2008; Blackmore Engineering Company bills 2009/2013; William Medcalf bills 2014, 2016, 2017 (£7,000 total); Jim Stokes Workshops bill September 2018 for servicing electric pump and pressure regulator (£1,200); 57-page report by leading marque authority Dr Clare Hay detailing its orginality. A wonderful opportunity to acquire a most original and beautiful 'W O' Bentley, benefiting from restoration and routine maintenance – with no expense spared – by some of the best specialists in the business.
333 1960 Bentley S2 Continental Sports Saloon BC127AR £220,000 £280,000 €250,000 €310,000 $280,000 $350,000 Tudor Grey over Grey leather. McVitie & Price Ltd, UK (1), unknown, later to Austria, UK vendor from '12, restored in current livery. MoT and V5C. via Bonhams Goodwood Revival '17 sold $387k.
334 1958 Ferrari 250GT Pininfarina Coupe 1195GT £420,000 £500,000 €470,000 €560,000 $530,000 $690,000 This example was sent for bodying to Pinin Farina's Turin workshop on 28th November 1958 and early the following year was delivered to the official Ferrari dealer Vincenzo Malagò in Rome, Italy. Originally finished in Grigio Argento with Rosso interior, chassis number '1195' is the 98th of 353 built. The car was sold new to one Umberto Furlan, a resident of Rome, and in the late 1960s was exported to the USA. From at least 1970 the Ferrari was owned by Larry Quatrone of Lakewood, Colorado, who kept it well until the 1980s. Circa 1987, '1195' found a new owner in Evreux, France. In the early 1990s the car was restored and repainted red by Carrosserie Lecoq of Paris, while at around the same time the engine was rebuilt by Charles Pozzi SA of Levallois-Perret, the French Ferrari importer. The car's next known owner was Norwegian shipping and transportation magnate Andreas Ugland, who displayed it at his Cayman Motor Museum in Grand Cayman, Cayman Islands. The current vendor purchased '1195' at a US auction in March 2015. Some questions about the veracity of the engine number stamping were raised at time of purchase. To resolve this issue, in December 2016 marque specialists Fosker Engineering removed and dismantled the engine, and happily Ferrari's Certification Committee was able to confirm that the internal number stampings are those of '1195' (see email correspondence on file). While the engine was out, Fosker's took the opportunity to strip, clean, and repaint the engine bay and exposed chassis, and to carry out numerous other remedial works. Prior to that, in August 2015, Hoyle-Fox Classics Ltd had carried out a thorough check-over and overhauled the brakes. Bills on file from these two specialists total £21,603. A wonderful opportunity to acquire a fine example of this landmark, yet undervalued, Ferrari Gran Turismo that helped cement Maranello's fruitful relationship with Carrozzeria Pininfarina.
335 1921 Rolls-Royce Silver Ghost London – Edinburgh Tourer 48CE £250,000 £300,000 €280,000 €340,000 $310,000 $380,000 Bare Metal over Black leather. RHD. R-R USA chassis built in Derby UK, via J S Inskip to J W Hubbard, PA, USA (1), Locke Town Coupe coachwork fitted, Mrs W K Vanderbilt '21 (2), unknown, William Small '57, Pickup body fitted, stored for many years, shooting brake coachwork fitted, unnamed, CA, restored by Jonathon Harley, Bryan Richmond-Dodd, well maintained, Since 2016, the current owner has used the services and workshop of the National Motor Museum, whose work has included driver tuition for the owner's chauffeur! Running well, as witnessed by Bonhams on a recent test drive, maintenance works have included fitting a replacement cylinder block (via a specialist), engine rebuild, tune and test (December 2017). A unique example with a fascinating history, this much-travelled Silver Ghost is offered with a V5C registration document and a history file containing copies of the original order form, chassis cards, etc. Bonhams would like to thank the Rolls-Royce Foundation for their help in the preparation of this description. via Bonhams Members Meeting '19 sold $351k
336 1955 AC Ace Ruddspeed AE102 £170,000 £200,000 €190,000 €220,000 $210,000 $250,000 Chassis 'AE 102' left the factory in October 1955 and was first registered on 17th November 1955 as 'UBP 888'. Distributed through Rudds of Worthing, it was first owned by one M Parry of Beech Hill, Middlewarberry, Torquay. The Ace then enjoyed three further owners (full details available) before being acquired in May 1968 by Mr D Coates of Kent, who owned the car for some 38 years, keeping it in storage for most of that time, before selling it to the immediately preceding owner in February 2006. 'AE102' was originally delivered with AC engine number 'CL2221' (see below). Wishing to race the car in club competition, Mr D Raven of Leicestershire (the second owner) had the Ace delivered to BRM Garages in Bourne, Lincolnshire in 1962 where it was fitted with a Ford 2.6-litre engine (number '185470') to 'Ruddspeed' specification. Equipped with a Raymond Mays Conversion and three semi-downdraft SU carburettors, the car instantly became a competitive prospect in contemporary club racing. BRM Garages' extensive re-engineering also included the installation of a Moss gearbox with low 'sprint' ratios; a low-ratio rear axle; front anti-roll bar; and a Bendix fuel pump. Acceleration 0-125mph in 25 seconds was claimed. Mr Raven used the Ace for 4-5 years in the mid-1960s for sprinting, circuit racing and hill climbs (see photograph entitled '64 Peterborough Motor Club Silverstone Ravens Ace' and also page 46 of 'Big Healeys In Competition' by John Baggott). More recently, this A.C. Ace competed in historic events in Europe on a number of occasions including the Gaisbergrennen Salzburg, the Ollon Villars hill climb in Switzerland, and the Vernasca Silver Flag hill climb near Milan (in June 2012). The current vendor purchased the Ace at Bonhams' Goodwood Revival Sale in September 2012 (Lot 123) and embarked upon a last-nut-and-bolt restoration to prepare the car for further historic touring and competition. Completely stripped and extensively rebuilt, it is yet to be fully run-in following completion earlier this year. The paintwork was superbly undertaken by Spraytec – arguably the UK's top historic automotive paint shop – and, needless to say, the car presents very well. It is finished, appropriately, in BRM Green with dark green Bridge of Weir upholstery. An alternative interior leather trim (for taller drivers) has been made for the car and is included in the sale. The original seats are, of course, fitted presently. The Ace also has a superb mohair tonneau, and it retains the pair of precision rally stopwatches fitted when acquired by the vendor. Amazingly, with the assistance of the AC Owners Club, the car's original AC engine block has been discovered and is included in the sale. Of course, this Ace is far more desirable as a period Ruddspeed conversion (undertaken at BRM Garages themselves) but the original block is a nice piece to complete the car's exemplary history, while also adding to the Lot's intrinsic and collectability value… Accompanying documentation consists of the original logbook; various MoTs from 1968 appearing to substantiate the mileage of only 49,900; bills for work and parts; V5C Registration Certificate; and correspondence relating to topics such as the reuniting of the original chassis plate with the car after a period of 18 years. Via Bonhams Goodwood '12 $146k
337 1956 Cooper T39 Bobtail CS/3/56 £110,000 £140,000 €120,000 €160,000 $140,000 $180,000 Although factory records are incomplete, this example can be traced through continuous ownership and a reference in Doug Nye's celebrated 'Cooper Cars' book back to its purchase by Australian Alan Mackay. This car has always been known as 'CS/3/56', and is replica plated as such, although it may not have carried a plate originally. Having competed in a few acclimatisation events in the UK, including the famous Prescott hill climb where he finished 3rd, Mackay had the factory run 'CS/3/56' alongside its own cars in the 1956 Shell Cup race at Imola, Italy before shipping it home to Melbourne. Indeed, after Mackay's car had split its gearbox casing during practice, Cooper works driver and general dogsbody Jack Brabham (the future three-time Formula 1 World Champion) selflessly worked all night to repair it for his compatriot, sacrificing his own car's preparation to do so. According to John Blanden's 'Historic Racing Cars in Australia', Mackay's T39 made its Australian debut at Albert Park in March 1957. It was then shipped to New Zealand, reportedly clocking 137mph on a runway at the Wigram airfield circuit outside Christchurch – an impressive figure for an 1,100cc car. Sold on its return to Australia to Lyn Archer of Tasmania, the car finished 6th in the 1959 Australian Grand Prix, a Formula Libre race held on the island state's Longford road circuit. Subsequently damaged by fire after a fuel line split, the car was sold during its rebuild to Ray Gibbs of Melbourne, who had the engine enlarged to 1,216cc. The next owner, Jim Downey of Sydney, then fitted a Porsche engine for Bathurst in 1962, but the Cooper was now six years old and un-competitive. In the 1970s, David Medley commissioned race-car builder Dave Mawer to start a full restoration to original specification. George Goodare completed the work, then sold the car to American Art Valdez, who ran it at the Australian GP supporting event at Adelaide in October 1986 and Sandown Park, Melbourne, in '87 before shipping it back to the USA. The current vendor purchased 'CS/3/56' in the USA some 18 months ago. This Bobtail is described by the vendor as in excellent condition throughout, finished in British Racing Green with 'Coventry-Climax' lettering on its nose. The 1,460cc engine's sump has been removed by Hawker Racing for inspection of the crankshaft and bearings, which have been given a clean bill of health. A leak-down test revealed good compression and the engine runs crisply. With wheel cylinders replaced, clutch slave cylinder inspected, and new master cylinders fitted, the car is ready to resume its competition career. Cooper T39s are proven giant-killers, engaging to drive and are regular invitees to prestigious events such as the Goodwood Revival. They are also welcomed in the Motor Racing Legends' Woodcote and Stirling Moss Trophy series, GT & Sports Car Cup, FiSCar, and VSCC events. With a renewed FIA HTP, 'CS/3/56' presents an opportunity to compete amongst some of the greatest GT & Sports racing cars of the 50s and 60s at iconic circuits such as Silverstone, Spa, Goodwood, and Donington.
338 1994 Range Rover 200TDi 4×4 SALLHAAF8KA-647644 £45,000 £55,000 €50,000 €62,000 $56,000 $69,000 In his book, Range Rover First Generation – The Complete Story, James Taylor states: 'Two-door Range Rovers reached Portugal in "van" form with no rear seats and with temporary plain black panels made of board in the side window apertures. Once safely in the country, they were then united with the missing elements and built up into ordinary two-door models for sale. The very last two-door Range Rover, SALLHAAF8KA-647644 built in January 1994, was one of these fake vans destined for Portugal'. '647644' is also mentioned in another chapter in the book. The accompanying BMIHT Certificate confirms that the exterior colour, engine, front axle, gearbox, rear axle, and transfer box numbers are matching. Unfortunately, the trim is mistakenly said to be 'teal and smokestone leather'. However, the car still has its the original Brogue Brown cloth seats (leather was not an option for diesel two-door models). Factory options include air conditioning; electric windows and rear view mirrors; central locking including tailgate; and a rear window wiper. Although the walnut veneer was not fitted at the factory, it was a popular dealer-fit option in Portugal. Before the restoration (see below) all the veneer was peeling off; it has now been restored, preserving another part of the Portuguese history. The standard plastic side mouldings were not attached when the car was pictured coming off the production line, but they are included in the sale. Delivered to a dealer in Lisbon, Portugal in April 1994, this Range Rover was registered to three owners in that country (documentation on file) before its acquisition by the current vendor in August 2018. The car was found to be rust free, never welded and mechanically in excellent condition, albeit in need of re-commissioning after a long period standing idle. Comprehensive restoration and conservation works have included a professional re-spray, gearbox overhaul, detailing of engine bay, and a full service. The many new parts fitted include the bumpers, steering wheel, all lights and lenses, and a new-old-stock period-correct Range Rover/Clarion radio/cassette. Everything has been checked for correct operation including the air conditioning. 2020 will be the 50th Anniversary of the Range Rover while 2019 marks the 25th Anniversary of the end of two-door production, making this historic example of special interest to collectors and enthusiasts.
339 1974 Jaguar E-Type Series III Roadster UE1S24925 £80,000 £90,000 €89,000 €100,000 $100,000 $110,000 Finished in classic Regency Red, this desirable E-Type roadster is a very original example with only a facelift re-spray to freshen the paintwork; there is no rust, and many of the parts still have the factory's paint markings. Its original bill of sale shows that the car was sold new to Mr RR Ervey of Denville, New Jersey on the 19th July 1974 for $10,150.00 and came equipped with wire wheels, air conditioning, AM/FM radio, and a hardtop. The E-Type remained Mr Ervey's possession when he moved to Brewster, Massachusetts, and was regularly serviced until 2013. It was then owned for three years by a Mrs Denuzzo from Miami, Florida and was purchased by the current owner in 2016 (bill of sale on file). The car has been cared for by Royce Engineering since its return to the UK that same year. The original manual and service booklets are included in the sale together with the still wrapped Leyland spare tyre in the boot, which was not originally included in the sale of the car because it 'appeared to reduce the usable trunk space'. A fine original example of the ultimate E-Type, the car is offered with a Massachusetts Certificate of Title, US Assignment of Title, sundry bills, current MoT, and a V5C Registration Certificate.
340 1979 Maserati Khamsin AM120415 £110,000 £150,000 €120,000 €170,000 $140,000 $190,000 One of only 23 right-hand drive Khamsins supplied to the UK, this beautiful example was first registered (as 'KWU 2V') on 1st November 1979 and comes with a comprehensive history file. Dating back to the original purchase, the latter contains the purchase invoice; all old V5 registration documents; every expired MoT certificate; and what must amount to every associated bill. The car also comes with its original driver's handbook; original Maserati service book; original Pioneer radio manual; spare parts book; duplicate set of keys; original and complete tool kit, jack and spinner tool (in the original bag); and the zip-up protective bag for the spare wheel. Supplied new by Maserati agent Killinghall Garage, the Khamsin remained with the original owner for 14 years, first changing hands in November 1993. When the current (third) owner, a prominent UK-based collector, acquired the Khamsin in February 2016 it had covered only some 46,000 miles from new. Since then the car has been treated to an extensive 'engine out' mechanical restoration by renowned marque specialists McGrath Maserati. Works undertaken include restoring the engine bay; an engine top-end rebuild; and overhauling the drive train and all running gear, including the Citroën-type hydraulic system (full details available). The original paintwork was deemed good enough and was retained. 341 1965 Jaguar E-Type Series II 4.2 Roadster 1E10161 £130,000 £180,000 €150,000 €200,000 $160,000 $230,000 Boasting matching numbers and original body tags, etc, this example was purchased for his private collection by the enthusiast vendor in August 2015. The E-Type had covered only 67,500 miles from new and had been off the road, dry stored, for a number of years; it is believed it was last used in 1976. The E-Type's body-off restoration commenced in January 2016, the job being entrusted to marque specialists XK Engineering in Coventry. The body was stripped completely and restored by Stallion of Nottingham, whose work has won many awards in Ferrari and Jaguar circles. The car was then reassembled by XK Engineering with every part either replaced or restored: new suspension, brakes, wheels, tyres, wiring loom, chrome, interior trim, etc. The car was changed to right-hand drive during the restoration – extensive bills are on file viewing of which are highly recommended. Since its completion in early spring 2019, the E-Type has covered only 28 shakedown miles to eliminate any snags. The result is a concours contender retaining its original matching-numbers engine, gearbox, axles, and body, which also has a good history 342 1960 Cooper Monaco Climax Type 57 DM/773/W £300,000 £350,000 €340,000 €390,000 $380,000 $440,000 This Cooper Monaco sports-racing prototype, entered and run in the 1960 Le Mans 24-Hour race by David Murray's Ecurie Ecosse organisation, was the latter's first rear-engined car. While only two coil-spring (as opposed to the earlier transverse leaf spring) rear-suspended Type 57 'Mark II' Monaco models are recorded in the factory chassis book, at least two more were supplied in kit form to respected and capable customers. The Ecurie Ecosse mechanics, headed by technical celebrity 'Wilkie' Wilkinson, already had extensive car assembly and reconstruction experience with their 'Monzanapolis' single-seat Lister-Jaguar of 1958, and with repairing their Lister-Jaguar sports car after American guest driver Masten Gregory's assorted excitements in 1959. Their brand-new Cooper Monaco was delivered to the team's Merchiston Mews workshop in unassembled kit form and quickly completed and race-prepared there. It was fitted with a 2½-litre Coventry Climax FPF twin-cam four-cylinder engine, and was first UK road-registered on 5th May 1960 – as the original buff logbook records – with its chassis number being recorded as 'DM/773/W'. This does not comply with normal Cooper Car Company chassis numbering practice and it has been suggested – probably quite correctly – that the 'DM' initials were David Murray's own, aping the normal Cooper form for these sports cars of 'CM', 'Cooper Monaco', and the 'W' stood for 'Wilkinson'. The '773', meanwhile, probably derived from three of the Climax engine's serial number stampings. The 'Monaco' name itself had been adopted by Charles and John Cooper back in 1959, after Jack Brabham's remarkable performance in winning the Monaco Grand Prix in the works team's Type 51 Formula 1 car. As a retort to Cooper's adoption of the Monaco model name, Colin Chapman celebrated the following year's Monaco GP victory by Stirling Moss in Rob Walker's Lotus 18 by naming his new rear-engined Lotus 19 sports car the Lotus 'Monte Carlo'. Ecurie Ecosse's new Cooper Monaco made its racing debut on 28th May 1960 at Charterhall aerodrome, driven by Tommy Dickson – immediately winning two races. It won again at Goodwood on 6th June and back at Charterhall on 3rd July before Dickson failed to finish in the British Grand Prix-supporting sports car race at Silverstone on 16th July. The Cooper was then shipped across the Atlantic to compete in the 1960 Formule Libre Watkins Glen Grand Prix in upper New York State. Roy Salvadori drove there, finishing very strongly in 3rd place as the first sports-racing car to finish, behind the two Formula 1 cars of Stirling Moss (winning in Rob Walker's Lotus 18) and Jack Brabham (2nd in the works-entered Cooper-Climax T53 'Lowline'). The Ecosse Cooper Monaco was then flown across the United States to compete in the annual 'Los Angeles Times' Grand Prix for sports cars at Riverside, California. There he finished 6th after being delayed by a mid-race spin. The car was then entrusted to now double-World Champion Jack Brabham for the Pacific Grand Prix at Laguna Seca near Monterey, but a burst tyre damaged the rear brakes, forcing retirement. Back in the UK for the 1961 season, diminutive little Tommy Dickson finished 3rd behind the UDT-Laystall Lotus 19s at Easter Monday Goodwood, then 4th at both Oulton Park and Aintree before the end of April '61. He won at Charterhall on 23rd April and placed 4th again at Silverstone on 6th May. Tommy Dickson finished 3rd in the Sussex Trophy at Goodwood on Easter Monday, 4th at both the Aintree '200' and Silverstone May meetings, and David Murray then invited former Maserati, Lister and BRM driver Bruce Halford to handle the car in the Whit-Monday Goodwood meeting. Halford won handsomely and on 28th May he co-drove the car with Dickson in the ADAC 1,000-Kilometre race at the Nürburgring in Germany, only to be sidelined by suspension failure. In its 1961 form the car had necessarily been adapted to conform to contemporary FIA Appendix J regulations, which demanded a tall minimum-height windscreen and mandatory luggage trunk space, which was provided in the Cooper Monaco by an unsightly hump above the rear engine cover. The car was entered by Ecurie Ecosse at Le Mans on 10th June 1961, again to be co-driven by Bruce Halford/Tommy Dickson. The notoriously 'difficult' French scrutineers perceived the Cooper Monaco as a 'two-seat racing car' rather than a 'proper' sports car, and it took all of David Murray's diplomatic skills and special relationship with organising ACO Secretary Raymond Acat to get the car accepted. In the race the Cooper was running well until the evening and its 34th lap, when Halford went missing. Un-sighted by the mixture of rain, oil film, and parallax through the tall regulation windscreen, he had crashed heavily under the Dunlop Bridge and been hurled out onto the road as the Monaco clattered along the safety bank at high speed. Happily, Bruce Halford survived to race another day. The Ecosse Cooper Monaco was similarly rebuilt after its Le Mans misfortune and reappeared at Aintree on 7th August, Dickson finishing 3rd. The car's 1961 season was then completed with two further wins for Dickson at Charterhall on 24th September. During the year, this Cooper Monaco's ownership title had been transferred to Ecurie Ecosse's long-time supporter and benefactor, Major Gordon Thompson. In 1962 the car lay unused after its Climax FPF engine had been removed and installed in the team's new Tojeiro Coupé. During 1963 – as American V8 engines were preferred for the team's two Tojeiro Coupés – the elderly Monaco was revived for use in Ecurie Ecosse's home-events race programme. Bruce Halford finished 6th in the Silverstone May Meeting before Jimmy Blumer took three 3rd places and a 9th in four June-July events at Ouston aerodrome, Charterhall, Snetterton, and Oulton Park. David Murray then entrusted the car to a young newcomer from Dumbarton named Jackie Stewart, younger brother of erstwhile Ecurie Ecosse Jaguar and Cooper-Bristol driver, Jimmy Stewart. He promptly won his first six races in a row: at Snetterton on 5th August 1963, Oulton Park on 31st August, Goodwood on 21st September, and Charterhall on 29th September. These startling performances in the ageing Cooper Monaco famously prompted Goodwood track manager Robin McKay to recommend Jackie Stewart to Ken Tyrrell and John Cooper. They gave him a test drive back at Goodwood for their embryonic Formula 3 racing team, and Stewart was immediately signed-up, launching his career as a full-time professional racer and ultimately three-time Formula 1 World Champion Driver. Between May 1960 and April 1964, the Ecurie Ecosse Cooper Monaco contested no fewer than 32 races, of which it won 16. But at Oulton Park on 11th April 1964, Jackie Stewart was driving during practice when he lost control on cold tyres and hit a track-side tree. He was wracked with remorse for having damaged the Cooper '…for it was a wonderful car, and I had won a lot of races with it…' Ecurie Ecosse then made the most of the opportunity to rebuild the damaged, but self-evidently far from obsolescent, sports-racing car as an open-wheeled Formule Libre single-seater. As the 'Ecosse-Climax' it then proved sensationally successful in the hands of another promising Scottish driver, Bill Stein. Competing on Scottish and northern English circuits, he achieved nine race wins and three 4th places, and at the end of 1966 the car was retired into Major Thompson's private collection. There it remained until 27th August 1970, when it was sold by auction – among other Thompson Collection cars – at the Gleneagles Hotel. In the audience was a holidaying American family with a 9-year old son named Todd Jenkins. He was entranced by the Ecosse-Climax and convinced his father that he should bid for it. The hammer fell in his favour and the Jenkins family became the Ecurie Ecosse Cooper's owners. The car was promptly shipped to the USA where it remained until 1995 when its now-adult owner Todd Jenkins decided to have it fully restored to its original 1960 sports-racing configuration. Beginning in 1995, Akin Motorsports of Ossining, New York, restored the car, Bob Akin having owned and raced his own Cooper Monaco since 1972. All surviving components were either restored or replaced by matching-specification as-original items. New aluminium bodywork and fuel tanks were crafted by Steve Hall's Panel Shoppe of Stratford, Connecticut, using templates taken from an un-restored original Cooper Monaco. Ted Wenz rebuilt the car's original Coventry Climax FPF engine and Cooper-Knight 'C5S' five-speed transaxle-type gearbox, while the bodywork was finished in original-style Ecurie Ecosse Flag Metallic Blue paintwork. Todd Jenkins, who had been competing in Porsche cars for several years, gave the restored Cooper Monaco a fine debut when he qualified it on pole position and won his race at the 1998 Lime Rock Park Vintage Festival meeting. The car also won its class at the Lime Rock Concours, and into 2000 it again qualified on the front row of the starting grid and won overall at the SVRA Virginia Beach Air Base races. Subsequently, the car was acquired by Mr Dick Skipworth for his Ecurie Ecosse Collection and raced in selected Historic events, including by Barrie Williams at the Monterey Historics at Laguna Seca in both 2002 and 2006. The car was demonstrated in the Sir Jack Brabham Tribute parade at the Goodwood Revival Meeting in 2005, and again – by Dick Skipworth – in the 2007 Revival Meeting's Roy Salvadori Tribute. The car's overall racing record through its Ecurie Ecosse career as the original sports-racing Cooper Monaco includes no fewer than 17 first places, one 2nd place, five 3rd places, and 28 top-ten placings overall – against only five retirements – from a total of 34 race starts. As the open-wheeler Ecosse-Climax in 1965-66 it then contested a further 15 races, driven 12 times by Bill Stein and in three final events by Bill Dryden. Bill Stein scored no fewer than nine wins in the car – at Ingliston, Croft, and Rufforth – plus one 4th place, and posted only two retirements, while Bill Dryden achieved a further two 4th places and only failed to finish once – all at Ingliston outside Edinburgh. The current vendor purchased the ex-Ecurie Ecosse Cooper Monaco at Bonhams' New Bond Street Sale in December 2013 (Lot 91). Since then it has been extensively restored – the engine, differential, clutch, passenger's seat, and roll bar all receiving attention. The present owner has competed with the car at Solitude, the Salzburgring (finishing 2nd), and at Rossfeld, where it won. So here we offer a potentially highly competitive late-series Cooper Monaco, with coil-spring rear suspension and a 2½-litre Climax FPF engine, which has well-established provenance, including the Le Mans 24 Hours and Nürburgring 1,000-Kilometre races. Above all, it has been preserved and campaigned for many years as the unique Ecurie Ecosse car: ex-Sir Jack Brabham, ex-Roy Salvadori, and ex-Sir Jackie Stewart, for whom it proved instrumental in setting him on the road to three World Championships in Formula 1. via Bonhams Bond Street '13 $360k. 343 1928 Bentley 6.5 Litre Gurney Nutting Saloon FA2504 £800,000 £1,200,000 €890,000 €1,300,000 $1,000,000 $1,500,000 "This particular 6½-Litre, registration number 'UE 6835", is one of 242 erected on the long ST3 (12' 6″") chassis intended for formal coachwork and favoured by the majority of customers. This particular chassis was laid down in 1927 and bought by the Bird family of Bird's Custard fame, who sent it to Gurney Nutting for bodying. Gurney Nutting bodied 101 6½-Litre chassis, of which seven survive: 'FA2504', the car offered here; a second Standard Six Weymann saloon on chassis 'FA2507'; and five Speed Sixes, one of them a four-door Weymann saloon. Standard Six saloons are now extremely rare; indeed, there are only six known survivors: two by HJ Mulliner, two by Gurney Nutting, one by Barker, and one by Freestone & Webb. As Bentley authority Dr Clare Hay remarks in her customarily thorough report (copy on file), far more Standard Sixes were fitted with such coachwork new than with open sports bodies. The style is fairly formal, a four-door four-light with a bench front seat and a dropping division, with occasional seats to the division to seat up to seven. The finish was originally fabric throughout, with the bonnet fabric covered. 'UE 6835' is a remarkable survivor, and in 2005 was featured in Nick Walker's book, Coachwork on Vintage Bentleys. The Bentley remained in the Bird family's ownership until just after WW2 when it was sold to the Reverend Noakes, a Master of Foxhounds in the West Country. After the last entry in the Service Record in February 1939 there is a gap in the records until 1963, when 'UE 6835' was owned by LW Peachey. The next owner listed in the logbook is Christopher Patrick O'Driscoll Lumley in May 1964, followed by the present owner from March 1966. The first available photograph of 'UE 6835' was taken at the BDC Kensington Gardens concours in June 1966. It is unclear how much work has been carried out over the years, though the body had been panelled up to the waistline before 1966. This is not unknown as a repair method to cover damaged fabric. By this time, large formal saloons and limousines had plummeted in popularity, and many had been laid up during the war and fallen into disrepair. Indeed, in Glass's Guide, crossed hammers were shown against the 6½-Litre and 8-Litre limousines meaning they were considered suitable only for demolition! What demand there was came from enthusiasts wanting to build Speed Six look-alikes. By some quirk of fate, 'UE 6835' managed to avoid destruction, so when the current owner acquired the Bentley in March 1966 he set about having it carefully restored to original specification, the only 'modern' update being discretely fitted flashing indicators. Indeed, so original is this extraordinary car that it even retains the correct Smiths 5-jet carburettor, Auto Vac, and Barker headlight dipping mechanism; if not unique after some 53 years with but one owner it is certainly very unusual. Other noteworthy features include fitted cocktail cabinets, a Brexton trunk, and a (working) speedometer and clock in the internal division, enabling the rear passengers to see the car's speed. During this period the car travelled to the owner's home in the South of France; participated in Brooklands driving tests; BDC Silverstone race meetings; and took many brides to church, family weddings etc. In 1960s, 'UE 6835' had the misfortune of being involved in a slight accident, the offside front chassis member and wing being damaged. P&A Wood were commissioned to repair the car. There was no damage to the radiator or even the numberplate, but it was felt wise to repair the chassis member correctly, necessitating removal of the body together with all major components. While this was undertaken, a full rewire was carried out together with any other work deemed necessary. Interestingly, the condition of the car was such that the insurers required no contribution for improvements. Always serviced and maintained by renowned Bentley specialist Tony Fabien, 'UE 6835' is featured on the front cover and extensively within the aforementioned Coachwork on Vintage Bentleys. Highly unusual in retaining its original body, this outstanding 6½-Litre is the perfect way to celebrate Bentley's 100th Anniversary in 2019 and is certain to be a talking point among the hoards of Vanden Plas-style Speed Six and Team Car replicas." 345 1992 Williams FW14B FW14-08 On request On request On request On request On request On request This is most certainly the case with 'Red 5' – which Bonhams are now so privileged to offer here for sale by public auction. This is the stupendously sophisticated Formula 1 Williams-Renault in which British racing driver Nigel Mansell made his shatteringly successful start to the 1992 World Championship racing season. Insinuate yourself into its snug-fitting, tailormade, carbon composite cockpit and you will find yourself lying there as if propped-up by pillows, head just high enough to see forward over the car's lean Roman nose. Control push-buttons stud the tiny steering wheel centre. Finger paddles tucked just behind it control the forward gears. Behind one's carbon-cradled shoulders is slung the complex, frontier-technology Renault RS03 racing engine. This is a 67-degree V10-cylinder power unit, for which during 1992 Renault quoted its V10s as producing from 700bhp at 12,500rpm, to 760bhp at 14,500rpm. The unit's peak revs were cited as 14,400rpm, and it drove through a transverse-shaft Williams 6-speed semi-automatic gearbox. The particular power unit installed in 'FW14-08' as offered here is serial number 240, and the accompanying Renault Sport engine-history document (itself vanishingly rare 'out of captivity') confirms it is the actual engine used by Nigel Mansell in winning that season-opening South African Grand Prix back in 1992. And there is more. This Williams-Renault did not merely have a traditional suspension system attaching its four fat wheels and tyres to the centreline fuselage. Oh no. This Williams-Renault featured a computer-controlled 'active suspension' system in which its springing medium did not merely react to impacts from rippled track surfaces, bumps and kerbs. Instead, when planet Earth's irregular surfaces deflected this Williams car's suspension, it actively pushed back to compensate. All motor cars fly through fluid air. Ingenious aerodynamicists harness that fluid's flow around, over and under the modern-era Formula 1 car to force it down against the track, to enhance the otherwise tenuous grip its tyres have upon our planet. Enhanced grip improves acceleration, cuts time spent braking, slashes time lost in cornering. Every split-second saved improves lap time around each target race track. And taking least time wins races. To provide maximum aerodynamic advantage the car's shape must be presented consistently to the fluid airstream rampaging around it. Active suspension achieved exactly that. Now think back into that figure-hugging cockpit. Just there on the interior left-side panel – hard by the driver's left hip – is an aluminium identity plate. It identifies this individual car as Williams 'FW14/08' – the British-built eighth chassis of its type. And upon that same left-side panel are five faded stickers – applied there in period, 1992 – bearing five red stars, and five gold. They commemorate '08's staggering achievements through the opening phase of that memorable year's 16-round World Championship race series. Within this historic Grand Prix car's cockpit the rugged, moustachioed, relentlessly brave British star driver, Nigel Mansell, qualified fastest – on pole position – for the five consecutive opening races of that record-breaking season. Those five pole positions are signified by the red stars there within the car's cockpit today. He then won each of those great Grand Prix races, in succession – in South Africa, Mexico, Brazil, Spain and in the 'San Marino' Grand Prix, run at Imola in Italy. So five gold stars accompany the red… Overall, chassis '08' offered here at Goodwood, contested no fewer than 13 of the 1992 Formula 1 World Championship season's 16 qualifying Grand Prix races. This legendary car finished second twice, and added 3rd, 5th and 8th place results, while failing to finish three times – only once due to mechanical failure, the other two being driver errors. After being driven by World Champion Nigel Mansell in seven of these races, it was entrusted to his Italian team-mate Riccardo Patrese from the mid-season British Grand Prix forward. Riccardo Patrese then contested a further six Grand Prix races in this well-used car, scoring World Championship points in three of them before ending the season runner-up to Mansell in the Drivers' competition. The car's frontline competition career ended, in fact, in the spectacular near-somersault incident on the pits straight at Estoril during the 1992 Portuguese Grand Prix, when Riccardo Patrese pulled out to pass Gerhard Berger's rival Ferrari at around 160mph and the Austrian backed-off unexpectedly to turn into the pit lane. Williams-Renault FW14-08's right-front wheel struck the Ferrari's left-rear and the British car planed high into the air before touching down initially on its left-rear wheel and clattering to rest along the pit barrier, Riccardo Patrese unhurt. Despite such a spectacular looking incident the car sustained merely peripheral damage and it was speedily repaired back at home base in Didcot. And there is still more to this remarkable machine's competitive record – chassis '08' also qualified on pole position no fewer than seven times for its 13 Grand Prix races, driven by Mansell on six of those occasions, by Patrese once. And it also qualified second fastest for two Grands Prix, once third and twice fourth. In sister Williams-Renault FW14B team cars, Nigel Mansell also won four more of that season's Grand Prix events, thereby becoming the first driver in Formula 1 racing history to win nine World Championship-qualifying races within a single season. And in parallel, of course, Williams-Renault won the 1992 Formula 1 Constructors' World Championship. Here we have a record of Mercedes-Benz proportions through their epic 'Silver Arrow' seasons of the 1930s and 1950s. That is the historic stature of this Williams-Renault. In fact the Williams-Renault FW14B design proved itself to be one off the most outstandingly dominant Grand Prix racing cars of all time. It was also one of the most sophisticated and most exquisitely complex ever built and raced with such consummate success. And it is now available to you, right here, in beautifully preserved running order… "on the button". This magnificent mechanical artefact was designed by Adrian Newey – one of the most successful Formula 1 designers of all time. Looking back upon the Williams-Renault FW14B, he recalls: "…the car was made for Nigel. He had tremendous confidence in his car control and could cope with the fact he just had to ignore what he called the (active suspension's)'funny sensations' … and trust that the more speed he carried into the corner the more downforce and thus more grip he'd have. For a driver it's all about confidence. Nigel just knew that if the car did something unexpected he'd sort it out…and he did". Adrian Newey continues: "The FW14B is my first World Championship-winning car, so obviously it holds very fond memories for me. The level of domination it achieved makes it very special". But through the car's design period in the winter of 1991-92 it was a case more of hope than certainty: "We just worked to improve upon the preceding FW14A. The big innovation was active suspension, simply to present the most stable aerodynamic platform to the airstream. One unsung hero was our head of electronics, Steve Wise. Active would never have worked without an adequate onboard electronic control unit – but there wasn't one on the market. Over a two-year period, Steve just made one for us, in-house…" The outstanding race of that extraordinary year? "The opening South African GP at Kyalami. We went there knowing we had good pace, but you never know how much your rivals have also found. In fact, from the start of practice the FW14B just dominated. "So we had the speed, but we weren't confident of reliability. We'd had a couple of issues in testing, one of which had really spooked Nigel. But the more he drove with the active suspension, the more his confidence grew. It plainly felt odd from the driver's perspective, a lag between steering input, and reaction, but he would just pitch it into a corner, with the confidence he could sort it out from there. Team-mate Riccardo never matched Nigel's sheer bravado. "By mid-season it was obvious we were heading for a World Championship win, and then Nigel realised his only serous rival for the title was his team-mate, driving the sister car. So then began all kinds of games to unsettle Riccardo – like misleading him on suspension settings… "The worst race for us was the Canadian GP at Montreal – that's still painful, losing another race we should have won. Nigel just ran the car far too low. But once we realised we had that dominant advantage we just concentrated absolutely on making the cars reliable – not making too many changes, painstakingly inspecting everything, ensuring absolute hydraulic cleanliness – being meticulous, really. That part at least isn't rocket science…" While muscular, bullish Nigel Mansell went to town in the FW14Bs, his team-mate Riccardo Patrese did well with them but never quite 'clicked' to the same degree. Eric Faron, his Renault Sport race engineer explained how "Riccardo finds driving the car on the limit less easy than Nigel. That is quite simply because Riccardo drives a great deal with his body. Unfortunately for him, the reactive suspension filters out many of the physical sensations which are traditionally transmitted to a driver. The FW14B demanded a different driving technique from a more classical car, and that doesn't really suit Riccardo's style…" The Williams-Renault's characteristic of fleetingly losing losing rear-end grip as airflow to the rear diffuser would be disturbed momentarily on the turn-in to a high-speed corner would see Patrese instinctively backing-off the throttle while in contrast – according to the telemetry record – Nigel Mansell, 'Il Leone' as the Ferrari fans would christen him ('The Lion') would just "…keep the throttle firmly floored". So here is an historic mechanical artefact of towering quality – and of stupendous achievement – absolutely exemplifying the extreme interface between high-technology and the human animal – wielded in its pomp by a true World Champion, whose fearlessly, visibly, total driving commitment communicated itself to battalions of adoring fans, absolutely worldwide. 346 1933 MG J4 Midget J4 002 £180,000 £240,000 €200,000 €270,000 $230,000 $300,000 One of the most sought-after of competition MGs, the J4 became the company's ultimate small-capacity sports-racing car, nicknamed the 'Baby K3' as being the 4-cylinder equivalent of its famed 6-cylinder K3 Magnette big brother. Factory assembly of this car – one of only nine J4s built 1932-34 – began on April 26, 1933. It was one of the latest improved 'Lightweight' J4 Midgets incorporating many C-Type components and larger brakes. For the major EifelRennen race at the Nurburgring in Germany on May 28, Hamilton had entered the car in the 800cc class – to tackle 12 laps of the demanding 14.2-mile circuit. During the race he kept pace with far more powerful 1,500cc category cars and even the slower Grand Prix machines – finally winning his class by a staggering 24 minutes. Back on home soil in Ulster on September 2, the mighty challenge of the year's RAC Tourist Trophy beckoned. None other than Tazio Nuvolari had been persuaded to handle the potent supercharged MG K3 Magnette, as Nuvolari familiarised himself with both it and the Ards circuit. Hugh Hamilton was one onlooker in this MG J4, learning from the Maestro's practice performance. One race report then read: "The first hour showed clearly who was going to be important; and they were Hamilton, lapping furiously at 75mph and leading on handicap by 53 seconds…" then "Nuvolari, over a minute ahead of Eddie Hall and five minutes ahead of the big Rileys…". The report continued: "Hamilton had a handicap lead of only a few seconds before Nuvolari came in (for his pit stop) and at once speeded up still further, leaving the rest of his class ten minutes behind and breaking the class lap record again and again. At 2 o'clock he came charging in and at once began throwing away the race. Never calm or untemperamental, he shouted instructions at his mechanic, who responded the wrong way and became more ham-fisted as Hamilton became angrier. Fuel was thrown everywhere, the filler-cap left undone, it took a minute to raise the front axle. Then the starter failed, the bonnet was opened up again while the mechanic did his best to use a spanner as a switch, succeeding only in setting fire to his petrol-sodden gloves and overalls with a spark from the terminals. The poor man was now in such a state that he could not buckle the bonnet strap and…well, all in all it was nearly seven minutes before a furious Hammy was safe away…". This bungled pit stop left Nuvolari a few seconds in the lead: "Robin Mere's 'flat out' pit signal was not needed…. Nuvolari was touching his brakes only momentarily at Comber and Dundonald. "On the penultimate lap Hamilton's fuel gauge was registering zero; he knew he would never get round again. In a flurry of dust, and to everyone's bewilderment, he tore in, threw in a can of petrol in 20 seconds, and tore away again. It was remarkably fast work, but not fast enough. Nuvolari came by then, and Magnette led Midget. A few miles back his engine had cut, he had raised his hands in despair, and replaced them promptly on the wheel as Hounslow switched over (tanks). Reserve gave him enough – just enough – to keep ahead and complete that last lap…". Nuvolari's MG Magnette won the 5hr 56mins race – and the 1,100cc Class G – at 78.65mph – Hamilton 2nd in his J4 Midget, and winner of 750cc Class H, at 73.46mph. The fiery Ulsterman then took his car all the way to Brno for the Masaryk Grand Prix in Czechoslovakia on September 17. That race began in heavy rain and a rising gale. After a slow start, Hamilton began to climb through the field despite the atrocious conditions. After 7 laps he had caught Landi's 1,500cc Maserati 4CM to take second place behind Burgaller's leading Bugatti Type 51A, catching the latter when both had to stop for fuel. This time Hamilton's pit staff worked brilliantly, and he restarted ahead of Burgaller, but just as Landi shot past them both. Hamilton tore after the Maserati and the Italian then spun, leaving Hamilton's 746cc MG not only leading the 1,500cc class but gaining on nothing less than Luigi Fagioli's Scuderia Ferrari-entered Grand Prix Alfa Romeo Tipo B Monoposto, second overall in the Masaryk Grand Prix… On lap 10 the recovering Landi repassed Hamilton but the MG driver clung on to the Maserati's tail and began looking for a way to repass through the spray. He was wearing a waterproof cape, but it worked loose around his waist and on lap 11 the battering airstream blew it up over his face, causing him to lose control. The little MG rolled several times, Hamilton suffering numerous broken ribs. Irrepressible as ever he quickly recovered – sailing to India that winter to shoot tigers. He would return to racing in 1934, driving a Whitney Straight team GP Maserati 8CM, only to crash fatally in it on the last lap of the Swiss GP at Berne. During the winter of 1933-34, this ex-Hamilton MG was rebuilt at Abingdon-on-Thames around a replacement chassis. For 1934 it was loaned to Bobby Kohlrausch in Germany, who ran it painted white beside his K3 Magnette in German events with great success. For 1935 this car's lightweight body was swapped for the standard J4 unit from 'J4 003'. The car was then sold to Margaret (Peggy) Blathwayt who, as Mrs J.C. Elwes, won with it in four minor British events. Riley racer Hector Dobbs then offered it for sale, finding an eager young buyer in entrepreneurial budding industrialist and later Aston Martin works driver Dennis Poore. He sprinted and raced the car at least ten times that year, and eight more through 1938-39 – accumulating at least seven class victories. He retained the car throughout the war, before selling it in 1948 to the Hon. J.C.C. Cavendish who ran it at Goodwood in 1949. This historic little MG's association with contemporary and future greatness did not end there. In 1952 it was acquired by David Piper – who would become so familiar throughout the racing world as the successful private entrant and occasional works driver of Lotus, Ferrari and Porsche cars. He learned his craft in this car through 1952-54, and remembers it very fondly today: "It was a great car…", he recalls, "I absolutely loved it, and had great success with it. It had a big Powerplus supercharger, and an enormous bronze carburettor. One of its best features was its absolutely beautiful ENV gearbox with a wonderful change – like a Ferrari, in fact. It had no doors and a 'Brooklands box' silencer. "I bought it from Johnny Cavendish – Lord Chesham. Nice chap, great car enthusiast. I was an agricultural contractor and I'd been doing a lot of work on his farm at Latimer. I saw the car there, we began talking – and I ended up buying it. That MG engine was wonderful – a labour of love. I used to turn the Marchal headlamps round to face backwards so they were streamlined for racing. It really was a lovely car!" After racing and sprinting it widely, David Piper part-exchanged it with Austen Nurse. The car subsequently passed through trade hands before lying fallow for some years, until 1964 when it was acquired by Colin Tieche who restored it to the highest standards. It ran on the Mille Miglia Retrospectives and in 1975 carried Mr Tieche to 2nd place in the 'Motor Sport' Brooklands Trophy competition. In 2007 it joined Hans Telmert's collection in Sweden, before passing to the present Scandinavian vendor in 2010. As an example of one of the rarest and most potent of pre-war competition MGs the opportunity to acquire a J4 is rare enough. But in 'J4 002' we proudly offer a car campaigned in some of the most major races of the 1930s, by a truly rising-star British driver and which then launched the careers of two more great British drivers. MG 'J4 002' is perfectly eligible for the modern world's most prestigious Historic motoring events and – exactly as in period – is poised to punch above its weight. We recommend the closest consideration of this truly thoroughbred racer in miniature. 347 1962 Aston Martin DB4 Series IV Vantage DB4/982/R £400,000 £500,000 €450,000 €560,000 $500,000 $630,000 With the arrival of the Series IV, a Special Series Vantage engine became available as an option. This unit, equipped with larger valves, raised compression ratio and triple SU carburettors produced no less than 266bhp at 5,700rpm, an increase of 26bhp over standard. Almost all DB4 Vantages, around 45 in all, were built with the faired-in headlights of the iconic DB4 GT, a feature that would be carried over the DB5. Its accompanying copy guarantee form reveals that this DB4 Vantage, chassis number '982/R', was built in right-hand drive configuration and left the factory equipped with overdrive, a 3.77:1 rear-axle ratio, and chrome wheels. It is also one of only seven Series IVs fitted with the DB4 GT instrument panel with its separate gauges. The Vantage was delivered new via the Brooklands dealership to a Mr Paterson of London on 23rd October 1962. One Mr Butler of Denham is listed as owner from 18th June 1969, while an old-style green continuation logbook records a Mr Sheppard as a later owner, followed by a Mr Ifor of Connaghs Quay in 1975. A (copy) registration document records one P Harbach as owner from October 2000. However, he must have already owned the car for some time, as the AMOC Register lists three concours events attended during Mr Harbach's ownership between 1997 and 1999, with a best award of 2nd in class. There are invoices on file for restoration work dating back to 1993. Between 2005 and 2011, '982/R' was owned by a Mr R Dresner, who commissioned marque specialists to undertake further sympathetic improvements to the running gear and matching-numbers engine. Converted to run on unleaded fuel, the latter was also increased in capacity to 4.2 litres and fitted with Ross pistons; a nitrided EN40B crankshaft; crack-tested and shot-peened standard connecting rods; Kent 'fast road' camshafts; and a 123 electronic distributor. It is understood that the maximum power output was increased by approximately 75bhp over the standard Vantage. To better exploit the engine's enhanced potential, a Tremec five-speed gearbox was fitted while other improvements to the drive train include a limited-slip differential; an up-rated clutch with a Tilton hydraulic release bearing, and a dynamically balanced prop-shaft. The original four-speed gearbox is included in the sale, buyer to collect from Aston Martin Works. The upgraded suspension features Koni front shock absorbers; adjustable spring platforms; up-rated lever-arm rear shock absorbers; Harvey Bailey springs; and an anti-roll bar kit. DBS-specification twin-servo disc brakes have been fitted and the braking system further upgraded with EBC 'Green Stuff' brake pads and DOT 4 brake fluid. This car also benefits from the installation of air conditioning and power assisted steering, and is equipped with a sliding sunroof and period radio. Retaining the proportions of the original DB4 while combining the attractive faired-in headlights and dashboard of the DB4 GT with the high-performance Special Series engine, the rare Series IV Vantage is considered by many aficionados to be among the most collectible of post-war Aston Martins. Offered fresh from servicing at Aston Martin Works (bill on file), this immaculate example is ready to be enjoyed. via RM Salon Prive '11 $438k. 348 2000 Rolls-Royce Corniche V Cabriolet YCH68156 £100,000 £140,000 €110,000 €160,000 $130,000 $180,000 The original Corniche convertible had been a major success for Rolls-Royce, so the revival of the model in 1999 after a gap of five years caused considerable excitement. Costing £250,000 in the UK at time of launch, the new Corniche more than lived up to its illustrious name and proved an immense success, especially in North America where its combination of unmatched luxury, effortless performance, and soft-top style was found highly attractive. When production ceased in 2002 only 374 of these '2nd Generation' Corniches had been built, of which only 48 were right-hand drive like this beautiful example. One the last hand-built Rolls-Royces to leave the factory in Crewe, this Corniche V has belonged to the current vendor since 2015, while the immediately preceding owner, a member of the nobility, had owned it since 2008. Since acquisition the car has formed part of the vendor's private collection, being kept at a constant temperature in a de-humidified garage and professionally valeted on site fortnightly. Described as in concours condition, the Corniche has benefited from extensive mechanical and electrical renovation while in the vendor's care, with works totalling £26,000 carried out over the last four years by recognised marque specialists, Phantom Motors Ltd. Only some 6,500 miles have been covered since 2008, during which period eight services have been carried out (approximately one every 800 miles). The last service was carried out May 2019 (150 miles covered since) and the car is MoT'd until 1st December 2019. Service history is extensive, including every service invoice, MoT certificates, all original invoices, and full Rolls-Royce factory specification in a leather-bound folder. This car's standard equipment includes an adjustable steering column, air conditioning, central locking, and electrically adjustable heated seats. Options fitted at the factory include the following: Burr walnut veneer trim and waist rails; blue hood; dark blue carpets; French Navy seat piping; R-R emblems stitched to headrests; wood veneer steering wheel with French Navy leather centre; dark blue lambs' wool rugs; painted wheels with chrome-plated wheel finishers; thin coachlines; painted exterior mirror caps. Also particularly noteworthy is the new Alpine CDE-178BT sound system, new Audison speakers (x8), and 4 x 130W channel amplifier with hands-free Bluetooth connection (fitted in 2015 at a cost of £2,100). Finished in Royal Blue with Barely hide (Magnolia) interior, arguably the most sought after colour combination, this exceptional last-of-the-line Corniche has covered only some 26,750 moles from new and is presented in truly immaculate condition. 349 1936 Squire 1.5 Litre Ranalah Tourer 1501 £650,000 £750,000 €730,000 €840,000 $810,000 $940,000 Maroon over red leather. 110HP 1496CC I4. Four speed manual. RHD. Delivered to Val Zethrin, UK (1) with Ranalah bodywork, raced at RAC Rally '36 and Brooklands in '36 & '37, Thomas Gibson '37 (2), various '55 – 59, Bill Comer, USA '59, Walter Weimer '74, Harry Petronis '80s, unknown, vendor '11, restored by CMC to concours standards. via Gooding Scottsdale '17 not sold at $1.5 mil.+ 350 1953 Bentley R-Type Abbot Coupe B135SP £100,000 £150,000 €110,000 €170,000 $1,300 $1,900 As had been the case in pre-war days, Bentley's new R-Type could be ordered in chassis form for bodying by specialist coachbuilders, this example being the work of E D Abbott of Farnham, Surrey. After two prototypes had been completed, Abbott bodied 14 'production' cars, that offered here being the first. Of the remaining 13, one was fitted with automatic transmission and one was built with left-hand drive. Abbott's R-Type was first introduced to the motoring public at the 1952 Earls Court Motor Show, receiving enthusiastic reviews. Indeed, one journalist even went so far as to claim it was 'the best thing at the show', despite the fact that H J Mulliner's officially sanctioned 'fastback' Continental was making its debt at the same venue! Although not designated a Continental, right-hand drive chassis 'B135SP' was supplied with the shallower Continental-type radiator, lower (28 degrees) steering column, and higher-than-standard (12/41) axle ratio that enabled it to make optimum use of the Abbott body's reduced weight and superior aerodynamics. Accompanying copy chassis cards record the supplying retailer as Jarvis & Sons Ltd of London SW19 and the first owner as R R Burton Esq of Warsash, Hampshire. The Bentley was first registered (as 'SPK 1') on 12th May 1953 to Mrs Ethel Mildred Burton, presumably the purchaser's wife. The car was back with Jarvis & Sons in September 1956 and remained in Hampshire passing to the second recored owner listed in the original logbook, Fenwick Storage & Transport of Totton, Hampshire, on 30th July 1965. Three further owners are listed, the last of whom, James Adrian MacHarg, acquired the Bentley on 4th July 1969. In January 1972, while the car was still owned by Mr MacHarg, the engine was dismantled, rebuilt, and converted to 'Continental' specification by marque specialists Brunt's of Silverdale using a second-hand high-compression cylinder head (bill on file). According to the old-style V5 registration document on file, Mr MacHarg kept the Bentley until 27th November 2000, by which time it had been reregistered 'RVX 21'. Its most recent UK registration was 'RSL 310'. The current vendor has owned the car since July 2007 and up to May 2019 had covered 4,362 miles in it. During the vendor's ownership the Bentley has wanted for nothing, as evidenced by servicing and maintenance invoices on file totalling in excess of €125,000. Finished in two-tone blue with light grey leather interior, this rare and desirable coachbuilt Bentley R-Type comes complete with fitted tool kit, an original owner's manual, and a substantial file of history. The car is currently registered in the Netherlands. 351 1991 Ferrari Testarossa 88379 £100,000 £130,000 €110,000 €150,000 $130,000 $160,000 One of only a relative handful of its type produced in right-hand drive configuration, this superb example of the legendary Italian supercar was sold new by Roadfield Motors, Belfast and first registered as 'CIG 777' on 15th March 1991. The car was delivered in Bianco (white) with Blu Scuro (dark blue) hide interior and matching carpets. The accompanying Ferrari leather wallet contains the owner's manual, sales and service organisation booklet, warranty card, and service booklet, the latter stamped seven times between 1992 and 2003. The latest entry is dated 2015 when the cam belts were changed and a major service carried out at 26,263 miles by SB Race Engineering. Other documentation includes an old-style V5C in the previous owner's name; a New Car Order Form with bill for £92,053.53 dated 25th February 1991; Maranello Concessionaires Ltd parts sheets; assorted invoices for servicing and maintenance; and a quantity of expired MoTs and tax discs. Offered fresh from pre-sale servicing by Meridien Modena, Southampton, this quite exceptional Testarossa is presented in immaculate condition. 352 1999 Ferrari 550 Maranello 114380 £70,000 £100,000 €78,000 €110,000 $88,000 $130,000 This right-hand drive 550 Maranello was delivered new to the UK and first registered on 28 May 1999. Acquired by the deceased vendor from Graypaul in April 2018, it is finished in Grigio Titanio with dark grey interior trim, all of which presents very well. Under the bonnet the car is also very tidy which is testament to the care it has received. The mileage is stated to be 25,900 and the history file includes stamped Ferrari Service Books together with a spreadsheet summarising the car's service history by marque specialists (including the all-important cam belt service most recently carried out at 24,617 miles in July 2017), sundry invoices and a UK V5C. 353 1969 Morris Mini S Margrave KA2S61321285 £55,000 £58,000 €62,000 €65,000 $69,000 $73,000 Wood & Pickett's converted Minis, like those of Harold Radford, were much in demand from show business celebrities and 'creatives' of all kinds, as is the case with this Cooper S, which was sent to W&P when new for rebuilding to Margrave specification. Its first owner was American sports car racer David Weir, the highlight of whose short career was a 4th place finish at Le Mans in 1971, sharing David Piper's Ferrari 512LM with Chris Craft. Weir was followed by celebrity hairdresser Leonard Lewis and then fashion photographer Clive Arrowsmith. Arrowsmith was succeeded by John Hammel, Paul McCartney's long-time personal assistant, while the Mini's next owner was Denny Laine, guitarist with the Moody Blues and McCartney's band, Wings. Reinforcing the Wings connection, Arrowsmith was responsible for designing the cover of the group's 'Band on the Run' album. We are advised by the vendor that this is the only Mini Cooper S Mark II converted to Margrave specification by Wood & Pickett. Specification highlights include a full leather interior, electric windows, and Minilite alloy wheels. Restored between 2010 and 2012, this Cooper S had already been judged 'Car of the Show' at the 2009 London-Brighton Mini Run. Described by the private vendor as in generally very good condition, retaining its original interior, this rare and desirable Mini variant is offered with restoration invoices, current MoT, and a V5C Registration Certificate. 354 1968 Lola T70 Mark III Coupe SL73/128 £350,000 £450,000 €390,000 €500,000 $440,000 $560,000 Delivered as a Mark III Spider to Carl Haas racing (1), fitted with an Al Bartz-prepared 365 cubic inch – 6.0 litre – Chevrolet V8 engine, Riverside '68 Parsons 4th, Laguna Seca '68 Parsons 4th, St. Jovite '68 Parsons 6th, Kent '68 Parsons 2nd, Watkins Glen '68 Parsons 2nd, Bob Nagel (2), Ford 427cui engine fitted, Bridgehampton '68 Nagel, V.I.R. '68 Nagel 1st, St. Jovite '68 Nagel 1st, raced widely in SCCA and Can Am '69-70, Gene Fisher (3), raced in SCCA thru '72, Stephen Langton & Fred Bray, UK '74 (4), Ray Potter '76 (5), Nigel Hulme '80 (6), converted to Mark IIIB Coupe form, raced thru '80s, Peter Kaus, Germany '89 (7), restored as a Mark III Spider, via Bonhams Goodwood '06 to Shaun Lynn, UK (8), restored by Clive Robinson, Alberto Francioni (9), vendor '14 (10). Raced successfully since '09. The engine – built by Mathwell and producing 500 bhp (dyno sheet available) – is still fresh with just a few hours running time. Furthermore every relevant component has been checked and crack-tested. Maintenance and race-prep has been on a 'money no object' basis. It is therefore no surprise that '128' has been a front-running entry at the Masters Historic Proto championship, the Peter Auto CER1, and Classic Le Mans. It has achieved a 1st, 2nd, and been a consistent top five finisher. The Lola comes with new HTP papers, a large race file (set-up specs, lap times etc), and numerous invoices are included. A spares package is also offered with the car, including magnesium wheels (including a new set), tyres and other race related items. Please enquire with the office for an inventory. Today it merits the closest consideration as we offer a Lola T70 with such unbroken history and detailed provenance; in ready to race condition and maintained to the highest standards; with an impressive spares package; plus the added cachet of being offered with both alternative body styles. Who wouldn't want to race in coupe form at Le Mans Classic and then Can-Am Spyder form at Laguna Seca…. It is indeed a mouth-watering opportunity. 355 1939 Lea Francis 12.9 Super Sports Corsica Roadster 129 £90,000 £140,000 €100,000 €160,000 $110,000 $180,000 Chassis number '129' is the second of three Corsica-bodied cars in a series of four Super Sports models, the first of which (chassis '52') had been commissioned by motor dealer Charles Follett, one of the newly reconstituted company's directors, and bodied by Carlton. '129' was originally commissioned by W G Iliffe of Ightham, Kent, a member of the eponymous publishing family. It is not known how long Iliffe owned the Lea-Francis, but the car was registered to one Kenneth Bedford on 28th June 1958 and was pictured in London in the spring of 1960 (see photograph on file). The accompanying old-style continuation logbook lists the next owner as John Allan Rayfield (from 17th February 1965). By 1977, while still owned by Rayfield, the car had been dismantled. This ultra-rare Corsica-bodied Super Sports owes its continued existence to Lea-Francis enthusiast Frank Delaney, who rescued it from dereliction in 1982. Having acquired the Lea-Francis, Frank Delaney began the lengthy process of researching its original specification and finding any missing parts. By 2004 he had decided that if the project were ever to come to fruition it would have to be entrusted to a specialist. David Royle of Darlington commenced the restoration, which was later taken over and completed by The Carrosserie Company in nearby Barnard Castle. The accurate restoration of low-volume coachbuilt cars is always somewhat problematical, particularly with regard to the interior trim, but fortunately Carrosserie were able to photograph the Corsica-bodied Super Sports belonging to Lea-Francis Owners' Club chairman, Allan Lupton, as a guide to authenticity. Sadly, Frank Delaney's poor health eventually forced him to find a new custodian for the car, which passed to the current vendor. In February 2013, Frank got the opportunity to enjoy the completed Lea-Francis, albeit from the passenger's seat. A little while later the remarkable story of '129' and its saviour was featured in The Automobile magazine's April 2013 edition (copy available). Fewer than 500 miles have been covered since the restoration's completion in 2013. Accompanying documentation includes the aforementioned logbook, sundry bills, a V5C document, and the aforementioned magazine article. Presented in generally excellent condition, '129' represents an exciting opportunity to acquire a rare and desirable Lea-Francis sports car eligible for a wide variety of historic motoring events. 356 1907 Metallurgique Maybach Zeppelin Special 577 £800,000 £1,000,000 €890,000 €1,100,000 $1,000,000 $1,300,000 Metallurgique chassis bought by Ernest Eldridge '23, Cole & Tillett (1), 1910 21-litre Maybach Type AZ 6-cylinder engine fitted, believed unused, Douglas Fitzpatrick '50 (2), restored by Panelcraft over some years, campaigned for decades. In current ownership, it has received constant care, and earlier this year received some additional mechanical and cosmetic attention. It has been carefully prepared prior to sale by a highly respected restoration company, with any repairs and refurbishment required carried out to a high standard. Extensive details are in the accompanying car file. With a current MoT and taxed, the car is very much in a state to continue its stellar career. A video of the car being gently enjoyed on the road in late April this year can be found at. For the past 30 years the current vendor has maintained "La Met's" hyperactive lifestyle in the frequently-competing VSCC manner of which the great car's original saviour Douglas Fitzpatrick would surely have approved. With the earliest surviving, fully functioning Maybach-Zeppelin engine beating at its heart, the Metallurgique-Maybach is a unique, utterly iconic feature of not only the British Edwardian, Historic and Vintage landscape, but also of the global treasury of meaningful motor cars. 357 1972 Ferrari 365GTC/4 15623 £270,000 £350,000 €300,000 €370,000 $340,000 $410,000 The example offered here, chassis number '15623', was built for the US market in May 1972. The car left Ferrari's Maranello works finished in Oro Kelso with Beige Scuro leather interior, and was equipped from new with air conditioning, power windows, and a speedometer in miles. Its destination was William F Harrah's US West Coast Ferrari distributorship, Modern Classic Motors in Reno, Nevada. No details of its early ownership history are known, although '15623' was advertised for sale periodically in Ferrari Market Letter and other US journals. On 10th October 2014, the Ferrari was first registered in the UK where it would be treated to a full 'last nut and bolt' restoration to concours standard by its new owner, Ferrari official workshops: Joe Macari, who retained the finished car for his personal use. A detailed photographic record of the rebuild is on file. Refinished in grey "Catherine" metallic with matching leather interior, the Ferrari was displayed by Joe Macari at the London Classic Car Show at Excel in February 2016, and shortly thereafter, in May 2016, was sold to the current enthusiast vendor. The sales invoice is on file and this stunning car also comes with a Massini Report and the all-important Ferrari Classiche certification. Wanting only a new custodian, '15623' represents a rare opportunity to acquire a superbly restored Ferrari 365GTC/4 in a particularly attractive colour combination. 358 1928 Bentley 4.5 Litre Jackson Special ST3001 On request On request On request On request On request On request 1st ever 4.5 Litre, Capt. Woolf Barnato/ Bentley Motors works team, Le Mans '27 #1 Clement/ Callingham DNF, GP de Paris '27 Clement/ Duller 1st, Le Mans '28 Barnato/ Rubin 1st despite a near broken chassis, replacement chassis fitted and later fitted to MF3157, heavy-pattern chassis frame fitted, Le Mans '29 Dunfee/ Kidston 2nd, via Jack Barclay, to Capt. The Hon. Richard Norton (21), Brooklands 500 miles '29 Dunfee, Tourist Trophy '29 Hayes/Field DNF, via HM Bentley to Richard Marker (2), MCC London-Exeter Trial '32, rebodied, Brooklands '32 Marker 1st, coachwork ex #1106 fitted '34, renamed Marker special, Brooklands 500 mile '34, engine wrecked, 6.5 litre engine ex LB2345/LB2338 fitted, Brooklands '35 120MPH, Brooklands '36 130MPH, transformed into the Jackson special by RR Jackson in '36 with new single seater coachwork on an all new chassis, raced at Brooklands thru 1939, via Thomson & Taylor to Bill Short '45 (3), Brighton Speed Trials '47 & '48, Alan Vicat (4), Vaughan Davies '63 (5), restored with Speed Six axles, Stanley Mann '80s (6), restoration completed with new coachwork. After the restoration's completion, Old Mother Gun was ready for her next challenge. On 28th May 1990, she set the British Class B 500 miles record; the British unlimited three-hour record; and the 200 miles record in Millbrook, all on the same day. The drivers were Vaughan Davies, Stanley Mann, Philip Greenwood, and John Guppy. In April 1992, HRH Prince Michael of Kent, Stanley Mann, Vaughan Davies, and Philip Greenwood used Old Mother Gun to set the British Class B 1,000-mile record in Millbrook. Brass plaques affixed to the car record its many achievements both before and after WW2. In 1999 it was decided to increase the engine capacity to 8 litres by swapping the 6½-Litre cylinder block/head for an 8-Litre component. The crankcase and engine number were not changed in any way. The original 6½-Litre block, which came with the car when Vaughan Davies acquired her and which most likely was part of the Speed Six engine that was fitted to Old Mother Gun by Richard Marker in 1934, is included in the sale.Immensely successful since her restoration in 1989, Old Mother Gun has been actively campaigned by Stanley Mann Racing Ltd for more than two decades. In addition to a very successful career as a racing car, she was and is a welcome guest at motor shows, exhibitions, and exclusive events – including the Goodwood Festival of Speed and Goodwood Revival – because of her uniqueness and significant history, which is fully documented in the accompanying history file. One of the most extensive Bonhams has ever seen, the latter contains copies of factory service records, assorted correspondence, and other original paperwork; FIA and VSCC eligibility documents; a 117-page illustrated technical report compiled in January 2019 by Dipl.-Ing. Klaus Kukuk. This report includes a material analysis dating the chassis frame as original in period. Also on file is a 47-page illustrated history and a more general 508-page illustrated report. Prospective purchasers are urged to take the time to peruse these important documents. The car also comes with a box containing assorted accessories and parts; the aforementioned 6½-litre cylinder block; a set of mudguards with lights; and a separate silencer for use on the road. The most famous of all Bentley Specials, Old Mother Gun was selected as one of 25 Silver Jubilee Cars at the 25th Goodwood Festival of Speed in 2018, to which the Duke of Richmond and Gordon had invited "the greatest cars and biggest personalities of the past 25 years". As such it represents a unique opportunity for the successful bidder to share in the life story of one of the most important cars in Bentley Motors' history, commencing in its 100th Anniversary year. 359 1950 Jaguar XK120 3.8 Litre Roadster 660065 £130,000 £160,000 €150,000 €180,000 $160,000 $200,000 The XK120 was produced until 1954 and would prove to be the most popular of the XK series, with 12,078 examples built, of which only 1,175 were right-hand drive roadsters like that offered here. Chassis number '660065' is the 65th right-hand-drive roadster completed, and only the 5th steel-bodied example. The original chassis plate, probably nickel plated originally but now polished back to brass, shows large valve clearances of 0.012″ and 0.015″, which were reduced on later cars. Another interesting feature is the engine number's compression ratio suffix; Jaguar evidently thought it would be 7:1 (common on cars destined for export) then over-stamped the '7' with an '8' before completion. As a very early car, '660065' lacks the cockpit cooling vents in the front wings that were adopted soon after it was made. The engine too has all the correct early features, including the 'studless' cam covers and needlessly lengthy plug leads. The latter travel from the distributor, down the side of the cylinder block, up the rear of the cylinder head, and then all the way back to the front of the engine again. This makes them around two metres in length! Jaguar soon recognised the wisdom of taking the leads from the distributor straight over the cylinder head. Another distinctive under-bonnet feature is the so-called 'stovepipe' SU carburettors, which have unnecessarily tall dash-pots. Later XK120s had noticeably lower and more practical ones. Also worthy of note is the beautiful cast-aluminium radiator fan, an expensive-to-produce item that was soon superseded by a cheaper pressed steel alternative. Another expensive feature is the hood frame: fully chromed on this early model but painted on later cars. Inside the cockpit, the indicator switch is noticeable by its absence; these would soon become standard but were not fitted to early cars such as this one. '660065' also retains the rare and often stolen 'owl's eye' cigarette lighter. This XK120 was first owned in California, USA by actor Allan Jones, today best remembered for his roles in the movies 'Show Boat', and the Marx Brothers' 'A Night at the Opera' and 'A Day at the Races'. He was the father of pop singer Jack Jones. The accompanying Jaguar Heritage Trust Certificate reveals that '660065' was built as an open two-seater with right-hand drive and supplied for 'Personal Export Delivery'. The first owner is recorded as 'A Jones' and the original colour scheme as Pastel Blue with red interior and fawn soft-top. The original registration was 'RPM 89'. In 1988 the XK passed to a new owner, who in 1999 had the car restored to perfection by renowned marque specialist Lynx Motors International Ltd, using many parts supplied by Guy Broad. Over £150,000 was spent to make the XK as good as, if not better than, the day it left the Brown's Lane factory. The Jaguar Drivers Club has rated 'RPM 89' as 'excellent' in every category, with a general comment of a 'very high quality restoration'. All receipts relating to the restoration are available. In June 2015, the XK was offered from its deceased owner's estate at Bonhams' sale at the Goodwood Festival of Speed (Lot 361) where it was purchased by the immediately preceding custodian. In September 2016 'RPM 89' benefited from a thorough and extensive service carried out by the highly respected CKL Developments Ltd, whose detailed invoice and report is on file (perusal highly recommended). CKL comment: 'Its greatest claim to fame is it is such an early car, in such great and complete condition'. The current vendor purchased the XK at Bonhams' Bond Street Sale in December 2016 (Lot 29), since when it has been kept garaged. Now exempt from the annual MoT test, this exceptional Jaguar XK120 roadster is offered with the aforementioned documentation and a UK V5C Registration Certificate. 360 1972 Maserati Ghibli SS 4.9 Coupe AM115/492452 £220,000 £260,000 €250,000 €290,000 $280,000 $330,000 Dated 20th January 1972, original paperwork on file confirms that this beautiful Ghibli SS was ordered from Maserati via the UK importer, Citroën Cars Ltd. One of only twelve right-hand drive examples built, '2452' was finished in Rosso Fucco with Pelle Nera (black leather) interior, and specified with the options of power steering, a radio, and two fog-lights. The accompanying original logbook confirms that the Maserati was first registered (as 'BTV 11K') on 12th April 1972 and was supplied via Bristol Street Motors, Nottingham to a Mr Stephenson of Yorkshire on 12th May '72. Mr Stephenson owned the Ghibli until May 1976 when it was acquired by Lingdale Garage, Saltburn. The next owner listed, from 10th November 1982, is one Mr Rhodes of Cheshire. By now reregistered '6 TPE', the Ghibli became part of a well-known British private collection on 12th April 1988 and remained there for over 20 years. During this period the car underwent a full restoration, and on completion was displayed in the private museum until 2011 when it was sold and reregistered 'BRJ 113K', its present registration. This Ghibli has also taken part in several Historic motoring events including the Goodwood Revival and the Royal Concours at Holyrood, Edinburgh. The current owner, a prominent private collector, acquired the Ghibli at a UK auction in December 2016, since when it has been treated to a full 'engine out' restoration by renowned marque specialists McGrath Maserati (full details on file). Presented in truly immaculate condition, this wonderful car comes complete with its original buff logbook, a Maserati Certificate of Origin, and a substantial history file.
361 1958 Mercedes-Benz 300SL Roadster 198.042.8500067 £800,000 £1,000,000 €890,000 €1,100,000 $1,000,000 $1,300,000 Silver over Red and unknown hardtop. French delivery, later in the Musée de l'Automobiliste à Mougins, Dr Dieter Pfeiffer,Germany, restored, vendor. Recent service by HK Engineering, 400 miles since. Highly usable, c75,500km from new. TuV, V5 and MoT. via Bonhams Goodwood '07 sold $585k. A comprehensive assortment of original documents or facsimiles is offered with the car, including a step-by-step photographic record of all aspects of the restoration; a magazine from the Musée de l'Automobiliste à Mougins showing the car in the collection when it was still French registered; a German TüV certificate; a quantity of invoices and brochures from the various specialists who worked on the car; a copy of the original build sheet; and an original owner's manual, parts catalogue, workshop manual, jack and wheel brace. In addition, Gull Wing owners' club technical tips and records, various magazines relating to the 300 SL, and the original French registration plate come with the car. To complete the package, a lightweight tailored rainproof cover in white tyvek is supplied and the car possesses a UK V5C registration document. There is also a matching original hardtop – in mint original condition – which is tight and secure on fitting, thus making the car the perfect all weather driver. This very special example of the iconic 300 SL Roadster has no apparent faults and wants for nothing, so can be driven away from the sale to a new home anywhere in the world. There cannot be many better ways of travelling to a classic event, taking part and driving home.
362 1953 Alfa Romeo 1900C Sprint Coupe AR1900C01435 £260,000 £320,000 €290,000 €360,000 $330,000 $400,000 An original right-hand drive model, this stunning example was constructed in early 1953 and for many years formed part of the celebrated Mario Righini collection, widely recognised as one of the finest in Italy. Housed in a 15th Century castle outside Modena, this exceptional private collection was committed to the preservation of such gems as 8C Alfa Romeos and sports-racing Ferraris. Following its departure from the Righini Collection, this highly original Alfa was treated to an extensive restoration in the Netherlands and the UK by marque experts in preparation for its participation in the 2015 Mille Miglia Storica. During the restoration the seats were re-trimmed in period-correct (and very comfortable) mohair, while post Mille Miglia the engine was serviced by former Manuel Fangio mechanic and recognised specialist Giuseppe Candini in Modena. Owned by the current vendor since 2015 and described as in excellent condition, this recent Mille Miglia entrant is offered with a FIVA identity card and is the ideal touring car for Historic rallies and events. 363 1954 Bentley R-Type Continental Fastback Saloon BC70C £500,000 £700,000 €560,000 €780,000 $630,000 $880,000 Delivered new in May 1954 to one J Hanson Esq., chassis number 'BC70C' is one of just 208 R-Type Continentals produced, passing to George Rhodes in the 1960's. The car has been in the same family ownership since. It has been maintained by George Rhodes & Sons Limited who have traded in the family's hometown since 1925. Early job cards being included in the history file along with various bills, a large quantity of expired MOT certificates and an original Bentley Continental handbook. George believed that cars should be used, driving BC70C on a regular basis locally coupled with trips to London and golfing trips to France, echoing the original design brief. The automatic gear box making the car a pleasure to drive. The Bentley took part in the R-Type Celebration in 2002 at Silverstone, where the Rajmata of Jaipur presented George with a special award at the British Racing Drivers Club lunch for owning his Continental for the longest time. Following George's death earlier this year, the family reluctantly offer their piece of motoring and family history for sale. Very well cared for over the years, the Bentley was last repainted in 1980 and is now well patinated externally, while retaining its original leather seats; it could be used exactly as is or treated to cosmetic refurbishment. Running and driving very well, 'BC70C' represents a rare opportunity to acquire a fine example of the most famous post-war Bentley, possessing impeccable provenance. 364 1988 Porsche 911 Turbo WP0ZZZ93ZJS000542 £90,000 £120,000 €100,000 €130,000 $110,000 $150,000 This Porsche 911 Turbo is offered fresh from extensive restoration (completed in 2019) and comes with a photographic record of the process. Works undertaken include a full 'glass out' re-spray by Bodyworks of Manchester; full engine service; brake overhaul; and suspension bushes overhaul. The car also benefits from a new factory full exhaust system; refurbished original Fuchs alloy wheels; and new Pirelli tyres. In addition, all rubber seals, bumper protectors, front valance, rear 'Porsche' reflector, side sill mouldings, etc have been renewed. Over £25,000 has been spent and all bills are available. 'F536 LTU' has covered 89,000 documented miles from new and is described by the vendor as 'absolutely rust free'. It comes with full service history (every single bill/receipt); current MoT certificate; its original owner's manual and stamped service book; and its original spare wheel. Finished in flawless Venetian Blue metallic with complimentary Metropole dark blue leather interior and matching carpets, this beautiful Porsche 911 Turbo stands out among the white/black cars on the market and is presented in beautiful order throughout – a subtle combination for the discerning buyer. 365 1955 Austin-Healey 100 Roadster BN1/224408 £40,000 £50,000 €45,000 €56,000 $50,000 $63,000 This car was built in 24 February 1955 to Right Hand Drive specification for the Home Market, and finished in Old English White with red trim. The vendor – a committed Austin-Healey enthusiast and Club member – states that the car was purchased as a 'basket case' in October 1990 and then underwent a seven year restoration during which time it was uprated to M specification with louvered bonnet, larger carburettors, airbox and inlet manifold, uprated camshaft and anti-roll bar. The car was professionally finished in two pack paint in its original colour scheme and is described as having 'exceptional panel fit' resulting in it winning 'Best 100' at the Healey Drivers Club International Meeting in May 2000. The chassis, bodywork and paintwork are all described as being in excellent condition, with interior and transmission very good. Electrics are all in working order with a new wiring loom fitted during restoration, and the engine was rebuilt 11,000 miles ago. This most handsome British classic is supplied with all-weather equipment to include hood, side-screens and tonneau; sundry spares; and paperwork to include UK V5C, old style Log Book, BMIHT Heritage Certificate and restoration bills. 366 1965 Alfa Romeo Giulia 1600 Spider 392838 £40,000 £50,000 €45,000 €56,000 $50,000 $63,000 This US market left-hand drive Giulia Spider was acquired by the lady vendor nearly two years ago from Fantasy Junction, a well-known dealer in California. Information about its earlier ownership history is limited. An Alfa Romeo aficionado who owns several examples dating from the 1930s to the 1960s, the vendor had the clutch adjusted by the Californian Alfa specialist Oliveria Engineering, who also replaced the horn, fuel pump, and some faulty switches, prior to using it on holiday, after which she shipped it home to the UK. Twin Dell'Orto carburettors and a new inlet manifold had been fitted by a previous owner, replacing the original single carburettor and giving a healthy increase in power, especially at high revolutions, with performance now comparable to factory Veloce models. Other than the carburettor upgrade, the car remains highly original, though it appears to have been repainted at some time. The paintwork remains in good condition while the black interior presents very well. A new custom-made convertible hood was professionally installed very recently, replacing the original that had faded in the sun, and the owner has had additional work done recently on the chassis, brakes, and carburettors. Bills totalling approximately £6,000 are on file. Having driven the car less than 1,000 miles, the vendor is selling the Spider as she finds her newly acquired Alfa Romeo Giulietta SS Coupé more suitable as an all-weather daily driver. Extremely fun, beautiful and usable, this delightful Giulia Spider is offered with a current V5C document. 367 2001 Lister Storm GT1 GTM005 £450,000 £550,000 €500,000 €620,000 $560,000 $690,000 Despite strong opposition from larger and better funded top teams, this small-scale constructor managed to win the British GT Championship in 1999 with Jamie Campbell-Walter and Julian Bailey, who went on to win the FIA GT Championship for Lister the following year. From 1999 to 2005 the Listers were always front runners and secured numerous victories. Only six Storm GTMs were built; spectacular and highly successful, they are worthy successors to the fabulous Listers from the 1950s. This Lister Storm, 'GTM005', was built at the beginning of 2001 and entered by Lister Racing in FIA GT events from 2001 to 2003 as a factory car, being driven by Jamie Campbell-Walter among others. For 2001, sponsored by Prionics, 'GTM005' contested the FIA GT Championship; driven by Julian Bailey and Nicolaus Springer, its best results were a brace of 4th places: at the Hungaroring and A1 Ring. For 2002, again in the FIA GT Championship, 'GTM005' was driven by Verdon-Roe and Paul Knapfield, their best result being 2nd place at Silverstone. In that year's Spa 24 Hours race, 'GTM005' finished in a highly creditable 2nd place driven by Verdon-Roe, Miguel de Castro, David Sterckx, and Justin Law. The Storm's best results were achieved in 2003 when, driven by Campbell-Walter and Nathan Kinch, it won at Anderstorp and Oschersleben, though it was subsequently disqualified from the latter event. Nevertheless, the team's 2nd place at Monza proved good enough for 2nd place overall in that year's FIA GT Championship. Lister Racing subsequently sold 'GTM005' to the French team Red Racing, which campaigned the car with Lister factory backing in the FFSA GT Championship during 2005, their best result being a win at Pau. Towards the end of the season, 'GTM005' crashed during qualifying at Albi and subsequently was rebuilt using the original chassis from Lister Storm 'GTM001'. That chassis had been retained by Lister after 'GTM001' had crashed in Italy in 2004 but had not been rebuilt. Originally owned by Nicolaus Springer, 'GTM001' had been raced in the FIA GT Championship in 2000 and 2003, the Spanish GT Championship in 2001, and the Italian GT Championship in 2004. Lister duly rebuilt 'GTM005' for Red Racing using the repaired chassis from 'GTM001'. Red Racing continued to campaign the Lister throughout the 2006 season in the FFSA GT Championship. Its racing career over, the Storm was restored in 2007/2008 and returned to the colour scheme it had featured at the time of its major win at Anderstorp in 2003. In 2008, 'GTM005' was invited to the Goodwood Festival of Speed where it proved an immensely popular attraction. This is the only occasion the car has been used since the 2006 rebuild. Currently in late 2003 configuration, it is fitted with a later engine, transmission (Hewland sequential), front suspension, and bodywork. The engine has very low hours after a major overhaul during the 2006 season, and the car was fully serviced with extensive works done at that time. In running condition, it would be a welcome entry in the various events for GT1 cars in Europe or the USA. Built for endurance racing, the Storms are easy to maintain and reliable, very fast and easy to drive. The accompanying history file contains numerous photographs of the car in action in the FIA GT and other championships; Lister factory correspondence; various bills of sale; and a full listing of races entered and results achieved. The car is offered with the damaged chassis ('GTM005') and a set of spare rims. 368 1964 Ferrari 330GT 2 + 2 330GT6155* £150,000 £180,000 €170,000 €200,000 $190,000 $230,000 After approximately 3,000 miles had been covered, the 330 GT was sold back to Duncan Hamilton, who used the Ferrari as his personal car for a number of years. Dating from this period, there is interesting correspondence on file between Col Hoare and Ducan Hamilton concerning, among other things, suitable grades of sparking plug and Maranello Concessionaires' labour rates, which Duncan considered exorbitant. The Ferrari was subsequently sold, with 14,000 miles recorded, to a Midlands electrical firm: Alfa Electrics. The firm went bust a few weeks after purchase and the Ferrari was never registered in its name. The car was then sold to S G Hicks and registered 'SGH 2'. Mr Hicks sold the Ferrari 2½ years later (in mid-1975) to Mr Jack Hamilton (no relation to Duncan). The next owner, from 28th October 1978, was Brian Somerset Kern of Hadley Wood, Hertfordshire. All receipts for repairs and serving accumulated during his ownership are on file, issued by the likes of Neil Twyman, Greypaul Motors, Maranello Concessionaires, J Bruce (Vintage and Classic Car Specials), Moto Technique, and Eurospares. Maranello Concessionaires receipts dated 28th January 1993 confirm the mileage at that time as 20,897. The next owner was Mr Busby of Tower Hill, Dorking, who had Talacrest carry out servicing works in March 2000 at 23,398 miles. On 3rd July 2004, the car was purchased by famous Ferrari 250 GTO owner and collector, Mr Stephen Pilkington of Aughton, Lancashire. The car was purchased by the present owner (a good friend of Stephen Pilkington) on 10th June 2005. Recently reunited with its original registration number, 'EPC 1B', the car has been used for many tours and rallies across the UK and has never let the owner down (he is Chairman of the Ferrari V12 Group). 'EPC 1B' has recently participated in the Coast to Coast Rally and the Janet Lancaster Rally, as well as all Ferrari V12 Group events in the last five years, and has been shown at the Ferrari Owners Club Concours. Currently MoT'd and ready to be driven across Europe, this beautiful four-seater Ferrari comes complete with service books, owner's manuals, workshop manual, and two large files of continuous history containing MoT certificates dating from 6th January 1969, which show the mileage to be correct. The car comes with a 12 month mot and two full comprehensive full history files which make very interesting reading. via Bonhams Goodwood '16 Not sold $290k.
369 1960 Lancia Flaminia 2.5 3C Touring Cabriolet 824.04.1180 £90,000 £120,000 €100,000 €130,000 $110,000 $150,000 This beautiful Flaminia Flaminia Convertible had spent its life in Italy until sourced by marque specialists Thornley Kelham for its current owner in 2014, appearing to be a very straight and honest example with no visible corrosion and a good state of finish; it also drove extremely well. A desirable disc braked example, it is one of only 421 2.5-litre single-carburettor models built in 1960-1961. Since 2015 the owner has spent over £30,000 with Thornley Kelham to bring the car up to its present high standard. Works carried out included rebuilds of the transaxle, clutch, suspension, braking system, cylinder heads, oil pump, and electrical system. In addition, hoses were replaced, five new Michelin tyres fitted, a new hood and hood cover installed, and various bushes and mounts replaced. Related bills are on file and the car also comes with a V5C Registration Certificate, current MoT, and a copy of the September 2015 edition of Classic & Sports Car magazine in which it featured. Said to drive extremely well, with typically fine balance and road holding in the Lancia V6 tradition, and being a single-carburettor model has a surprising amount of torque. The body and paintwork are in good condition, likewise the comfortable interior, and all correct switch-gear and instruments. By no means a concours car, this lovely example affords the prospect of a wonderful ownership and driving experience. It exudes 1960s style and glamour and represents excellent value for money.
370 1979 Ferrari 400GT 27181 £20,000 £30,000 €22,000 €34,000 $25,000 $38,000 One of only 502 Ferrari 400 GTs made, this rare right-hand drive example was acquired by the current vendor in August 1992, since when it has seen only occasional use. In recent times (2016-2017) this Ferrari has undergone various improvements including a complete re-spray and restoration of underlying bodywork; the supply and fitting of a new rear windscreen as the original broke when being removed for the re-spray; and replacement of the dashboard's black leather trim (distorted by sunlight). The rest of the interior is original. It is worth noting that, in common with the other cars and motorcycles in the owner's collection, this Ferrari has benefited from regular maintenance and upgrades, as well as rectification of minor faults, carried out by his own fully qualified fitter. Freshly MoT'd, this rare Ferrari Gran Turismo is offered with SORN paperwork, an old-style V5C Registration Certificate, and sundry bills, mainly dating from the 1980s.
371 1976 Rolls-Royce Silver Shadow SRH24147 £7,000 £9,000 N/R €7,800 €10,000 $8,800 $11,000 One of the very last Shadows manufactured before the introduction of the Shadow II, this example was registered to the current vendor on 17th November 1989 and has seen only occasional use over the course of the last 30 years. For most of that time the car has been dry stored in dehumidified conditions, and for the last 12 years has been on museum display. It is worth noting that, in common with the other cars and motorcycles in the owner's collection, this Rolls-Royce has benefited from regular maintenance and upgrades, as well as rectification of minor faults, carried out by his own fully qualified fitter. Freshly MoT'd, it is offered with sundry bills, SORN paperwork, and an old-style V5C Registration Certificate.
372 1985 Audi Quattro WAUZZZ85ZFA901095 £17,000 £22,000 €19,000 €25,000 $21,000 $28,000 The car offered here was manufactured on 30 September 1985 and since new has been maintained by Audi and Quattro specialists A M Cars. Sold by Bonhams at the 2008 Festival of Speed Sale the Audi has been restored and refurbished as required on an on-going basis, including, in a previous ownership, the fitting of a new radiator and work on the turbocharger. The only noted modification from original factory specification is the fitting of a Milltek exhaust system. Described by the vendor as being in very good condition overall, the very tidy engine bay is a particular highlight. At the Goodwood House Open Day in August 2018 members voted the Audi the winner of the Concours there, and having achieved that accolade the car went on to be displayed in the rotunda of the Royal Automobile Club's Pall Mall clubhouse in January 2019. A comprehensive file accompanies the car, containing service history and receipts for work carried out, together with an indoor car cover and UK V5C.
373 1972 Jaguar E-Type Series III Coupe 1S50988 £30,000 £40,000 €34,000 €45,000 $38,000 $50,000 Equipped with the desirable manual gearbox, this delightful V12 E-Type was purchased by the current owner in September 1989 and has seen only occasional use over the course of the last 30 years. For most of that time the car has been dry stored in dehumidified conditions, and for the last 12 years has been on museum display. Between 1991 and 1993, the E-Type was with Classic Coach Builders, who carried out extensive bodywork restoration and a re-spray (estimates and invoices on file). The interior was left original. It is worth noting that, in common with the other cars and motorcycles in the owner's collection, this E-Type has benefited from regular maintenance and upgrades, as well as rectification of minor faults, carried out by his own fully qualified fitter. Freshly MoT'd, this well maintained E-Type is offered with sundry bills, SORN paperwork, and an old-style V5C Registration Certificate.
374 1932 Vale Special VS308 £38,000 £45,000 €43,000 €50,000 $48,000 $56,000 The Vale Special took its name from the Maida Vale district of North London where the company was based. Its designer was the Hon. PE Pellow, later the 9th Viscount Exmouth. Introduced in 1932, the first Vale Special used an 832cc Triumph Super Seven engine, which was carried in a Rubery Owen-supplied chassis; later models were Coventry-Climax-powered. The marque lasted from 1932 until 1935. According to The Beaulieu Encyclopaedia of the Automobile, a little over 100 Vale Specials were made. The car offered here is one of a believed five running examples still in existence. Chassis number '308' (making it the 8th Vale Special produced) was purchased new for the sum of £195 by one CBE Morgan and issued with the London registration number 'ALC 158'. In 1934 Mr Morgan entered the Vale in the Monte Carlo Rally and finished 75th out of 114 cars competing. In 1958 a Mr Strelitz, then 18 years of age, purchased 'ALC 158' for the sum of £65. He undertook a restoration and used the car as a daily driver. With a wedding pending in 1963, Mr Strelitz regretfully sold the Vale to a Mr Fawcett of Rugby for the sum of £150. At a chance meeting in 1997, Mr Strelitz began a conversation with marque expert Dave Cox, who informed him that he had just purchased 'ALC 158' from Mr Fawcett. It was fate, and Mr Strelitz was able to repurchase the Vale, reuniting him with his old friend. He duly undertook a detailed and painstaking restoration. 'ALC 158' has remained in Mr Strelitz's care for the past 22 years and is a many-time show winner, one of the highlights of its concours career being judged 'Best in Show' at the London Classic Car Show at Alexandra Palace. 'ALC 158' was also featured in Classic & Sports Car magazine and is also featured in the book Ave Atque Vale by Dave Cox. 'ALC 158' comes with extensive provenance including letters of correspondence from marque expert Dave Cox; The Triumph Register confirming its early Monte Carlo history; and delightful letters of correspondence from Motor Sport magazine, Coventry Climax Engines Ltd, and Derrington Ltd. There is also an original printing block depicting 'ALC 158'. Offered with sundry bills, current MoT, and a V5C document, this is an exceptionally rare car with a wonderful provenance and in exceptional condition – quite possibly the best Vale in existence.
375 1962 Volkswagen Type 2 Ambulance 820654 £40,000 £50,000 €45,000 €56,000 $50,000 $63,000 This rare VW Type 2 ambulance is one of nine built for the UK market. We are advised by the private vendor that it is totally original, even retaining its original paintwork, seating, stretchers, engine (still on standard bores) and gearbox. All numbers match and the vehicle comes with a factory certificate and a V5C document. Restored in the last four years and said to be driving very well, this rare Volkswagen ambulance would be perfect for a wide variety of historic motoring and other events.
376 2017 Lamborghini Aventador Miura Homage ZHWEC1ZDH8LA05525 £240,000 £280,000 €270,000 €310,000 $300,000 $350,000 Since the original's arrival, this is one of the most exclusive special editions offered. According to its maker: "The Aventador Miura Homage was created by the Lamborghini Ad Personam Studio with even the smallest details inspired by the Miura: the single-colour upper part of the body, available in the Miura's original 18 colours, contrasts with the lower part available in gold or matte silver. The Miura logo in black steel on the side, the Limited Edition plate inside the vehicle and the Miura 50th logo sewn onto the upper part of the seats all clearly define the exclusive character of the Aventador Miura Homage." This car was purchased new from the Lamborghini main dealer in Sydney, Australia and is one of a believed six right-hand drive examples. The Aventador was purchased via a specialist Australian motor dealer in May 2017 (sales invoice on file) and imported into the UK in August 2017 with taxes paid, since when it has been professionally stored with DK Engineering. Unused and never driven, the car comes with an exterior cover; covers for the seats and steering wheel; two keys; a battery charger/conditioner; its original instruction books; and manufacturer's warranty valid until June 2020.
377 1995 Aston Martin Vantage V600 Coupe SCFDAM1585BR70113 £250,000 £300,000 €280,000 €340,000 $310,000 $380,000 This particular Vantage V600 is finished in Racing Green with cream/green leather interior. Equipped with the desirable manual transmission, its engine built at the factory by Ron Russell, '70113' has had only one owner from new having been purchased by the vendor as a 50th birthday present to himself. The Aston was first registered in his company's name. The stamped service booklet shows routine servicing by Grange Aston Martin of Brentwood, Essex from new until 2006 and then Aston Martin Works thereafter. There are numerous bills on file, including that for £82,895 issued by Aston Martin Works Service for the V600 upgrade, which was carried out in 2007 at 14,826 miles. V600 upgrades were made to the engine, five-speed gearbox, suspension, brakes, and traction control system, while the car also received the V600 grille and badge set. The speedometer was changed at the same time and the current odometer reading is 10,693 miles, making the total from new some 25,519 miles. Reassuringly, the car was fully serviced at Aston Martin Works in August 2018 and is described by the private vendor as in generally excellent condition. Accompanying documentation includes sundry bills, an old-style logbook, current MoT, and a V5 registration document.
378 1957 Mercedes-Benz 220S Ponton Coupe 180037.7512 £45,000 £50,000 €50,000 €56,000 $56,000 $63,000 This beautiful 220 S Coupé was driven and cared for over many years by its proud first owner, whose widow continued to use the car after his death. Together they drove the car approximately 75,000 kilometres (46,500 miles). After the owner's wife's death in 2001, the car was stored by Mercedes-Benz while its fate was decided. Louis Pint, a long-time Mercedes-Benz employee, looked after the 220 S and was able to purchase it once the lengthy legal proceedings concerning its inheritance had been concluded. In June 2005 the car was displayed at the premises of the Mercedes-Benz Club in the heart of Brussels. It was there that the immediately preceding owner fell in love with this 220 S coupé, of which only 14 are believed to exist in good order, and purchased it from Louis Pint. The new owner used the car sparingly. In February 2013, the Mercedes was offered for sale at Bonhams' Grand Palais, Paris auction where it was purchased by a collector. At that time the car displayed a total of approximately 81,100 kilometres (50,400 miles) on the odometer, and was said to have been serviced annually by a retired Mercedes-Benz mechanic. The car was described as in very good condition, both mechanically and bodily, and said to need only a few minor improvements to bring it back in showroom condition. Subsequently the new owner had significant works carried out in the UK by Ponton specialist Roger Edwards (new fuel tank and pump, brake system, hubs, carburettor overhauled, and regular servicing). Frank Dale & Stepsons have overhauled the suspension, and there are recent bills on file totalling circa £16,000. Earlier this year the Mercedes happily completed a rally to Germany and is MoT'd to May 2020. The car also comes with a Mercedes-Benz dating letter, copy build sheet, and a V5C document. With few owners and relatively little used, this rare 220 S coupé represents a wonderful opportunity for the discerning collector to own one. via Bonhams Paris '13 sold $70k.
379 1989 Ferrari 328GTS 66767 £60,000 £80,000 €67,000 €89,000 $75,000 $100,000 A pre-ABS model, this rare UK delivered 328 GTS' has had only four owners in total and has been part of a private collection for the last two decades. 'D328 OKO' comes complete with its original Ferrari wallet, service booklet, owner's manual, tool kit and jack, a spare wheel, a spare belt, V5C document, and current MoT. Benefitting from a 2018 service by Stratstone Ferrari and a recent MoT, the car is described by the vendor as in excellent condition.
380 1926 Bentley 3 Litre Speed Model 4 seat Tourer SR1421 £385,000 £400,000 €340,000 €450,000 $480,000 $500,000 This 3-Litre Speed Model left the works in April 1926 fitted with a four-seater body by Vanden Plas. The car was first registered as 'YN 9348' and sold new to a Mr CG Blaxter. At time of cataloguing little had come to light concerning its subsequent history. However, on file is a copy of a 1970s BDC Review's report on a visit to Tony Townsend's Elmdown Engineering, which included a photograph of 'YN 9348'. The car was described as "Complete rebuild and new body, etc, 71. Owner: David Burrows. Car now in for 500 miles check over and service". Also on file are invoices dating from 2013/2014 issued by Gentry Engineering of Worminghall, Buckinghamshire for various works including a full engine rebuild (perusal recommended). The car also comes with a Society of Automotive Historians dating letter. In recent years the Bentley has been domiciled abroad, and prospective UK-based purchasers are advised to consult the DVLA with regard to the availability or not of the original registration 'YN 9348'.
381 2011 Land Rover Defender SVX SALLDHFS8AA797848 £180,000 £220,000 €200,000 €250,000 $230,000 $280,000 Representing arguably the ultimate version of Land Rover's iconic Defender, the example offered here was used during the filming of the 24th and latest film of the James Bond franchise, Spectre, set in the Austrian Alps and released in 2015. Spectre is the seventh James Bond film to feature a Land Rover, the first being Octopussy (1983). SPECTRE (Special Executive for Counterintelligence, Terrorism, Revenge and Extortion) first appeared in Ian Fleming's James Bond novel Thunderball (1961) and in the film Dr No (1962) led by super-villain Ernst Stavro Blofeld. Clearly, the operatives of such a criminal organisation would need their own specially adapted vehicles to cope with the Alpine terrain, so Sony Pictures contacted Jaguar Land Rover's Special Vehicle Operations (SVO) division to supply the required Defenders. In its standard form the friendly and familiar Defender would have lacked the aura of menace required for the SPECTRE vehicles, so the movie cars were sent to marque specialists Bowler, a company recognised for over 30 years as market leaders in the design, engineering, and production of class-leading custom vehicles. Bowler then trasnformed them from standard Defender 110 crew-cab models to the 'Bowler racing specification' worthy of a Bond villain, including an engine upgrade, 4-point harnesses and full roll cage that runs both internally and externally. Finished in sinister Santorini Black, the result was the SVX, or Spectre Defender, with huge 37″-diameter all-terrain tyres granting the nickname 'Bigfoot'. In fact, the original requirement for Spectre had been for nine such vehicles, but after all chassis had been delivered, the film's directors and stunt co-ordinators decided that 10 'Bigfoots' were required. As luck would have it, in a corner of SVO's busy engineering workshop sat a forgotten piece of film history: the one remaining Stornoway Grey Metallic Defender 110 that 007's field agent Eve, played by Naomie Harris, had driven in the preceding Bond movie, Skyfall. So chassis number '797848' was upgraded to 'Spectre' specification by Land Rover SVO and pressed into action once more, though on this occasion on the side of the villains. This decision makes '797848' unique as the only Land Rover to have appeared in two consecutive Bond films. The silver interior finish left over from Skyfall is still visible. Accompanying provenance includes a Spectre plaque; SVO and Land Rover signed correspondence; SVO bill of sale; full build specification; logbook stating 'prototype' with Land Rover Company Vehicles Engineering Fleet the one previous owner from new, current MoT; V5C Registration Certificate; sundry bills; and Austrian show plates.
382 2004 Toyota TF104B TF104B-08B £60,000 £80,000 €67,000 €89,000 $75,000 $100,000 Designed by Gustav Brunner, the Panasonic-sponsored Toyota TF102 made its racing debut at the first round of the 2002 season, held in Australia. The team's drivers were the Finn Mika Salo and Scot Alan McNish, yet despite their talents and, reportedly, having one of the biggest budgets in Formula 1, Toyota scored only two points all year. Brazilian Cristiano de Matta and Frenchman Olivier Panis replaced Salo and McNish for 2003, with a best result of 5th place in Germany. By the end of the year the team had accumulated 16 points, an improvement on the previous season but they were still only 8th in the Constructors' Championship. Toyota retained their driver line-up for 2004, which would turn out to be yet another difficult season. Designer Mike Gascoyne, formerly with Jordan and Renault, was brought in to oversee development, and the car improved during the year. Personnel changes saw da Matta depart and fellow Brazilian Ricardo Zonta, the team's third driver, promoted as his replacement. After four rounds Zonta was replaced by Italian Jarno Trulli, formerly with Renault. Toyota scored just over half the points they managed in 2003, but equalled their best finish of 5th at the United States Grand Prix with Panis, and repeated their 8th place in the Constructors' Championship. Despite scoring a point in their first-ever race, Toyota never won a Grand Prix, their best finish being 2nd position, which they achieved five times – in 2005, 2008, and 2009. A well-funded team that consistently under-performed, Toyota announced its withdrawal from Formula 1 in November 2009, ending the team's involvement in the sport after eight seasons. Toyota built 11 chassis for the 2004 season and used nine of them in races, numbers '05' and '08' (the car offered here) being the exceptions. Formerly a test car, this example was purchased directly from Toyota by the current vendor after the engine, transmission, and electronics had been removed, and thus is sold for display purposes only.
383 2000 Bentley Arnage Red Label Saloon SCBLC32EXYCH05421 £25,000 £32,000 €28,000 €36,000 $31,000 $40,000 This wonderful Arnage Red Label comes with full Bentley service history up to October 2017 when it was purchased by the current vendor. Since then the Bentley has been maintained by Harwoods of Pulborough, who have carried out two services (in December 2017 and February 2019). Finished in silver with beige hide interior, this very well cared-for car is described by the private vendor as in superb condition in all respects. Accompanying documentation includes a V5C Registration Certificate, current MoT certificate, and the aforementioned service history.
384 1964 Aston Martin DB5 4.7 Litre DB5/1751/R £700,000 £800,000 €780,000 €890,000 $880,000 $1,000,000 This DB5 left the factory in September 1964 finished in Dubonnet with black trim, and according to the accompanying BMIHT Certificate was equipped with chrome road wheels, heated rear window, Motorola radio with powered aerial, two Marchal fog lamps, and Selectaride adjustable shock absorbers. The Aston was despatched to the J Blake & Company dealership. The earliest ownership document available is an old-style continuation logbook issued in 1971 and listing three owners, while there are also details in the file of all custodians from 1997 to the present day. The history file also contains numerous invoices for servicing, maintenance, and more extensive restoration work, many issued by renowned marque specialists, RS Williams Ltd. A signed letter from RS Williams confirms details of a most extensive restoration (carried out in 1999). These works included the following: Corrosion cut out and new panels welded into position Gearbox and rear axle rebuilt as found necessary Front and rear suspension rebuilt Car rewired and converted to negative earth Engine converted to 4.7-litre unleaded specification Car stripped back to bare metal and re-sprayed in RSW Green Car re-trimmed in Elephant Black Connolly hide with grey Wilton carpeting New aluminium wheels and Borrani spinners fitted Stainless steel front and rear bumpers were fitted All chrome re-plated Mileometer set to zero at request of owner (details of speedometer changes are on file), Documented upgrades include air conditioning, satellite navigation, RSW aluminium radiator, electric cooling fan, inertia reel seatbelts, Alpine CD changer, and RSW telescopic rear shock absorbers. In the present ownership since November 2013, this well maintained and extensively upgraded Aston Martin DB5 is presented in very good condition throughout. A spare set of wheels/tyres is included in the sale.
385 1985 Ferrari 308GTS QV Targa 55989 £80,000 £100,000 €89,000 €110,000 $100,000 $130,000 Representing the 308 in its ultimate, Quattrovalvole form, this rare right-hand drive example of Ferrari's first Pininfarina-styled V8 road car was delivered new in the UK to a Mr H Prew-Smith on 22nd March 1985 and registered as 'B308 LFP'. The Ferrari was delivered finished in Rosso Corsa with Rosso-piped Crema hide upholstery and red carpets, and was equipped with air conditioning and the deep front spoiler. A few months later, on 21st November 1985, the car was acquired from Mr Prew-Smith by a Mr JM Castle, and in October 2001 passed into the ownership of Mrs ZJ Castle. The current vendor has owned the Ferrari since 24th September 2015. From 2002 the registration changed to 'JC 2354' but has since reverted to the original 'B308 LFP'. The comprehensive history file contains the original Ferrari wallet; Blaupunkt radio manual; Ferrari 308 Quattrovalvole owner's manual; Warranty Card and Owner's Service Book; Mondial Assistance UK Emergency Cover booklet; and a 1985 Sale and Service Organisation booklet. Also on file are numerous expired tax discs and MoT certificates verifying the recorded mileage, the most recent (2015) showing 15,419 miles. Other documentation includes some Ferrari main dealer correspondence and service history; Maranello Concessionaires Ltd invoice and price list; Ferrari production booklet and brochure; Ferrari Spare Parts Catalogue; an unopened letter from Ferrari; Weber carburettors instruction pack; Ferrari Owners Club information pack in Mrs ZJ Castle's name; and an A4 paper printout of photographs taken on the Ferrari 308 production line. Offered fresh from pre-sale servicing by Meridien Modena, Southampton, this quite exceptional Quattrovalvole is presented in immaculate condition.
386 2009 Mercedes-Benz SL65 AMG Black Series WDB2304792F159645 £160,000 £200,000 €180,000 €220,000 $200,000 $250,000 This rare, right-hand drive SL65 AMG Black Series has had only three former keepers. Described by the vendor as in excellent condition throughout, the car has covered only 21,050 miles from new and comes complete with Mercedes-Benz service history and Service Plan. Offered with a recently completed MoT, 'SL55 BLK' offers a possibly once-in-a-lifetime opportunity to acquire one of these fabulous limited-edition supercars.
387 1974 Lamborghini Espada Series III 9410 £70,000 £80,000 €78,000 €89,000 $88,000 $100,000 A rare right-hand drive model supplied new in the UK, this Espada Series III was extensively restored in 2018 with exemplary attention to detail, the paintwork being entrusted to Bodyworks of Manchester and the full interior re-trim to Mike Hammond (Auto Interiors). In addition, the car has recently benefited from full service and re-balancing the carburettors. Restoration bills are on file and the car also comes with a V5C Registration Certificate and current MoT. Finished in stunning and harmonious combination of Rosso with contrasting and equally beautiful cream leather interior, this jaw-dropping right-hand drive Espada is presented in spotlessly clean cosmetic order throughout.
All information is copyright Auto Auctions Monthly except images which are copyright of Artcurial, Bonhams, Gooding & co., Mecum, RM/ Sothebys, Russo & Steele and Worldwide Auctioneers. All figures are US$ and gross unless specifically stated. All figures are accurate in the home currency for the sale, any figures in other currencies are calculated based on the exchange rate for the date of sale accessed from FxTop.com. Percentages as given are calculated as the % below low estimate or above estimate as noted. All information given for recreational use only and cannot be personally guaranteed for accuracy by the author.