9am Friday May 3rd
10am Saturday May 4th
11am Sunday May 5th


1203 Ambassador Blvd
St. Louis, Missouri
United States
Fred Guyton was a St. Louis, Missouri based architect with a passion for collector cars who was one of the early hobbyists and spent four decades adding many of the rarest collectibles to his eclectic collection. His passing in 2018 affords collectors the unique opportunity to acquire some rare cars such as Ruxton and Du Pont as well as some more catholic examples such as the Packard and Duesenberg. The hundreds of lots of motoring, aviation and nautical collectibles are also worthy of interest and offer, there really is something for everyone.
"Its a Doozy" may be household parlance but few are aware one origin story which pegs the inimitable Duesenberg as the basis for the term although if any car ever deserved its own saying its the mighty Duesenberg Model J. The biggest, baddest and arguably the fastest American car of the art deco period, it was the most glorious failure with the post '29 world not ideal territory to sell expensive motorcars. The Guyton collection example is a Murphy Convertible Sedan, one of the more "common" coachwork designs fitted to the chassis, this example was originally sold in St. Louis after it was used by Indy legend Leon Duray. After a relatively benign history, this Duesy passed to the family of IBM heirs Kitt Watson and his son had Chris Charlton restore it to original form and when it became available in 2012, Guyton jumped at the chance to acquire it. Model Js range in value from $500k to $20+ million depending on spec and most importantly coachwork, this car has pretty but not rare coachwork and comparable Murphy Convertible Sedans have sold for around the low estimate although I wouldn't be surprised by a result around the high amount, this car is that good.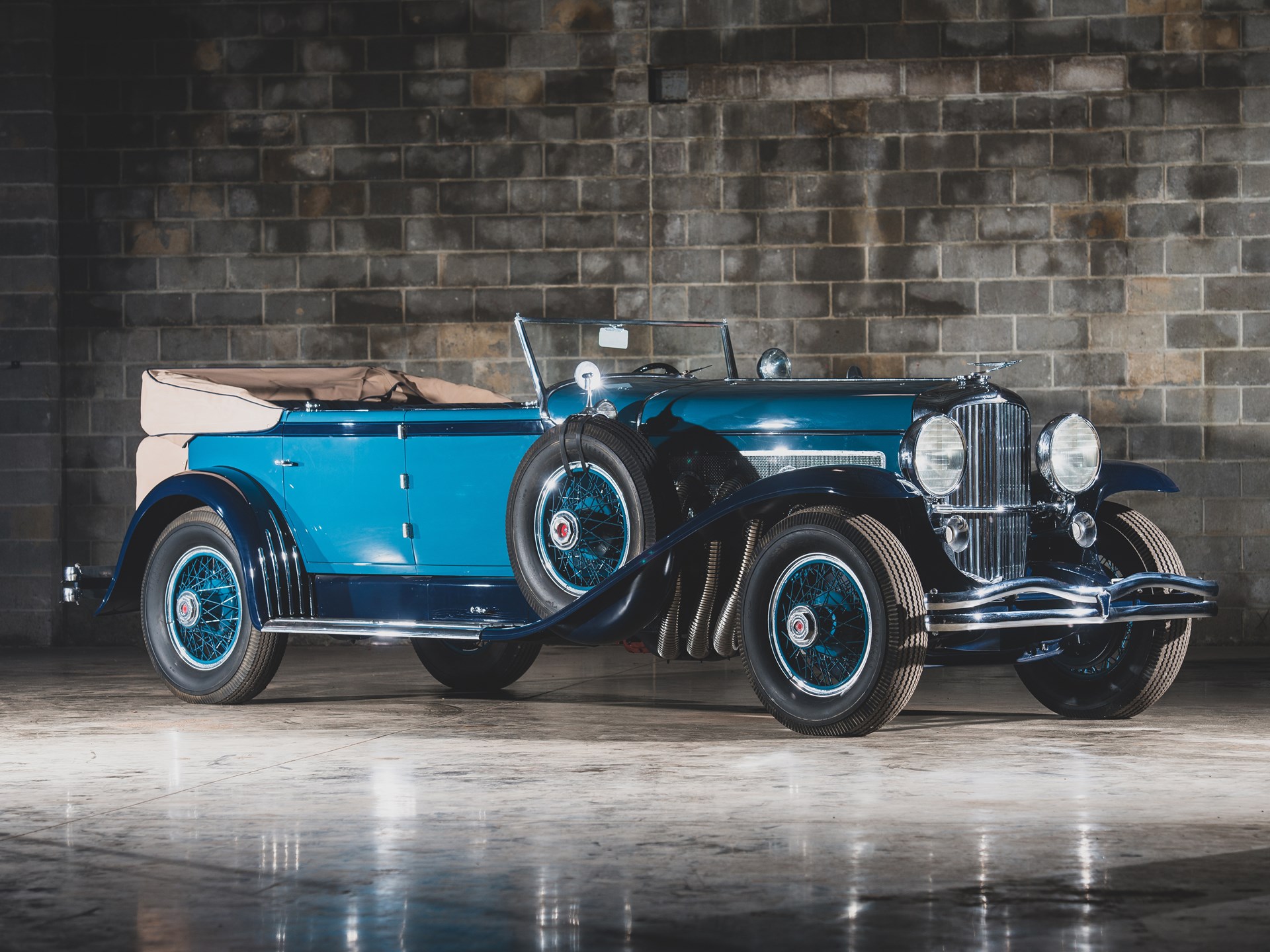 Packard were already making a name for themselves as one of the greatest of great American brands when the 734 series was launched with the straight 8 engine. Built with multiple catalogued coachwork options, among the most attractive was the Speedster Phaeton of which just 32 were built and this example was discovered by Tom Mix in '59 and he retained it until Guyton managed to acquire on Mix' passing in 2006. Always well maintained and cared for rather than restored, this example would be the ideal candidate for a Pebble Beach style restoration or further conservation and is very reasonably estimated at $800k – 1.1, indeed its most certainly good buying. The final marquee lot is a very early Rolls-Royce 40/50HP, the model now known as the Silver Ghost after the infamy of the one off AX201 which was painted Silver from new. Originally supplied with a Hooper Laundalette body and as with so many vintage Rolls it was later converted to a saloon and survived relatively intact. A 1972 rebuild saw a Jarvis Roi des Belges body fitted to create something of a replica of AX201 and it was soon sold to the USA where it ended up in the Rick Carroll, Bill Lassiter, Richard Solove and John O'Quinn collections where it continued to be maintained to concours winning condition. Little used in the decade since it joined the Guyton collection this Rolls will need some fettling before use but is the closest thing to AX201 and would be a highlight of any collection. Silver Ghost values are slightly tricky since they are both vintage and relatively common but this is a great example, that said value at the low estimate is likely.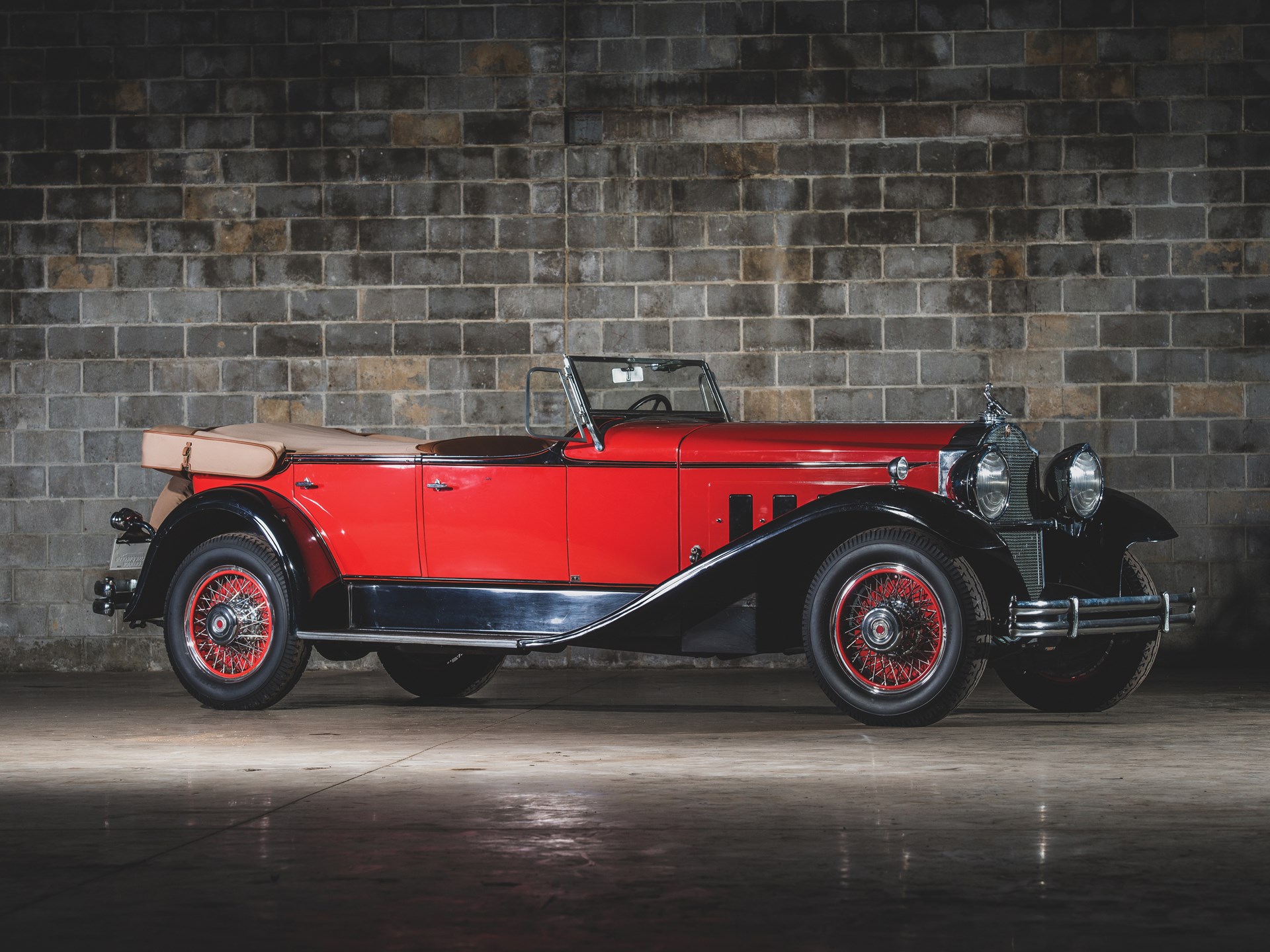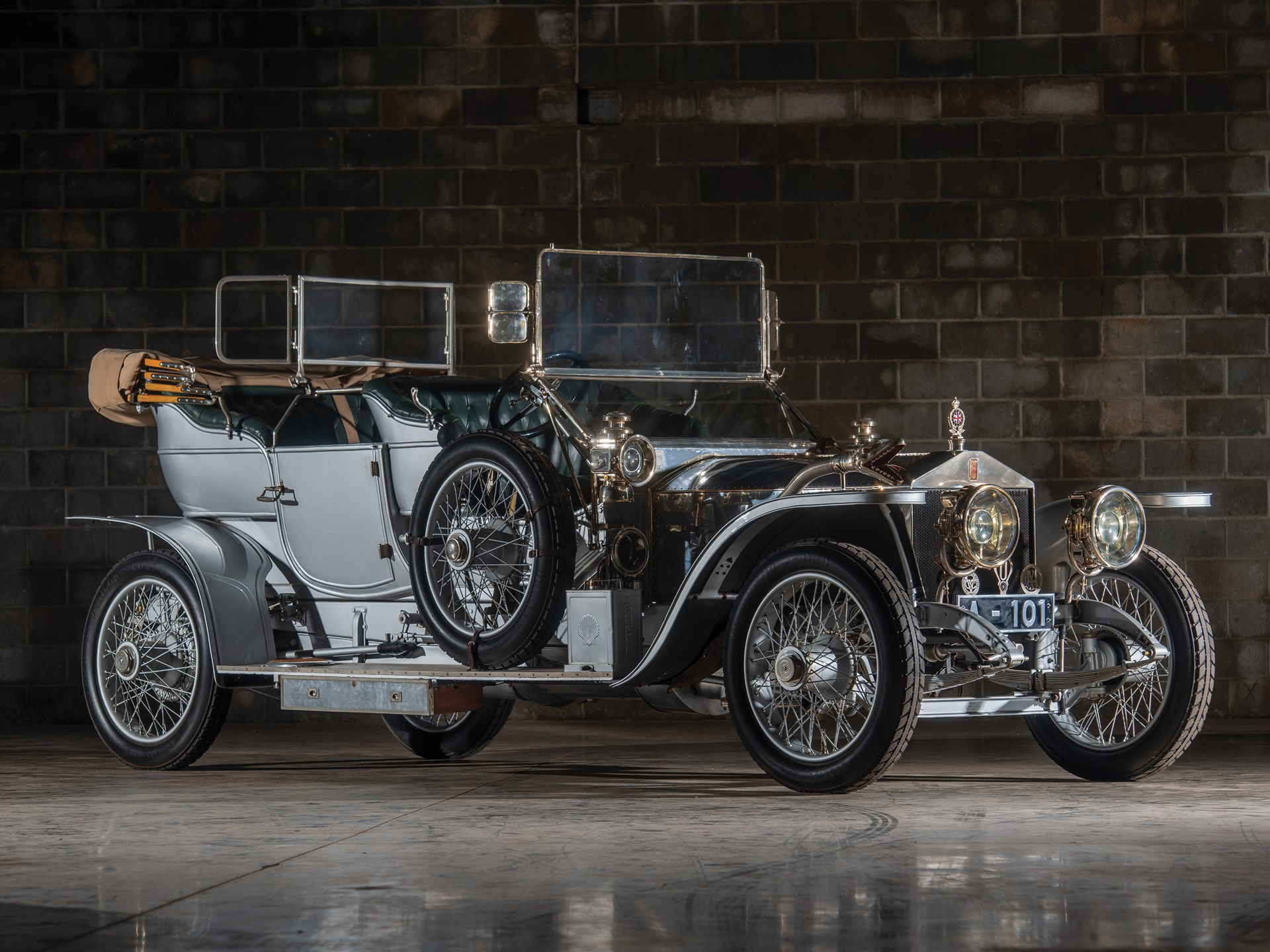 Pre-war highlights are:
1903 Cadillac Rear Entrance Tonneau – Est. $100 – 125k, A early Cadillac in great nick, ideal for the London-Brighton. Priced right.
1906 Mason Touring – Est. $150 – 200k. 1 of 25 Masons produced in '06, designed by the Duesenberg bros, formerly part of the Harrah collection and subject to an older restoration although remains highly original. Super rare so hard to value but seems right.
1927 Duesenberg Model X Locke Dual Cowl Tourer – Est. $300 – 400k, 1 of 4 Model Xs fitted with Locke Dual Cowl Phaeton coachwork, ex Harrah collection and featuring a lovely patina. Ready for further use or restoration. Priced right.
1928 Hispano-Suiza H6B Hibbard & Darrin Cabriolet de Ville – Est. $250 – 300k, Hispano-Suiza was a very modern vintage car and a worthy competitor of Rolls-Royce and other fine marques. Bodied in Paris by Hibbard & Darrin with luxurious if formal coachwork, the car remains original other than an older repaint and quite glorious. Both market correct and fantastic buying.
1930 Ruxton Model C Baker-Raulang Roadster – Est. $350 – 450k, The 11th of just 12 Ruxton Roadsters, actually produced by the Kissel car co., superb car ex. D. Cameron Peck and still almost totally original. Seems pretty cheap, wouldn't surprise if this sells way above this level.
1930 Du Pont Model G Waterhouse Convertible Victoria – Est. $400 – 500k. Du Ponts were produced by the Du Pont family for a short period and many have since returned to Du Pont family ownership making their offerings rare in the extreme, this is the first auction sale in almost a decade. This example is the only survivor of the six Waterhouse Convertible Victorias and features a concours winning restoration. Like the Ruxton, this is cheaply estimated and a result well above this level wouldn't surprise.
1931 Rolls-Royce Phantom II Continental Thrupp & Maberley Cabriolet de Ville – Est. $150 – 200k, a very rakish Cabriolet de Ville, sold to Bentley enthusiast Sir Ronald Gunter and ideal for further use or refurbishment, market priced.
1931 Marmon Sixteen Convertible Sedan – Est. $250 – 300k, A full custom Marmon with the mighty V16 engine, whats not to like. Non matching although original coachwork limits things somewhat but still a concours star despite the older restoration. With the above reservations noted, this is market correct.
1932 Nash Advanced Eight Seaman Convertible Sedan – Est. $125 – 175k, 1 of just 3 survivors of the incredibly rare full luxury Nash. Subject to a restoration in the later 2000s, shown at Pebble in '10, similar qualities to the Duesenberg above, yet a quarter of the price. Still its a Nash, so all the money.
1938 Rolls-Royce Phantom III James Young Saloon Coupe – Est. $150 – 250k, a very rare, fascinating Rolls with advanced art deco coachwork. Class winner at Pebble in '04 after a no expenses spared restoration and still quite glorious. The Phantom III featured the rather unloved V12 and has been seen as a lesser example of the marque but this is fabulous and well worth the ask.
1939 Rolls-Royce Silver Wraith James Young Saloon Coupe – Est. $100 – 150k, 1 of 3 built to this design with lovely art deco coachwork, restored in the 1980s, very well maintained since, "beautiful condition". Expensive for a Silver Wraith but few are this good.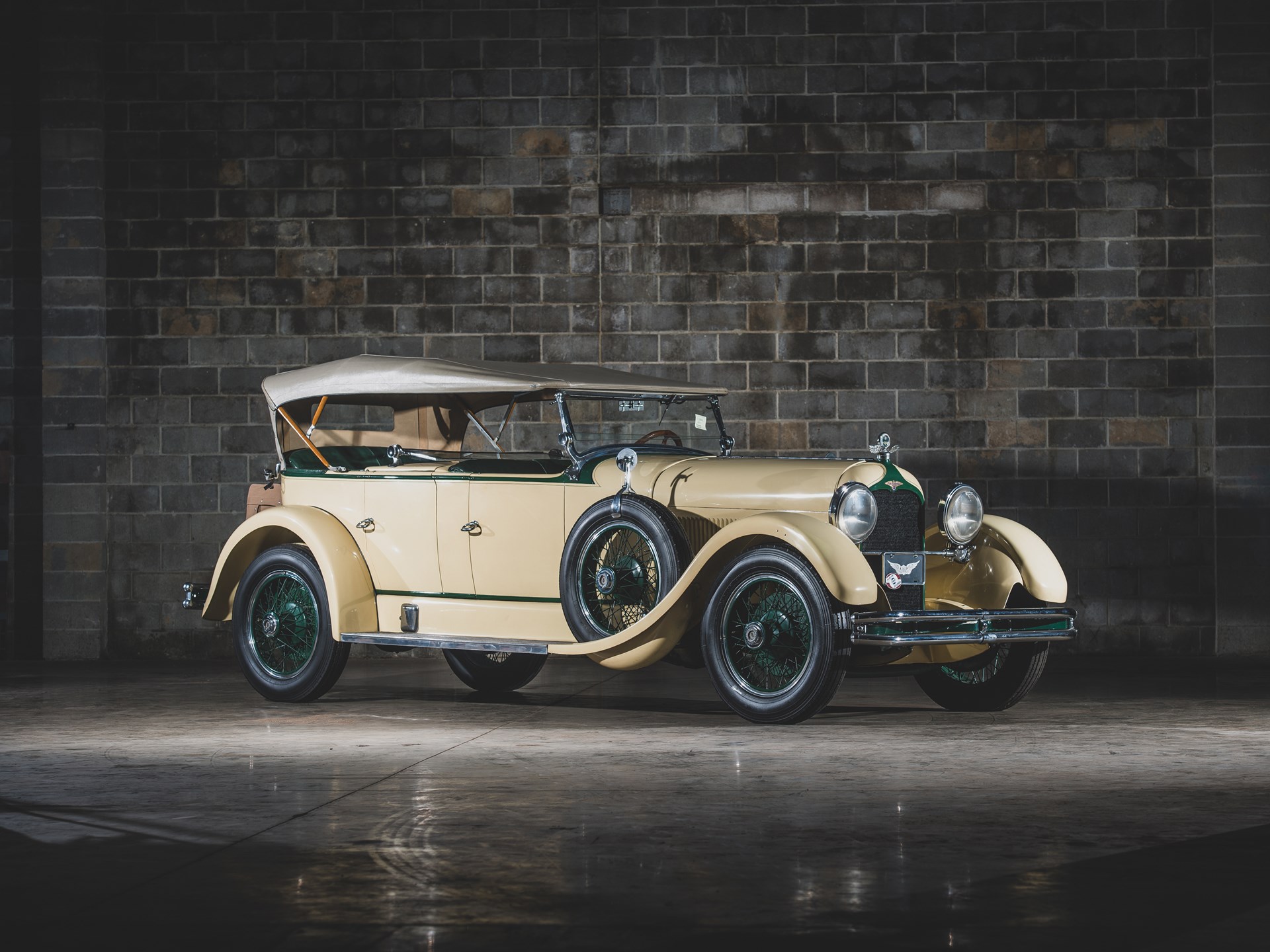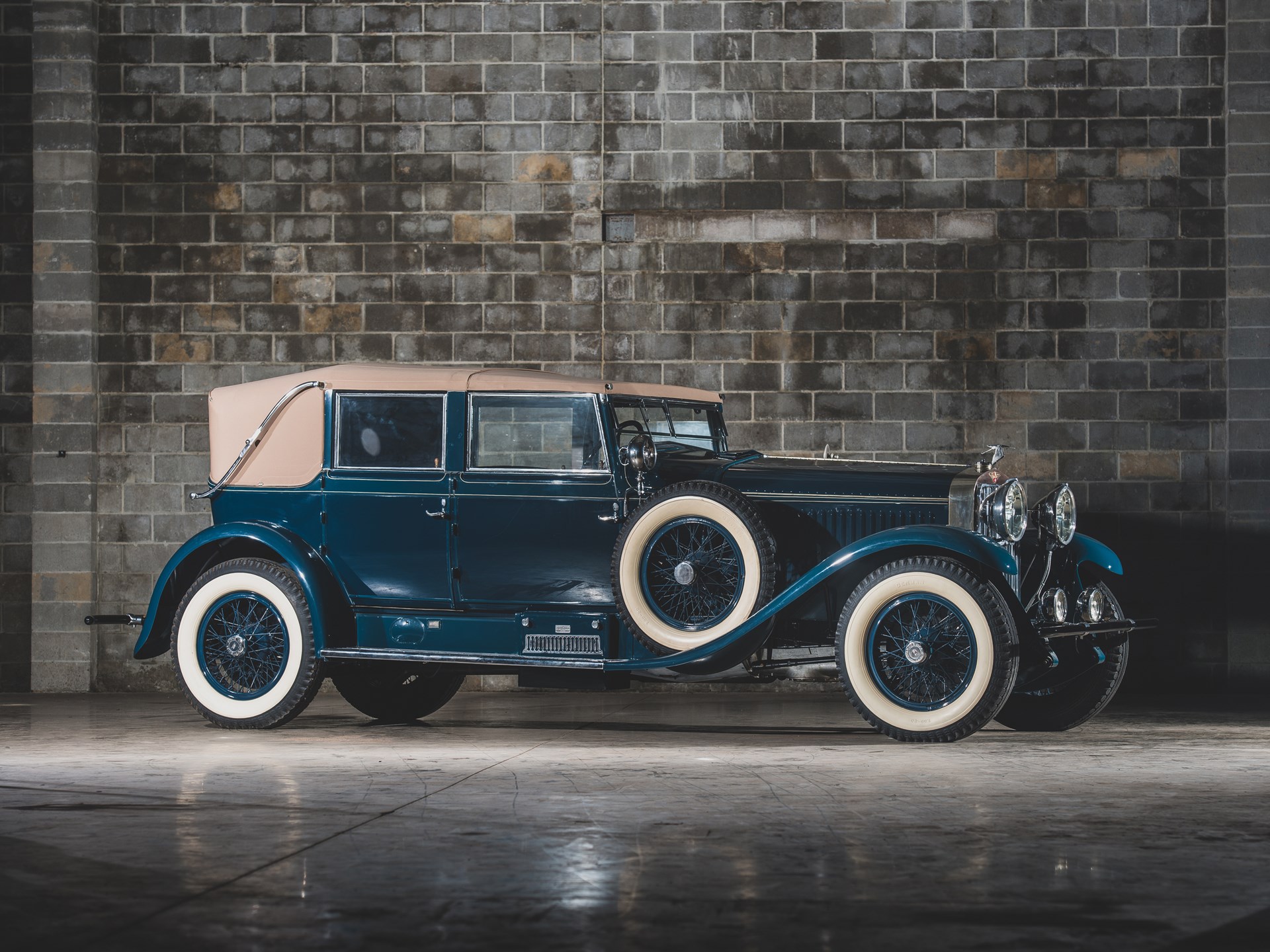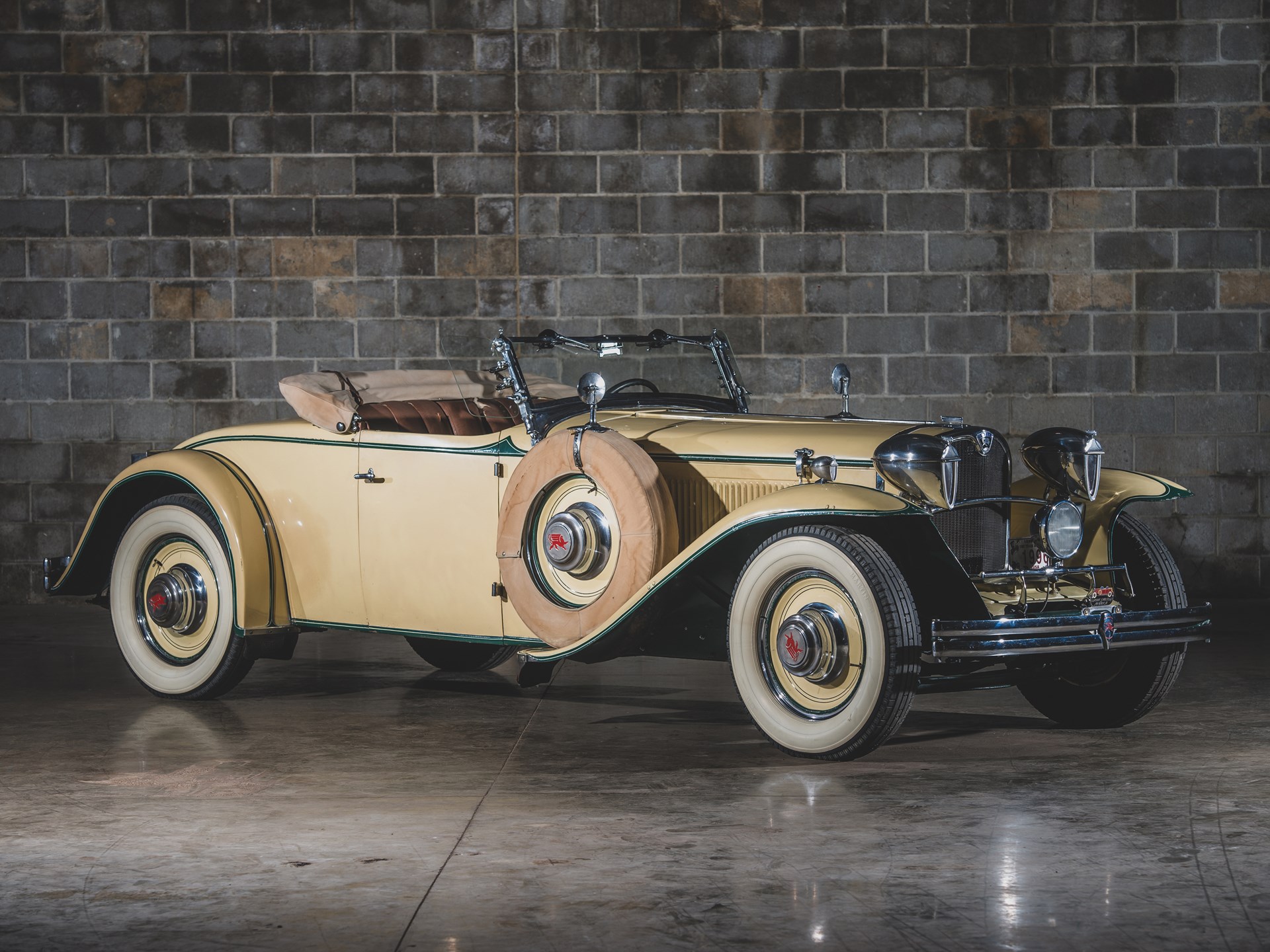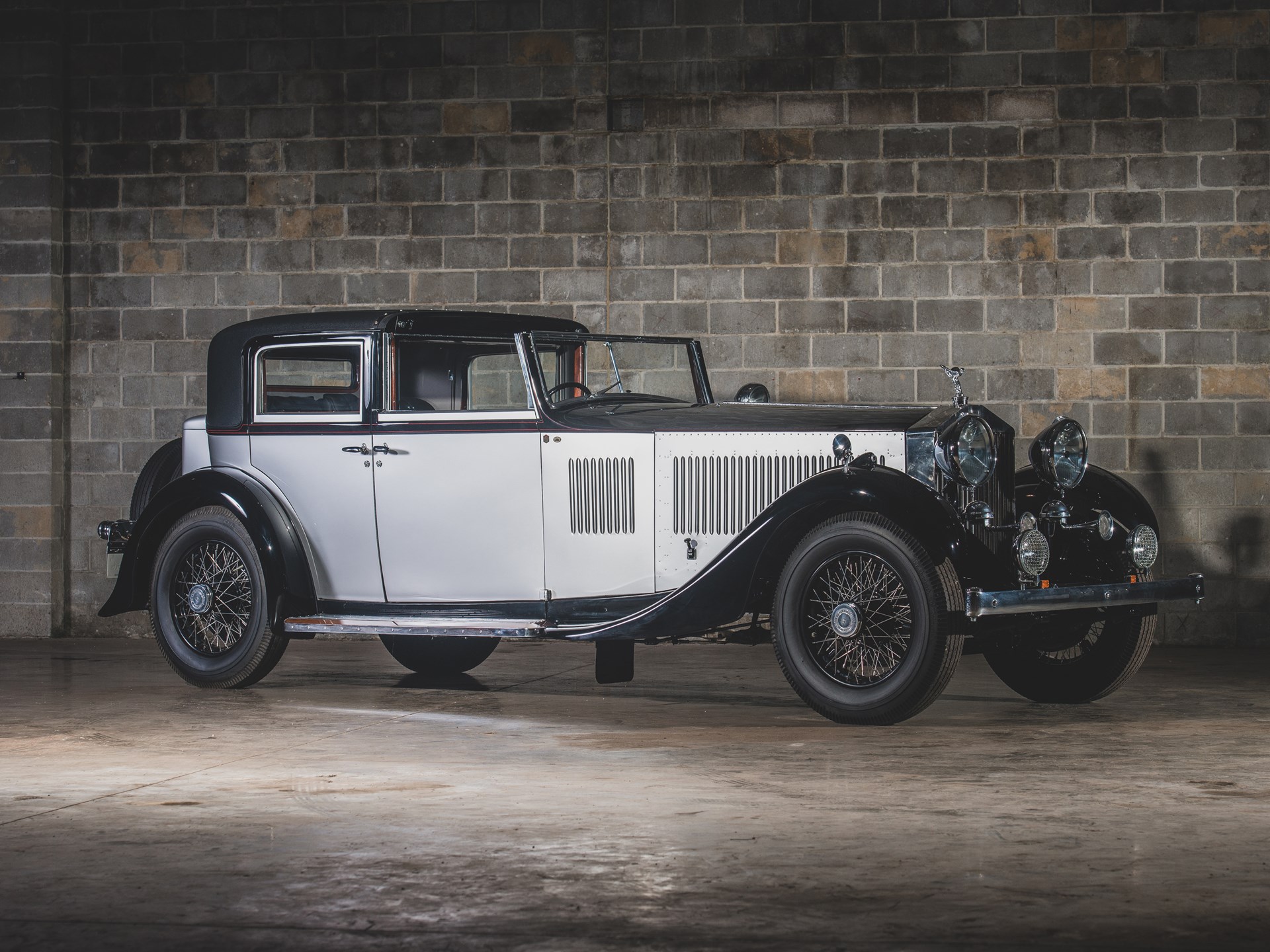 Affordable classics are an eclectic bunch, highlights include:
1966 Chevrolet Corvair Corsa Convertible – Est. $8 – 12k, Ralph Nader might hate me but the formerly unloved Corvair is now a rare, cool and quirky 1960s car, offered in solid, driver like condition, Corvairs are perhaps not the most collectible of cars but cheap enough for some fun.
1942 Lincoln Continental Club Coupe – Est. $20 – 30k, a beautiful Continental in older restored condition. Priced cheaply for the type and potentially a very good buy.
1937 Pierce-Arrow Model C Travelodge – Est. $40 – 60k, a very rare, highly detailed and luxurious camper. Seems both expensive and very cheap, so likely priced right.
1951 Mercury Convertible Coupe – Est. $80 – 100k, beautifully restored, early '50s Mercury. 9,500 miles since the restoration. Market correct.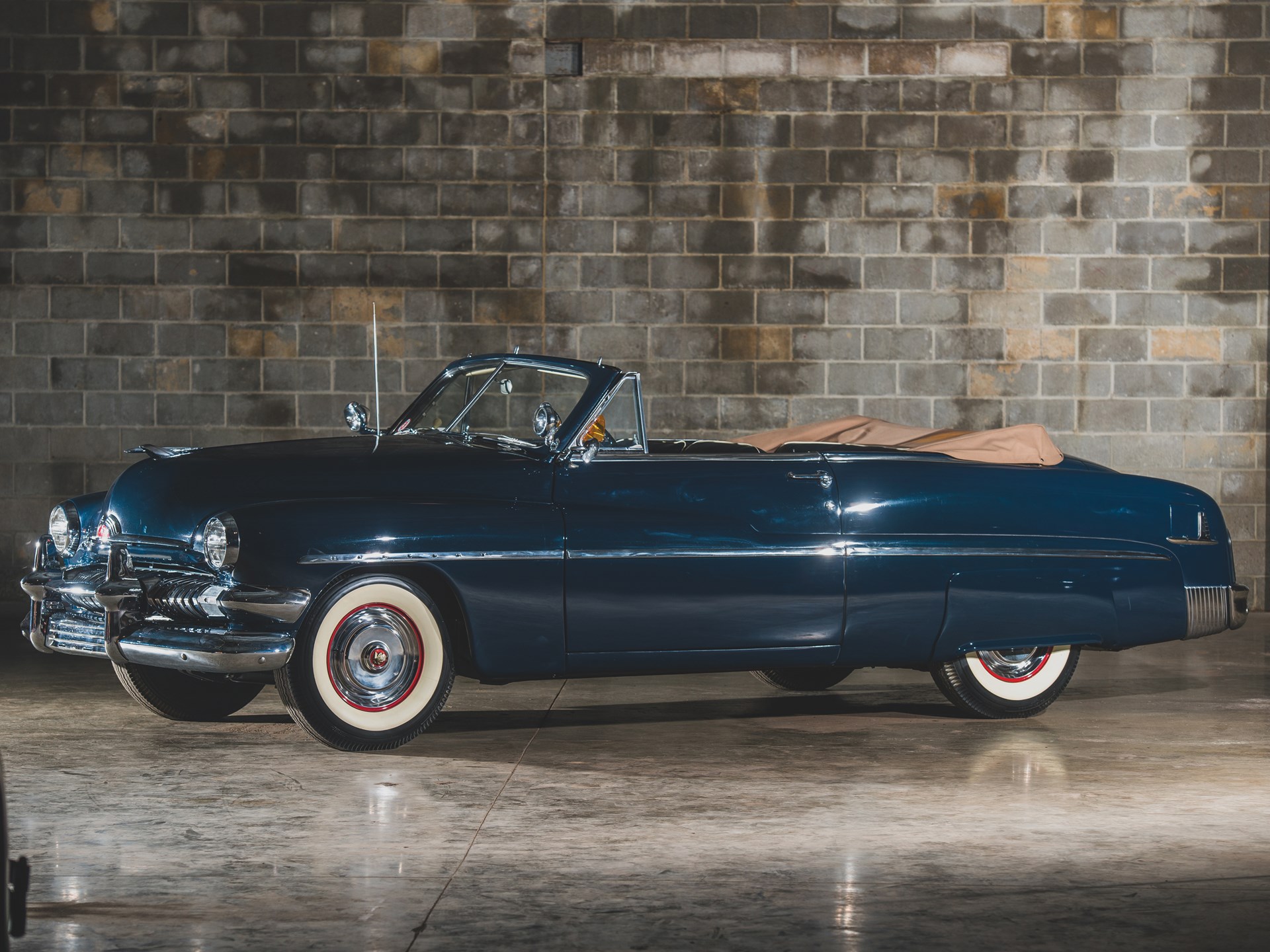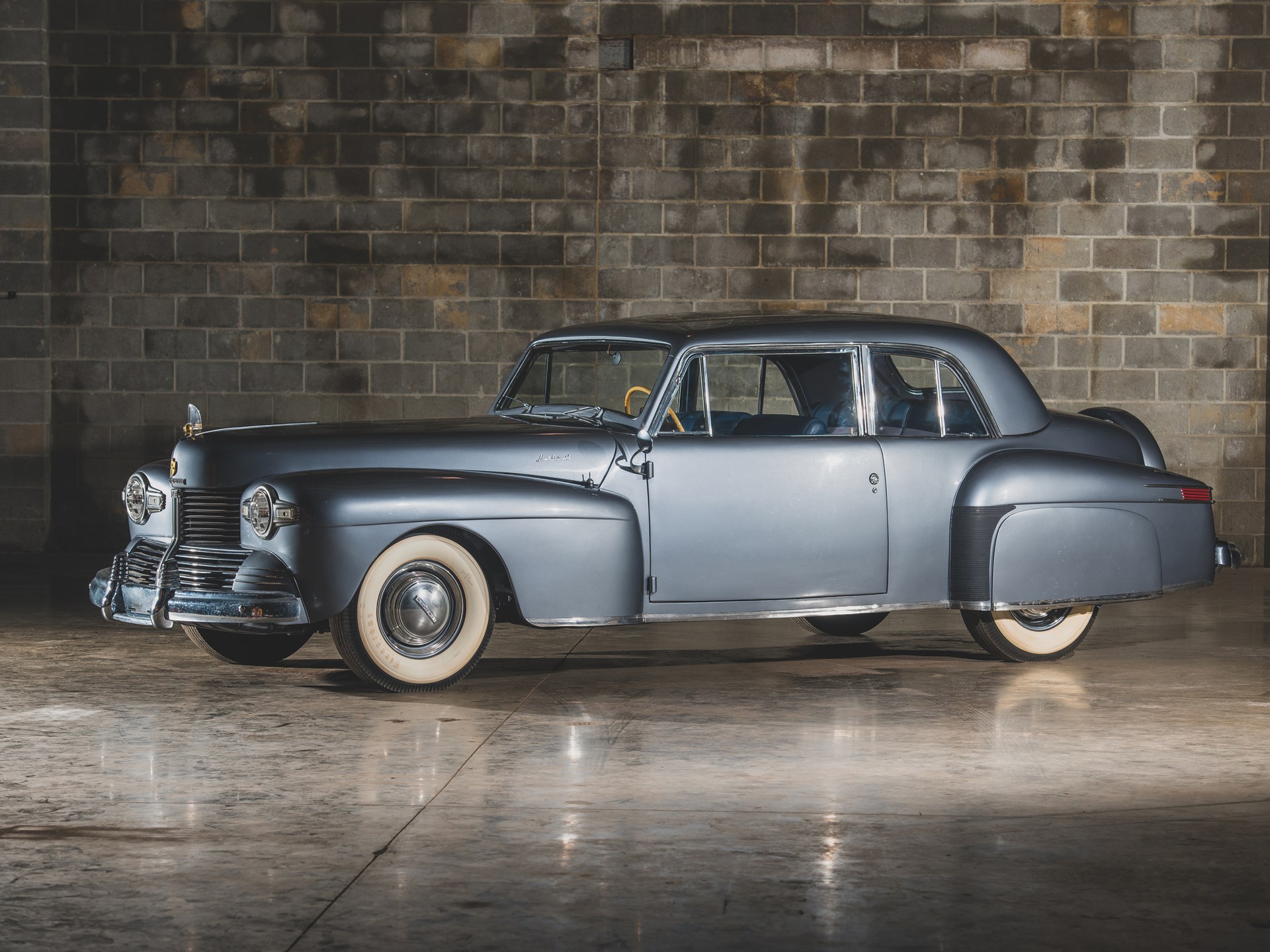 The Guyton collection is a particularly special selection of highly collectible American auto's and well worth a look from anyone interested in fine full classics.
Key – Lot #/ Year/ Make/ Model/ Chassis #/ Estimate (US$) low – high/ Estimate (EURO) low – high/ N/R = no reserve/ description
343 1903 Cadillac Rear Entrance Tonneau 1070 $100,000.00 $125,000.00 N/R €89,000 €111,250 Fred Guyton's 1903 Cadillac was originally delivered in Providence, Rhode Island, as noted in its factory build documents. It was exhibited in Antique Automobile Club of America (AACA) competition by former owner Charles A. Moore, achieving its Grand National First Prize in 1975. Reportedly, Mr. Moore was so proud of the Cadillac that he exhibited it in his living room. Later it was acquired for the renowned collection of John B. McMullen in Lapeer, Michigan, and was fully detailed and sorted for Mr. McMullen by Classic & Exotic Service of Troy, Michigan, including rebuilding the carburetor, repainting the wheels, and other improvements throughout. Mr. Guyton acquired the Cadillac from the McMullen Collection in 2007, and it has been on display at his Mason's Garage for over a decade. Its restoration is remarkably well preserved, with nary a crack in the beautiful finishes of its wooden body, superb fit and finish of the black leather interior and canvas top, and brass that has cleaned up beautifully, including the Phare Solar headlamp and Dietz sidelights and taillamp. Testament to its authenticity is the level of fine detail throughout, extending to the original brass number plate still in place on the engine. The chassis and drivetrain are very clean and highly attractive. The car is offered with a pair of wicker side baskets. This is almost certainly the nicest surviving example of the original Cadillac, and is one of the finest restorations in the Guyton Collection.
344 1912 Cadillac Model 30 5 Pass Touring 37206 $50,000.00 $75,000.00 N/R €44,500 €66,750 This 1912 Model 30 five-passenger touring was shipped from the factory on 24 October 1911 to Don Lee, the San Francisco dealer. Its further history is not known, until acquisition by the Guyton Collection in October 2008, from Eric Gibson of Keswick, Virginia. An older restoration, it has been well preserved and presents well in dark blue over black fenders, the body accented with delicate white pin striping. It has a full canvas top in black, and black buttoned leather seating. The famed Cadillac electric lighting and starting is present, complemented by a bulb horn. The engine compartment is correctly detailed, showing just a few signs of use.
345 1919 Ford Model T Touring SOS64639 $10,000.00 $15,000.00 N/R €8,900 €13,350 This car, an older quality restoration, has the hallmarks of an early 1919 tourer, with electric lights and demountable rims, but no battery, generator, or starter. It has been titled as 1918, however, using an engine number that was possibly state assigned. It was acquired in June 1985 from Victor Labantschnig of St. Louis, who is believed to have restored it. The top is a LeBaron Bonney item, and the upholstery is done to factory specification in buttoned black artificial leather. The floors have the difficult-to-find rubber mats. The tires are 30 × 3½ Wards Riverside, of considerable age. The archetypal Model T, this black touring car will provide pleasure, whether on tour, on the show field, or simply being driven for old-fashioned enjoyment.
346 1886 Benz Patent Motorwagen Replica 35 $40,000.00 $50,000.00 N/R €35,600 €44,500 Dark Green and Dark Green over Brown wood. ex. Donington Collection and a second private owner. Fabulous. Docs. via Bonhams Goodwood '07 sold $54k
347 1970 Maserati Mexico AM112/1 872 $60,000.00 $90,000.00 N/R €53,400 €80,100 This rare example has been in storage since 1987 and will require reconditioning prior to being put back into regular service. Before its lengthy slumber, the Mexico was being used as a "daily driver." Finished in medium blue with a white leather interior, the odometer reads 73,237 kilometers, which is likely original. It is equipped with a ZF five-speed manual transmission, chrome wire wheels, air conditioning, Jensen AM/FM stereo radio with cassette, air horn, power windows, clock, and rear window defogger. The car was repainted some time prior to being put in storage, and today it displays some pitting and cracking. Chrome is also pitted, the interior worn, and the vehicle is in fair condition overall. The body is described as solid and straight, and it appears that all trim and mechanicals are intact. Offered from the Guyton Collection in "barn find" condition, this rare 4.7-liter Mexico affords the next caretaker the opportunity to thoroughly freshen and tour as-is or fully restore back to its original splendor.
348 1931 Chevrolet Series LT Fire Engine T2140289 $15,000.00 $25,000.00 N/R €13,350 €22,250 In 1931, Boyer Fire Apparatus built nine fire engines on Chevrolet chassis. Some of these went far afield, like no. 8452 supplied to the DuPont Chemical company in Wilmington, Delaware. Others were sent closer to home: Wakefield, Nebraska; Sterling and Glasco, Kansas; Dell Rapids, South Dakota; and Brayner, Missouri. Even closer to St. Louis was Boyer no. 8257, sent to the Worden Volunteer Fire Department of Worden, Illinois, about 30 miles east of St. Louis, across the Mississippi River. As described in a 2013 history of the Boyer company by firefighter, historian, and apparatus collector Rodger Birtchfield, engine 8257 was constructed with two 40-gallon chemical tanks and a Barton pump. Number 8257 appears in two photographs from 1971, when it was owned by Henry Malon of Florissant, Missouri, a St. Louis suburb. The photos match remnants of lettering that remain on the vehicle, although a number of attachments have been changed. While full numbers-matching provenance is unknown, it is most likely that this truck is the one delivered to the volunteer firefighters of Worden. As it appears today, the truck has been converted by substitution of a 300-gallon water tank for the chemical tanks, and the pump, originally front-mounted, has been removed. Other accoutrements, some added since the 1971 photos, include a Siriniti Sterling siren, a bell, searchlight, soda-acid fire extinguisher, and some nozzles. A Vibro-Jet auto horn flanks the standard Chevrolet horn. While the original Barton pump has been lost, a period Darley Champion pump of a type used on other Boyer apparatus of the period is included. In all, it is a fine example for a collector of historic fire apparatuses from America's heartland.
349 1912 Hudson Model 33 Doctors Coupe by James Young KK 15554 $40,000.00 $60,000.00 N/R €35,600 €53,400 James Young outfitted six Model 33 chassis with this body, known as the Doctor's Coupe, a convertible with "dickey seat," mahogany-framed sliding windows based upon the design used in British railroad cars, and a lush interior in cloth with embroidered accents. Reportedly one of the six examples was delivered to the Duke of Westminster. Typical of the coachbuilder, the construction throughout was without peer, though evidence shows that the thrifty British shop incorporated stock Hudson roadster body panels into the design. Riley wire wheels were another unusual touch. This car's earliest known ownership was in Dingwall, south of London near Croydon, where an owner dubbed it "the Dingwall Dandy," striped that name on the hood, and enjoyed driving it around town. It was acquired in the 1950s by David and Dorothy Rice, longtime Horseless Carriage Club of America members in Pasadena, California. Following a restoration, it was shown and driven by them for many years. Most famously it was featured in an article, "An American Abroad," by Julie M. Fenster in Automobile Quarterly, Vol. 25, No. 2. In 1980, it was awarded 3rd in class at the Pebble Beach Concours d'Elegance, followed by an AACA Senior First Prize in 1983. In 1989, the Rices sold the car to respected Washington State collector, Carl Schmitt, known for the fastidious maintenance and documentation of his automobiles. Following Mr. Schmitt's passing it was acquired for the Guyton Collection, in 2008. It has been well preserved in Mason's Garage ever since, and remains a very attractive automobile, with only minor patina and wear showing on its now five-decade-old restoration. Further it is offered with a handsome history file documenting its Rice and Schmidt ownerships. Few cars in the Guyton Collection are rarer than "Dingwall Dandy;" none can challenge it for sheer crowd appeal. It is, simply, cute as a button.
350 1908 Buick Model 10 Runabout 928 $35,000.00 $50,000.00 N/R €31,150 €44,500 This Model 10 Buick was in a museum collection prior to acquisition by the Guyton Collection in 2009. An older restoration, the body is in generally good condition, although the paint, in the correct off-white shade called "Buick Gray," exhibits considerable age. It has period-correct Gray & Davis brass lamps, all in very good condition, although the headlamps slightly postdate the car's era. There is an acetylene generator on the left running board. The front seats and "mother-in-law" rumble are upholstered in a patterned maroon vinyl. It, too, is aged, but is serviceable and attractive. A correct black canvas top provides shelter from the elements, and a brass-framed windshield gives comfort from the wind. The engine and chassis appear in good condition, correctly detailed and showing some use. The car has not run in some time, so a thorough servicing should be carried out before committing it to the road. The most popular Buick of its era, this Model 10 should provide its new owner with considerable fun.
351 1931 La Salle V8 Roadster Fleetwood 903324 $80,000.00 $120,000.00 N/R €71,200 €106,800 The Guyton 1931 LaSalle roadster was delivered through the Rario Motor Company of Woonsocket, Rhode Island, and equipped with a radiator stone guard and dual side-mounted spares. The car was restored in the early 1960s by Walter Seaburg, for Dwain Pansing of Dayton, Ohio. According to later owner Phillip Wichard, the car had been an extremely low-mileage original example and required no major mechanical work, and to this day it retains its original body wood, stamped with the body number in the door sills. Significantly, the restored car was a National First Prize winner in Antique Automobile Club of America (AACA) competition in 1962 – an era when the AACA was still largely populated by "horseless carriages," and some 1931 LaSalles would still have been "used cars!" Mr. Wichard acquired the car in 1967 and on the basis of Mr. Seaburg's excellent work, he would become one of his best clients. The LaSalle continued to be shown for nearly 30 years, drawing much attention, before it was sold at the dispersal of the Wichard collection in 1995. Obviously as impressed as its seller had been, the car was acquired by Fred F. Guyton, and has been on display in his museum since. Like the 1929 Cadillac in the Guyton Collection – also an ex-Wichard, Seaburg restoration – the work on this car is remarkably well preserved; the paint still shines and has few notable flaws, while the leather interior has the obvious patina and surface-cracking of well-worn enjoyment rather than age. Accessories include a correct Cadillac trunk, metal side-mount covers, twin Trippe lights, a single Pilot Ray driving light, and dual running board spotlights. This jazzy LaSalle's show days are behind it, but it is still a beautiful automobile and would be a real stunner on the next CCCA CARavan or Cadillac-LaSalle Club event for a new owner – who can enjoy a "junior Cadillac" whose collector heritage is beyond reproach.
352 1930 Ford Model A Deluxe Rumble seat Roadster $20,000.00 $30,000.00 N/R €17,800 €26,700 The car presents well in rose beige, a tinted shade of tan, over black fenders, with dark green moldings bearing straw pinstriping. The straw-colored wheels are mounted with 4.75 × 19 Universal whitewalls. An older restoration, the paint exhibits a few flaws, the tires are older and there are some water stains on the tan canvas top. The interior and rumble seat have correct brown pleated artificial leather, complemented by brown carpet on the floor of the cockpit. The engine is currently disassembled, but the parts are included, in addition to an Instruction Book and a notebook of Model A Judging Standards. Ford built 124,214 roadsters for 1930, just 11,313 of them the DeLuxe model. This one, once it is running, will delight its new owner. Model A Fords are tremendous fun, easy to maintain, accelerate swiftly, and keep up with all but superhighway traffic. The full effect is felt in an open car, none more enjoyable than this one, particularly in the rumble seat.
353 1941 Cadillac Series 62 Convertible Sedan 8359499 $70,000.00 $90,000.00 N/R €62,300 €80,100 Cadillac build records show that this car was shipped on 19 May 1941 to S&C Truck. It was equipped with the optional heater and Hydra-Matic transmission. Finished in Dove Grey with a black canvas top with red piping, red leather interior and matching carpets, fender skirts, and red rims fitted with period-appropriate wide whitewall tires, it makes quite a fashion statement. Inside one will find a clock and radio. The original build sheet and the original owner's booklet titled "Operating Hints for the 1941 Cadillac" are included in the sale. The 1941 Cadillacs are the darling of the CCC, and this car will provide the basis for an excellent tour vehicle eligible for all CARavans and Club events.
354 1922 Wills Sainte Claire A-68 Roadster 1867 $60,000.00 $80,000.00 N/R €53,400 €71,200 The Guyton Collection's A-68 roadster, an early surviving Wills, was fitted with a roadster body by Budd, with distinctive styling touches such as the Duolite headlamps and side marker lights fared directly into the cowl. It was part of the famous collection of A.N. Rodway of Cleveland, Ohio, where in the late 1960s it resided alongside such impressive marques as Duesenberg, Isotta Fraschini, and, ironically enough, the future Guyton Ruxton! In 1965, the roadster was acquired by Robert Schill of New Hampshire, whose family maintained it for 37 years before selling it in 2002 to Keith Kruse of Fort Wayne, Indiana. While in Mr. Kruse's ownership, the Wills' engine was rebuilt and a Borg-Warner overdrive installed, allowing the car to run comfortably at 55 to 60 mph. The car was also exhibited by Mr. Kruse in the ACD Automobile Museum in Auburn. Fred Guyton finally purchased the Wills in 2009. With its Rodway restoration now older, including obvious patina to the paint and interior, the car is now best-suited for road enjoyment, a purpose that after mechanical recommissioning it will serve ably as one of the best "driver's cars" of its era. Its dashboard includes many original gauges, while the interior is finished in a period-correct morocco-style leather. A proper Wills Sainte Claire jack is even included. Every collector that appreciates fine engineering should own a Wills Sainte Claire, and this is truly an example to enjoy, with wonderful rich heritage among great collectors.
355 1937 Pierce-Arrow Eight Coupe 2225007 $60,000.00 $80,000.00 N/R €53,400 €71,200 The Guyton Collection's is the sole survivor of a believed seven coupes built on the Pierce-Arrow Eight chassis in 1937, and by body number is believed to have been the first example built. At one point used to carry parts in a junkyard, it was discovered behind a barn in Mansfield, Ohio, by Bill Weikert, who sold it to his fellow Pierce-Arrow Society member, Lanny Sims, in 1976. Mr. Sims authentically restored the car to its original condition over a six-year period, after which it was the subject of a cover feature in The Arrow (1984, Issue 2). It was also judged Best in Class at the Pierce-Arrow Society National Meet in 1988. In 2001, Mr. Sims sold the Pierce to William Crumrine. Mr. Crumrine sorted the car mechanically and enjoyed it in CCCA events, including in CARavans in Northern California (2002), the Finger Lakes (2003), and Arizona (2007), before selling it to Mr. Guyton in 2012. Mr. Guyton has maintained the car's older restoration in his collection, and aside from paint checking around the edges of the doors, it remains very presentable, with a fine cloth interior and beautiful wood-grained dashboard. Offered with a selection of spare parts, a history file, including correspondence and receipts, and an original 1937 Pierce-Arrow brochure, this would be among the rarest automobiles on its next CARavan – a point of pride for the true Pierce-Arrow connoisseur.
356 1937 Pierce-Arrow Model C Travelodge 20020 $40,000.00 $60,000.00 N/R €35,600 €53,400 The Guyton Collection's Model C was acquired from Charles and Veronica Orin of Ruidoso Downs, New Mexico, its owners since 1956. The interior features a handsome dinette, with comfortable booth-style seating and a linoleum table, which folds into a double bed, as well as an insulated icebox, a hand-pumped sink (designed to draw from an external source), a Prentiss-Wabers Auto-Cook-Kit camp stove, and a wood-burning stove. Extensive storage and counter space is provided as well. All windows are fitted with modern safety glass and curtains, and open to mosquito screens, including the rooftop hatch, allowing for well-ventilated living while on the road. Accompanying the Travelodge are a variety of charming period accessories, including a blue speckleware dining set, a Philco table radio, and a three-piece set of leather luggage, amongst others, completing its wonderfully detailed presentation. The ideal partner to one's Pierce-Arrow, this unusually luxurious and beautifully built trailer is the ultimate tour accessory and the greatest prize for the determined Full Classic enthusiasts.
357 1932 Packard Eight Coupe Roadster 345198 $90,000.00 $120,000.00 N/R €80,100 €106,800 The 902 Standard Eight Coupe Roadster offered here is an authentic example that was sold new by Connecticut's Bridgeport Motors on 3 October 1931, according to the reproduction data tag on its firewall. It was formerly owned by John Schaumburg of Cle Elum, Washington, and was acquired by Fred Guyton from the late, noted dealer Leo Gephart in 1994. Inspection indicates that the car is an authentic coupe roadster with its original body, complete with a single rear-mounted spare that gives it an especially dashing and sporty look. The restoration likely dates to the 1980s, and there is minor paint wear throughout. The tan leather interior shows scarcely any use and is still tight and fresh, while the fabric top is dry and older, and does not appear to have been raised in recent years. The engine compartment is clean and well detailed, with little signs of anything but age and minor leaking. Accessories include a chromed radiator stone guard, cormorant mascot, wind wings, dual chromed horns, and fender parking lights. At the time of cataloguing, the car had recorded 82,031 miles. This would be an excellent Packard to recommission and enjoy driving this summer season, with colors that still look terrific and styling that is widely considered one of the famed automaker's most subtle and attractive.
358 1923 H.C.S. Series IV Touring 3130 $50,000.00 $75,000.00 N/R €44,500 €66,750 Typical of the automobiles in the Guyton Collection, the six-cylinder H.C.S. touring has a distinguished history. It was purchased new by Theodore Molino of Rossford, Ohio, and a copy of the letter from Harry C. Stutz, congratulating him on his acquisition, remains in the file! Mr. Molino retained his H.C.S. until November 1969, when, still in extremely original and intact condition, it was sold to Bill Freeman of Chelsea, Michigan, who commissioned its full restoration by Clark-Patton of nearby Plymouth, with parts acquired from the famed A.K. Miller. It next passed to William M. Worthman of Columbus, Ohio, from whom it was acquired in 1992 by the late William Greer. Mr. Greer was a dedicated and passionate enthusiast, and the founder of The Stutz Club. Following a cosmetic freshening and rebuilding of the engine and transmission, the H.C.S. was driven by Greer on tours and exhibited at several concours, including the Glenmoor Gathering of Significant Automobiles. Despite its regular use, the H.C.S. has been well preserved since its acquisition by Mr. Guyton in 2015, and is still in very good condition, with only minor wear to the paint around the shut lines. The body hardware is correctly finished in German silver, aside from the running boards, which are cast aluminum. The car is complete with a set of side curtains and a top boot, as well as extensive documentation and hand-written maintenance invoices from its various ownerships, and recorded 57,627 miles at the time of cataloguing. The opportunities to acquire a Stutz are rare; the H.C.S. is rarer, still, and no less technically fascinating. Here is the opportunity to attain one with peerless provenance, courtesy of Messrs, Greer, and Guyton.
359 1906 Mason Touring 77 $150,000.00 $200,000.00 N/R €133,500 €178,000 According to Mason historian, George Hess, the Guyton car is one of approximately 25 automobiles produced by the company in 1906, and is the earliest known automobile designed by the Duesenberg Brothers. It was one of two shipped to an agency in San Diego, California, whose owner had planned to build his own automobile and had contracted with brothers Clarence and William Hunt of National City to build it. When the finances for the new car ran out, the brothers Hunt received the new Masons as payment for their work on the project. William Hunt obviously enjoyed his car, as a wonderful period photograph survives of him driving his family in the Mason. The Mason remained with the Hunt family until 1970, and was then sold to Roy Davis, a longtime member and director of the Horseless Carriage Club of America. When acquired, the car was very complete, including its original body, and in excellent condition for its age. Mr. Davis and Bud Von Nordheim restored it to original condition between 1971 and 1975. It was finished to "stock" specifications with the exception of removal of the intake tube manifold and the installation of a Ford Model T carburetor to each cylinder intake, for better performance; the body was also refinished in red, with the correct elaborate pinstriping (a single continuous line that runs throughout the car, forming THE MASON on the radiator shell). While the car was not originally built with a top, one was fabricated to a high standard and installed. Around 1975, the restored Mason caught the eye of casino magnate and renowned automobile enthusiast, William Harrah, who a year later sent an employee to Mr. Davis's house, with instructions to buy the car for Harrah's Automobile Collection. The deal was consummated, and the Mason remained an exhibit alongside Harrah's numerous Duesenbergs until 1986, when it was sold to Dr. F.N. Brunemeier of Redding, California. Dr. Brunemeier enjoyed showing and touring with the car for eleven years, before selling it to Fred Guyton. The Mason was one of Mr. Guyton's favorite automobiles, as reflected by its proud position front and center in his collection, as well as by its choice for various paintings displayed nearby, including the 2008 AACA Hershey Eastern Fall National Meet poster by Ken Eberts. The restoration is considerably older but still largely attractive and, with the exception of the typical cracking in high-stress areas, is solid. Furthermore, as would be expected from a car that has had such good care for its entire life, its level of authentic detail is truly fabulous; the headlamps, badged from a California supplier, are likely original, and the car retains its 1915 California registration plate on the dashboard, as well as its original serial number plaque on the rear fascia and the original brass Harrah's identification tag. The Duesenberg is America's Mightiest Motor Car, and the Mason is its earliest progenitor, its Homo erectus, if you will. This is the earliest known Mason, a wonderful car that has been cared for in good hands for 113 years, and therefore an irreplaceable and insurmountable artifact of Duesenberg history.
360 1939 Rolls-Royce Silver Wraith James Young Saloon Coupe WHC47 $100,000.00 $150,000.00 N/R €89,000 €133,500 Only three examples of design no. 4564 were produced. The car offered here, chassis no. WCH47, was marked "off test" on 3 June 1939, but was not delivered until May of 1941, likely due to the interruptions of World War II. Built to specification for London dealers Jack Barclay, its original owner was one Samuel Coxhill, succeeded by F.E. Roberts and Clifford Whatmough of Manchester, L.H. Brown and J. Salem of Cheshire, and the Barleymow Engineering Company of Surrey. In 1963, the car was sold via London dealer Harry Martin to David Stockwell of Wilmington, Delaware, in whose hands it was mechanically sorted and used on occasional tours, including at least one return to England in 1967. It was then acquired from Mr. Stockwell in 1977 by William Maxwell Davis of Charleston, West Virginia, a renowned RROC and CCCA member for decades, and longtime chief Rolls-Royce class judge at the Pebble Beach Concours d'Elegance. Mr. Davis has over the years owned many of the most superb pre-war Rolls-Royce automobiles in this country, including outstanding examples of the Springfield Phantom I, Phantom II Continental, and Phantom III. In Mr. Davis's excellent care, the car was mechanically and cosmetically sorted by Dennison Motors of West Chester, Pennsylvania, a highly noted specialist in Rolls-Royces of this era. Following eight years in the Davis collection, the Wraith was sold to Herbert B. Conner of Pittsburgh, in whose care a fresh and concours-quality restoration was undertaken between 1989 and 1990. Fred Guyton made its purchase in 1996, and the beautiful car has been a much-loved part of the collection ever since. Its restoration is remarkably well-preserved and, in fact, still national show-worthy, with nary a flaw seen in the beautiful lacquer paint, and the interior still tight, fresh, and clean throughout. Even the complete original tool set is still intact and in beautiful condition. Accompanying the car is a fascinating history file, including copies of its build and subsequent ownership records, extensive correspondence between former owners, and documentation of its excellent maintenance, restoration, and care by Messrs. Davis, Conner, and Guyton. This is, without question, one of the world's very finest Wraiths.
361 1922 Stutz Series KDH Bearcat 12974 $120,000.00 $160,000.00 N/R €106,800 €142,400 The known history of the Guyton Bearcat begins in the late 1950s in Australia, where the car was discovered by collector Harry W. Dietert of Kerrville, Texas. Mr. Dietert brought the Stutz back to its homeland for his stable, and after restoration enjoyed the car in numerous hobby events, including the 1963 Glidden Tour. In 1985, the Stutz was acquired by Doris A. Luther of Kansas City. Later that year it was resold to a dealer in St. Joseph, Missouri, after which it was cosmetically restored and then acquired in 1987 by William Greer of Indianapolis. Mr. Greer was a lifelong Stutz enthusiast and historian, and in fact the founder of The Stutz Club. Over the years numerous fine examples passed through his hands, none of which was treasured quite as much as the Bearcat, which represented the culmination of his decades-long dream to own such a model. His affection for the car is evident in its history file, which details his acquisition and ownership, and includes a poem that he wrote in the Bearcat's honor. Mr. Greer told the seller of the Bearcat that he would be a good home for it for the next 20 years, and so he was. In 2007, he was persuaded to sell it to his longtime friend, Fred Guyton. The restoration of the car is well preserved, with a good shine to its distinctive yellow finish, and the black leather interior remains in excellent condition. Overall the appearance is quite authentic and clean, with the engine compartment and chassis remaining largely attractive and correct, though their finishes are older than the exterior paintwork. The windshield retains the 1960s Texas registration and Glidden Tour stickers from its Dietert ownership. Inspection of the interior reveals a wood-grained dashboard bearing Waltham gauges; the odometer notes 11,334 miles. Accessories include painted wire wheels and dual spotlights on the cowl. This is an enthralling machine, from long-term good care by men who knew well and adored the Stutz marque.
362 1927 Duesenberg Model X Locke Dual Cowl Tourer D95D $300,000.00 $400,000.00 N/R €267,000 €356,000 Duesenberg historians believe as many as four Model Xs were produced with versions of this dual-cowl phaeton body by Locke & Company, for appearances at the various Auto Salons held in major cities in 1927. This car, the only survivor, was originally delivered to C. Walter Pratt, a wealthy paper mill owner in Carthage, New York, who was obviously impressed with it; he became one of the first customers for the successor Model J, acquiring a Murphy convertible coupe. It was eventually acquired from Mr. Pratt by Edward Sixbury, then passed to Wendell Chapelle, whose Empire State garage it shared with one of the Packard 1106 Twelve "boattail" runabouts. Midway through a full restoration, the Model X was sold at Chappelle's 1964 estate auction to the famed Harrah's Automobile Collection. Finished beautifully by Harrah's in Old Ivory and Painter's Green, the hues described in literature for the original Salons, the car was one of the collection's most famous automobiles, featured in numerous postcards and their 25th Anniversary roster. Reportedly, it was one of Bill Harrah's favorite cars and he drove it regularly. In 1987, it was part of a large group of Harrah's cars acquired by the renowned collector, General William Lyon. Not long thereafter it was sold to Bud Tinney of California, then passed to Fred and David Weber, who at the time were amassing an impressive collection here in St. Louis. After being traded away by the Webers, it joined the vast Duesenberg stable of Ed Weaver in Dalton, Georgia. They say that "the third time is the charm," and it was true for Fred Guyton, who was finally able to acquire this car in 1996, after being outbid in two prior attempts. Correspondence on file indicates that he was thrilled to add the car to his collection, reveling in its companionship with his beloved Model A. He avidly contacted Duesenberg authorities, researching and documenting his acquisition, with letters in the file being from the late Fred Roe and Don Howell, among others. Today the car's Harrah restoration is well over 50 years old and shows patina throughout, with the lacquer paint exhibiting the usual wear and the interior in overall good condition; the engine compartment and chassis both show signs of careful use. It could be successfully shown at local events or become the rarest automobile on the next CARavan. The Model X is the car without which no Duesenberg collection is complete, and with the last example trading hands publicly in 1996, the Locke dual-cowl phaeton's offering here marks a generational opportunity. Fred Guyton had three chances; the next owner may not.
363 1916 Packard Twin Six 7 Pass Touring 87352 $150,000.00 $200,000.00 N/R €133,500 €178,000 The 1916 Twin Six offered here was built on the longer 1-35 Six chassis, with a 135-in. wheelbase; its crankcase was cast on 28 March 1916. While its original owner is not known, its earliest known collector owner was Roger Ritterbeck of Cuyahoga Falls, Ohio, in 1968. From Mr. Ritterbeck it passed to Walter Cunny of Genoa, Illinois, who was one of the foremost American collectors of Brass and Classic Era automobiles during the 1980s. Mr. Cunny sold the Packard in 1989 to Albert Guibara of Burlingame, California, who would faithfully maintain it for nearly two decades. It was then sold in 2008 to Fred F. Guyton, who had long coveted an early Twin Six, and has now spent over a decade in his noted Mason's Garage museum. To examine this car shows just why it was such a success, and Packard such a legend of fine automaking. It is overbuilt to a remarkable extent, with headlight lock rims of solid cast aluminum and body panels that still fit snugly and solidly after over a century of good care. The engine compartment is remarkable, with not only all of the correct Packard ancillary components, but all of them likely the well-preserved originals to this very car. The green and black body may have been repainted, likely in the 1940s; in places it has been charmingly worn down to primer by years of detailing, and it is slightly dull but far too evocative to replace. At the same time the top was likely replaced, including the headliner, to the correct "two man" design. The black button-tufted leather interior is fully original, except for the lower front seat cushion. Especially noteworthy are the unusually solid and well-engineered jump seats in the rear compartment. Accompanied by an original owner's manual and promotional brochures for the model, as well as a correct Packard jack, this is an unusually original, well-preserved, and deeply honest Twin Six. All who view it fall in love with its superb engineering, quality, and myriad charms.
364 1937 Cord 812 Phaeton 812 1633 H $150,000.00 $200,000.00 N/R €133,500 €178,000 The Guyton 810 phaeton is listed in the well-known books of Josh B. Malks, The Timeless Classic and Cord Complete, as being delivered with this engine, no. FB 1865, and phaeton body no. C 91 455. Its earliest known owner was C.W. Kimbell of Bell, California, who advertised it in the Los Angeles Times on 31 May 1964. By 1971 it had side exhaust fitted and was owned by Earnest A. Wright of San Juan Capistrano, who exhibited it over the next several years in ACD Club competition, achieving its First Senior award and the Tom Mix Award for Best Cord at the West Coast Meet in 1978. Mr. Wright sold the Cord to Dr. Elwood "Bud" Greist, a longtime Auburn and Cord enthusiast in Livermore, California. In Mr. Greist's ownership the phaeton continued its show-going ways, appearing at the Pebble Beach Concours d'Elegance and at many other ACD Club meets on the West Coast. It remained in his care until 1987, and was later part of the noted Ontario collection of the late Jim Miller, highly respected for his eye for excellence and quality. Fred Guyton acquired the Cord from an owner in Michigan in 2008, and it has been part of his fine collection alongside other Auburns, Cords, and Duesenbergs for over a decade. Its restoration is well maintained and very attractive, with the finishes under the hood appearing largely authentic, and the top, hard to get "right" on these cars, properly stitched and fitted. Accessory Cord driving lights and a Cord Delco radio are fitted, and the car is accompanied by several pieces of Cord literature, including a reprinted owner's manual and bound copy of the Factory Service Bulletins. This is a lovely, well-kept example of a truly iconic design.
365 1927 Bugatti Type 40 Grand Sport 40661 $200,000.00 $300,000.00 N/R €178,000 €267,000 The current American Bugatti Club (ABC) Register notes that chassis no. 40661 was produced in January 1928, with engine no. 565 and a factory-made Grand Sport body. When an order was placed on 10 September of that year by Lyon agents Christy, Panguad and Monestier, this car was so-assigned, and was collected at Molsheim and driven to Lyon by Jean Tisseyre on garage plates 1655 WW5. Tisseyre is believed to have been an employee at Bugatti or at the garage in Lyon. By the early post-war era the car had made its way stateside and was owned by one Joe Dickey, who sold it to Carlton Coolidge of San Francisco. Mr. Coolidge, an avid sports car enthusiast, is a longtime member of the ABC, and this car was noted in his ownership in the Club's second Register. While owned by Mr. Coolidge the Bugatti was restored to its present appearance, in iconic French Racing Blue with body-color front axle and springs, and chrome-finished wire wheels. The body conformed, as it does today, very near the original Grand Sport design, though much of the inner woodwork is new and it is obvious significant restoration was required; in addition, some of the gauges have been updated. The Type 40 was eventually received by Mr. Coolidge's ex-wife, Cynthia, in their divorce, and sold to the Blackhawk Collection, from which it passed to Fred Guyton in the same transaction that added the Rolls-Royce Piccadilly Roadster to the collection. Over the years, this was a particular favorite of Mr. Guyton and his wife, Beverly, and was occasionally shown at Midwestern concours, including at the 2012 Celebration of Automobiles at the Indianapolis Motor Speedway, for which it was freshly painted and mechanically sorted by D&D Classic Automobile Restoration; receipts for this work are on file. Mrs. Guyton recalls that the opportunity to drive the Bugatti on the famous "Brickyard" was one of the great thrills of her husband's life. This should be one of the most entertaining automobiles in a new owner's collection – and a true crowd favorite, whether it is being driven at Indianapolis, or not!
366 1931 Marmon Sixteen Convertible Sedan 16 149 554 $250,000.00 $300,000.00 N/R €222,500 €267,000 The Guyton Sixteen is one of the few whose original owner is known; Indiana title records identify him as having been Edward McConnell of 21 West 42nd Street in Indianapolis. Like most all Classics it had a period as a "used car," when it was creatively used by a small-town deputy sheriff as a police car. In 1948, it was sold by its owner's son, John Steeds, to 17-year-old William Snyder. Snyder drove the car in his last year of high school and on dates, and it obviously made a major impression; as a successful businessman he would go on to become an early and significant Marmon Sixteen enthusiast and collector. Mr. Snyder went to college out of state and had to sell the car to a Mr. Chittenden of Bedford, Ohio. It next passed in the early 1950s to Clarence Stevens of Munson, Ohio, then later that decade to J.M. Owen of Dayton. In the late 1970s the car was advertised for sale by Mrs. Richard Seybold of Tipp City, Ohio, a member of the Studebaker family. It was sold to William Raithel of Rochester, New York, who found the original close coupled sedan body to be in very poor condition, the car having been used to house chickens. Fortunately, Mr. Raithel had earlier acquired a correct and original Sixteen convertible sedan body at Hershey and had this body restored on the newly purchased Sixteen chassis and engine by Wilkinson & Sharpe and his own shop. The restoration work was completed by 1985, and Mr. Raithel enjoyed exhibiting the car for a decade, earning 2nd in class at the Pebble Beach Concours d'Elegance in 1988 and achieving both an AACA National First Prize and a CCCA Senior First Prize (no. 1689). He then sold the car, via the Blackhawk Collection, to Fred Guyton in 1996. Largely maintained on exhibit in Mr. Guyton's museum since, the car is now an older restoration. Recent inspection showed that the car retained its original LeBaron body number tag from 1931. Significantly, the convertible sedan is offered with a set of the new, improved Marmon Sixteen cylinder heads, from the recent reproductions produced by Gary Severns and Dyke Ridgley, which should prove a boon to any new caretaker who intends to drive the car as Colonel Howard Marmon intended.
367 1926 Duesenberg Model A Millspaugh & Irish Touring D61H $175,000.00 $225,000.00 N/R €155,750 €200,250 The Guyton Model A, as a late-production example, carries Indianapolis coachbuilder Millspaugh & Irish's second version of their touring car, with a distinctive double-beaded beltline molding and rather handsome, modern lines. The definitive known history of the car begins atop Mount Washington, the New Hampshire peak known for challenging hill-climb drivers on an annual basis. Undoubtedly, this Duesenberg knew the challenge well and met it on numerous occasions, as its owner in the 1940s was a weatherman stationed on the summit. It was later sold in 1948 to Fred Benson of Wheaton, Illinois, a longtime Auburn Cord Duesenberg Club member and Duesenberg enthusiast, who restored the car mechanically and drove it in many events and meets for 17 years. In 1966, he was pictured with the car on the cover of the ACD Club Newsletter. The car soon passed to Dr. Fred Woods, then to "Friendly Bob" Adams and finally to Jim DeBickero of Chicago. It was acquired from Mr. DeBickero by Fred Guyton in 1971 and has remained in his ownership ever since. One of Mr. Guyton's first antique cars and his first Duesenberg, it has always been a favorite and was regularly used for many years, including several visits to the ACD Club National Reunion. The car's restoration is now several decades old and shows its wear, particularly in the interior and paint, both of which have heavy use and patina but also a very charming appearance; it is clearly an automobile that has been used, rather than neglected. It is believed that the interior may, in fact, be the original material from 1926, though the top was replaced in Mr. Benson's ownership. The engine received a recent valve job by Marc Ohm. Accompanying the car is a history file containing various correspondence and invoices from over the years, reflecting Mr. Guyton's great love for this splendid, very original Model A – one of the greatest treasures of his collection.
368 1925 Stutz Series 695 Sportster 14370 $120,000.00 $160,000.00 N/R €106,800 €142,400 Perhaps the most desirable style was the five-passenger Sportster, a dashing and dramatic body style, with a truly jaunty appearance, worthy of the name. The Sportster shown here is the only example remaining in existence. In late 1987 it was acquired from Jim Shaw of Terre Haute, Indiana, by the late Joe Folladori of Indianapolis, a well-respected collector famous for his extravagant collection of award-winning automobiles. While owned by Mr. Folladori, the Stutz received a frame-off restoration by the late marque specialist, Paul Freehill. It was awarded its CCCA Senior Premier badge, no. 1384, in 1989, and was featured the following year in Ms. Kimes' The Classic Car. "Following restoration," quoth Mr. Folladori, "I discovered this Speedway Six to be a really fine driver with plenty of power and good brakes. Stutz engineered a good car." Mr. Folladori proved his point by driving the car reliably from coast to coast across the U.S. in the Atlantic Reliability Tour. When Mr. Folladori decided to part with his automobiles in 1994, the Sportster was acquired for his friend Fred F. Guyton's collection, where it has now resided for a quarter-century. It was most recently shown in 2011, at the Pebble Beach Concours d'Elegance and at the Stutz Centennial Celebration, where it was judged Best Early Stutz. Today the restoration is older, with a fine patina throughout, but would still detail well for local showing and has a very authentic appearance in its bright Chrome Yellow and black. The interior is in well-fitted black leather, with clear and attractive gauges set into a beautifully varnished wooden dashboard. Both the serial number and engine number plates remain original, in an engine compartment that would require only detailing. At the time of cataloguing, the car had recorded 27,391 miles. This is a truly Splendid Stutz, representing the best of the famous marque's engineering and styling talents.
369 1928 Hispano-Suiza H6B Hibbard & Darrin Cabriolet de Ville 11707 $250,000.00 $300,000.00 N/R €222,500 €267,000 The Guyton Hispano-Suiza H6B, chassis no. 11707, was originally delivered to Seymour Knox II, a prominent Buffalo, New York, businessman whose family had made their fortune in five-and-dime stores with their cousins, the Woolworths. Mr. Knox was a member of the board of many important East Coast companies, a financier, a significant collector of modern art, and an appreciator of fine automobiles who had earlier enjoyed a Rolls-Royce Silver Ghost. The body was specifically produced for Mr. Knox's order by Hibbard & Darrin, the famed Parisian carrosserie of Americans Thomas Hibbard and Howard "Dutch" Darrin. The coachwork was constructed using their patented all-aluminum Silentlyte process, for durability and lightness, and was highly detailed in Hibbard & Darrin's typical fashion, with exquisite fine hardware and inlaid woodwork throughout. For instance, the rear windows are crenellated at the edges and are raised and lowered by a clockwork gear system! Mr. Knox maintained the car until the late 1950s, when he was reportedly convinced to sell it for a mere $500. In 1965, it was acquired by early enthusiast and longtime stalwart member of the Classic Car Club of America, Morton Bullock III of Baltimore, Maryland. In 1990, he told author Beverly Rae Kimes, "When I purchased the car, it was on consignment at Inskip's in New York City. The salesman was Charles Willmore, who sold the first two Rolls-Royce cars delivered to the U.S. around 1906." At the time the car was complete save for the original trunk and had just over 21,000 actual miles, a figure confirmed by how many critical areas had survived in virtually pristine condition. It had been repainted, but the interior was still original and in fine condition, as confirmed by Sam Manton, a veteran mechanic who had serviced the Hispano-Suiza for Mr. Knox. Mr. Manton noted that the car had seldom been outside of Buffalo, used mainly for local parades and chauffeuring dignitaries. The car was restored for Mr. Bullock, with input into color choices from an elderly Thomas Hibbard, and detective work that resulted in the location of the original trunk – created by Innovation Trunk Company of Paris – in a Long Island attic. Remarkably and fortunately it had retained its original Hibbard & Darrin-badged radiator winterfront, special-ordered for Buffalo, as well as the Marchal headlamps, Stephen Grebel spotlight, and Notex driving lights. Following completion of the restoration, the H6B was shown for many years, achieving its CCCA Senior First Prize in 1994. It was also featured in various books and periodicals, including Automobile Quarterly, Volume 20, No. 2, and The Classic Car, 1982 Number 3. Fred Guyton acquired the car from his friend Mr. Bullock in 1996, and the H6B has remained a very proud part of the collection ever since. In Mr. Guyton's care it has been occasionally shown, most prominently at the 2009 Pebble Beach Concours d'Elegance, winning 2nd in class. The restoration is now four decades old but remarkably well preserved, with few flaws in its lustrous blue lacquer finish, and only minor age to the upholstery; it would benefit mainly from a thorough detailing and mechanical servicing. Simply put, this is one of the U.S.'s finest Hispano-Suizas – a car of outstanding purity and quality that has remained on these shores, always loved and well maintained by enthusiasts, since it was new. In provenance and elegance alike, it is without peer.
370 1932 Nash Advanced Eight Seaman Convertible Sedan 520625 $125,000.00 $175,000.00 N/R €111,250 €155,750 The top-of-the-line 1093 Advanced Eight offered here is one of only three survivors with this handsome convertible sedan body, built for Nash by the famous Seaman of Milwaukee, Wisconsin. According to information in the file, it was originally delivered to Washington, D.C., later moving to Virginia, where it was acquired by Ron Gottschalk of Bettendorf, Iowa, in 1961. Mr. Gottschalk cosmetically restored the car and showed it locally for some years, eventually applying for Full Classic status with the Classic Car Club of America. As a result this car became the very first Nash accepted by the CCCA, and continued to be shown in their events until 2005. That year the Nash was acquired by Fred Guyton, and afterward underwent a frame-off, ground-up professional restoration, to the highest possible standards of fit and finish. Particular attention was paid to the drivetrain, including sourcing New Old Stock Bohnalite pistons and remanufacturing the worm drive rear axle gears and components. Many of the cosmetic and trim components also had to be newly made, as the parts do not interchange with the smaller series Nashes. The result was truly spectacular, and was shown to much acclaim at the 2010 Pebble Beach Concours d'Elegance – one of the very few Nashes ever so-honored. Today the restoration of the Nash is still concours quality and beyond reproach, with very few appearances outside of the Guyton Collection since its Pebble Beach debut. It is therefore eligible for almost all of the major American concours d'elegance, as well as of, of course, AACA and CCCA events. Almost certainly this is the finest restored Advanced Eight extant – an incredibly rare, beautifully engineered Full Classic, worthy of standing in its new owner's collection alongside Duesenbergs and Packards . . . just as it would have sat in 1932.
371 1932 Auburn Eight Custom Cabriolet 10443F $90,000.00 $120,000.00 N/R €80,100 €106,800 The 8-100A cabriolet in the Guyton Collection is a desirable Custom model, equipped from the factory with the Dual Ratio rear axle, chromed headlights, driving lights, and "Running Man" hood ornament. It was acquired by Mr. Guyton in 2007, having formerly resided in Ron Pratte's well-known Arizona stable, and is still equipped with its original body, engine, and serial number tag on the floorboard. Almost immediately the car entered preparations for a once-in-a-lifetime adventure, the Grand European CARavan, a month-long tour of Europe hosted by the Classic Car Club of America. Mr. Guyton's hand-written packing lists for the journey accompany the car, noting all of the parts and tools that had to be carried to the Old World, as well as mechanical preparations made by Odyssey Restorations. He and his longtime friend, Bill Davis, much enjoyed the trip, which Mr. Guyton faithfully documented through hundreds of photographs; a professionally published hardcover book of these photos, many of which feature the Auburn, is included in the file. Cosmetically freshened following the tour, the car now presents as a highly attractive and charming older restoration, with features such as painted wire wheels, blackwall tires, and a lack of extraneous accessories that are much in vogue with today's collectors and enthusiasts. In addition to the aforementioned file it is also offered with a copy of the Auburn Factory Service Bulletins for 1931–1933, which will aid a new owner in maintaining it at its very best well into the future. It is an ideal CARavan automobile – as its month in Europe proved.
372 1939 Jensen 4.5 Litre H-Type Sports Tourer H7 9447 $175,000.00 $225,000.00 N/R €155,750 €200,250 Fred Guyton's Jensen, known as "H7" in the Jensen community, was registered as CKY986 at Bradford, Yorkshire, on 25 March 1939. He acquired it in 1998 from collector William McKnight of Los Angeles. As restored, it is painted red with burgundy fenders, and upholstered in tan leather. It was then presented at the 2008 Pebble Beach Concours d'Elegance. Although now an older restoration, it has been well conserved and presents proudly. Red carpet complements the exterior color, and the burl walnut dashboard has a Jensen script speedometer with a tiny clock at bottom center. The tachometer red-lines at 3,500 rpm and goes into a blue zone at 4,000. Mileage shown is barely 400, no doubt since restoration. The engine room is spotless and correctly detailed. The rear seat passengers sit in what could be called a "side-entrance dickey" in British terminology, and each occupant has an individual Brooklands windscreen. Trafficators are recessed into the body sides. The luggage compartment lid drops down for access, the recessed spare wheel with it, and the compartment is lushly carpeted in red. The car received a class award at the CCCA Gilmore Experience. Despite a healthy survival rate, the paucity of production has ensured that H-Type Jensens will forever remain rare. This tourer is the only example known in the U.S., and almost certainly the only H-Type of any description on the market today.
373 1909 Rolls-Royce Silver Ghost Roi de Belges 1203 $800,000.00 $1,000,000.00 N/R €712,000 €890,000 This Rolls-Royce 40/50 HP Silver Ghost was ordered by Thornton & Schieber, Ltd., and was originally delivered with a seven-passenger landaulette body by Hooper. Early editions of John Fasal's respected The Edwardian Rolls-Royce include a note that the car was dismantled, and its engine fitted in a motor launch, but this has since been disproven and Mr. Fasal now notes that the car remained intact. It passed to A. Hutton of Surrey, in 1922, and to Noel Armitage in 1935. Following World War II, in 1946, chassis no. 1203 was discovered with a saloon body in a scrapyard known as "Cow Roast" at Tring. It enjoyed several further UK owners, the last of whom, noted early Silver Ghost enthusiasts M.R. and D.W. Neale of Worcestershire, acquired it in 1957 and fitted a tourer body the following year. This, in turn, was replaced by the present Jarvis-built Roi des Belges in 1972. The current body was crafted in the exacting fashion of the original Barker body produced for chassis no. 60551, the original "Silver Ghost" of Claude Johnson, that had given the model its enduring nickname. The body was finished in a rich silver, with a polished aluminum engine cover and all brightwork in nickel plate. Bleriot "bullseye" headlamps, Lucas no. 644 oil side lamps with etched "starburst" side lenses and "bullseye" front lenses, Lucas oil taillamps, Rotax rear-view mirrors, and a single Elliott speedometer and Smiths eight-day clock completed the ensemble along with an Autovox horn and fender-mounted "boa constrictor" horn. A most interesting distinguishing feature was the R.A.C. radiator cap – correctly chosen, as the construction of this car pre-dated the design of the famous "Spirit of Ecstasy." The interior was finished in green leather. In this form the Rolls was sold in 1973 to Dr. Joseph M. Levin of Ohio, its first American owner, who in turn sold it in 1985 to renowned American Silver Ghost enthusiast Rick Carroll of Jensen Beach, Florida. The car was a favorite in the Carroll collection for many years, alongside several other significant Ghosts. Following his untimely passing, it was sold by his family in 1993 to his friend and fellow enthusiast, Bill Lassiter of Palm Beach. The car was acquired from Mr. Lassiter's collection in 1999 by UK enthusiast Sydney Cooper. It was brought back to England and freshly restored by the respected specialist Jonathan Harley, who finished many of the best surviving "parallel bonnet" Ghosts. As part of this work, the car was fitted with an electric starter for ease of operation, and an Auster windshield for rear seat passengers. Mr. Cooper drove the car some 8,000 reliable miles over the next four years, mainly in Southern Ireland, including 2,000 miles in a single jaunt with his family. In 2003, chassis no. 1203 became one of the final Silver Ghosts in the important American collection of Richard Solove, known for owning a Ghost from every pre-World War I production year. Mr. Solove proudly displayed the car at the Pebble Beach Concours d'Elegance in 2004, winning the Charles A. Chayne Trophy, and at the Amelia Island Concours d'Elegance in 2005, winning the Millard Newman Award. The majority of the Solove collection joined yet another prominent Silver Ghost stable, that of John M. O'Quinn, in 2007. Following Mr. O'Quinn's passing, the Silver Ghost found a long-term home in the collection of Fred F. Guyton, whose friends recall his joy at acquiring a model that he had long sought but had never been able to purchase. It has been preserved in the Guyton museum for eight years, seldom shown but always appreciated and enjoyed, and exhibited in a position of prominence among the collection's other Brass Era marvels. Its restoration is well kept, and it would likely require little more than detailing and mechanical sorting to continue its career as a robust tour car. It is truly a Silver Ghost of near-peerless heritage among noted collectors, Fred F. Guyton not least among them.
374 1915 Oakland Model 37 Speedster 372702 $50,000.00 $70,000.00 N/R €44,500 €62,300 The Guyton Oakland was acquired from the renowned collection of John B. McMullen in 2007. It had been acquired by Mr. McMullen from an owner in Canada in 1993, and restored by Brian Joseph's renowned Classic & Exotic Service of Troy, Michigan. In a recent conversation, Mr. Joseph noted that the Oakland was an excellent basis for restoration; most of the original sheet metal was able to be preserved, aside from the deck behind the seats. The extensive level to attention included reproducing the correct hardware for the spare tire carrier and the top, and having a correct radiator core manufactured to the proper specifications. Following completion of the restoration, the Oakland was judged Best of Show at the 1994 Pontiac Oakland Club International Convention in Springfield, Illinois, among many other awards earned across the country. It was also photographed by Dennis Adler at Meadow Brook Hall in Michigan and featured in his book, Speed and Luxury: The Great Cars. Today the Oakland is well preserved, with its beautiful dove grey and black color scheme in excellent condition, beautiful nickel trim, and rich red leather upholstery showing only light patina, and an attractive black canvas top elaborately fitted between the bucket seats. The headlamps and taillight are electric, and an electric starter is fitted. The car is accompanied by a history file, including various correspondence from over the years, as well as magazine articles and original copies of the instruction book and price list for the model. It is also royally beautiful, down to the tiniest details, and sure to continue turning heads at show fields all over the country, just as it has for many years. As Mr. Guyton wrote in his notes on the Oakland, "It is great fun to drive – top up or down!"
375 1930 Du Pont Model G Waterhouse Convertible Victoria G985 $400,000.00 $600,000.00 N/R €356,000 €534,000 Car number G-985 is the sole survivor of six Du Ponts bodied by the famed Massachusetts coachbuilder Waterhouse as their seductive convertible victoria, a style which they are widely credited with popularizing in the U.S. Waterhouse's G. Briggs Weaver designed a top mechanism that allowed for a large convertible top that folded flush and low with the body, while the body itself featured very simple lines and trim that accents its elegance. This car is recorded by Du Pont historian Stan Smith as having been originally finished entirely in Toledo Brown with brown leather upholstery and Espania Red wheels. It was shipped on Christmas Eve of 1930 to A.J. Miranda, the Du Pont dealer in Manhattan, and was exhibited at the 1931 New York Automobile Show. Reportedly the car spent the war years in a junkyard before being removed to legendary Duesenberg mechanic Jim Hoe's facility, where it was acquired by early enthusiast, Henry Meyer. Meyer restored the Du Pont to functional condition, after which it was his regular automobile for several years, before being put away into storage. In the 1960s he eventually decided that, as he wrote, "this splendid survivor deserved at least as much attention as a Chippendale chair," and completed a restoration to the concours standards of the time, dividing the work between himself and the great Ralph Buckley. The Du Pont was then widely shown for many years and was the subject of a detailed cover feature in the Summer 1983 issue of The Classic Car. Meyer maintained his beloved Du Pont well into the 1980s. It was then acquired by Leonard Urlik of California, from whose estate it was purchased by Fred Guyton in 2000 – fulfilling a 30-year dream of Du Pont ownership. Mr. Guyton wrote of retrieving the car from its storage atop California's Mount Baldy, not long before a firestorm swept the area! It was brought to the Midwest and meticulously restored to a modern concours standard of fit and finish, with the body, paintwork, and upholstery by D&D Classic Automobile Restoration of Covington, Ohio. During the restoration it was decided to "lighten" the car's sober original color scheme, by keeping the original Toledo Brown hue on the fenders, running boards, and frame, but employing a lighter color for the body and radiator, with the wheels and striping in the original Espania Red and a contrasting Haartz cloth and leather top. The Guyton Du Pont has been shown widely and with much success over the years, including a Class Award at the 2005 CCCA Museum Grand Experience, presented at the 2007 Pebble Beach Concours d'Elegance, and most recently at the 2015 Hilton Head Island Concours d'Elegance. It has also seen another spate of magazine appearances, including in the CCCA Spirit of St. Louis Region magazine, The Spirit, and the Michigan Region magazine, Torque, copies of which are both included in its file along with considerable additional photographs, correspondence, and documentation from throughout its long life. Rare is the opportunity to acquire a Du Pont car, and rarer still is the opportunity to purchase the only survivor with the famous Waterhouse convertible victoria body – a true landmark of Classic Era quality and design.
376 1925 Rolls-Royce Silver Ghost Piccadilly Roadster S369RK $175,000.00 $225,000.00 N/R €155,750 €200,250 Chassis no. S369RK was originally delivered with its Piccadilly bodywork to bond dealer A.E. Fitkin of New York City on 26 July 1926, as noted in the Rolls-Royce Foundation records. By 1959, the car had moved to the sunny shores of Honolulu, Hawaii, where it was owned by John D. Monnett. It then passed in 1962 to Victor Erenberg of Los Angeles, then in 1983 to the late Gene Littler, the well-known U.S. Open-winning Hall of Fame golfer known as "Gene the Machine" for his powerful swing. Off the green, Mr. Littler was a true automobile enthusiast, with a particular passion for vintage Rolls-Royce and Bentley, and counted such luminaries as William Harrah and Phil Hill among his friends. Chassis S369RK was later acquired in 1990 by the Blackhawk Collection, from which it was purchased by Fred Guyton in January 1997. It has had a good home in St. Louis for the past two decades and during that time has been seldom seen outside of private events at Mason's Garage. Its restoration is overall well preserved, with very good medium blue paint and a tan leather interior showing only minor signs of age and use. Much of the exterior trim is nickel, with prominent Bausch & Lomb drum headlights and a rolled aluminum bumper in evidence. The rumble seat is unusually cushy and delightful, with full folding armrests and a particularly comfortable backrest. The chassis and engine compartment are overall clean and well detailed. A lovely Springfield Ghost of excellent quality, this would be a brilliant addition to any fine Rolls-Royce collection.
377 1930 Packard 734 Speedster Phaeton 184-100 $800,000.00 $1,100,000.00 N/R €712,000 €979,000 That remained true even after the model was out of production. Those who saw a Speedster Eight on the street would usually just accept it as "another old Packard" – until this factory hot rod outran them. Among the cognoscenti, however, it continuously remained desirable, in an era when few of the future "Full Classics" really were; it was recognized as superlative as early as the 1940s, and Smithsonian transportation curator Smith Hempstone Oliver created the first registry for the model in the 1950s. In 1959, Tom Mix, one of the earliest appreciators of Full Classic Packards, saw fit to travel from Massachusetts to Buffalo, just to add one to his collection. It was one of the five survivors of some 32 Phaetons built. He would never sell it; it passed from his estate to Fred Guyton, who, too, would only be parted with it by his passing. It took a special man to own a Speedster Eight – and once he bought it, he kept it. Nearly 90 years on, that is still true. The Guyton Phaeton was originally delivered by L.R. Mack, the Packard agency in Rochester, New York, on 17 May 1930. According to information in the file, the original owner was Sanford Cluett, of Cluett-Peabody, manufacturers of Arrow Shirts; Mr. Cluett was the inventor and namesake of the Sanforizing anti-shrinking process, which was one of over 200 patents in his name. The car was next acquired for $300 in 1951 by Victor Mion of Schenectady, then in 1958 by James H. Kellogg Clark of Buffalo. In 1959 the car was purchased from Kellogg Clark by Tom Mix, owner of Boston's famous Foreign Motors dealership, and among the most avid early Packard enthusiasts in this country. Mr. Mix built a superb collection focused on coachbuilt rarities, including numerous Darrins and various one-off models. Correspondence from Mrs. Mix, which is on file, indicates that the couple toured extensively in the Speedster Eight Phaeton, and that it was one of her husband's favorite automobiles. Photographs survive of it, in the cream and maroon it then wore, on display at an event at the Larz Anderson Museum in 1960, as the most modern car displayed amidst a fleet of Brass Era machines – yet clearly and unmistakably, already something special. Mr. Mix owned the Speedster Eight for the rest of his long life, eventually commissioning a new paint scheme of dark red with black fenders late in the 1990s. In 2006, Fred Guyton was thrilled to acquire the car from the Mix estate, writing in glowing thanks to Mrs. Mix, to reassure her of his good intentions to maintain and enjoy the car as her husband had. He proceeded to do so, and enjoyed driving the Packard many times, while continuing to carefully preserve its originality and restore it only as necessary. For instance, the leather upholstery finally became unusable, and new upholstery was fitted several years ago as a result, along with a tonneau cover for the rear seat. Peek under the hood and under the car, however, and the original green it wore for Mr. Cluett is still visible on the undersides of the fenders and on the frame rails. The car is running a non-original carburetor, which functions well for driving, but is offered with a correct reproduction carburetor on a stand. Inspection of the various numbered mechanical components shows that nearly all are numbered within 20 digits of one another and, therefore, are surely original to the car; the exceptions are the front axle, the number boss on which is blank, and the gearbox, which is a replacement unit. All of the stampings are correct, clean, and original, including the Special Order or "S.O." number on the frame and the original firewall tag; removing the trim at the top of the doors reveals even the original factory number stampings on the brightwork. Lovingly cared for its entire life, this car still displays the fingerprints and evokes the careful attention of its five owners, and will soon add those of a fifth who should drive it, enjoy it, and share it. Its new owner will join the proud fraternity of those who know just what a powerhouse this is. That is the tradition, after all.
378 1931 Rolls-Royce Phantom II Continental Thrupp & Maberley Cabriolet de Ville 4JS $150,000.00 $200,000.00 N/R €133,500 €178,000 This body was mounted on a chassis which, specified its buyer, should be "as that exhibited at the Olympia Show 1931" – which actually took place after the car was ordered. As historian Andre Blaize noted, "Sir Ronald was certainly anxious to have a chassis which included the latest improvements." Subsequent owners of the Gunter Continental included T.C. Coombs of England in 1958, after which the car moved to the U.S. in 1959, with owner Joseph Berlin; it was restored and remained in the Berlin family for over four decades, achieving a CCCA First Prize along the way. It was then acquired by Robert Penenburgh and restored to a modern concours standard in its present appearance, an elegant and rich black and silver livery, by the respected John Sanders of Rockford, Illinois. The simple original woodwork of the interior was retained, though black leather upholstery was fitted, while the Lucas P100 headlamps mounted since at least the early 1950s remain. Fred Guyton, a lifelong Rolls-Royce admirer, acquired the Continental in 2009, and it has remained a favorite in the collection ever since for its dramatic and rakish appearance. Inspection shows that the Sanders restoration is well-preserved, and after mechanical recommissioning the car could still be shown with considerable pride. Every significant Rolls-Royce collection demands a Phantom II Continental, and this example boasts a particularly fabulous history, including one of the most famous British sportsmen of his day, Sir Ronald Gunter, "The Bentley Boy." via Bonhams Brooklands '08 Not sold $275k & RM Hershey '09 sold $176k.
379 1930 Duesenberg Model J Murphy Convertible Sedan 2345/J-329 $900,000.00 $1,100,000.00 N/R €801,000 €979,000 According to the records of Duesenberg historian, Ray Wolff, the short-wheelbase Murphy convertible sedan J-329 had been driven when new by Leon Duray, the American Indianapolis driver famous for his exploits in Millers, most probably as a "loaner" supplied to him by the Duesenberg factory. Duray famously wrote from Los Angeles to Harold Ames of the Duesenberg company: "Car is perfect if there is such a thing. Completed fifty-two hundred miles on car today . . . . Arrived here 8 P.M. Sunday sleeping seven hours each night." Following its use by Duray, the Model J was sold here in St. Louis, where its earliest known owner was one Walt Martin. It was later owned by Edward Grove, of the Bromine fortune, who traded it into a Cadillac dealer in January 1936. The dealer resold it to Norris Allen, a young attorney and already a devoted car enthusiast, with a natural skill for mechanical engineering that had led him to favor Rolls-Royces and, of course, Duesenberg. He would go on to own multiple examples of both. Mr. Allen was interested in automotive design, leading him to retrofit the convertible sedan, late in his ownership, with modified Cadillac front and Lincoln Continental rear fenders. The fenders and a streamlined trunk were bolted into the original Murphy coachwork at their open edges, preserving all of the original Murphy panels underneath – something that came in handy when, several years later, Mr. Allen realized the error of his ways, filled the holes with aluminum plugs, and reinstalled the original fenders, returning the Model J to its more attractive original configuration. In November 1958, Mr. Allen sold the Murphy convertible sedan to Marshall Hughes Jr. Hughes, in turn, passed it four years later to Arthur K. "Dick" Watson of Connecticut, son and heir of the founder of IBM, and future U.S. Ambassador to France. Watson commissioned a mechanical and cosmetic restoration of the car not long thereafter, with the cosmetics handled by the famed early restorer, Gus Reuter. A White truck transmission with overdrive was installed, a popular period conversion by Jim Hoe that made the car much easier to drive at high speeds. "I've always remembered the Duesenberg being part of the family," Watson's son, A.K. "Kitt" Jr., recalled to Hemmings Classic Car. "I remember going to Yale football games in it with my father . . . . We had a lot of fun with the car, and we used it in all weather with the top down or up. I used to drive it all over the place. Even Mom used to wheel that thing around." "Mom" inherited the car from her husband in 1974, and soon passed it to Kitt Watson, who in 2003 submitted it to noted Duesenberg specialist Chris Charlton's Classic Car Services of Oxford, Maine, for fresh restoration work. All chrome was correctly refinished, with the headlights and door sills properly etched; the interior properly retrimmed in beautiful rich blue leather; and the body properly stripped and repainted to a fine standard in the Watson family's preferred two-tone blue. Occasionally shown in various New England events, the Model J continued to also be occasionally driven, and was garaged and maintained at Mr. Charlton's when not on the road. It was also featured in the aforementioned detailed article in Hemmings Classic Car, in May 2011. Meanwhile, a young Fred Guyton had come to consider Norris Allen a mentor and dear friend, whose connoisseurship of Rolls-Royce and Duesenberg automobiles he admired and would eventually emulate. Such was the closeness of their relationship that Mr. Guyton eventually bought his current home because it was two doors away from the Allen residence, allowing the two to visit frequently and enjoy wrenching on one another's cars. It was Mr. Guyton who would eventually receive the prized Allen Phantom III at its owner's passing in 1991. Knowing his mentor's standards for quality, Mr. Guyton always kept an "ear to the ground" for the cars that had formerly been housed in the Allen carriage house. One of these was J-329, and when the Watson family at last made it available for sale in 2012, Chris Charlton contacted Mr. Guyton, who did not hesitate to acquire it for his collection. This was not his first Model J – two others had proceeded it – but it would be his last and his favorite. It had, after all, lived right on his block. The cosmetic restoration by Charlton is extremely well preserved, having been meticulously cared for; the paint is virtually flawless, as is the top, and the leather interior shows only the most minimal signs of wear and use. Mr. Guyton commissioned a complete engine rebuild by Mr. Charlton, soon after acquisition. The engine compartment remains clean and tidy, and still nearly show-worthy. Inspection shows the critical firewall, frame, and bell-housing stampings exactly where they should be, and the original body number is still stamped into the Murphy woodwork under the front carpets, indicative of just how benign a life this car has lived. At the time of cataloguing, the car recorded 71,111 miles. Accompanying this wonderful Duesenberg is a fascinating history file, including delightful period photographs, registration information and other documents from throughout its ownership by Norris Allen, and selected invoices for parts and service work between 1997 and 2012. It is also outfitted with a correct trunk with its three-piece set of fitted luggage, two suitcases, and a hatbox. A Duesenberg Model J is always a star in its owner's collection, but few more so than this car – which boasts an incredible history with noted figures of racing and the car hobby, going back well into the 1940s. It has always been loved, always well kept, and always treasured. In its engineering and superb presentation, it stands as a superb motoring monument to the men – Allen, Watson, and Guyton – who have loved it most.
380 1930 Stutz Model M Le Baron Speedster M8-24-SD220 $150,000.00 $200,000.00 N/R €133,500 €178,000 This lovely Full Classic Stutz is one of very few known surviving 1930 models with this two-passenger speedster body, a roadster by any other name, produced for the Stutz factory as a "catalogue custom" by the famed LeBaron. Interestingly, the body bears the same badging and body number plates as LeBaron Marmon and Duesenberg bodies of the same era. The speedster was acquired in 1948 or 1949 from Al Hood of Wycoff, New Jersey, by James G. Groendyk, a very early member of the Classic Car Club of America. Mr. Groendyk and his son, James W., also a CCCA member, undertook a complete restoration to the standard of the time, acquiring a low-mileage, correct spare engine to replace the damaged original unit, and finishing the body in red with a light cream top and upholstery. The completed car was exhibited in early Grand Classics, and at Morristown, New Jersey, in 1956 received its Senior badge, only the 27th awarded. Four years later it was one of several cars from the Groendyk collection featured with their nattily attired owner in Quaker State advertisements. By 1976 the car had been refinished in these more period-correct hues, Primrose Yellow with Avocado fenders and trim and orange wheels. It was sold that year in the Tampa, Florida, area to Irving Davis, another Stutz enthusiast in Beverly Hills, California, and then in 1983 to Bobbie Crump of Baton Rouge, Louisiana. While owned by Mr. Crump the car was exhibited alongside many other fine Classics in his Cars of Yesteryear Museum, as well as used for the ceremony introducing the U.S. postage stamp featuring the Stutz Bearcat on 11 June 1985. When Mr. Crump divested his collection, the Stutz returned to California in the hands of Charles Jones of Woodland, who proudly displayed it in concours and Stutz Club events. Following Mr. Jones' passing, Fred Guyton acquired the car, via a friend in St. Louis, in 1996. Aside from its cosmetic restoration in the 1970s, much of the finish on this Stutz is still the original workmanship provided by the Groendyk family; Mr. Guyton, in notes he made on this collection, noted that it "is still a nice car," and that it is. The paintwork is solid and intact throughout, and the interior still in very good overall condition with only minor age and cracking that does little to detract from its appearance. The finishes under the hood are authentic and tidy, with the original number tags appearing on the firewall and engine. Charming accessories include the correct folding windshield, for a truly sporty appearance, as well as dual driving lights, dual side-mounted spares with pedestal mirrors, and a trunk with three pieces of fitted luggage. Accompanying the car is an original 1930 Stutz catalogue. Any member of the CCCA with an appreciation for history should also appreciate this Stutz – the story of which literally goes back to the Club's earliest days. It is a truly special automobile deserving of the great names who have enjoyed it for the last 70 years.
381 1935 Auburn Eight Custom Cabriolet 851 3311 F $90,000.00 $120,000.00 N/R €80,100 €106,800 The Guyton Collection's cabriolet was acquired by former owner and longtime Auburn Cord Duesenberg Club member, Joseph Coppola of Novi, Michigan, from a Mrs. Miller in New Mexico. Although this car was originally born a coupe, it is important to note that the Auburn coupe and cabriolet bodies of this era are virtually identical, and thus conversion is a common modification that involves very few changes to be made to the original body. Restoration of this car was completed in 2004, after which the car was exhibited in ACD Club events. It received the Auburn Cord Duesenberg Automobile Museum's Tom Busch Award for the Best Owner Restoration at the 2004 ACD Club National Reunion. Later the Auburn was owned by the late, respected collector Jim Adams of Florida, known for the excellent mechanical condition of his automobiles. It joined the Guyton Collection in October 2008. Thereafter it received an engine head replacement by D&D Classic Auto Restoration in 2011, receipts and invoices for which are on file. The car's restoration is well preserved, including its beautiful Indiana Beige finish with a complementary maroon soft top, leather upholstery, and carpeting, and recent detailing has freshened the appearance of the engine compartment, floors, and suspension. Further the car boasts numerous desirable accessories, including the "Flying Man" radiator mascot, dual chromed driving lights, dual side-mounted spares, and dual chromed side-view mirrors, as well as speedster-style "Flying Men" on the rear quarter panels and speedster-style door panels. This is a wonderful Auburn for continued showing or, better still, enjoyment in AACA, ACD Club, CCCA, and VMCCA activities this touring season.
382 1930 Ruxton Model C Baker-Raulang Roadster 11005 $350,000.00 $450,000.00 N/R €311,500 €400,500 This car has a very well-known history and is body no. 11 of the 12 Ruxton roadsters produced. It is fitted with Continental engine no. 18S-162 and chassis no. 11005, making it the sixth car assembled at the Kissel Motor Car facility. Kissel had earlier taken on assembling the Ruxton transmissions under contract and later agreed to assemble complete Ruxton cars. The company was run by George Kissell, President, and his brother, Wil Kissell. Wil owned a Ruxton phaeton, and the very roadster offered here was George's personal Ruxton. Despite a hostile takeover attempt by Mr. Andrews, which resulted in Kissel's bankruptcy, the brothers kept their Ruxtons long term and would sing the marque's praise to whomever listened. Mr. Kissel ultimately sold this Ruxton in 1939 to the notable collector D. Cameron Peck of Chicago, Illinois. The Peck Collection would retain the Ruxton for two more decades, selling it in 1959 to Jim Watson of Houston, Texas. Mr. Watson, surely fond of his rare Ruxton, held on to the car for a further 10 years. Beginning in 1969, the roadster would trade hands several more times, including A.N. Rodway Jr. of Cleveland, Ohio, M.H. "Tiny" Gould of Pennsylvania, and then Terry Radey in Ontario, Canada. In 1978 the Ruxton found another long-term home with Floyd DuVall of Davenport, Iowa. Mr. DuVall maintained the highly original Ruxton until 1996 when it was acquired by Mr. Guyton, for his growing collection of rare and unusual American Classics. Restored over the years only as necessary, this very honest Ruxton has been shown extensively at many concours and CCCA events during its ownership by Mr. Guyton, including in the special Ruxton class at the 2014 Pebble Beach Concours d'Elegance, where it was awarded the prestigious FIVA Pre-war Trophy. It is a proud tradition sure to be continued by its new owner at the wheel of a true piece of Classic Era motoring history.
383 1929 Cadillac V8 Sport Phaeton 325545 $140,000.00 $180,000.00 N/R €124,600 €160,200 On 30 November 1928, Doña Teresa Martín de Saavedra, a noblewoman of Badajoz, Spain, took delivery in Madrid of this new Cadillac dual-cowl sport phaeton. Longstanding rumor indicates that she acquired the car from the Paris Motor Show, though no documentation to that effect currently exists. Chauffeur-driven in her use, it reportedly fell into the hands of the Loyalists during the Spanish Civil War of 1936–1939, then reverted to the original owner, whose son, Jose Porras Martin de Saavedra, inherited it on 28 January 1958. The car was sold in 1960 to Alvarez Esparrago, also of Badajoz, who sold it eight years later through an advertisement in Road & Track to American collector Phillip Wichard of Huntington Bay, Long Island. Mr. Wichard was not only the car's first American owner, but the first outside of the original Spanish province. When he acquired the Cadillac, it had two bullet holes through the windshield frame, a legacy of its wartime service. He was told that even while in Loyalist "staff car" use, it had continued to be chauffeur driven – it was, after all, "the best car in the province." Mr. Wichard commissioned Walter Seaburg of Sydney, Ohio, to carry out a restoration, performed to the collector's usual outstanding standards of fit and finish in this striking two-tone green livery, with caned rear door fillet panels and a complementary rich green leather interior. It was an Antique Automobile Club of America National First Prize winner in 1980 and achieved CCCA Senior status, badge no. 1267, and was reported to still be capturing awards over a decade following its completion. Recognizing the car's quality, Fred Guyton acquired the Cadillac from the sale of the Wichard Collection in 1995. It has been maintained in the Guyton museum since, and the restoration is remarkably well preserved for work now well into its fourth decade, with nary a crack in the paint and interior that shows only light age and stretching; the engine compartment and undercarriage are detailed well enough for local showing. Mileage recorded is 25,996 km, on the original European-specification odometer. The car is lavishly accessorized, including Pilot Ray driving lights, a center-mounted Trippe light, dual Cadillac accessory running board spotlights, dual side-mounted spares, a radiator grille guard, and a beautiful period Cadillac crest mascot – as well as its Badajoz registration plate. A particularly charming feature is a vanity mirror for the rear seat passengers, on the underside of the rear tonneau – allowing them to check their appearance literally just before disembarking. Storage is provided in a long cabinet below. Accompanied by a copy of its build sheet, an original operator's manual, and other documentation, this gorgeous sport phaeton boasts a story and preservation that few others of its ilk can match.
384 1926 Lincoln Model L Gothic Phaeton 40539 $100,000.00 $150,000.00 N/R €89,000 €133,500 It is a tale stranger than fiction: how a one-off Model L Lincoln, perhaps the most unusual and highly detailed coachwork ever on that chassis, wound up in an evangelist's museum on the Oklahoma plains, alongside shrunken heads and native canoes. The tale begins with Thomas E. Sharp, a multimillionaire rancher and telecommunications pioneer in the San Diego area. He commissioned the creation of his Lincoln from the Walter M. Murphy Company of Pasadena, California. Most famous as a future builder of Duesenberg bodies, Murphy began as a Lincoln distributor, and had turned to coachbuilding in a desire to improve the cars' rather staid lines for their West Coast clientele. Staid, the Sharp car definitely was not. Custom-bodied in aluminum with a skiff-like pointed rear deck, it featured a combination of solid brass and nickel trim, including handmade exterior hardware and a complex arrangement of folding windows that, when in place, converted the car into a virtual limousine when the top was raised. Many of the interior fittings were gold plated. The front doors were cut deeply into the cowl, clearing room for the lanky Mr. Sharp's legs. Most impressive was the interior, which configured, through an ingenious system of folding and sliding seats, into a reasonably comfortable twin bed – ideal for a day's rest at the end of a long journey in rural California. A wonderful photograph in the file depicts Mr. Sharp with the car when it was a new automobile, and a registration document identifies it as having been roadworthy in his ownership as late as 1954. The Lincoln reportedly remained in his care until the early 1960s, and was then acquired by the Reverend T.L. Osborn of Oklahoma. The charismatic Reverend Osborn was a prominent evangelist of the era who traveled the world preaching to the masses and brought back numerous artifacts – including the aforementioned shrunken heads and native canoes – for his World Museum. When not spreading the good word, he and his wife, Daisy, were great Lincoln enthusiasts and amassed a fine stable of Model Ls. "The King," as they dubbed it, was a special favorite, and was restored by Mrs. Osborn's brother, Robert L. Washburn, with the body moved to the present Model L chassis, no. 40539, chosen for its desirable feature of four-wheel brakes. After many years winning awards all over the country and being featured in numerous magazines, the Lincoln was acquired from the World Museum in 1981 by Larry Casey of Tennessee, then in 1983 by the Imperial Palace of Las Vegas. Fred Guyton bought the car from the Imperial Palace in 1998. The fabulous Lincoln, still in good overall condition, has been unshown in recent years, and its location was unknown to even many devoted Model L connoisseurs. It is thus offered here truly "fresh to market," accompanied by a thorough and fascinating history file, including numerous restoration photographs and many articles from the 1960s and 1970s. There is no other Model L quite like it – and that was the idea.
385 1938 Rolls-Royce Phantom III James Young Saloon Coupe 3DL86 $150,000.00 $250,000.00 N/R €133,500 €222,500 This car was used extensively in advertising and was chosen for exhibition by Jack Barclay at the 1938 Earls Court Motor Show. Copies of its highly detailed James Young and Rolls-Royce build documentation, in the file, spell out its specifications; it was ordered to the latest possible engineering design, with bodywork in Belco Navy Blue with dark pigskin upholstery, Circassian walnut trim, matching luggage, cocktail cabinets, and sliding smoked "purdah" glass visors in the rear windows. A two-piece "sunshine roof" featured an electrically operated upper panel and a sliding glass inner panel, so that the sun's rays could be let in with drafts on cooler British days. Reportedly, the car sold by 11:00 a.m. on the day of the Motor Show's opening to original owner, Robert Constantine Graseby, a prominent British electrical engineer, in whose ownership it remained until after World War II. It was sold via a Scottish dealer in 1955 to Norris H. Allen, and was shipped to Boston, collected dockside by its new owner, and driven to New York, so that J.S. Inskip could mount sealed-beam headlamps, then onward west to St. Louis. Mr. Allen was a raconteur, an early enthusiast of great automobiles, and a skilled engineer, who owned most every great car of the Classic Era back in the early halcyon days of the hobby. Fred Guyton admired him tremendously, and actually bought his house because it was, literally, just down the block from the man he revered as something of a car-collecting hero. Over several decades the pair of devoted enthusiasts became dear friends, and some of the most significant automobiles in the Guyton Collection bore Mr. Allen's ownership as treasured provenance. None were treasured as much as this car, Phantom III no. 3DL86, which in his ownership was featured in Lawrence Dalton's Those Elegant Rolls-Royce and Coachwork on Rolls-Royce. Mr. Allen lovingly maintained the Phantom III for the remainder of his long life, installing an excellent overdrive unit of his own professional design, and using it regularly. After his passing in 1990, it was literally given to his good and faithful friend, Fred Guyton, to ensure its continued maintenance and use. Accordingly, Mr. Guyton ensured that the car would be exquisitely restored to exactly its original appearance by D&D Automobile Restoration of Covington, Ohio, and then showed it extensively, winning Best in Class at the Pebble Beach Concours d'Elegance in 2004, among other significant laurels. Accompanying the car is a thoroughly impressive history file, show-quality tool kit, and an attractive three-piece luggage set. The car remains in thoroughly crisp, fresh, and show-worthy condition, with the exception of the engine, which was in the process of being rebuilt at the time of Mr. Guyton's passing. Though dismantled, considerable work has been done on the engine. The crankshaft has been ground and is ready to be refit to a crankcase. The connecting rods have been completely remade by Fiennes Engineering in the U.K. and now incorporate modern insert bearings with new bearing blocks, this being necessary due to damage to the original bearing blocks from an earlier rebuild. The cylinder heads have been pressure checked and vacuum-impregnated and are in excellent condition. The timing gears are in good shape and will run silently. The cam and cam bearings, tappets, followers, etc. are excellent and are ready to refit, as well. The clutch and related parts have been relined/ground and are ready to fit. Many new parts are included with the engine, which has a known and predictable path to completion. The Vintage Garage will gladly discuss the engine work that has been done and what would be required to complete the project, including information on sources for parts and additional expertise. Please refer to an RM Sotheby's representative for further details. One could go into all manner of superlatives regarding this car, but it is appropriate to end with the exclamations of Norris Allen, upon his acquisition. "If there is another Rolls-Royce in the United States to compare with this one I haven't seen it, and I will go so far as to say I have never seen an automobile in Europe or the United States that I think compares with this car. It is the most fabulous automobile I have ever heard about."
386 1951 Mercury Convertible Coupe 51ME31659M $80,000.00 $100,000.00 N/R €71,200 €89,000 This 1951 Mercury convertible coupe was purchased from a Canadian owner in 2011. Built at Ford Motor's Metuchen, New Jersey, plant, it is one of 6,759 convertibles produced that year. Beautifully restored in a royal blue that is very close to Mercury's Admiral Blue, it is equipped with radio, heater, power windows, dual spotlights, rear fender skirts, and a front bumper over-rider. Wide-whitewall tires are mounted on red wheels with full wheel covers. Body contours are correct and panel fit is good. The tan canvas convertible top is in good condition. The interior matches the blue of the body, even to the carpet on the floor, with tan seat cushions matching the door accents. Mileage showing is not quite 9,500, and believed to be since restoration. The engine compartment is clean and correctly detailed, with the exception of a few fasteners and some of the wiring. One of Mr. Guyton's favorite collection cars, it was driven frequently. With overdrive fitted to the three-speed manual transmission, it can easily cruise on all highways and is surely a delight to drive.
387 1941 Lincoln Continental Cabriolet H119672 $30,000.00 $40,000.00 N/R €26,700 €35,600 One of just 400 cabriolets produced in the Continental's second year, this example was originally sold by the well-known Van Etta Motors, a longtime Ford-Lincoln-Mercury dealer in Northern California. In 1959, it was acquired in Florida by John Fisher of Newark, Ohio, who drove it home to the Midwest, then sold it in November 1968 to Edwin Benland, also of Newark. Mr. Benland oversaw the car's restoration in 1973, with the installation of a correct V-12 engine, and exhibited it at several shows. Clifford Schmid of Sappington, Missouri, acquired the Continental in 1981, and sold it five years later to Earl Rosen Jr., of St. Louis, who in 1987 received 97.5 points with the car in CCCA judging. Mr. Rosen then sold the car to his good friend and fellow CCCA Spirit of St. Louis Region stalwart, Fred Guyton, and it has remained in the Guyton Collection since. A largely attractive but older presentation, the car is finished in Rockingham Tan with a red leather interior and black canvas top, it is equipped with a spotlight, dual mirrors, dual fog lights, and a dashboard clock, and recorded 61,321 miles at the time of cataloguing. Offered with the car is an original Reference Book for the model, as well as a file of correspondence and receipts from the last five decades. With some mechanical freshening this would be an ideal and comfortable "modern" automobile for CCCA CARavans, in which it would undoubtedly be reunited with many longtime friends of its two most recent owners. It is truly a cherished example of one of the most famous American automotive designs of the Classic Era.
388 1928 Ford Model AR Open Cab Pickup A126026 $20,000.00 $30,000.00 N/R €17,800 €26,700 It was acquired by the Guyton Collection in June 1985 from Don Johnson of Farmington, Missouri. More recently, it has been given a driver-quality restoration that leaves some uneven body work and paint. Accessories include many seldom seen on Model A pickups, including whitewall tires, a MotoMeter, running board step plates, spotlight, clock mirror, and a second side-mount spare. Ford built 23,972 open-cab Model A pickups for 1928, a goodly number eclipsing all other commercial styles. Most of them, however, were worked to death, making survivors, particularly "AR" models, very rare.
389 1951 Mercury Club Coupe 51SL29344M $50,000.00 $60,000.00 N/R €44,500 €53,400 But whether custom or stock, this generation of Ford's "middle marque" is still known as the "James Dean Mercury." In fact, this car is a card-carrying member of the club. On the dashboard it bears a plaque from the 22nd annual James Dean Run held in September 2001 in Fairmount, Indiana. Fairmount is just 15 miles from Dean's birthplace in Marion, and hosts a three-day festival every year. The car is a rare nearly original survivor. The odometer shows barely 29,000 miles, and the interior boasts original cloth upholstery under clear plastic seat covers. It was purchased new by a gentleman in northern Illinois, who kept it for 40 years. Toward the end of his ownership, he had it repainted in Sheffield Green, and the stainless trim restored. After his passing, the car was purchased by Clyde King of St. Peter, Illinois, from whom Fred Guyton acquired it in 2003. A St. Louis-built car, it is equipped with radio, heater, electric clock, and overdrive, as well as wide whitewall tires on black wheels with full wheel covers. The engine compartment is virtually original, its condition vouching for the very low mileage. There were 142,168 club coupes built for 1951. As a stopgap style measure, a number were built with vinyl or canvas roof covering and dubbed "Monterey," a stratagem intended to compensate for the lack of a true pillar-less hardtop coupe. In retrospect, those dressed-up cars look very much overdone, spoiling the lines of E.T. Gregorie's iconic design. This car is the real deal, presented as Gregorie designed it, Mercury built it, and very much like James Dean drove.
390 1937 Rolls-Royce Phantom III HJ Mulliner Sedanca de Ville 3CM67 $100,000.00 $150,000.00 N/R €89,000 €133,500 Factory build records indicate that this handsome Phantom III was ordered through the famous Jack Barclay salesroom on Hanover Square and sold 12 November 1937 to Mrs. S.W. (Stanley William) Tanfield, wife of a prominent financier residing on White Place in Taplow, Buckinghamshire. Bodied by H.J. Mulliner as a Sedanca de Ville, it boasts beautiful solid wood trim throughout, with subtle inlays to the cabinetry of the rear compartment, concealing a robust heater, cases designed to contain decanters and glassware, a folding footrest (on the passenger side), and an occasional seat for a maid or footman (on the driver's side). The car was driven about 5,000 km with the Tanfields before it was sold by Jack Barclay to Harry Neal of London on 12 April 1938. Laid up during World War II, it was resold by Barclay in April 1945 to Frederick Nield of Manchester, then passed to Harold G. Bentley. It was re-registered by its present number in 1960. In 1961 the Phantom III moved to the U.S. with Dr. John R. Fischer of Blooming Prairie, Minnesota, a well-known enthusiast whose collection also included another Phantom III. He maintained the car for decades before selling it to his longtime friend, Fred F. Guyton, on 21 June 1986. By that time, Dr. Fischer was residing in the St. Louis area with his wife, Elinor, and thus this was another "local" addition to the collection. Now having remained in the collection for nearly 33 years, the Phantom III was described as the "Official Guyton Wedding Vehicle," put into service for numerous family nuptials over the years, with matrimonial white ribbons still visible in the rear quarter windows when the car was catalogued for this sale. It maintains the appearance of a largely original and unrestored example, with the engine being thoroughly patinaed and having a well-used appearance, while much of the Royal Blue and black finish is cracking, with areas of paint loss in the high-stress areas. The wooden trim throughout is overall solid and intact, while the upholstery – rich black leather to the driver's seat, and wool broadcloth to the rear – is largely solid and may benefit from conservation. Such charming details as the original roller windshield shades are still intact, and the woodwork beneath the driver's seat still bears the original body number stamping. At the time of cataloguing the car recorded 30,333 km. It is offered with a largely complete set of original tools, as well as copies of its build documents, historical documents and correspondence dating to Dr. Fischer's acquisition, and a history compiled by the noted Phantom III historian, Steve Stuckey. An ideal basis for a concours-quality restoration, or perhaps touring and preservation, this splendid Phantom III boasts some of the most elegant formal coachwork of its era, and undoubtedly looks forward to carrying a new generation of brides to the chapel.
391 1936 Cord 810 Armchair Beverly 810 1248 S $45,000.00 $60,000.00 N/R €40,050 €53,400 Offered here is a rare original 'armchair' Beverly that has had its ownership history traced back to 1959, when it was acquired from a dealer in Willow Grove, Pennsylvania, by Paul Von Till of Plainfield, New Jersey. Von Till sold the car in 1960 to Robert Dee of Philadelphia, who maintained it until 1984, when it was sold to David Schultz of Massillon, Ohio. By this time the car had been fitted with its current, correct 810 engine, no. FB 1748, and had been restored by noted marque specialist Stan Gilliland of Auburn/Cord Parts in Wellington, Kansas, in the rare factory color of Clay Rust. Mr. Schultz, a longtime member of the Classic Car Club of America, well-known automotive historian, and frequent concours judge, maintained the car for several years, driving it occasionally from Ohio to Auburn, Indiana, for the ACD Club National Reunion. It was at the Reunion in 1984 that the car was given Certification no. C-111 verifying it as a Category 1 Original Car by the Club, with notation in the file that it was indeed an original 'armchair' Beverly. The car was sold by Mr. Schultz in 1988 to Steve Lang of Clayton, Missouri, from whom Fred F. Guyton acquired it in 1996. Maintained in the Guyton collection since, this Beverly is believed to have not been shown in public during Mr. Guyton's ownership. Thus this is a chance for a new owner to freshen the car and enjoy both driving and displaying this rare Classic well into the future, armchairs and all!
392 1937 Packard Twelve 7 pass Touring Sedan 1034-239 $40,000.00 $60,000.00 N/R €35,600 €53,400 The Guyton Collection's 1508 seven-passenger touring sedan was originally sold by Mountain Motors of Denver, Colorado, on 10 October 1936, according to its data tag on the firewall, and is believed to have been acquired by Mr. Guyton in Illinois in the mid-2000s. From inspection it appears to be a solid and largely original automobile that has had only cosmetic restoration, namely new paint decades ago in this rich metallic maroon hue, and new correct broadcloth upholstery to the driver's compartment. While the paint shows extensive areas of cracking and checking, the upholstery remains in very good condition throughout, although the original carpeting has deteriorated. The dashboard is original, with its factory wood-grain still in place, and all the gauges are in good condition. Additionally, much of the small interior hardware pieces are still in place. Set up for touring at one point, the car's engine compartment is clean and largely correct, but shows plenty of use, while the tires are modern Michelin radials. Accompanying the car are an original shop manual and dealer catalogues. This would be an ideal twelve-cylinder Packard to sort and return to the CARavan circuit, offering the best of its manufacturer's silky-smooth engineering and modern driving qualities – with the bonus of a vast seven-passenger interior. It is sure to be among the most popular automobiles in its next owner's distinguished collection.
393 1953 Packard Caribbean 2678-2583 $50,000.00 $75,000.00 N/R €44,500 €66,750 Finished in a lovely combination of light blue with a white convertible roof over a blue and white leather interior, like all Caribbeans, this is equipped with power steering, power brakes, power convertible roof, radio with power antenna, heater, and automatic transmission. It is fitted with seat belts for added safety on the road. Outside, the Caribbean is fitted with standard chrome wire wheels with period-correct wide-whitewall tires and continental spare at the rear. An owner's manual and 1953 Packard brochure along with photos of the car during restoration are included in the sale. Though the exact date of the restoration is unclear, Mr. Guyton purchased this car on 1 September 1998 from its former owner, Eldon McKinely of Venice, Florida. The car was restored at that time. It wears an AACA National First Prize badge from 1993.
394 1939 Rolls-Royce Phantom III Hooper Limousine de Ville 3DL180 $125,000.00 $175,000.00 N/R €111,250 €155,750 Among the most widely shown Phantom IIIs in period was chassis no. 3DL120, a handsome limousine de ville by Hooper & Company of London. It featured a distinctive long roofline, streamlined fenders with "spats" over the rear wheels, and an interior trimmed in fawn cloth and curl walnut. Beautiful touches included overstuffed swiveling rear jump seats (among the most comfortable ever seen), Hooper's complexly engineered disappearing metal roof over the chauffeur's seat, and sliding window shades in the rear compartment. This was Rolls-Royce's main European show car in 1939, exhibited on the factory stand at Brussels, Amsterdam, and Geneva, then in the British Pavilion at the New York World's Fair between September and November 1939. In the early post-war years, chassis no. 3DL120 was famously rebodied by Jean-Henri Labourdette with a wild and distinctive drophead coupe body for flamboyant furrier, Louis Ritter; this body remains on the car to this day. The "World's Fair" Hooper body was sold to Dr. Samuel Scher, a pioneering New York plastic surgeon and avid early automobile collector, as well as one of the founding members of the Rolls-Royce Owners Club. In 1947, he mounted the body on its present chassis, no. 3DL180, a U.S.-delivery car originally fitted with an Inskip limousine body for Mrs. Edith Haggin deLong, and acquired by Dr. Scher from her family. Dr. Scher kept the Phantom III for an unusually long period of time, until May 1969, when he sold it to Paul Lutey of Freeland, Wisconsin. Mr. Lutey kept the car for two years, after which it was acquired by Herb A. Schoenfeld of Washington. Mr. Schoenfeld, in turn, sold the Rolls to respected longtime Classic Car Club of America member, Morton Y. Bullock III of Baltimore, in 1978. It would remain in Mr. Bullock's ownership for the next 18 years. On a snowy winter day in 1996, Fred Guyton visited Mr. Bullock to acquire the Hispano-Suiza H6B also offered from the Guyton Collection. In Mrs. Beverly Guyton's apt phrasing, "In typical fashion, he went to buy one car, and returned with two." The Phantom III has been part of the collection since, alongside several other significant examples of the best coachwork on this chassis. Largely maintained in static storage, the car's finishes likely date to the 1970s, with the paint bearing much patina; the driver's area was reupholstered many years ago but the broadcloth in the rear compartment appears original, and may well be worth preserving. Much of the chrome work is older and may be original, as well. Importantly the body is very solid, with the original woodwork, stamped with the body number on the front floorboards. It is offered with its sets of road and hand tools, copies of its build documents from the Rolls-Royce Foundation and Rolls-Royce Enthusiasts' Club, and an excellent history report compiled by the noted Phantom III historian, Steve Stuckey. This is among the most significant surviving Phantom IIIs, offered from the estate of one of the foremost American "PIII" enthusiasts.
395 1935 Packard Eight 7 Pass Sedan 814-428 $40,000.00 $50,000.00 N/R €35,600 €44,500 Fred Guyton's Eight is a rare seven-passenger Business Sedan model on the 139-in. wheelbase 1202 chassis, identified by its original firewall tag as having been delivered new on 26 March 1935, by the Portland Branch of the Packard Motor Car Company of Boston. Mr. Guyton acquired it in 1994 from Whitney Miller and Robert C. Gordon of Mission Hills, Kansas. Invoices in the file indicate that the car was partially repainted and mechanically serviced shortly before its acquisition, but it has otherwise a satisfyingly original appearance, including the factory wool broadcloth interior, woodgrain trim, and carpeting; there is some moth damage to the rear compartment, but the upholstery is still serviceable. The window glass appears to be largely original and is delaminating in the rear quarters. At the time of cataloguing, the car had recorded 56,347 miles. It is accompanied by a small file of invoices and documentation, and a reprinted instruction manual. This is a handsome and unusual Packard, and with some recommissioning would be an interesting CARavan automobile for a new owner, with high style, fine American quality, and charming originality in equal measure.
396 1942 Lincoln Continental Club Coupe H133541 $20,000.00 $30,000.00 N/R €17,800 €26,700 Among the fortunate few is Fred Guyton's car, which was delivered in this striking color of Sheldon Gray through Rooney Tuttle Motors, as documented in its factory build information. Interestingly, the same information notes that the car was originally fitted with a particularly striking two-tone interior, with red leather and blue whipcord, a non-standard combination written into the build card, which may well be worth a new owner resurrecting. Mr. Guyton acquired the Lincoln at Hershey in 2004, from William Gacioch; Mr. Gacioch had purchased the car from well-known Lincoln enthusiast Gerald Snyder of Cocoa Beach, Florida, who acquired it in 1978 from Gerald Kaminski of Cheektowaga, New York. An AACA Senior award-winner for Mr. Snyder in 1994, its restoration is older now but the paint is still highly attractive, with a deep, rich shine, and the chrome is largely older; some of it may well be original. The interior is beautiful, tight, and nearly fresh, requiring only detailing; even the gold finished dashboard hardware is very attractive. The overall authentic and correct appearance extends even to the tire pressure and engine oil direction card inside the glove box. At the time of cataloguing, the odometer noted just 75 miles, almost surely since completion of the restoration. Every Classic collection requires a Continental, and this is among the rarest.
397 1966 Chevrolet Corvair Corsa Convertible 107676W129201 $8,000.00 $12,000.00 N/R €7,120 €10,680 Finished in Regal Red over a black vinyl interior with red carpets, the Corvair is described as a very good, solid, and attractive driver that will be a stand out at any summer cruise night. It was purchased by the consignor at the AACA Hershey Car Corral from Glenn Robinson of Harrisburg, Pennsylvania, on 8 October 2010 and has been largely untouched since that date. Paint is noted as solid and the body shows no visible signs of corrosion in the sills or fenders. The undercarriage is found to be solid and presentable. The engine shows the use of a driver-quality example. The Corvair is equipped with an AM/FM radio and a non-factory center console with armrest. The owner's manual and 1966 Corvair Assembly Manual are included along with the Bill of Sale and sales contract to the original purchaser, Darrell Jerry Oaks, from Barry Pate Motor Co, in Washington, DC, on 27 April 1966.
398 1962 Volkswagen Beetle Deluxe Sunroof 4270114 $5,000.00 $10,000.00 N/R €4,450 €8,900 This rare sunroof model is described as being in good, usable condition with solid paint and close panel fit. It was purchased by Mr. Guyton on 25 May 1992 with the title reading 29,100 miles at that time. Today, the odometer reads 29, 214 miles indicating little use over the last 27 years. Mr. Guyton bought the car from Robert Gairing of Wadsworth, Ohio, who purchased it from Erminie Willams of Columbus, Ohio, on 23 May 1986 according to paperwork that remains with the vehicle. The red Beetle has thin whitewall tires, a black and white interior including a Motorola AM radio and its distinctive ivory Wolfsburg steering wheel, four-speed manual transmission, and the desirable sliding canvas sunroof. The exterior chrome and brightwork is aging, however, it appears complete as built from new. Included is the original owner's manual. It is reportedly a "good runner," though it has not been actively driven is some time. The relative simplicity of Beetles, the wide availability of parts, the car's overall complete condition, and the desirability of the rare sliding canvas sunroof make this an excellent opportunity to enter into classic Beetle ownership.
399 1966 Chevrolet El Camino Custom 136806B115488 $20,000.00 $30,000.00 N/R €17,800 €26,700 Wearing Tuxedo Black over a red vinyl bench seat interior, this El Camino is equipped with a 327-cu. in. V-8. The trim tag/vehicle identification number indicates this El Camino to be equivalent to Malibu trim, which identifies it to be a Custom model. It sports an SS grille and hood, and options include power steering and brakes, automatic transmission, AM radio, and Rally wheels fitted with blackwall tires. An under dash tachometer is installed to the left of the steering column. It joined the Guyton Collection in November 1998. This will serve as an ideal vehicle for Cars & Coffee events or local cruise nights.
400 2005 Chevrolet SSR 1GCES14H45B116464 $20,000.00 $30,000.00 N/R €17,800 €26,700 Mr. Guyton is the original owner of this SSR. It was acquired new from Jack Schmitt Chevrolet of Fallon, Illinois, on 16 March 2006. Finished in Silverstone Metallic (one of 1,202 in 2005) over Ebony Leather, it is equipped with Chrome Wheels (14P) along with other notable features, including power windows, cruise control, rear window defogger, heated seats, traction assist, and running boards. Included in the sale is the original Cockpit Windbreak (C44) that fits between the headrests, and the optional storage drawers are found in the bed. It comes with a clean CARFAX report with its last service in July 2016 and passed emissions testing in August 2017. Copies of the original window sticker and service records are included on file.
401 1999 GMC Sierra 3500 SLT Crew Cab Pickup 1GTHC33JXXF030484 $10,000.00 $15,000.00 N/R €8,900 €13,350 The Sierra is equipped with power steering and brakes, air conditioning, tinted glass, six-way power driver's seat with lumbar and recliner, center storage console, full instrumentation, including tachometer, cruise control, tilt steering wheel, intermittent windshield wipers, AM/FM stereo radio with CD and cassette, and power windows and door locks. Finished in Onyx Black over a grey leather interior, the SLT trim level is top of the line for 1999 reflected in the equipment on this vehicle. Currently, the odometer reads only 65,500 miles and the truck includes a clean CARFAX with no reported issues. The 24-foot fully enclosed fifth-wheel trailer was custom-designed by Triple B Manufacturing Company, Inc., of Mascoutah, Illinois, and built for Hunter Engineering, its previous owner. Triple B was founded in 1954 and has been making custom trailers ever since. It features a slant nose for better over-the-road aerodynamics; is 102-in. long overall, 84 in. between fenders, and has a 78-in. interior height. Rated at 12,000 lbs. GVW, it is equipped with four-wheel electric brakes, is constructed with floor bracing 16-in. on center, and the steel tubular frame is diagonally braced. Stainless steel door handles and hinges are used along with an aluminum diamond plate floor, an E-track tie down system, floor vents, and an electric winch.
402 1926 Stutz Model AA Brewster Brougham AA-6-82074 $25,000.00 $35,000.00 N/R €22,250 €31,150 Fred F. Guyton began his automobile collecting in 1970 at Classic Cars, Inc. of Mount Zion, Illinois, which was offering this 1926 Model AA Vertical Eight brougham, a design developed for Stutz by Brewster & Company, the famous Long Island coachbuilders. Mr. Guyton acquired it for $400, and it has remained in his Mason's Garage museum ever since, a remarkable span that has now extended to 50 years. The car shows evidence of having been repainted over the original color, a pale blue, and a leatherette top covering and black vinyl upholstery installed, probably prior to 1961, when the car was driven by its then-owner in a parade in Hamilton, Ohio. It retains much of its original trim hardware, inside and out, including, significantly, the original wired safety glass windshield. The interior features beautiful woodwork, including the original "skeleton wood" headliner and handsome inlaid door caps. Some deterioration of the body's structural wood was found upon close inspection, although a restoration specialist may be able to stabilize it. The Stewart-Warner odometer noted 14,213 miles at the time of cataloguing. Overall the car could be extensively freshened, both cosmetically and mechanically, for use as a CARavan automobile, but is perhaps best suited to a full restoration – something that Fred F. Guyton had long intended, and which would result in a significant Stutz indeed, as one of the earliest surviving examples of one of the Roaring Twenties' greatest designs.
403 2004 Porsche 911 Carrera 4S Cabriolet WP0CA299X4S652321 $40,000.00 $45,000.00 N/R €35,600 €40,050 This 2004 Porsche 911 Carrera 4S Cabriolet was completed in February 2004 and finished in Arctic Silver Metallic with a black convertible top. It features self-dimming mirrors and rain sensors, as well as the Xenon headlamp package. The car rides on aluminum wheels with colored Porsche crest center caps. The Carrera 4S is powered by a 320-hp, horizontally opposed 3.6-liter six-cylinder engine which is mated to a six-speed manual transmission. The interior is finished in black leather with heated front seats, Bose High End Sound Package, and aluminum/leather shifter and brake handle. The car retains its original factory stereo unit with CD player. This attractive convertible 911 has covered less than 11,700 miles from new and is accompanied by its original owner's manuals, a copy of the production specification, as well as the removable windscreen with case. It is one of 4,543 Carrera 4S Cabriolet examples produced for 2004 and would make for a highly capable and comfortable highway cruiser, especially as the weather warms up.
406A 2015 Kia Optima EX 5XXGN4A70FG404684 $8,000.00 $12,000.00 N/R €7,120 €10,680
407A 2007 Hyundai Entourage KNDMC233376027002 $5,000.00 $6,000.00 N/R €4,450 €5,340
408A 2004 Jaguar XJ8 SAJWA71C64SG21752 $500.00 $1,000.00 N/R €445 €890
409A 2000 Cadillac Seville SLS 1G6KS54Y3YU269598 $500.00 $1,000.00 N/R €445 €890
410A 1981 Cadillac Seville 1G6AS6995BE700723 $500.00 $1,000.00 N/R €445 €890
411A 1984 Lincoln Continental Mark VII Bill Bass 1MRBP98F2FY670463 $500.00 $1,000.00 N/R €445 €890
412A 1976 Ford Elite 6G21H219385 $500.00 $1,000.00 N/R €445 €890
413A 1963 Chevrolet C-10 Pickup 3C144N108355 $1,000.00 $2,000.00 N/R €890 €1,780
All information is copyright Auto Auctions Monthly except images which are copyright of Artcurial, Bonhams, Gooding & co., Mecum, RM/ Sothebys, Russo & Steele and Worldwide Auctioneers. All figures are US$ and gross unless specifically stated. All figures are accurate in the home currency for the sale, any figures in other currencies are calculated based on the exchange rate for the date of sale accessed from FxTop.com. Percentages as given are calculated as the % below low estimate or above estimate as noted. All information given for recreational use only and cannot be personally guaranteed for accuracy by the author.