Bonhams Zoute
Place Albert de Knokke Le Zoute
8300 Knokke-Heist, Belgium
17:30 CEST, October 5th 2018
The Zoute Classic is a weekend dedicated to classic cars, both old and new. Bonhams have been hosting an auction as part of the weekend since 2013 and the five sales held so far have offered an eclectic bunch of collectibles, almost exclusively post war and frequently modern focused as borne out by the top sales. Three of the five top sales have been post 1989, the other two 1950s classics and the record breaking 2017 Mercedes-Maybach, the sales top seller, a charity lot with funds to the Laureus Sports fund. Always a boutique sale with a maximum of 45 lots, this is never going to be a mega sale in the Goodwood or Monterey idiom but does fit the event very well indeed.
Bonhams return to the Zoute Classic with 43 automobiles on  offer, the usual selection of postwar classics, a decent selection of moderns and just a brace of pre war cars. Leading the way is the 1962 Aston Martin DB4 Series V Vantage Saloon, 1 of just 17 built and offered fresh from a concours standard restoration by Kevin Kaye in a striking all Black color scheme. Three or four years ago the market for DB5s suddenly went ballistic with LHD examples in great condition rising from a few hundred K to well into the $1 – 2 million range although those prices have now collapsed. Bonhams estimate for this DB4 prices is a whopping €950k – 1.25 mil. ($1.012 – 1.45 mil.) and while the restoration wont have been cheap at up to $400 – 500k it still doesn't support a market value in the region where it is estimated, nor does the spec level. I certainly don't begrudge the vendor for asking this amount and it may reflect what he or she may have invested in this mighty fine Aston, nor do I doubt that it will be one of the best DB4s extant and probably a good opportunity, I don't see it selling at anywhere near this level. Maybe $900k would see it down but time will tell.
There are just two Pre war cars on offer although both have immense appeal
1930 Derby K4 1.8 litre Corse – Est. €115 – 135k ($133 – 157k). Extremely rare, sporty if slightly slow little french exotic. Eligible for anything and a lovely look, stated to be largely original and worth, well who knows but this seems perfectly reasonable and probably 1/4 of the equivalent Bugatti.
1936 Bentley 4¼-Litre Antem Cabriolet – Est. €375 – 425k ($435 – 493k). A full custom Bentley with Antem coachwork for early collector Andre Embiricos, enormous appeal and after a beautiful restoration, ready to be shown anywhere. The best 4.25s do top the $500k mark so this beautiful car is not overpriced.
Mid century classics are the usual stars at this sale and 2018 doesn't disappoint with options at every price level. Highlights include:
1960 Ferrari 250GT Coupe – Est. €600 – 800k ($696 – 928k). A Belgian delivered 250GT with its elegant coachwork in beautifully restored condition, these cars are now relatively rare, their years as the cheapest classic Ferrari seeing them being chopped for replica GTOs and TRs. Recent years have seen prices climb and the estimate seems bang on for a car in this condition.
1954 Arnolt-Bristol Roadster – Est. €340 – 380k ($394 – 441k). A beautifully restored example in "eye catching" colours, should be eligible for many events and bang on market value and good buying at the same time.
1973 Citroen DS23ie Decapotable – Est. €240 – 320k ($278 – 371k). 1 of 4 with the 2.3 litre F.I. engine, very rare and worthwhile car. Value at the low estimate although the high seems too much.
1948 Fiat-Siata 750 Bertolini – Est. €250 – 300k ($290 – 348k). A very nice little Siata, based entirely on Fiat Topolino parts with a few go faster mods. Actually ran in the 1948 Mille Miglia and very very sweet. A ticket to the Mille Miglia rerun and so quite valuable for that alone and probably priced accurately BUT dont expect to go very fast.
1954 Bristol 404 Sports Coupe – Est. €230 – 260k ($267 – 302k). Classic Bristols have been rising in price recently and it doesn't get much more classic than a 404 Coupe. Not particularly fast but very very well built, this one is noted to be in lovely condition and highly original. The only 1950s Bristols to have ever topped the $100k mark are the special bodied cars by Zagato and Pininfarina and the rare Cabriolets so this is surely at least $100k too expensive but one never knows.
1956 Elva Mark 1/B Sports – Est. €140 – 220k ($162 – 255k). A restored example of one of these small, light and wickedly fast little sports racers. Looks very Italian but is very English, capable of 0-100km/h in under 9 seconds, very quick for 1089cc IN 1956!. Very rare so hard to accurately price but seems market priced for a car that would be ideal for Goodwood.
1955 Porsche 356 Pre A 1600 Speedster – Est. €350 – 450k ($406 – 522k). A US delivered early 356 Speedster, noted to have been restored "a while ago" and said to be in excellent condition. Condition would need to check out as excellent to make the estimate, market is probably closer to $350k for anything less than condition 2.
1954 Fiat 1100TV Sports Saloon – Est. €150 – 180k ($174 – 209k). Actually completed the MM in '54 and '55, quite possibly the cheapest way to guarantee entry. Restored a decade ago so likely ready to go. Market value.
1951 Alfa Romeo 6C2500SS Touring Berlinetta – Est. €700 – 800k ($812 – 928k). Italian car, found in a barn in 2006 and exported to Germany although it returned to be restored by Carrozzeria Grillo of Occieppo Superiore, the Villa d'Este coupes were fetching this sort of money but have been soft recently, this price seems $100+k too expensive.
Modern classics are not as great as in previous years although the following is a great car:
2012 Porsche 911/997 GT3 RS 4.0 – Est. €270 – 320 ($313 – 371k). A fast and usable Porsche with the 4 litre engine, retains original matching numbers engine. A good example. Market priced and likely a good investment.
Affordable classics are a diverse selection at this sale and reflect the wider variety of the sale. Highlights include:
1957 Lamborghini DLA35 Tractor – Est. €18 – 24k ($21 – 28k). A fun little Lambo tractor in garish colours, whats not to love.
1995 Lancia Delta HF Integrale Evoluzione II – Est. €50 – 70k ($58 – 81k). A sure fire future collectible, rare in Evo II guise. Still a very fast car and market priced.
1987 BMW M635CSi – Est. €45 – 65k ($52 – 75k). A rare, one owner sporty BMW. Lovely patina and ready to drive. Possibly a few k too expensive but still value here.
1980 Porsche 924 Carrera GT – Est. €70 – 90k ($81 – 104k). As 911 prices have risen, the rarest of the VW Porsches have also risen and this is claimed to be a very good example of this car. Slightly high miles though it has. Perhaps a touch expensive but value here.
2018 Alpine A110 Premiere Edition – Est. €60 – 80k ($70 – 93k). These are likely to be highly collectible although only time will tell. Offered by Alpine themselves and badged #0001, an unrepeatable opportunity. Could go for much, much more than this.
1970 Rolls-Royce Silver Shadow Convertible -Est.  €40 – 60k ($46 – 70k) Mohammed Ali's very own personal Roller and a super cool car. Noted to have been restored and value as a car but what value the Ali connection, I think this is cheap and could well sell for maybe double this. Ideal for a celebrity car museum.
1950 Fiat 500C Topolino Giardiniera – Est. €15 – 25k ($18 – 29k). A lovely little car, restored in the 1970s and since owned by Paul Frere. Lots of unpretentious fun.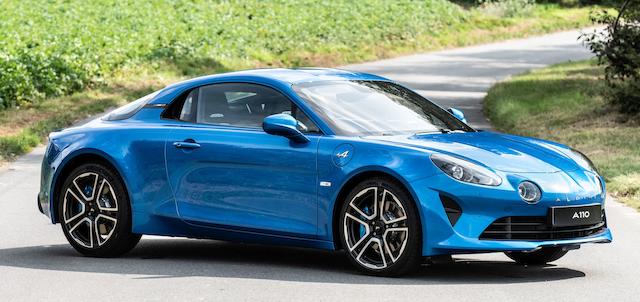 Bonhams have done well to secure an excellent selection of fine collectors cars and this sale has all the signs of being a great success.
---
 Key – Lot # – Year – Make – Model – chassis number – Low – High estimate EURO – N/R = No Reserve 
12 1957 Lamborghini DLA35 Tractor 3050/35 Bonhams Zoute €18,000 €24,000 N/R $20,880 $27,840 Orange and blue tractor. 36bhp 2200cc I3. 1 of approx 117. Restored in 2016.
14 1995 Lancia Delta HF Integrale Evoluzione II ZLA831AB000583005 €50,000 €70,000 N/R $58,000 $81,200 Dark Blu over Beige leather. One of the last of its kind to be registered (production ceased in 1994), this Lancia Delta HF Integrale Evo 2 was sold new in Italy where it had three owners. In 2018 the Lancia was imported into Belgium where it is currently in the hands of the fourth owner. Finished in blue with beige interior, the car has covered 65,733 kilometres from new and is presented in excellent condition. Offered with Belgian registration papers, it represents a wonderful opportunity to acquire one of the rarest and most desirable sporting road cars of its era with a competition pedigree second to none.
15 1989 Mercedes-Benz 500SL Convertible WDB1070461A971302 €70,000 €90,000 N/R $81,200 $104,400 Arctic White over Blue leather. Presented in outstandingly original condition – down to the smallest detail – this 107-series Mercedes-Benz 500 SL retains matching numbers and matching colours, and has the very desirable factory-optional rear seat (code 565). The car was registered in Berlin in January 1989 by its first owner, and remained in Berlin until 1990 when it travelled to Monaco, staying there for 27 years. It is currently in the hands of its third owner, who purchased the car in 2017, and has covered only 25,710 kilometres from new, as verified by the accompanying service records. This beautiful 500 SL has retained its full documentation: the sales brochure; original upholstery brochure; original datacard; user handbook, original service handbook; and other Mercedes-Benz paperwork. It also has its three keys and its full and original tool kit. Factory options include a hardtop in body colour with heated rear screen; front heated seats; graduated tinted windscreen; alloy wheels; air conditioning; central locking; electric windows; and the aforementioned rear seats (full specification listing available). It also comes with the fully lined factory hardtop that makes this SL usable no matter what the weather. Recent maintenance has included new suspension silent block buses, cradles, and tie rods; brake pads; tyres (x4); cylinder head gaskets; ancillary drive belts; distributor cap; battery; air conditioning recharge; and airbag diagnosis (OK). This car also benefits from a transferable warranty (parts and labour, valid until February 2019) issued by a Mercedes-Benz Classic dealer located in Paris. Finished in its original colour combination of Arctic White with blue leather interior, this beautiful 500 SL is worthy of the closest inspection.
16 1987 BMW M635CSi WBAEE310601052697 €45,000 €65,000 N/R $52,200 $75,400 "White over Black buffalo leather. The car offered here was delivered new to Belgium and has had only one registered owner from new. Still retaining its original Belgian license plate, 'M-974-T', it has covered only 51,000 kilometres and comes with full history. A true collectors' item, this example is one of only 3,283 non-catalyst EU-specification cars built. The BMW was delivered on 24th July 1987 by Garage BMW Meersman in Sint-Niklaas to its first and only owner, Mr Antoin Geleyn, a well-known cheese and dairy merchant from Beveren. A young man and a great BMW enthusiast, Mr Geleyn cherished the car with much love until his death at the age of 66 in November 2017. His enthusiasm is evidenced by the original invoice, which lists almost all the available options. In addition to the full sports interior in buffalo leather, we find the following: tinted windows; sunroof; alarm; Becker Mexico audio with electric antenna; electric seats (x4); and the complete M Technic spoiler package. The invoice total amounted to 2,493,631 Belgian Francs (after deduction of a considerable discount) or €61,815 today, making the BMW a very expensive car at the time.
Mr Geleyn used his BMW only sporadically during his 30 years of ownership. In the maintenance book 14 services are recorded over the course of barely 51,000 kilometres driven. All services were carried out at the same BMW dealer in Sint-Niklaas that has supplied the car new in 1987. In addition, the car is accompanied by a thick history folder containing original invoices; original registration certificate; old insurance documents; all original keys, etc. Remarkably, the car still retains Mr Geleyn's personal audio cassettes, their music so redolent of the 1980s. The car is un-restored and in original condition, apart from the front bonnet and right-hand side front wing, which have been repainted, and shows only slight traces of use, which gives it a uniquely beautiful patina. Recently fully checked, it is in full working order and drives like a new car. All accessories and optional equipment work flawlessly. The car comes complete with all books and tools in their case; its original Belgian registration document in name of Mr Geleyn; sundry bills; and a copy of the original sales invoice. A unique, virtually 100% original, Belgian delivered example – in 'time warp' condition – this beautiful BMW M635CSi is ready to use and would grace any important private collection."
17 1957 Fiat-Abarth 750 Zagato Berlinetta 418163 €90,000 €120,000 $104,400 $139,200 Rosso over Nero. Delivered new in Italy, this beautiful FIAT-Abarth 750 Zagato was restored in 1991 and between 1992 and 1996 participated in the Mille Miglia Storica with some success. Finished in red with original black interior, the car is registered in Belgium, having been imported in 2017 by the present owner, and is presented in generally very good condition. Mille Miglia-eligible, this FIAT- Abarth comes with photographs of it participating in the event; Belgian registration papers; and a FIVA passport.
18 1966 Porsche 911 SWB Coupe 303951 €130,000 €180,000 N/R $150,800 $208,800 Silver over Black leather. Manufactured in March 1966, this 1st Series (pre-A Programme) Porsche 911 was delivered new via the Rossel dealership in Wiesbaden Germany, making it an ultra-rare European example, the bulk of production going to the USA. This particular 911 is also one of the early, short-wheelbase cars of the type much favoured by the historic rallying fraternity, a situation that has led to original examples such as this one becoming a great rarity. Chassis number '303951' was ordered with the desirable Webasto sunroof as well as a Becker Monte Carlo radio with antenna and loudspeakers. It is believed that the car has remained in Germany ever since. The current owner bought the Porsche in 2014, in need of restoration, and had it fully restored to the highest standards with no expense spared by marque specialists GT Classic Sportwagen in Essen, Germany. The owner also had some sonderwunsch (special request) options installed: full leather seats in black (instead of leatherette) costing €3,000; chrome wheels; GPS-tracker (for regularity rallies); competition safety belts, etc. When finished, this car was so beautiful that the vendor hardly dared to drive it! Accompanying documentation includes a Porsche Certificate of Authenticity confirming its original specification and the aforementioned rare factory options; GT Classic's invoice and details of the complete restoration totalling over €100,000; a copy of the old German Fahrzeugbrief; TüV paperwork dated 2015; and a copy of the old Porsche Kardex recording the first services (rare). This short-wheelbase Porsche 911 is the perfect car for historic rallies, being fast and competitive. Ready to take to any rally or concours event, it is 'on the button' and ready to go.
19 1956 Austin-Healey 100M Le Mans Roadster BN2-L/230581 €160,000 €180,000 $185,600 $208,800 Healey Blue and Old English White over Dark Blue leather. Chassis number 'BN2-L/230581' was delivered new in 1956 to Florida and in 1958 was purchased by the second owner, a Mr Ditter from Miami, Florida who used it until 1971. The Healey was then stored in his garage until his daughter sold it in 2006 to Harold Brandner from BMC Classics of Smyrna Beach, Florida, who restored it completely between 2006 and 2009 (see DVD on file). In 2010 the car was shipped to the immediately preceding owner in Basel, Switzerland. The current owner acquired the car in May 2014. Benefiting from a no-expense-spared, 'ground upwards' restoration to original specification, '230581' must be one of the very best of its kind available, as evidenced by its '1st in class' awards at the Tampa British Car Show (October 2009) and the Winterpark Concours d'Élégance (November 2009), and a '3rd in class' award at the British Classic Car Meeting in St Moritz (July 2010). Belgian registered, the car comes with one of the very few hand-built wooden steering wheels by Donald Healey; recent new top, tonneau cover, and windows; chromed spare wheel; '100M' and 'Le Mans' badges; and a well-stocked badge bar. It has obtained the ultra-desirable Gold-level certification by the 100M registry of Bill Meade, the highest recognition of the car's originality. It is known to the register as 'Confirmed Factory-built 100M'. Finished in its original factory colour scheme of Healey Blue and Old English White, '230581' represents a rare opportunity to acquire an iconic first-of-the-line 'Big Healey', factory 'Le Mans' built.
20 1959 Alfa Romeo 2000 Spider AR102*0400828 €85,000 €125,000 $98,600 $145,000 Grigio Biacco over Dark Rosso leather. By 1961, the car had found a new owner in Toulon and changed hands again in 1963, moving to Valence where it stayed up to 1968. In 1969, the Alfa was sold to a brocanteur (pawnbroker) in Etoile, France, who kept the car until 1989. It was then bought by Mr Pierre Robin of Beaumes de Venise, France who kept it until 1997. Still in original condition, it then moved to Italy where the previous owner started a painstaking restoration. The current owner was able to buy this 2000 Touring Spider in Italy in 2014 as a semi-finished restoration project. The current owner finished the restoration recently. This 2000 Touring Spider is still presented in its original colour of 'Grigio Biacco' with a re-upholstered interior in very attractive dark red. It has been mechanically checked-over by the current owner with carburettors and transmission revised (invoices on file) and is described as in very good mechanical condition. The car is offered with its old French registration papers and comes with its old French number plate and restoration photos. With its elegant Touring lines, four-seater accommodation, and open top – and finished in, arguably, one of the better colour schemes for an Alfa Romeo 2000 Spider – this is a car for the Alfa Romeo connoisseur. 'On the button' and ready to go, it represents a wonderful opportunity to acquire a fine example of this fast-appreciating Italian thoroughbred.
21 1962 Jaguar E-Type Series I 3.8 Roadster 877837 €140,000 €180,000 $162,400 $208,800 Metallic Grey over Red leather. Representing the Jaguar E-Type in its earliest, purest, and most sought-after form, this 3.8-litre 'Series 1′ was imported by Jaguar's French distributor, Paris-based Ets F Delecroix on 30th August 1962. On 19th September 1962 the car was delivered to its first owner, who would keep it for seven years. It was then purchased by a Mr Carillon of Givros, France. On 28th June 1985, the E-Type was bought by Mr Michel Hassoun, who kept the car in the South of France. Ownership was transferred to Madame Aline Hassoun on 27th July 1993. The current owner purchased the car on 5th November 2015 at which time the odometer reading was around 60,000 kilometres. In France until 2015 and since then in Belgium, this fully matching numbers E-Type has always been kept in original condition, and even retains its original radio and electric antenna. In maintaining the car, the current owner has prioritised mechanical reliability, as he wanted to drive it without having to worry. Carried out by Retro Cars, a Belgian Jaguar specialist, refurbishment has included a complete engine overhaul in the course of which high-compression (9.0:1) pistons were fitted; the crankshaft, flywheel, and other rotating components dynamically balanced; the carburettors completely overhauled; 123 electronic ignition fitted; new ignition system and alternator fitted; and an aluminium radiator and Kenlowe electric cooling fan installed. Other works included overhauling the Moss gearbox and fitting a new clutch; overhauling the differential with new bearings; new brake discs front and rear; new brake master cylinder and new pistons front and rear: overhauling the steering rack; and fitting six new gas shock absorbers, adjustable for compression and rebound damping. Other noteworthy features include all new hoses; a stainless steel exhaust system; complete new electrical wiring loom and fuse box; a new convertible hood; and re-upholstered seats. Apart from the seats, the interior remains original. Invoices totalling more than €50,000 on file together with a photographic record of the mechanical rebuild showing that high quality parts were used exclusively. This exceptional E-Type also comes complete with tool kit, jack, instruction manual, JDHT Certificate, Belgian Carte Grise, and a 12-page Rapport d'Expertise from the Bureau d'Expertises en Automobile, Doucy.
22 1960 Ferrari 250GT Coupe 1625GT €600,000 €800,000 $696,000 $928,000 Rosso Marrone over Tan leather. The example offered here, chassis number 1625′, left the factory in January 1960 destined for California, USA but was actually delivered to Jacques Swaters' Garage Francorchamps in Belgium. It is a rare 2nd Series example, the most sought after series in the 250 GT Pininfarina coupé range. first owner was Mr Theo de Montpellier, who purchased the car on 4th February 1960, subsequently passing to Mr Louis Galand. The third owner is not known. According to a registration document on file, fourth owner Mr Jean-Marie Cap acquired the Ferrari on 24th December 1976. From 15th May 1978, the car was owned by Ferrari collector Mr Ennio Gianarolli, who kept it on display as part of his collection but did not register it. The current owner purchased '1625' on 7th February 2005. In March 2005, the Ferrari was despatched to Carrozzeria Nova Rinascente in Vigonza, Italy to be restored by the internationally renowned Dino Cognolato and his team of specialist craftsmen. The Ferrari received an exemplary restoration of the chassis, body, and all brightwork including the bumpers, front grille, window surrounds, door plates, etc, and the multiple Ferrari and Pininfarina badges. The mechanical side of the rebuild was entrusted to Corrado Patella's Omega Officina, another recognised specialist in the restoration of Ferrari of road and competition cars. Corrado Patella carried out a full mechanical restoration, which included the engine, carburettors, gearbox, overdrive, axle, suspension, brakes, radiator, etc. The electrical system was overhauled by Elettrauto Franco, which also restored and the refurbished all the dashboard instruments. Luppi of Modena re-trimmed the interior, while the carpets and headlining were renewed by Dino Cognolato. Equipped with new 16″ Borrani wire wheels, the fully restored Ferrari left Cognolato's workshop in March 2009, since when it has won the Prix d'Élégance at the Zoute Concours (in 2014). Accompanying documentation consists of the all-important Ferrari Classiche 'Red Book', restoration invoices, and Belgian Carte Grise, and the car also comes with its tool kit and jack. Lastly, the owner has kindly provided us with his driving impressions: 'Once the driver is comfortably installed behind the Nardi steering wheel, he or she is afforded an unobstructed view of the dashboard in a perfect combination of ergonomics and aesthetics. Once started, the engine emits an evocative yet subdued growl, and is supremely flexible on the road. The clutch is not heavy and the gearbox is a delight, its synchromesh beyond reproach, while the overdrive facilitates fast cruising without having to overtax the engine. Handling is excellent, and the four-wheel disc brakes mean that the limits of the car's performance can be explored safely.' These many attributes and the presence of a generously sized luggage compartment simply invite one to travel; this Ferrari 250 is not designated a Gran Turismo without good reason. Possessing a rare elegance, this beautiful Pininfarina-style Ferrari will appeal to the connoisseur of aesthetics every bit as much as to the enthusiast driver.
23 1992 Porsche 911/964 Carrera RS WP0ZZZ96ZN5491563 €320,000 €360,000 $371,200 $417,600 British Racing Green over Sherwood Green leather. In June 1990, this unique Carrera RS's owner signed a provisional purchase agreement, and in March 1991 was asked by the importer what colours he would like for the body and upholstery. He specified bodywork in British Racing Green, Recaro seats trimmed in Sherwood Green leather, and a special three-spoke steering wheel. The importer had serious reservations about the special colour scheme chosen by the customer, but after several months of discussions, on 20th December 1991 confirmation was received that his choices were acceptable, albeit with a considerable increase in the price. Other non-standard special features of this car include a bracing bar between the front suspension turrets, and a unique centre/rear interior roll cage. The Porsche was duly delivered to the current owner on 27th May 1992, since when it has covered a mere 31,500 kilometres in fine weather only, and has always been a pleasure to drive. Pampered by its owner and never involved in any accidents, this Carrera RS retains its original paintwork and has never repainted except for the right rear wing. The bodywork, under-body, and front luggage compartment and all impeccable, while the original magnesium wheels are undamaged. Never rebuilt, the engine has no oil leaks, and we are advised that the transmission is faultless. Offered with its original tool kit, jack, compressor, instruction manuals, and two sets of keys, this unique Carrera RS comes with full and unbroken history from new, including the purchase order, purchase invoice, service booklet, service invoices, Certificate of Conformity, Contrôle Technique, Belgian Carte Grise, and all documents. A unique opportunity.
24 1954 Arnolt-Bristol Roadster 404/X/3033 €340,000 €380,000 $394,400 $440,800 Peacock Blue over Grey leather. One of a mere handful of survivors, chassis number '3033' is recorded in the Arnolt-Bristol Owners List and formerly belonged to Ray Erickson before being imported into Europe in 2006 by Josef Stangpl. The Arnolt-Bristol was fully restored to concours standard between 2016 and 2018, the works carried out including a full engine overhaul (restoration invoices and photographs are on file). Finished in its eye-catching original Peacock Blue with grey leather interior, this ultra-rare, American-inspired, Anglo-Italian sports car is offered with a US title (EU-taxes paid). Exclusive, expensive and immensely desirable, the Arnolt-Bristol remains a footnote in the pages of automotive history, but a memorable one.
25 1958 AC Ace Roadster AEX1012 €280,000 €330,000 $324,800 $382,800 Black over Tan leather. According to the AC Ace Register, this Ace left the works in November 1958 in left-hand drive configuration with engine no. CLB 2389. It was exported to the USA where the San Carlos, California based distributor, Competition Motors, took delivery. First owner Mr David Derma of San Francisco kept the Ace until 1978 when it was sold to Mr Don Cziska. Mr Cziska kept the car until 1992 before selling it to Ron Leonard of Durango, Colorado. At that time the Ace had covered only some 17,000 miles from new and remained largely original throughout, with its factory applied paint and interior intact. A broken timing chain tensioner had caused the car to be taken off the road years earlier, so Mr Lennard embarked on an engine rebuild to return the Ace to running condition. During the overhaul, the compression ratio was raised slightly, and new valves, bearings, and timing chain installed. By this time, the car was showing its age, so it was decided to refinish the black exterior, re-chrome the brightwork, restore the wire wheels, and fit a new set of period-correct Michelin X tyres. Furthermore, the complex rear suspension was refurbished with new pins and bushes. In 1996, Mr Lennard sold the car to Mr Bruce Toppan of Menasha, Wisconsin. Mr Toppan wanted to return the Ace to 'as new' condition and despatched the car to Wayne Obry's Motion Products, one of the USA's leading restoration specialists. Motion Products went through the whole car, making it as perfect as possible. Mr Toppan spent more than $150,000, as confirmed by the invoices on file, and following the rebuild's completion drove the Ace on two occasions (2011 and 2012) in the Colorado Grand, the 1,000-mile rally through the Rocky Mountains. From then until today the car has been maintained very carefully and is as good a condition as could be expected. Currently registered in Germany, the car is matching numbers and comes with its soft-top, tonneau cover, books, tools, and all records. It also comes with a spare wheel, an extra set of painted wheels, a hand crank, and a quantity of spare parts. This beautiful AC Ace must be one of the finest and best prepared examples available today. Bonhams Quail '14 $280k
26 1950 Healey Silverstone D36 €230,000 €300,000 $266,800 $348,000 British Racing Green over Dark Green leather. RHD. This well-known Silverstone was first registered on 4th May 1950, although the chassis number indicates that it was built in 1949. 'D36' was despatched to Scotland where it was purchased new by one D Frazer in Glasgow and registered as 'HSF 360′. While in Scotland, the Healey was raced and hill climbed for two years, driven mainly by Bob Dickson and the famous rally driver, Nancy Mitchell. Nancy Mitchell was one of BMC's squad of British lady rally drivers in the 1950s, winning two European Ladies' Championships. She drove the Healey Silverstone in hill climbs, including the Rest And Be Thankful event at Arrochar. The car then came back to England and was reregistered as 'KGG 829', keeping that registration for the rest of its life in the UK. 'KGG 829' was used in publicity for the hard tops made for the Healey Silverstone by Universal Laminations Ltd (see original 1954 advertisement on file). From 1956 to 1970 the car belonged to one A J Bowers in Hampshire. Another long-term owner was Mr David Reader, who raced the Healey extensively and kept it from 1992 to 2012 when it was bought by the current vendor. The car is believed to have been repainted from green to red during that period. The current owner re-sprayed the Healey in green, a wise decision, and has participated in many rallies with it including the Zoute Rally in 2013, 2014, and 2015. It was even featured on the cover of the 2014 Zoute Grand Prix programme! Other important international rallies attended include the Coppa D'Oro (2016) and Gran Premio Nuvolari (2017). This well documented car comes with an exceptionally comprehensive history file – one of the best we have seen – close inspection of which is highly recommended. Far too lengthy to list in their entirety, its contents include logbooks dating from the 1950s and 1960s detailing all journeys, mileage totals, oil changes, work done, etc plus a vast quantity of original period invoices for parts and work carried out, mostly issued by the Donald Healey Motor Company. There is also a fascinating body of correspondence with the Donald Healey Motor Company dating from the 1950s. Other documents include period racing photographs; a copy of the old UK V5 in the name of David Reader; FIVA identity card (valid until 2023); instructions for the instruments; photographs of participation in the Zoute Grand Prix; rally results; restoration photographs; a copy of the Healey Silverstone brochure; and Belgian registration documentsThis Healey seems to have always been well maintained and kept in top condition mechanically, reflecting the considerable sum of money invested in it by the current owner. Fitted with instruments for participation in regularity rallies, it is an ideal purchase for anyone wishing to take part in such events, which, of course, include the Zoute Grand Prix and Mille Miglia. As such, it also represents a relatively affordable entry into these high-profile motoring celebrations. Highly original, exceptionally well documented, ready for any event, and clearly well looked after throughout its career, this beautiful Healey Silverstone must be one of the better examples around.
27 1973 Citroen DS23ie Decapotable DSFG 00FG0041 €240,000 €320,000 $278,400 $371,200 Silver Grey over Black leather. The beautiful Citroën convertible offered here is the first of three DS23 IE cars built by the Chapron factory for 1973, and one of only four such examples with the 2.3-litre IE (fuel injected) engine. It was originally ordered by eminent Parisian Raoul d'Iray in October 1972 through the Citroën dealership in Paris 18th, 6 rue d'Oran. Carrying the Chapron build number '9414', this exceedingly rare car was finished in December 1972 and first registered in March 1973 under the Parisian number '3304 ZB 75' to Mr Raoul d'Iray, 148 Avenue Louis Roche, Gennevilliers/Seine, France. At that time, Henri Chapron's cars were no longer sold through the Citroën dealer network, and every car that Chapron transformed had to be approved by the French licensing authority (the 'Service des Mines') before it could be registered. These papers accompany the car. The DS remained in Raoul d'Iray's ownership for a decade. It then passed to a Mr Van Houten, remaining with him for a further decade before passing to Mr Jaap Knap, a Citroën dealer. Last publicly offered for sale in 2006 at Rétromobile, this rare Citroën DS23 IE Décapotable was purchased by the car collector and hugely successful fashion entrepreneur, Mr Kevin Stanford, who registered it in the UK with his personal registration plate, '56 KS'. For the next 12 years the car was enjoyed by Mr Stanford and his family before being purchased by a UK car collector. Since then it has received a detailed mechanical overhaul at the hands of the widely respected UK-based Citroën specialist, Olivier Houiller of French Classics Ltd. Recent receipts totalling over £15,000 accompany the car, as does the extensive Chapron build documentation that was provided by Noëlle-Eleonore Chapron, Henri Chapron's daughter. This magnificent and very rare piece of French motoring history is 'on the button' and ready to be enjoyed. An eye-catcher at any gathering, it comes with the aforementioned documentation and is currently registered in the UK.
28 1980 Porsche 924 Carrera GT WP0ZZZ93ZBN700093 €70,000 €90,000 N/R $81,200 $104,400 Silver over Cloth. Delivered new to Freiburg, Germany and first registered on 19th December 1980, this example of one of the rarest of 924 variants is finished in the rarest and most sought-after silver colour. It comes with the only 3 options possible for the model; the removable sunroof, 16 inch Fuchs wheels and the all-important limited slip differential. The original service book reveals that the car was delivered new to its first owner (an engineer) by the Baden-Auto GmbH dealership. Clearly well looked after, this 924 Carrera GT was sent to the supplying dealership, Baden-Auto, which later became Porsche Zentrum Freiburg, at least once a year. The Porsche stayed with the original owner up to 1995 (though it seems like he no longer drove the car after 1994) when it was sold to a friend and business partner in Belgium. There is an 'Internationaler Zulassungsschein' on file, issued in Freiburg with the name of the Belgian owner, 'Jean-Claude Lamblin', which indicates he drove it from Freiburg to Brussels. The car was serviced by Carrera Motors in Ghent in 1997 and again in 1999 with 71,468 kilometre showing on the odometer. This 924 Carrera GT has been standing since Mr Lamblin's death circa 2010, and was only taken out in 2016 when it changed hands. The odometer reading in 2010 was 78,609 kilometres and is now 79,180 kilometres. We are advised that the car is totally original; has never been involved in any accidents; and retains its factory-applied paintwork, etc. It still presents beautifully, the interior in particular being in excellent original condition. The car comes with its original Blaupunkt Berlin radio with flexible stalk (in box); all books and tools including compressor; spare keys in the original pouch; and its original Porsche pouch containing the original owner's manual and service booklet, the latter stamped on 15 occasions between January 1981 and June 2016. Additional documentation consists of a Porsche Certificate of Conformity (1995); printout of the Porsche Kardex confirming the car's numbers; Belgian Carpass recording the odometer readings between October 2000 and June 2016; and the aforementioned 'Internationaler Zulassungsschein'.
29 1968 Porsche 911S 2.0 Litre Coupe 11800760 €120,000 €160,000 N/R $139,200 $185,600 Tangerine over Black leatherette. The Porsche 911S offered here, chassis number '11800760', is one of the last of the early short-wheelbase type much favoured by the historic rallying fraternity, a situation that has led to unmodified examples such as this one becoming a great rarity and consequently much in demand. Finished in arguably the best colour combination of Tangerine with black leatherette interior, this Porsche 911 was delivered new to Italy on 1st June 1968, and is instantly recognisable as an Italy-delivered car by virtue of its special indicators, which were only fitted for the Italian market. This car was also equipped from new with the desirable five-speed gearbox option. In February 1987, the car moved to Brussels, Belgium with Mr Pietro De Rosa, who kept it until recently. Unusually, this car retains its original Belgian registration papers dating from 1987, which are still current. Some mechanical refurbishment was carried out in 2016, while the carburettors were professionally overhauled only a few months ago. Recently the underbody and sills benefited from extensive work to make excellent again. An older restoration, this car retains its original interior and can be described as in lovely condition, 'on the button' and ready to go. Accompanying documentation consists of a Porsche Certificate of Authenticity; Certificate of Conformity issued by D'Ieteren in 1987 when the car came to Belgium; old Contrôle Technique dated 1987; invoices for recent works and parts; compression test; and a Classic Data report confirming the car's condition and estimated value of €175,000 in 2016.
30 1993 Porsche 911/964 Turbo 3.6 WP0ZZZ962P5470303 €150,000 €180,000 N/R $174,000 $208,800 Midnight Blue Metallic over Dark Blue leather. Representing the Type 964 in its ultimate incarnation, this 3.6-litre Turbo was delivered new in France via Porsche Marceau Automobiles, Paris 16. The car is finished in Midnight Blue Metallic with matching interior, and comes equipped with a sunroof and Sony CD audio system. A previous owner, Mr Wim Decock, bought the Porsche in the mid-1990s, having heard about a little-used 3.6-litre Turbo offered for sale. The car had fewer than 3,000 kilometres recorded at that time so he decided to buy it on the spot. Mr Decock enjoyed the Porsche for the next ten or so years before selling it in 2005 to Mr Daniel Daspart with circa 24,000 kilometres recorded (see document on file). Mr Daspart competed with the Turbo in the 'Le Touquet Paris-Plage' rally in 2009, 2011, and 2013. In the latter year the Turbo was featured in 'Flat 6' magazine (No. 273, November edition). The current vendor acquired the Porsche in May 2017, since when it has not been used but nevertheless has benefited from mechanical refurbishment carried out recently by the official Porsche Centre Brussels following the well-known marque 111-point check (see check report and bill for over €7,000 on file). Mechanically in top condition and currently displaying a total of circa 62,400 kilometres on the odometer, the car is offered with its instruction manual, service book, Sony CD manual, and Belgian Carte Grise, and comes complete with tool kit and spare wheel. In addition, there are invoices on file from ATS Porsche in Nivelles, Belgium and Kronos Porsche centre in Gembloux, Belgium.
31 1975 Porsche 911 Carrera 2.7 Litre MFI 911 560 0366 €120,000 €160,000 N/R $139,200 $185,600 Grand Prix White and Black over Dark Red leatherette. This Porsche 911 Carrera was delivered new to Barcelona, Spain in March 1975 finished in Grand Prix White with dark red leatherette interior, and left the factory equipped with the following options: tinted windows; rear window with anti-fog system; engine compartment light; and rear fog light. The car was first registered in September 1975 in Barcelona by its first owner, Antonio Giminez Rodriguez, who kept it until 1993, nearly 20 years. It was then sold to Mr Jose Luis Brandes Calvo from Zaragoza. The Carrera stayed in Spain until 2012 and then went to Belgium where it was registered in March 2012. It was last registered in Belgium in February 2014 by Mr Pierre Mélotte. Although it still presented beautifully, in 2016 the current owner decided to re-spray the car completely from bare metal to the highest standard because of a minor crack in the front left wing paintwork and the fact that the paintwork generally was beginning to show signs of age (invoices on file). At the same time the engine, which had only minor oil leaks, was removed for a complete overhaul; the owner, being a perfectionist, wanted his car to be 100%! Service records track the odometer readings from February 1993 at 99,614 kilometres to April 2016 at 56,246 kilometres (actually 156,246 kilometres from new). Additional documentation consists of old Spanish registration papers showing technical inspections from 2000-2011; technical inspection 2014; Porsche Certificate of Authenticity; Porsche 111-point check carried out in 2016; Belgian registration papers; and a Classic Data report confirming the car's condition (before restoration) and its estimated value in 2016 of €190,000. The car also comes with its original pouch with instruction manuals and service booklet; spare key; and the original spare wheel. Retaining its original dark red interior, beautifully preserved, this Carrera is described by the vendor as in generally excellent condition, ready to enjoy. We have had the pleasure of test-driving the car and can confirm that it performed flawlessly, with a very responsive throttle. This car is worthy of a place in any important collection as direct successor or 'little brother' of the Carrera RS at less than half the price.
32 2018 Alpine A110 Premiere Edition #0001 €60,000 €80,000 N/R $69,600 $92,800 Alpine Blue over Black. Offered for sale directly by the Alpine factory, the 'fully loaded' Première Edition model offered here is plaque numbered '0001' (out of 1,955 built). All the 1,955 units have been snapped up since Alpine began accepting pre-orders in December 2016. Delivered new in May 2018, '0001' is finished in evocative Alpine Blue and features 18″ matt black alloy wheels; Brembo brakes; sports exhaust; Sabelt single-hull seats with blue stitching; brushed aluminium pedals; Focal audio system; tricolour badges; and a choice of three driving modes.
33 1963 Ferrari 250GTE 2+2 4093GT €330,000 €400,000 $382,800 $464,000 Grigio Argento over Rosso leather. Bodied by Carrozzeria Pininfarina, '4093 GT' is the first of the sought after 300 Series III cars completed out of a total production run of 954 units, and was fitted from new with the desirable overdrive gearbox. In January 1963, this particular car was used to illustrate a revision in the 250 GTE's homologation papers, which shows the fog lamps in the front wings and the one-piece taillights. Later that same month the Ferrari was delivered new to Jacques Swaters' celebrated Garage Francorchamps in Brussels, Belgium and sold to its first owner. Subsequently, the car was sold to a new owner in Switzerland, Eduard Nievergelt, who showed it at Ferrari's 50th Anniversary celebrations at Maranello and Rome. Mr Nievergelt also drove the car to the Ferrari Owners' Club Switzerland's Annual Meeting at Weggis-Lucerne, Switzerland in June 2002. Sold by Mr Nievergelt, 4093 GT' was then treated to a full, body off, 'last nut and bolt' restoration by Touring Cars, Switzerland, the works being completed in 2005. Belonging to the current owner for the last six years, the car is offered from his very well maintained private collection of Ferraris. Maintenance invoices issued 2012-2016 by L'Officina, Brussels totalling approximately €24,000 are on file. Presented in beautiful condition, this matching numbers 250 GTE is offered with tool kit, a Massini Report, and the all-important Ferrari Classiche certification. via RM Monaco '12 $283k and RM Maranello '07 $193k.
34 1948 Fiat-Siata 750 Bertolini 72001-48 €250,000 €300,000 $290,000 $348,000 Rosso Marrone over Nero. From arguably the most evocative period of post-war sports car racing, this particular car was made in 1948 starting from a FIAT Topolino chassis frame that was modified with additional tubular reinforcement. The engine is a SIATA 750 Type B fitted with Weber carburettors DR32, aluminium oil sump and inclined exhaust. The car was sold to Mr Musa, a gentleman driver from Parma, and entered in the 1948 Mille Miglia, Mr Musa's co-driver being one E Maestri. They hit trouble during the race and did not finish. Later in 1948 the car was given to Mr Giuseppe Gilera, founder of the eponymous motorcycle company. Mr Gilera raced the car in the 1948 Coppa delle Dolomiti, and in 1950 it participated in several races including the Parma-Berceto. On the Italian registration documents we can trace changes of ownership in 1968, 1985 and 2012. It was around that time that this SIATA was completely restored by the famous KCA workshop in Milan, the engine being rebuilt by the renowned specialist, Facetti. The restoration was finished in 2013. Guaranteed entry into the Mille Miglia Storica, this charming little Italian sports car comes with continuous history since 1948 and a large book of photos and original documents including copies its old Italian registration papers.
35 1954 Bristol 404 Sports Coupe 404/2030 €230,000 €260,000 $266,800 $301,600 Metallic Green over Dark Green leather. Its accompanying Bristol Heritage Certificate confirms that this 404 was supplied new on 15th October 1954 to Mr Remy Mannes, the then Bristol dealer in Brussels, Belgium. The car was supplied in left-hand drive configuration for Europe with a rare km/h speedometer, green leather interior, and European dipping, all of which it retains today. The engine number quoted on the certificate is '100B/3534', whereas today a more desirable and later type B2 engine ('100B2/4070') is fitted. The car's original exterior colour is listed as black. Mannes had ordered this 404 for a client from Antwerp. Related documents on file include a copy of the original order from Établissements Remy Mannes to 'The Bristol Aeroplane Company Limited'; a copy of the sales invoice; copies of all transport papers; and some hand-written notes. In July 1968, the Bristol returned to the UK having been purchased by one Michael Beardmore, and was registered in the UK with the number 'LGU 200', which it still carries today. The car was sold again in the early 1970s to a Mr Bradburn, who sold it and bought it back again in 1982 (see correspondence on file dated 1982). While in his ownership, 'LGU 200′ was featured in an article in Thoroughbred & Classic Cars' June 1983 edition (article on file). The Bristol moved to Oslo, Norway in 1985 (old title on file), returning to the UK in 1989. The previous owner registered the car in 1989 and the last owner in 2008. Today, 'LGU 200' is presented in lovely condition, with its believed original and well-preserved interior possessing a beautiful patina. In addition to that mentioned above, accompanying documentation consists of a UK V5 Registration Certificate dated 2008; a printout of the Bristol Owners Club's record for this car; a quantity of old MOT certificates; sundry invoices for work carried out; an original instruction manual; and a magazine featuring the Bristol 404 model.
36 1956 Elva Mark 1/B Sports 100/B/25 €140,000 €220,000 $162,400 $255,200 Red over Tan. RHD. This particular Elva Mk1/B was produced early in 1956 as one of the very last Mk1b's and retains its original Coventry Climax engine. The chassis number's 'B' suffix indicates that the car was equipped with a Coventry Climax engine and the new Elva front suspension. '100/B/25' was immediately shipped to Mr Bill Tannhauser in Milwaukee, USA. Over the years, the Elva passed through the hands of various other enthusiasts (details available) who raced it extensively at venues such as Elkhart Lake, Blackhawk, Road America, and other circuits. Finally, in 2003, the car was acquired by Mr Maurizio Tabucchi, an acknowledged expert in the conservation and restoration of historic cars. A journalist and scholar specialising in automotive history, Maurizio Tabucchi joined the ASI (Automotoclub Storico Italiano) in 1975, rising through the organisation's ranks to become President of its Technical Commission, a post he held until 2005. From 2003 to 2005 he served as Vice President of the FIVA International Technical Commission, and was also the President of the Italian Alfa Romeo Register and head of its Technical Commission for 30 years. He is also the author of several acclaimed books on Alfa Romeo. Having shipped the Elva back to Europe, Mr Tabucchi then undertook a complete restoration of the mechanicals and body taking the utmost care to maintain this unique car's originality. The current vendor was able to buy the Elva following Mr Tabucchi's recent death. A comprehensive file accompanies the car, detailing the ownership history and containing various items of memorabilia. The Elva also comes with FIVA ID and an ASI Gold Certificate for its originality. The ASI certificate acknowledges that the car is equipped with twin Weber 40DCOE carburettors (a correct in-period upgrade) mounted on an original Derrington inlet manifold instead of the SU carburettors that were fitted as standard on Coventry Climax engines. The car was legally registered in Italy for road use and comes with Italian registration papers. This Elva Mk1/B is an extremely rare find (one of an estimated 14 ever built) and probably the most original in existence today. We are advised by the vendor that it drives and handles very well and has a comfortable driving position, even for taller persons. This 1,098cc car is also very fast for one built in 1956 (claimed 0-100km/h in around 8.9 seconds), boasts stunning looks, and is ready to drive and enjoy. Thanks to Elva's significant racing heritage, this car would be a welcome guest at major historic motor sports events.
37 1930 Derby K4 1.8 litre Corse 124 €115,000 €135,000 $133,400 $156,600 Blue over Black. RHD. Offered here is a rare Derby K4 with 1.8-litre six-cylinder CIME engine, four-speed gearbox, two-seater coachwork, and a short wheelbase of 2.70 metres, which makes for a very sporting drive. Like the greater part of the Derbys of the period, this K4 is believed to have been delivered new to Italy where it was found in a collection in the early 1960s (see photograph on file). The Derby probably spent most of its life in Italy before ending up in 2015 in France where it resides today. The car has been partially restored over the years, but the vendor advises us that it remains largely original and is in very good condition. Accompanying documentation consists of an old ASI document (dated 1991); a few invoices; French Carte Grise; and the aforementioned period photograph of the car in Italy. A unique opportunity to own an ultra-rare six-cylinder French sports car from the late Vintage period.
38 1955 Porsche 356 Pre A 1600 Speedster 80990 €350,000 €450,000 N/R $406,000 $522,000 Red over Beige. The example offered here was delivered new via Porsche importer Max Hoffman in New York for the United States market. It is a very rare late Pre-A model, delivered new with the 1,600cc engine that would be standardised on the 356A. It was delivered in October 1955, just before the introduction of the 356A, and was fitted with engine number '60070', indeed the 70th 1,600cc Porsche engine built. The Speedster was delivered new in red (it still is) with black leatherette interior – a classic choice for US customers. Unfortunately, the car's early history is unknown. Subsequently the Speedster moved to Italy where it has been for many years. It underwent a complete restoration a while ago, and it is believed that it was at that time that the interior was re-trimmed in beige. The engine and mechanicals were overhauled that time. Thus this Speedster still retains its original matching-numbers engine. Recently the Porsche moved to Belgium where the engine was completely overhauled again only a few months ago to make sure the car is in excellent mechanical condition, a new clutch and flywheel being installed at the same time as well as a new soft-top (beige). Accompanying paperwork consists of a copy of the original factory specification sheet; an ASI document; photographs of the engine rebuild; and Italian registration papers. Also included is the toolkit. This historically important late Pre-A Speedster 1600 is ready for its next adventure on one of the numerous events it is eligible for, including, of course, the Zoute Grand Prix and the incomparable Mille Miglia. An opportunity not to be missed.
39 1969 Jaguar E-Type Series II Roadster 1R11816 €70,000 €90,000 $81,200 $104,400 Carmen Red over Bllack leather. Completed on 4th December 1969, this Series 2 Roadster was despatched to Jaguar's New York distributor on 6th March 1970, and was originally finished in British Racing Green with Cinnamon interior. The car was cosmetically restored in 2010 and Totally rebuilt mechanically in 2015 when the engine was converted to UK engine specification, complete with triple SU carburettors and a six-branch exhaust manifold. We are advised that the car has a very straight and solid body, with no rust, and good paintwork and chrome, while the tyres and chromed wire wheels have recently been renewed. Finished in Carmen Red with black interior and matching hood, this E-Type is described by the vendor as a driver's car, not a 'Show Queen', and one of the nicest he has had the pleasure to drive; indeed, he states that he would willingly drive it anywhere. Accompanying documentation consist of a Jaguar Heritage Trust Certificate, UK MoT to March 2019, and a UK V5C Registration Certificate.
40 1970 Rolls-Royce Silver Shadow Convertible DRX9108 €40,000 €60,000 N/R $46,400 $69,600 Silver over Black leather. Offered here is a significant piece of sporting and motoring history in the form of a 1970 Rolls-Royce Silver Shadow Convertible, originally owned by boxing legend, Cassius Clay (later Muhammad Ali). Voted 'Sportsman of the Century', Ali is the only three-time lineal Heavyweight Champion and has been ranked the greatest heavyweight boxer of all time. This sporting hero was still known as Cassius Clay when he bought the Rolls-Royce new in New Jersey in December 1970, possibly in celebration of having regained his boxing license, which had been taken away when he refused to be drafted into the United States military during the Vietnam War, citing religious principles. As punishment, he was stripped of both his boxing license and passport for nearly five years. In August 1970, the City of Atlanta granted Ali a license and in 1974 he took part in arguably the most famous boxing match of all time, 'The Rumble in the Jungle' in which he knocked out the hitherto undefeated World Heavyweight Champion George Foreman just before the end of the eighth round. Ali's fights regularly drew record audiences, including 1 billion television viewers for 'The 'Rumble in the Jungle' and 'Thrilla in Manila', and 2 billion for 'Spinks vs Ali' in 1978. Ali was a known Rolls-Royce enthusiast – he owned many during his life – and the prospect of owning its most expensive top-of-the-range model – the Silver Shadow Convertible – must have been irresistible. With the Silver Shadow's introduction, Rolls-Royce switched to unitary construction for the chassis/body, which meant that by the mid-1960s the market for traditional coachbuilt automobiles had been severely curtailed. Of the many hundreds of firms trading pre-war, just two – James Young and the now combined firm of H J Mulliner, Park Ward Ltd – were left to meet the demand for a coachbuilt Rolls-Royce or Bentley, though these might be more accurately termed conversions rather than 100 percent bespoke creations. Recalling its glamorous Grandes Routières of pre-war days such as the Phantom II Continental, Rolls-Royce's final coachbuilt models – entrusted to the company's in-house coachbuilder H J Mulliner, Park Ward – were limited to just two: a two-door coupé or similar convertible, the former arriving in March 1966 and the latter in September the following year. The cars were hand built in the best traditions of British coachbuilding using only materials of the finest quality, including Wilton carpeting, Connolly hide, and burr walnut veneers, a necessarily lengthy process that took all of 20 weeks for the saloon and slightly longer for the more complex convertible. This painstaking attention to detail resulted in a price some 50% higher than the standard Silver Shadow's. Nevertheless, demand for these more glamorous alternatives to the much more numerous Silver Shadow was strong right from the start, a state of affairs that resulted in them being given their own model name – 'Corniche' – in March 1971. This Silver Shadow Convertible was owned by Ali for some six years, passing to a second owner in the USA in 1976. The car has since found its way to Europe before being purchased by the current owner, an enthusiast in Holland. The car has never been completely restored; even the rare optional headrests (as can be seen on the archive photo) are still in place and it still retains most of the original interior, but the latter has had a colour change. The current owner has tried to keep the car original, especially the interior, while making substantial improvements. Accompanying documentation includes copies of the original Car Specification sheet and Warranty Acknowledgement; a copy of Clay's Temporary Drivers License; Netherlands registration papers; a photo book and a copy of the photograph taken of Muhammad Ali and his close friend Diana Ross with the Rolls-Royce outside Caesar's Palace, Las Vegas before Ali's fight with Joe Bugner in February 1973. Described by the vendor as in very good condition mechanically, this rare and exclusive Rolls-Royce Silver Shadow Convertible represents a possibly once-in-a-lifetime opportunity to own not only an impressive motor car but a piece of history originally belonging to one of the world's greatest ever sportsmen.
41 1962 Aston Martin DB4 Series V Vantage Saloon DB4/1133/L €950,000 €1,250,000 $1,102,000 $1,450,000 Black over Black leather. The gorgeous Aston Martin DB4 Series V Vantage offered here was delivered new to Sausalito, California and has spent the majority of its life in the dry Californian climate. The accompanying copy order form tells us that the purchaser was one Robert L Raphael of 166 Crescent Avenue, Sausalito, and lists the following items of non-standard equipment: Vantage Spec (sic), 3.54 rear axle ratio, Chrome wheels, Rear speaker & wing aerial only, Sundym glass to screen, door windows & ¼ lights, 2 wing fuel tanks Chassis number 'DB4/1133/L' is one of a mere 17 original left-hand drive cars produced, of which fewer than half left the factory with covered headlights. The Aston benefits from a recent five-year (2010-2015) concours standard restoration carried out by Kevin Kaye, which was followed by six months further work at the world-renowned marque specialist, R S Williams. Originally black with red interior, the car been refinished and re-trimmed in striking all-black livery. Photographs and sundry invoices relating to the restoration are on file together with an Aston Martin Certificate of Origin, BMIHT Certificate, and a UK V5 registration document. Boasting fully matching numbers, '1133/L' represents a wonderful opportunity to acquire a concours-standard example of this ultra-rare and most sought-after Aston Martin model.
42 1950 Fiat 500C Topolino Giardiniera 218789 €15,000 €25,000 N/R $17,400 $29,000 Verde and wood over Khaki. Between 1970 and 1980, the Giardiniera was entirely restored in Turin by the FIAT division responsible for the restoration of its older cars. The cylinders were sleeved, the crankshaft overhauled, the valves replaced, and the entire suspension refurbished. Paul Frère's own description of the car is on file together with period photographs (inspection recommended). The current (third) owner purchased the FIAT from Paul Frère. It is understood that the car has not been driven much since its restoration, probably covering only some 500 kilometres. Presented in full running order, and benefiting from recently renewed brakes, the car is offered with Monaco Carte Grise.
43 1965 Ford Mustang 289 Convertible 5F08C397257 €50,000 €80,000 N/R $58,000 $92,800 Red over Beige leather. In 1994, Mr John Wilson from Hillsborough, California was looking for an original rust-free, undamaged and all matching numbers Ford Mustang. He found this car in San Francisco and purchased it from the original owner. The Mustang had covered relatively few miles and had not been run for the preceding ten years. Mr Wilson drove the Mustang for three years, and in 1998 decided to restore it to factory-original show standard, commissioning one of the West Coast's most renowned specialists, Potts Restorations of Burlingame, to carry out the work. Working with Potts, the owner spared no expense in his pursuit of perfection. The Potts team methodically disassembled the Mustang down to the bar bodyshell and carefully worked their way upwards, incorporating all 'new-old-stock' parts. Noteworthy features include automatic transmission, power brakes, power steering, electric hood, radio, 'Pony' wheels, and whitewall tyres. This car is fully matching and correct in every detail, having been restored to the same state it left the factory in 1965. Completed in 2000, the Mustang was shown widely across the USA for the next few years, winning the 'Best in Show' award at every event entered. For two years in a row, it was the MCS Grand National winner as the best Mustang in the country – the ultimate accolade. Other important awards include: Gold AACA Grand National (2001, 2002); ISCA Best Antique Restored Senior Award (2002); ISCA Eastern Division Class Champion (2003); and Carolina Grand National Gold (2000-2003). Over 30 awards come with the car, which 15 years later is still in effectively 'as new' condition, exactly as it left the factory in 1965. Offered with California Certificate of Title and Netherlands registration papers, this breathtaking Mustang is worthy of the closest inspection.
44 1954 Fiat 1100TV Sports Saloon 103TV033956 €150,000 €180,000 $174,000 $208,800 The FIAT 1100 TV offered here participated in the Mille Miglia in those two years – 1954 and 1955 – crewed by Ing. Guglielmo Franchi and Rafaello Zanasi. On file is a copy of the car's original Automobile Club d'Italia identity document showing that it was registered new to Guglielmo Franchi in February 1954 with the Bologna registration '64215 BO'. This registration can be seen clearly in accompanying photographs showing the FIAT on the Mille Miglia start ramp in 1954 and 1955. The history file also contains correspondence from the event's organisers, the Automobile Club Brescia, concerning Ing. Franchi's entries, and the car also comes with Netherlands registration papers and FIVA documents. Carrying competitor number '121', the FIAT failed to finish the 1954 event but fared better the following year, coming home in 115th place overall and 11th in class out of 534 starters, a highly creditable achievement. Famously, the 1955 Mille Miglia was won by Stirling Moss and Denis Jenkinson's Mercedes-Benz 300 SLR, which had been cooling down for over five hours when the Franchi/Zanasi FIAT crossed the finishing line having averaged a little over 105km/h for the 1,597 kilometres! From details on the aforementioned ASI document it appears that the FIAT changed hands in 1958, passing to one Aldo Guccini, and it is believed that the car remained in Italy until recently. It was restored and mechanically overhauled 10 years ago, though as is often the case there are no invoices. Because of its in-period participation, this charming little car is guaranteed acceptance for the Mille Miglia, and is probably the cheapest way of ensuring entry into this most prestigious historic motor sports event. Ready to participate once again in the Mille Miglia, this FIAT 1100 TV is an opportunity not to be missed.
45 1973 Porsche 911E Targa 911 321 1044 €100,000 €150,000 N/R $116,000 $174,000 "Blue Metallic over Black leatherette. Delivered in the very attractive colour scheme of blue metallic it retains today, the car is believed to be one of the very last 2.4-Litres built and therefore one of the very last examples of the F-model that by then had been in production for nearly 10 years, since the start of the 911 range. This Targa moved with the first owner to South Carolina where it is believed to have stayed for most of its life before moving to its second owner in Texas. It was in Texas that the current Swedish owner was able to buy the car in 2012. He is only the third owner. By then the Porsche was in need of restoration, so the current owner commissioned a 'last nut and bolt' rebuild to the highest standards in 2013, which was carried out in Europe. The car was completely disassembled and gone through, the body returned to factory-fresh condition. A lot of attention was paid to panel alignment and welding to maintain absolutely correct specifications. The repaint was meticulous and the car's shut lines are said to be excellent – truly something to admire. Factory procedures were followed in the paint shop so the work would compliment that done at the works 40-plus years ago. In addition, extensive corrosion protection was applied to ensure the body remains in good shape for years.
Mechanical components were restored wherever possible, and any worn parts replaced with new ones. Attention to detail was maintained at all times, and all components and systems work and perform as they should. Overall it took 3,000-plus man-hours to restore the car to the quality it deserves. Since completion, it has only done some 400 shakedown kilometres. This 2.4 E Targa has been displayed at a couple of events where it has won several concours prizes.. Accompanying documentation consists of a Porsche Certificate of Authenticity confirming the car's original specification (which it still retains today); old US title dated 2002; EU customs document confirming taxes paid; owner's manual; tool kit; and invoices and photographs relating to the recent meticulous restoration. Ready for any concours event, this stunning 911E Targa is worthy of a place in any important Porsche collection"
46 1951 Alfa Romeo 6C2500SS Touring Berlinetta 915*910 €700,000 €800,000 $812,000 $928,000 Nero over Light Verde leather. RHD. Right-hand drive, like all Alfa Romeos prior to the 1900 model, chassis number '915910' was completed with a Villa d'Este coupé body by Carrozzeria Touring and is believed to have stayed in Sicily for most of its life, though its early history is not known. In 2006 the car was discovered in Sicily in 'barn find' condition and purchased as a restoration project by previous owner, Mr Dambacher. Mr Dambacher then commissioned a total, 'last nut and bolt' restoration with no expense spared, which was carried out by Carrozzeria Grillo of Occieppo Superiore, Italy under the supervision of Dipl.-Ing. Klaus Kukuk of Overath, Germany, a specialist in overseeing restorations. The restoration cost €400,000. Details may be found in a lengthy illustrated report on file compiled by Dipl-Ing. Kukuk (inspection recommended) and the car also comes with old German registration and TüV papers, and current Belgian registration documents. In 2016, the current owner bought the Alfa Romeo in Germany from Mr Dambacher, and that same year had the pleasure of participating with his Villa D'Este in the Zoute Rally balade. Touring Superleggera's famous Belgian Chief Designer, Louis de Fabribeckers, also drove this car on the 2016 Zoute Rally. Interviewed afterwards, he remarked, 'Wow, what a wonderful car! This is the only car that bears the name of the concours d'élégance it won at the time. I really would have been proud if I had designed this car… So many good ideas in one car, that's just great. But without the honourable title "Villa d'Este" the car would have lost some of its lustre. Just the name makes me think of Lake Como.' This gorgeous Alfa Romeo has been kept in the best condition possible and has covered only some 2,000 kilometres since the restoration's completion. This unique car is a joy to drive and is eligible for all the most important historic rallies, concours d'élégance events, and other such gatherings; indeed, it is invited to Villa d'Este every year by the small club of only Villa d'Este owners. An opportunity not to be missed.
47 1953 Jaguar XK120SE Roadster S677504 €120,000 €160,000 $139,200 $185,600 Dark Blue over Maroon leather. This car was built on 23rd June 1953 to be shipped to the USA for delivery to Jaguar's West Coast distributor Hornburg in Los Angeles, California. Its original colour scheme was Birch Grey with red interior. The car's history is not known prior to 2003 when it was found in a barn and purchased as a restoration project by a Dutchman from Hengelo, which is where the current vendor first encountered it. He was very keen on buying the XK because the car was very straight, highly original, and retained matching numbers. The owner did not want to sell but eventually, in 2006, the Jaguar was sold to a Mr van Rossum in Holland. Mr van Rossum had the car treated to a complete 'last nut and bolt' restoration to concours standards, albeit at a relaxed tempo. The colour was changed to the current beautiful dark blue while the interior was completely re-upholstered in burgundy – a most handsome colour combination. This XK120 went to various different restorers because it was never 'good enough'; the owner being perfectionist wanted to have the best of the best – an approach that has its price and is time consuming. It is for that reason that it took him so long to get the car finished. In 2012, the Jaguar was registered again for road use, though Mr van Rossum hardly drove it. Three years and a few kilometres later, in 2015, he decided to sell the car to the current owner. The latter advises us that the XK has been driven only some 3,000 kilometres since the restoration's completion in 2012. According to him, the car is still in the same concours condition as when it finished restoration. It still presents beautifully and is said by the vendor to be mechanically in top condition. Offered with a Jaguar Heritage Trust Certificate, this must be one of the best XK120s currently available.
48 2009 Mercedes-Benz SL65 AMG Black Series WDB2304791F160141 €260,000 €320,000 N/R $301,600 $371,200 Silver over Black leather. Still the most powerful standard road-going Mercedes-Benz AMG to date, this pristine example has covered a mere 6,300 kilometres from new and is finished in arguably the best colour combination of silver with black interior (as one can imagine, most are black!). One of only approximately 175 examples destined for Europe (most went to the USA or Asia), it is one of only 5 delivered new to France. Delivered in September 2009, the car has been well maintained and is presented in excellent 'as new' condition, as one would expect from its low odometer reading. The accompanying maintenance history printout records services at Mercedes-Benz Paris in 2010, 2012, 2014, 2016 and in August 2018, the latter at 6,318 kilometres. This car also comes equipped with every conceivable option, the very embodiment of the phrase 'fully loaded' (detailed specification available). Offered with all books and tools, it represents a possibly once-in-a-lifetime opportunity to acquire one of these fabulous limited-edition supercars, the like of which Mercedes most probably will never produce again – an incredible aggressive looking beast!
49 1936 Bentley 4¼-Litre Antem Cabriolet B260GA €375,000 €425,000 $435,000 $493,000 Black over Brown leather. RHD. Andre Embiricos's passion for speed undoubtedly influenced this Bentley's specification and resulted in its wonderfully sleek styling. The overall impression of fluidity is accentuated by the surprisingly low windscreen – an Antem trademark – and the line of the body that slopes down towards the tail. The hood retracts completely within the body behind the rear seat, while its painted dashboard gives the leather-upholstered interior a sporting feel. The exhaust outlet is incorporated into the left rear wing, another subtle detail. Embiricos also specified a high axle ratio (11:43). According to records held by the Rolls-Royce Owners Club, Embiricos exported the Bentley to the USA in April 1940, just ahead of the German invasion of France, and kept it until March 1945. The car subsequently passed through the hands of several owners in the USA's North East (all known, list available) before being acquired in the early 1960s by Mr Byron White of Rhode Island, who would own it for the next 40-or-so years. Between 1985 and 2002, Mr White had the Bentley restored to a high standard. The next owner, Charles Morse, acquired the Bentley in 2004 and delivered it to Jeff McDonald's workshop in Oregon for restoration to concours standard. An expert in the restoration of pre-war Bentley and Rolls-Royce motor cars, Jeff McDonald is a highly respected specialist whose enviable body of work includes the 'Best of Show' award winner at Pebble Beach in 2016. Accompanying invoices show that the car was stripped down to the chassis; the body frame and panelling repaired; and all the mechanical components refurbished as necessary. In 2014, the next owner bought the car and completed the restoration, entrusting the paintwork and upholstery to Navarette Classic Design & Paint and Aquilera's Custom Upholstery respectively. Today, this unique Bentley retains its correct period accessories, including Marchal lights, and comes with a comprehensive folder containing the (copy) build sheets, list of owners, restoration bills (inspection recommended), tool kit, jack, and an original Bentley 4¼-Litre instruction book. This car features in R-ROC and R-REC records, and is listed in 'Bentley: The Silent Sportscar' by Michael Ellman-Brown; 'All The Pre-war Bentleys' by Stanley Sedgwick; and 'The Derby Built Bentleys' by Bernard L King. Offered with US title EU customs clearance, this beautiful 4¼-Litre cabriolet is the perfect combination of Antem's talents and Bentley's engineering excellence.
50 1973 BMW 3.0 CSL Batmobile 2275537 €240,000 €300,000 $278,400 $348,000 Polaris Metallic over Black. This original, left-hand drive BMW 3.0 CSL Batmobile is offered fresh from extensive recommissioning and restoration. According to BMW, chassis number '2275537' was manufactured on 25th September 1973 and delivered on 2nd November 1973 to the UK importer, BMW London Ltd. The original colour was Polaris metallic, paint code 060. In 1975, the car was purchased by the lady vendor's father, a Dumfries garage proprietor, having been first registered in the UK in October of that year. Its owner drove the BMW for circa five years, servicing it himself. Since 1980, the car has sat in his workshop, and over the years was dismantled with a view to restoring it. The current odometer reading is circa 57,279 kilometres (approximately 35,600 miles) which in view of the car's lengthy period of inactivity is believed genuine. Early in 2018, the Batmobile was delivered to Classic Restorations (Scotland) Ltd in Alyth as a bodyshell and crates of parts, to be rebuilt. We are advised that the works included a complete engine overhaul: new cylinder head, pistons, bearings, chains, etc. In addition, the suspension and brakes were completely overhauled with all components cleaned and powder coated prior to re-assembly. Other components renewed include the clutch; clutch and brake master cylinders; metal brake pipes and hoses; radiator; alternator; distributor; exhaust system; and tyres. The bodywork has had some small patches welded to the inner wheelarches, which have been sealed and coated with 3M Body Schutz (in black). The rear spoiler has been stripped, repaired, and partially repainted (the body had already been repainted in the original silver colour). The interior has been re-upholstered and the carpets and headlining renewed using new original BMW material throughout. Accompanying paperwork consists of sundry restoration invoices and photographs; current MoT certificate; and a UK V5 registration document. With only some 110 Series 1 Batmobiles produced compared to over 19,000 standard CS/CSi models, these 'specials' will always be rare and today this ultimate BMW coupé is highly sought after.
51 1982 Renault 5 Turbo VF1822000C0000502 €110,000 €150,000 $127,600 $174,000 Pale White over Beige. This Renault 5 Turbo was ordered via the Belgian Renault importer by Garage Flandria of Kortrijk, owned by Mr Luc De Witte. Being a 'Turbo 1', it has that model's unique seats, dashboard and aluminium roof not found on the all steel Turbo 2 successor. This car was ordered specifically for the Salon de l'Automobile in Brussels finished in Pearl White with special body-coloured bumpers and beige Bertone interior; the same colour scheme that many of the R5 Turbo 2's would be supplied in. In 1994, Mr De Witte sold his Turbo 1 to another Renault dealership, Garage Landeloos, owned by Bart Landeloos. Just like Luc De Witte, Mr Landeloos never registered the Turbo and used it only sparingly with trade plates until Belgian law obliged cars to be registered. Without prior registration it would have been impossible for the next owner to register the car, so Landeloos registered it for the first time in 2001 as 'BKW 435′. (Bonhams would like to thank Mr Landeloos for kindly providing information about the history of his former Renault Turbo). This car was always maintained by Mr Bob Eijckmans of Renault Garage Willems, a specialist in Renault 5 Turbos. Mr Eijckmans has confirmed the car's originality and advises us that the body has never required any repairs. Shortly thereafter, in 2002, Garage Landeloos sold the Turbo to a Mr Meuleman in Holland, who kept it for another 16 years. Remaining completely original throughout its entire life, this car has changed hands from one enthusiast to another while not travelling more than 38,000 kilometres in total. The engine and injection pump have been fully revised by Dutch specialist Tour de Corse (photos on file). Possessing an interesting Belgian history that started less than 50 kilometres from Knokke Le Zoute, it is presented today in original condition – a real car for connoisseurs. The car comes complete with all books and tools; a Renault Certificate of Authenticity; (copy) old Belgian registration papers; current Dutch registration papers; sundry invoices for work carried out; and Bart Landeloos' letter confirming the history of this Renault 5 Turbo 1.
52 1983 Renault 5 Turbo II VF1822000E0000338 €90,000 €110,000 $104,400 $127,600 Brown over Beige. According to the Certificate issued by Renault Classic in March 2011, this particular Renault 5 Turbo 2 left the factory on 29th November 1983 and was sold new to its first owner through the Renault dealer SARAC in Thiers on 9th December that same year. The car spent the next almost 20 years in France with two identified owners, before being exported to the UK in 2011 by Mr Doug Blair, a distinguished car collector, author and publisher of motor sports books. At that time, the Turbo was still in excellent condition, and its new owner continued to maintain it in perfect cosmetic and operating condition, while driving it only sparingly. Numerous invoices on file testify to the great care that was taken of the car throughout his ownership until 2016. Today, the car has covered a believed genuine 51,681 kilometres from new; it is still finished in its original brown colour (factory code 769) with matching original beige interior, a very 1980s colour combination. The car is presented in excellent, indeed concours, condition and comes with its original pouch, owners manual, and service book, as well as numerous invoices for work carried out, expired MoTs, French Contrôle Technique documents, and UK V5 and Belgian 705 registration documents.
53 1992 Dodge Viper RT/10 Roadster 1B3BR65E4NV100281 €55,000 €75,000 $63,800 $87,000 Red over Black leather. Originally sold in Canada to a Belgian/Canadian businessman, this very early Viper roadster has been kept, unused, in his private collection and is presented in effectively 'as new' condition having covered only some 100 kilometres since it left the factory. Finished in red with grey leather interior, this beautiful car comes complete with its original weather equipment and all books and tools. The car is currently registered in Belgium as an 'Old-timer' and is offered with Carte Grise and all its original documents. If exported from Belgium this lot may possibly be liable to VAT depending on the country of import. A rare opportunity to acquire an unused example of one of the most exciting sports cars of recent years.
54 1969 Mercedes-Benz 280SL 113.044.10.011364 €160,000 €210,000 $185,600 $243,600 This Mercedes-Benz's first owner was the patriarch and entrepreneur Werner Frör, who gave it in July 1969 to his wife Inge on the occasion of her 40th birthday. Nevertheless, the Mercedes was driven mainly by Werner Frör. Even Inge Frör was only allowed to drive the SL under protest, despite it being nominally her car! After Herr Frör's death, the Mercedes was reregistered to reflect changes of ownership within the family, eventually ending up belonging to his son-in-law, Herr Joachim Lehmann. The current vendor purchased the 'Pagoda' from Herr Lehmann in 2016. The Frörs had bought the car in Erlangen from Fa. Mercedes Pickel. Almost all maintenance was carried out by Autohaus Pickel and also by Fa. Berlacher, a wholly owned subsidiary of Autohaus Pickel. It was in the 1970s that this car covered most of its recorded mileage. Due to changed interests within the family and the purchase of a Jeep and a Mercedes-Benz S-Class, the SL was no longer driven and was kept in the garage. On 20th April 1980, the Mercedes was reregistered with the number 'ER-W 3′ so that it could be driven to the Frörs' daughter's wedding. Until October 1990, the car was registered regularly. According to Herr Frör, the SL was never driven in wintry conditions, and rain was avoided as much as possible. In July 1986, an appraisal was drawn up, at which time the SL had 71,031 kilometres on the odometer. From October 1990 onwards the SL remained de-registered but insured in the owner's garage. On 2nd July 2004, the SL was reregistered with the number 'ER-W 150H'. From this time the Mercedes was registered to Ursula Lehmann, the daughter of Inge and Werner Frör. On 28th October 2004, the SL was again a de-registered, remaining off the road until 2nd October 2007 when it was reregistered as 'ER-WF 15H'. With the death of Werner Frör in June 2008, his wife's 280 SL was donated to her son-in-law, Joachim Lehmann. His wife Ursula Lehmann remained as vehicle keeper for insurance purposes. As of 14th January 2015, Joachim Lehmann was entered as keeper in the registration document. On 29th December 2015 the 280 SL was temporarily de-registered once again before leaving the Frör/Lehmann family's ownership for the first time, passing to the current vendor in the autumn of 2016. During their custodianship, Herr Lehman and his wife never drove the 280 SL. Since its acquisition by the current vendor, the Pagoda has been serviced by Auto Berlacher GmbH of Erlangen, Germany. Carried out on 21st July 2016 at 71,780 kilometres, the work included a full electronic alignment service; fitting a new fuel tank; replacing the clutch master and slave cylinders; overhauling the brake master cylinder; replacing the left front suspension strut; replacing the radiator hose; and changing the anti-freeze. Auto Berlacher's invoice for €4,464.34 is on file and this highly original Pagoda also comes with copies of registration and TüV documents. In December 2016, a detailed appraisal was carried out by the Mercedes-Benz 190 SL Club, which found that the car retains its original factor applied paintwork apart from a localised – and expertly repainted – area on the left front wing. Likewise, the interior's black leather upholstery and grey carpets were found to be 100% original, and the report comments most favourably on the factory-fresh appearance of the bonnet, boot, and door shut lines. Overall, the body's condition was judged to be impeccable, and no mechanical faults were noted. The appraisal concludes: 'This 280 SL is probably today the most original pagoda not only on the market but at all.' We can only concur.
55 2012 Porsche 911/997 GT3 RS 4.0 WP0ZZZ99ZBS785369 €270,000 €320,000 N/R $313,200 $371,200 White over Black leather/alcantara. This rare and desirable modern Porsche was delivered new in January 2012 by Garage André Losch (Porsche Luxembourg) to its sole owner. Now with only 33,800 kilometres recorded, the car retains its original paintwork; has never been involved in any accidents; and has never been over-revved (diagnostic results available). More importantly the vendor confirms us that the engine is still the original one, as a lot of these 4.0-litres have had replacement engines from the factory it seems. Possessing a crystal clear history, it comes with its fully-stamped service booklet and has just been serviced at a cost exceeding €5,000. The related invoice is on file and the car also comes with Luxembourg registration papers and certificate of authenticity.
---
All information is copyright Auto Auctions Monthly except images which are copyright of Artcurial, Bonhams, Gooding & co., Mecum, RM/ Sothebys, Russo & Steele and Worldwide Auctioneers. All figures are US$ and gross unless specifically stated. All figures are accurate in the home currency for the sale, any figures in other currencies are calculated based on the exchange rate for the date of sale accessed from FxTop.com. Percentages as given are calculated as the % below low estimate or above estimate as noted. All information given for recreational use only and cannot be personally guaranteed for accuracy by the author.